2012 Bourbon Pilgrimage, Day 1 | Buffalo Trace Distillery
It's hard to believe that just over 4 weeks ago the 2012 Bourbon & Banter Pilgrimage kicked-off with a behind the scenes hard hat tour at the Buffalo Trace distillery.  It's taken me a lot longer than expected to begin posting about the Pilgrimage but as they say 'better late than never'. On Thursda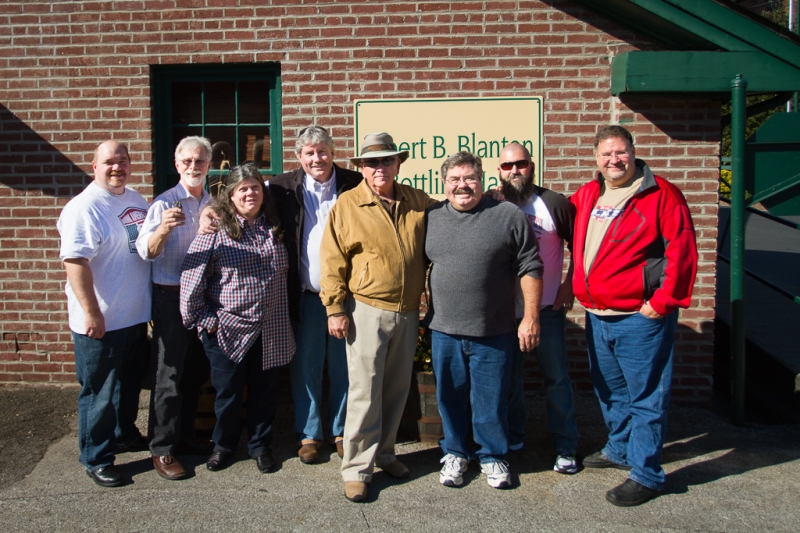 It's hard to believe that just over 4 weeks ago the 2012 Bourbon & Banter Pilgrimage kicked-off with a behind the scenes hard hat tour at the Buffalo Trace distillery.  It's taken me a lot longer than expected to begin posting about the Pilgrimage but as they say 'better late than never'.
On Thursday, October 11th, several members of the Pilgrimage met at the Buffalo Trace distillery for an optional hard hat tour.  This was the first time for me to meet the folks on the trip except for my neighbor Bob who joined me for the excursion. As you can imagine I was pretty excited as we pulled into the distillery parking lot and made our way to the visitor center to meet up with the rest of our group.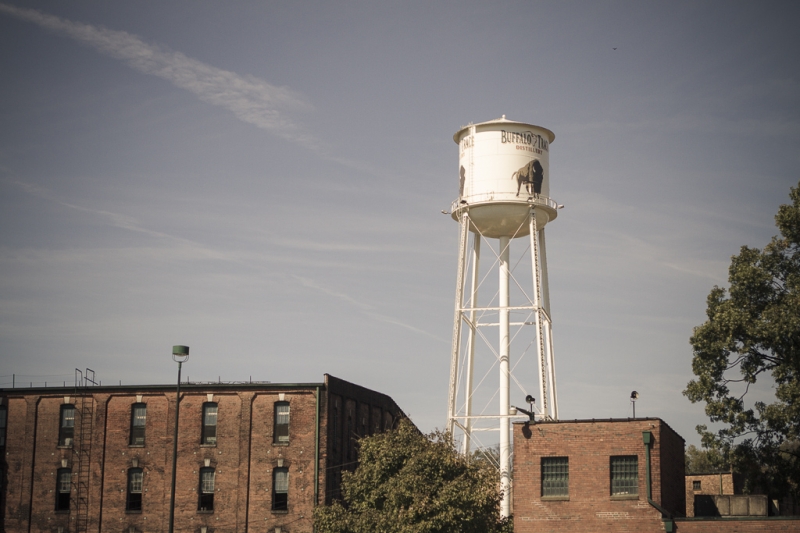 It didn't take us long to find our fellow bourbon lovers and head out with our guide Cary. There were a few other folks waiting for their tour to start and they seemed pretty bummed out when they realized we were going on a specially arranged hard hat tour with Cary. Have to say it was nice to be getting some bourbon love from Buffalo Trace.
The tour began with a brief walk and overview of Buffalo Trace history. We then approached the area where the corn is delivered to begin the bourbon making process.  We were lucky to see a truck in action and even got a chance to grab a few kernels spilling off the truck. From there we headed over to the truck scales they use to weigh each load and learned that our group's total weight was roughly a ton. (A ton of bourbon fun.)
The tour continued indoors where we got to see the distilling equipment up close and personal. From the huge dryers used to dry out the corn to the mash cookers we were in the thick of the action. In comparison to other distilleries we visited on our trip I can say that the Buffalo Trace tour had the most old school industrial feel of them all.  I suspect that if we were able to travel back in time to the 1950's the distillery wouldn't look all that much different from the inside.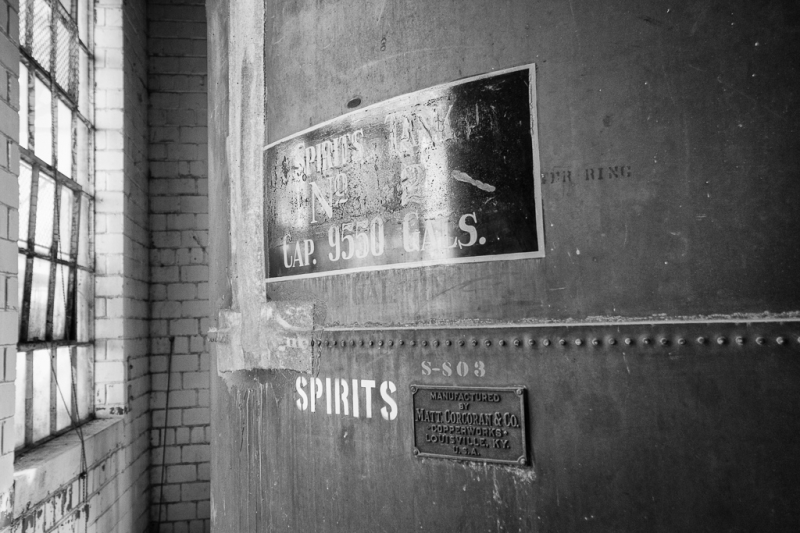 As we continued on our tour we got a chance to take a peek into the mash cookers, dip our fingers into the mash for a quick taste and learned that most Buffalo Trace employees tend to prefer Weller and Elmer T. Lee to Pappy's and Blanton's. (If you haven't added a bottle of Elmer T. Lee and Antique Weller to your collection yet I suggest you make it a priority this weekend to do so.)
The final stop on the tour before tasting was a visit to the Blanton's bottling line or as Cary said, "The most sought after job at the distillery." Turns out that people love to get assigned to the Blanton's line because the building is climate controlled, you get to sit down while doing your work and you can easily talk to your co-workers because there isn't any loud bottle equipment running. I don't know about others on the tour but I was pretty surprised to find out that the bottling was done by hand – including the labels and bottle stops.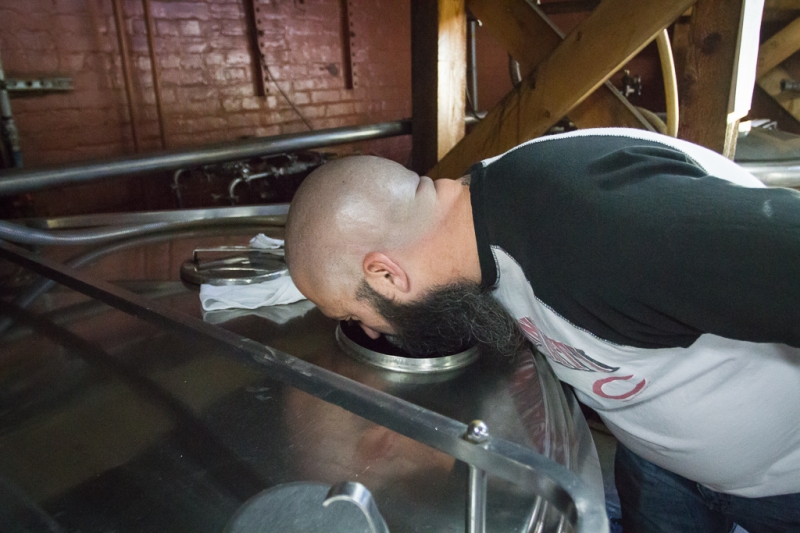 Inside the bottling building, we had the opportunity to stick our heads into the cold storage tanks holding Blanton's and taste it simply by breathing. Simply amazing!
The bottle Blanton's they take bourbon out of the chilled tanks and put it into a glass pitcher and then pour it by hand into the Blanton's bottle. Once they have the right amount in the bottle they cap it with one of the famous Blanton's toppers and proceed to apply the bottle's label. From there it gets put into a bag and box and stacked for packing into larger shipping boxes.  I don't remember the daily output of the bottling line but I can tell you that no one's going to pull any muscles doing the job.
As if the Blanton's bottling itself wasn't cool enough, we also got to see bottles of Eagle Rare waiting to be boxed up for shipping, along with a fantastic cabinet filled with Buffalo Trace bourbon goodness.  One can only dream of having a collection like the one we saw in the Blanton's building.
The last part of our trip involved a tasting of select Buffalo Trace bourbons in the visitor center. There were several bourbons to choose from, but I choose to sample the Blanton's, Eagle Rare and Buffalo Trace Creme. All of them were good, but I really enjoyed getting a chance to sample the Bourbon Creme since it hasn't made it to my local market yet.  I highly suggest you try it on ice cream or in a glass of root beer.
We closed out our time by taking advantage of the Buffalo Trace gift shop and stocking up on everything from glasses to clothing. It was a great way to close out our first stop on the 2012 Bourbon & Banter Pilgrimage.
If you're going to visit the Bourbon Trail, I highly suggest you add Buffalo Trace to your list of distilleries to visit.  I would also explore the option of scheduling a hard hat tour so you can get a chance to see what's going on behind the scenes. And maybe, if you're lucky, you'll get to have Cary as your guide. He definitely knows what he's talking about, and he isn't afraid to share a few insider tips as well.
I'll post soon about our 2nd day of the tour, which involved visits to Four Roses, Wild Turkey and a fantastic dinner with Buffalo Trace's lead chemist, Chris Fletcher.
Cheers!