2012 Bourbon Pilgrimage, Day 2 | Four Roses & Wild Turkey
This is part 2 of what will be a three-part post recapping the 2012 Bourbon & Banter Pilgrimage.
This is part 2 of what will be a three-part post recapping the 2012 Bourbon & Banter Pilgrimage. Click here to read part one.
---
Day 2 of the 2012 Bourbon & Banter Pilgrimage began early in the morning on Friday, October 12th when all of the Bourbon Pilgrims boarded our Mint Julep tour bus just outside the Hyatt Regency hotel. After overcoming a few logistical issues and a short delay we found ourselves heading out for the first stop of the day, Four Roses Distillery. (You have to join us next year if you want to learn what "logistical issues" is code for among Bourbon Pilgrims.)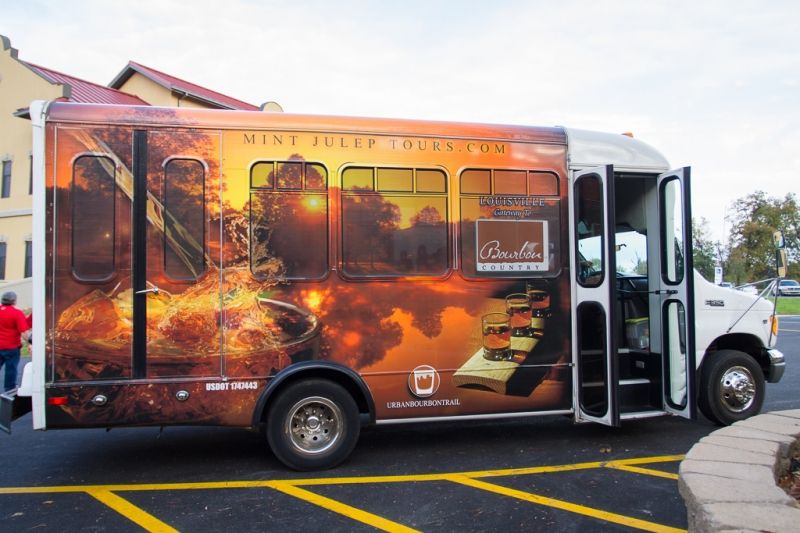 On the way to Four Roses our excellent Mint Julep tour guide, Gary Lewis, made us all at home and quickly gave us an overview of the Kentucky Bourbon Trail and what we could expect over the next two days as we traveled from distillery to distillery under his care and guidance. We were also introduced to our driver for the trip, Mr. Josh Dugan, who did an excellent job of making sure we got to our destinations on time and most importantly, in one piece.
Soon enough we arrived at the Four Roses Distillery where we were ushered into a tasting room and introduced to their Master Distiller, Jim Rutledge. Jim Rutledge has been Four Roses' Master Distiller since 1995 and was inducted into the Bourbon Hall of Fame as part of its inaugural class. Jim is a one of the most passionate and knowledgeable folks in the bourbon industry today and he's rightly earned his nickname of "Mr. Four Roses". Having spoken to Jim while setting up the trip I knew we were in for a real treat as he began regaling us with Four Roses' long and storied history.
Jim told us about the early days of the distillery and how the name came about. He then explained how Seagrams decided to discontinue the brand in the U.S. despite the fact that it was the top-selling bourbon in the 30s, 40s and 50s. (Hard to believe, right?) His history lesson continued with Kirin Brewery out of Japan buying the brand in 2002, which eventually led to Jim convincing the new owners to bring the Four Roses brand back to the U.S. market. And the rest as you probably know is history with Four Roses continuing to earn as reputation in the U.S. as one of the best Bourbons in the world.
Jim also shared with us some great stories about the bourbon industry and other brands that you don't typically come across in today's publications. I was going to share some of them here but decided it was best to leave those alone until next year's tour. It will give you a reason to join us, right?
After completing the history, lesson Jim led us through a detailed tasting of several Four Roses bourbons.  He got into great detail about Four Roses ten unique bourbon recipes that combine five proprietary yeast strains with two separate mashbills resulting in 10 distinct Bourbon recipes. This is a significant difference from other distilleries that typically use only a single yeast strain and mashbill to produce one of their bourbons. How the yeast and mashbills are combined can get a little confusing but if you'd like to learn more check out this page on the Four Roses website.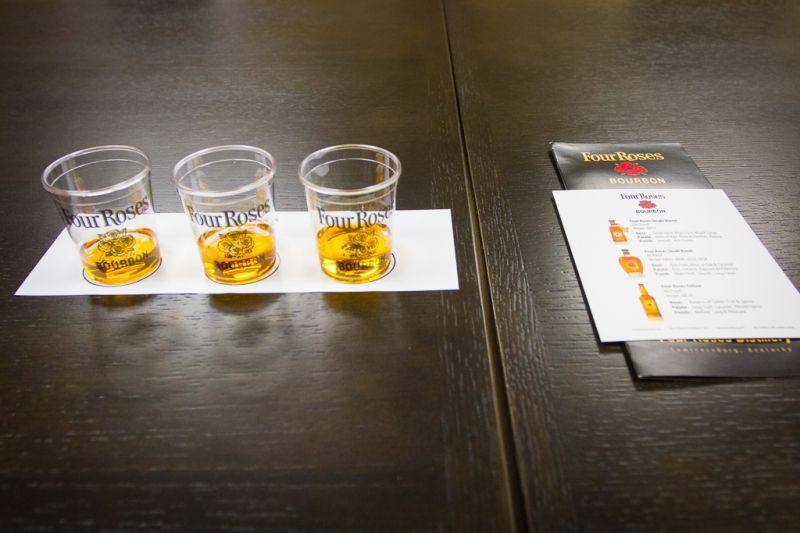 Our tasting included Four Roses Yellow label, Four Roses Small Batch and Four Roses Single Barrel.  Four Roses Single Barrel, which is my favorite, uses a single selected recipe.  Four different recipes are combined to create Four Roses Small Batch, which was the group's favorite overall. The Four Roses Yellow label consists of up to 10 recipes mixed together before bottling for a distinct flavor profile. While I was most found of the Single Barrel, they were all pretty damn good and I wouldn't turn down a single one if offered to me.
By the time we finished our tasting I think we had been with Jim Rutledge for well over two hours. We decided that we better get a move on an actual tour of the distillery. Jim gave us an excellent overview of the Four Roses operation as he walked us through the various parts of the distilling process.  Just as he did during the tasting portion of visit he didn't rush things and was more than happy to stop and answer any questions we had about Four Roses. I really don't think we could have had a better tour guide for our time at Four Roses.
When we finally finished our tour Jim was kind enough to post for a few pictures and signed some Four Roses bottles for us in the gift shop. Finally, after three hours at Four Roses we boarded our bus and were on our way to our next stop for the day – LUNCH.
You ever have one of those happy accidents when you pick somewhere to eat? You ask a few folks and they make a recommendation, and since you trust them, you book a reservation and show up for a meal without giving it much more thought. But then when you show up and have your meal it turns out to be one of the best damn meals of your entire life. You know what I'm talking about?
That's what Day 2's lunch experience was like for me. I had booked lunch at the Holly Hill Inn based on the recommendation of Mint Julep Tours and a few other folks. I looked at their website (which was redone after I booked our meal) and decided that it looked like a nice safe place to have the group stop for a meal. To be honest I booked it more because of the way the place looked than the menu. But regardless of why I booked our group there for lunch, it was one of the best decisions I've made when it comes to food.
The meal was absolutely fantastic! In fact, I'm still raving about it to my friends and family. Turns out that Holly Hill Inn is one of the top restaurants in the country that focus on locally sourced ingredients.  Here's a quick snippet of how good they really are from their new website:
"Chef Ouita's work continues to earn accolades from local and national fans. She was nominated for a James Beard Foundation Award in February 2012 for the fifth consecutive year as Best Chef in the Southeast, competing against chefs in major metropolitan areas. Holly Hill Inn is regularly featured in local and national media, most recently in The San Francisco Chronicle, Southern Living and The New York Times travel guide 36 Hours."
See what I mean? My meal consisted of a divine butternut squash bisque followed by a spice-rubbed pork tenderloin with green tomato jam and Weisenberger cheese grits. And then, to push me over the edge of culinary bliss, they served chocolate bread pudding with a bourbon sauce for dessert. Oh my…it was pure heaven. While it may not sound that amazing compared to some lunch offerings, I have to tell you that it tasted like a million bucks. And although I was stuffed to the max, the end of lunch came too soon as we all boarded the bus yet again for our final stop of the day at Wild Turkey.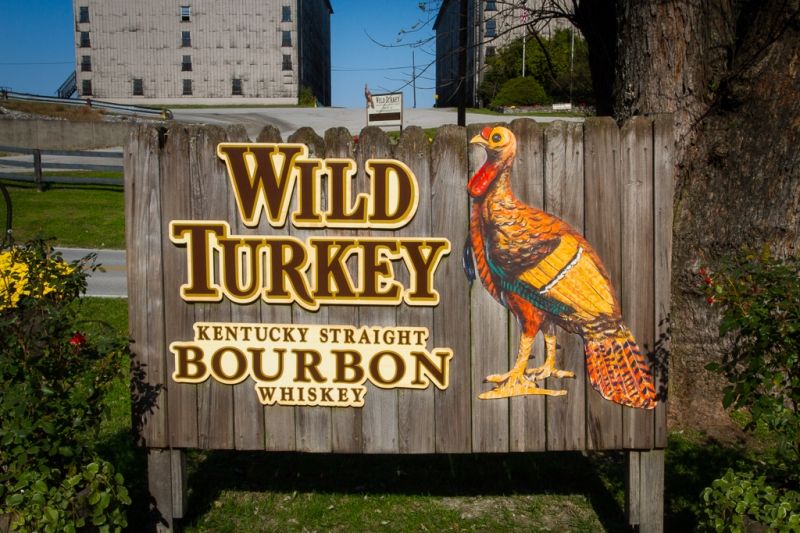 The mood on the bus as we arrived at Wild Turkey was lively and electric as everyone was excited about getting to meet the Wild Turkey legend himself, Jimmy Russell. Just as soon as we stepped off the bus, Jimmy came outside to welcome our group and begin our tour of the Wild Turkey Distillery. If you've never had the chance to meet Jimmy in person, you're missing out on something special. Jimmy is one of the last great Bourbon pioneers and a true gentleman to his core. His Bourbon knowledge and whiskey wisdom is exceeded only by his commitment to spreading the Bourbon gospel to everyone he meets.
Over the next 45 minutes, Jimmy took our group on a tour of the distillery and spent a lot of time explaining not only how bourbon distilling happens but also how Wild Turkey puts their own twist on the process. Jimmy answered every question we threw at him about the distillery and even gave us a tour of the master control room where everything is overseen and controlled by computers.
Yes, I said 'controlled by computers'. I was surprised as well. I fully expected a certain amount of their distillery to be automated but I also expected to see an operation similar to what we saw at Buffalo Trace. You know, a distillery steep in history and old rusting metal with a heavy old school industrial feel. Turns out that Wild Turkey had a chance to rebuild their operation several years ago, and the result is a state-of-the-art facility that if needed can be monitored by a single person.
I asked Jimmy about how different their operation was compared to Buffalo Trace's and he responded with his trademark charming grin, "Well, we're all friends. But sometimes, what you see isn't necessarily what there is to see."
See why I love Jimmy Russell?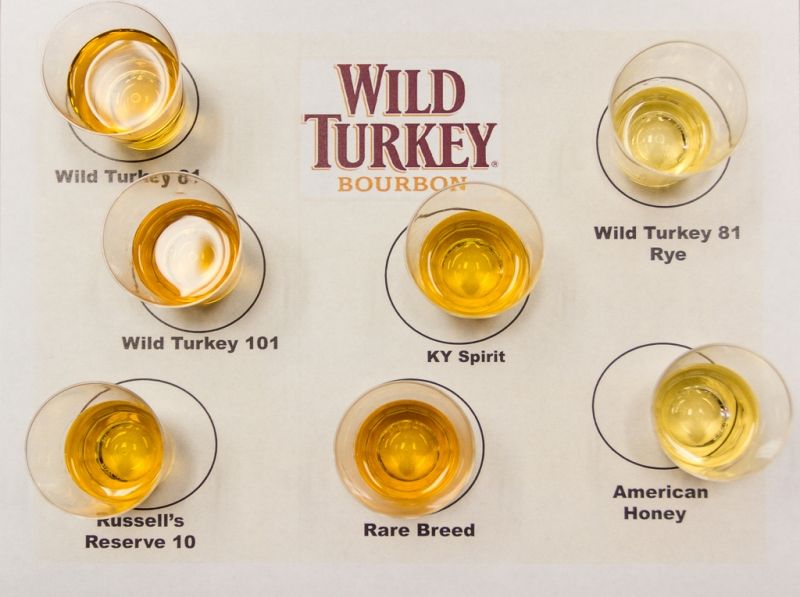 After our tour Jimmy led us into their offices and into their main conference room where they had setup a private tasting for our group. Over the next hour and a half, Jimmy led us through a tasting of Wild Turkey's entire line of Bourbon. He dove further into the aging process and answered all of our remaining questions. And just when we thought couldn't get any better he left the room and returned with some amazing photo renderings of what their new visitor center is going to look like once completed. Based on what he showed us it's going to be hard to beat what they've got planned. The view alone is going to be worth a visit.
On the heels of our tasting we headed out to the Wild Turkey gift shop where Eddie Russell joined our group so both he and Jimmy could sign some bottles of Wild Turkey. It was an amazing end to an incredible afternoon at Wild Turkey. It's not everyday that you get to spend almost 3 hours in the personal company of a Bourbon legend and it's sure to be a day that none of us every forget.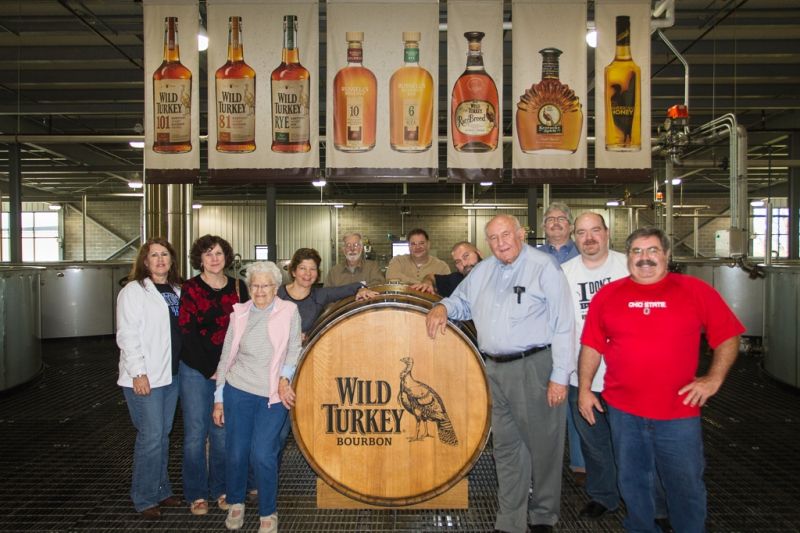 From Wild Turkey we headed back to our hotel to freshen up and rest for a bit before regrouping and taking the bus over to Bourbons Bistro for dinner.  Bourbons Bistro was the first restaurant that I booked when planning the trip and I was very much looking forward to finally experiencing their establishment.
Dinner was kicked off with a Buffalo Trace Bourbon tasting led by their lead chemist, Chris Fletcher. Chris joined Buffalo Trace in the past year or so but has a long family history in the whiskey industry. Most notably his grandfather was a Master Distiller at Jack Daniels. However, I can tell you that Chris knows his shit and did a great job sharing his knowledge of Bourbon with the group. In fact, fellow Pilgrims are still letting me know how much they enjoyed speaking with Chris that evening.
Of course it didn't hurt that he dropped little tidbits like, "I was with Julian Van Winkle yesterday helping him select next year's barrels for Pappy…" or "…let me show you this cool photo of our tasting roundtable."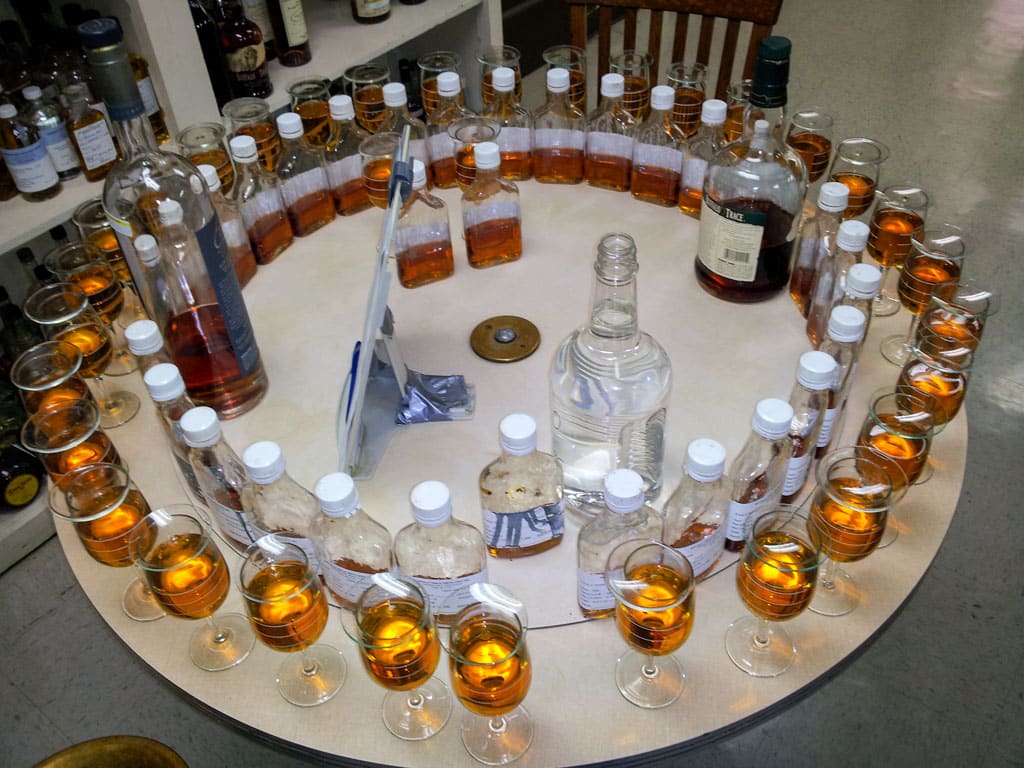 All kidding aside, Chris did a fantastic job and I'm pleased he was able to take time out of his evening and join the group for dinner.
We were also honored to have several local Louisville Bourbon industry guests join us for the evening. We got to spend time with the Bourbon Babe, Carla Carlton as well as Kelly and Forest Ramsey, owners of Art Eatables. (Art Eatables is the home of the universe's best Bourbon truffles as declared by me. I'm not lying. Read more here.)  We also had the privilege of sharing Bourbon and banter with Colleen Rice, of Moonshine University, and her husband. It was great to finally get to meet and hang out with so many of the folks that have helped spread the word about Bourbon & Banter online.
To say the food was fantastic would once again be an understatement. Everything was delicious and I even found myself begging the kitchen to cook up some more pork belly. If you find yourself in Louisville, you need to make sure you make a stop at Bourbons Bistro for dinner.  Let Jason know that Pops from Bourbon & Banter sent you.
Can you guess what happened after dinner?
That's right, several of us headed out to drink more Bourbon. While I'd like to tell you more about that part of our adventure I think it's best that I leave those details on the cutting room floor. Some things are best left for only the Bourbon Pilgrims to enjoy. But hey, if you really want to know what happens after dinner, make sure you join us next year for the Bourbon & Banter Pilgrimage.
I appreciate you bearing with my incredibly long recap of Day 2. It's hard to condense everything we experienced into just a few paragraphs, so I hope I did okay sharing with you our adventures. I'm sure there details I've forgotten to include or didn't get quite right, but like a good Bourbon backstory, I ask that you accept what I tell you and feel free to embellish on your own.
Stay tuned for my recap of Day 3 including our stops at Jim Beam's new tour experience, Willett Distillery and Maker's Mark.
Cheers!