Bourbon & Banter 2013 Holiday Gift Guide
The holiday season is fast approaching, which means our gifting lists are growing longer by the day. Fear not! Bourbon & Banter is here to provide you with ideas for holiday presents for that Bourbon lover (or prospective Bourbon lover!) in your life.
The holiday season is fast approaching, which means our gifting lists are growing longer by the day. Fear not! Bourbon & Banter is here to provide you with ideas for holiday presents for that Bourbon lover (or prospective Bourbon lover!) in your life. We asked each of our contributors to let us know what they would like to unwrap this holiday season and put together this 2013 Holiday Gift Guide.
So pour yourself a glass and get ready to some extra boozy shopping. And, as always, something from the Bourbon & Banter Shop or Barrel Proof Bourbon Print Gallery will make every holiday much cheerier!
---
Our fearless leader, Pops, has quite a few high ticket items on his holiday wish list. But isn't that what gifts are for?
"I believe everyone that drinks whiskey should have a home or office bar. I know everyone can't afford the cost or space of a built-in oak masterpiece that looks like it came out of an episode of Cheers, but they should at least have something where they can store a few bottles and glasses. While it provides a safe home for your beloved bourbon, a home bar can also be a declaration of your personal style. I have a globe bar (Erin is exceedingly jealous – read on) in my office and I'm working on renovating a 1950's built in bar cabinet in my home. But if I could, I would love to add the German Light Bulb Voltage Tester bar to my home or office. It's not only makes a serious style statement but is sure to be the focus of many nights' worth of banter while drinking with my friends. At almost $2,000 it's out of my price range, but maybe, if all of you would tell Santa how good I've been this year, it will show up under the tree."Learn more about this vintage light bulb voltage tester bar.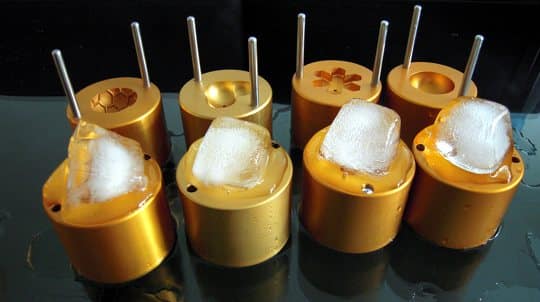 "During the hot summer months, I enjoy having a glass of bourbon on the rocks. And as we all know, a sphere shape provides the best cooling experience since it doesn't water down your whiskey too fast. There are some very good ice ball molds on the market that won't break the bank, but they require you to prepare your ice in advance. If you're anything like me, you forget to refill the molds (usually from the night before) and wind up without any ice balls for your happy hour drink.A professional ice ball mold solves this problem by forming the ice ball on demand from existing ice. It's the same type of device used in bars that take their ice balls seriously. As a professional-grade product they're not cheap, but if you buy one, you'll never find yourself without the perfect way to put together a glass of bourbon on the rocks."Check out Pop's preferred professional ice ball mold.
---
Erin Russell thinks the best holiday gifts represent both Bourbon and her home state of Kentucky.
"I absolutely love the guys over at Kentucky for Kentucky. They make the best Kentucky-related products, but also have a shop that features quite a few that every Bourbon lover would enjoy, including handcrafted flasks emblazoned with the image of Colonel Sanders, a "More Bourbon than People" poster, and many other Kentucky-related items.

But if Santa were thinking of being extra nice to me this year, I would absolutely want this gorgeous globe bar in which I could display all of my favorite bottles of Bourbon. I saw one of these in a showroom once and have been obsessed ever since. It combines my love for the antique, maps, and, of course, our favorite brown liquor. This would look lovely stocked with a bottle of Elijah Craig 18, Four Roses 125th, a Pappy or two, and any other rare bottles I could get my hands on."
---

Ginny Tonic loves her Tovolo sphere ice molds.
"Bourbon over ice can be one of the true pleasures of life but bourbon watered down to the point of tastelessness is a tragedy. Therefore one of the first things a budding bourbon geek should purchase is a good set of sphere ice molds. A large ice sphere melts much more slowly than the same amount of smaller ice cubes because the sphere has much less surface area. I have tried whiskey stones in the past but I felt that they didn't get the bourbon cold enough for me and it just felt weird to have actual rocks clanking around in your glass. That is the second benefit of using an ice spheres: they look amazing in your glass. My favorite brand is the Tovolo Sphere Ice Molds and they make great stocking stuffers for the bourbon lover on your list. I liked the first set I bought so much that I got a second set so I can always have a back ups. The price is reasonable (about $10 a set), they have lasted for over a year now, and, of course, they are very easy to use. I also like that they sit flat and can be stacked in the freezer. Each set comes with two molds that produce 2.5 inch spheres.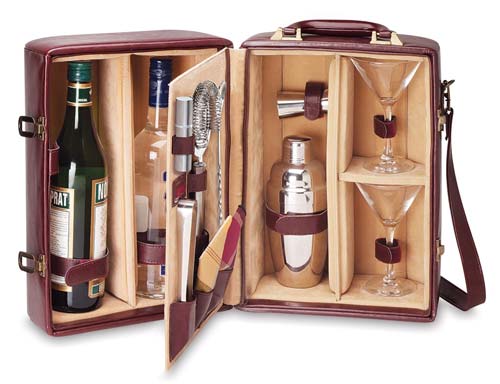 But say you want to really wow your Bourbon friends. This Picnic Basket stuffed to the brim with goodies for the most enjoyable kind of al fresco dining: those that feature Bourbon cocktails! Everything you could need to shake up the perfect Manhattan is nicely nestled into this handsome basket, including a shaker, strainer, martini glasses, and all other necessary bar tools. Be sure to pick up a bottle of vermouth and Bourbon to complete the experience. This one will run you a bit more – around $160 on Amazon.com – but it will definitely leave an impression. Plus, you can insist you are taken along on the maiden voyage to break in your most generous gift. "
---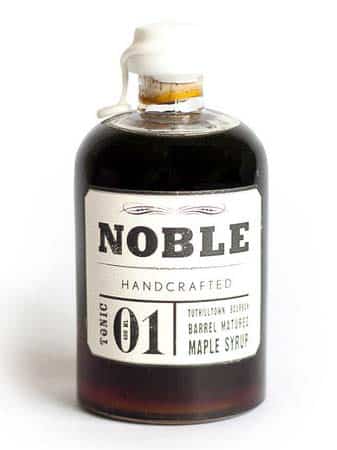 Jonathan Jones is a fan of Noble Handcrafted Tonic 01: Tuthilltown Bourbon Barrel Matured Maple Syrup.
"I'm not much of a breakfast guy, but every now and then I get a craving for waffles/pancakes/French toast/biscuits/i.e. anything I can put syrup on, and this syrup is unique enough that I could see myself eating breakfast more often just because of it. Maybe make a Sunday habit of it or something. You can purchase a single 450ml bottle or a six pack of 60ml bottles.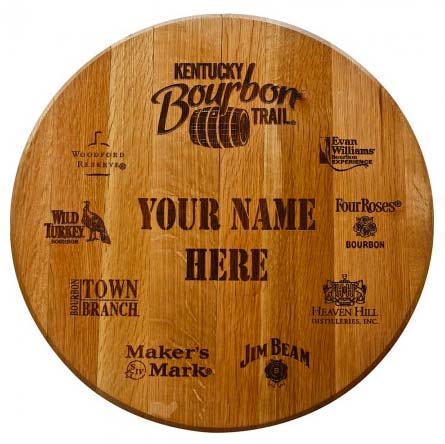 Used bourbon barrel heads also make a fantastic gift. I know one of these won't fit in a stocking, but they're just cool to me. I've already got one (Buffalo Trace), and would love to have more. I prefer the unfinished ones straight from the distillery, as they just have a more authentic vibe to me, but I've found some that are finished and have logos painted on them and they look good too. eBay is a good place to look, but sometimes the asking prices are a bit high. Some distillery websites have finished ones available and they go for around $100 (Jim Beam's American Stillhouse is an example). Speyside Cooperage KY also has some for sale (finished & unfinished), but their stock is constantly rotating, so you have to contact them to get a price quote on finished barrel heads and list of what is available, but unfinished ones are $10 each according to their website. As to why this is on my holiday list – they're so versatile. You can turn them into wall decorations, bar tops, pub table tops, lazy susans, checker/chess boards, etc.The Kentucky Bourbon Trail also offers personalized barrel heads ($139.95 – allow 3-4 weeks for delivery) that feature the logo of all of the Bourbon trail distilleries."
---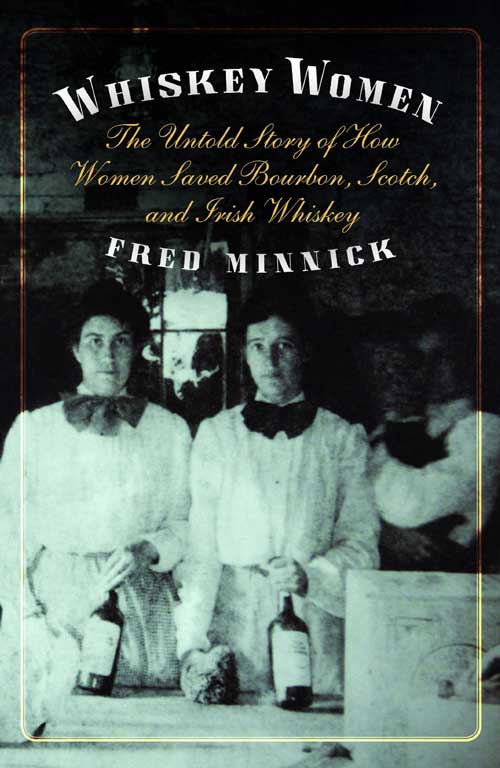 Christelle wants to see a bit of Bourbon history under her tree with Whiskey Women: The Untold Story of How Women Saved Bourbon, Scotch, and Irish Whiskey by Fred Minnick."I am a big fan of historical research and whiskey (best paired together!). It looks fascinating, especially since some people think that women don't drink whiskey. ;)"
---
Matt Propst also wants to add to his bookshelf with the following Whiskey-related reads."The first few are a bit broader, and the last two are distillery-specific. The Whiskey Rebellion is a good book covering the events of 1791-1794. Any U.S. history fan will also like this one.These picks are much broader but great for a Bourbon beginner:
For someone who may not be a heavy reader, the book Bitters. I think it's a great book for two reasons.  First the book has a good amount of information on the history and make up of bitters, as well as the evolution of cocktails. Additionally, this book is part recipe book.  There are plenty of cocktail recipes and also recipes for folks adventurous to try to make their own bitters.  For someone just starting to learn about bitters, I also recommend including the book with Scrappy's Bitters Gift Box.  The gift box offers a variety of bitters for a good price and is a great way to learn which bitters please (and displease) your palate.Finally, I would also recommend the one thing on my Christmas list: a 33 Drams Notebook.  Once you start figuring out what whiskeys you like and why, it's handy to have a notebook in which you can record all of these fantastic (and maybe not so fantastic) bottles for future reference."
---
Thomas Fondano opts for something in which you can really wear your Bourbon pride and reliance on whiskey as the cure to whatever ails you: Doctor Whisky."From author Warren Ellis comes the perfect shirt to show that not only are you well versed in the spirit, but you have a degree to prove it. And it looks like medical scrubs to drive the point home."
---
Andy Jones' gift idea has family roots, and delicious prospects."In our family, a slow cooked Prime Rib has become a holiday tradition. Why not take that wonderful cut of meat outdoors andintroduce it to your grill or smoker?  Here is a product that will help you create the best prime rib you've ever tasted:
'Bourbon Barrel Smoking Wood'
Oak barrels that spent their life aging your favorite brown liquid are dried and cut into easy-to-burn pieces.If you have a charcoal grill you can use this instead of lump charcoal (or heaven forbid briquets). If you have a gas grill or smoker you can use chips of this same wood.As a smoking wood, oak is quite robust in flavor but it is also very versatile and excellent for beef or lamb.  The bourbon imparts an extra layer of aroma and flavor that is sure to impress.This product is available by several online retailers.  The best value I've found is at the Charcoalstore here.I'll post my Prime Rib recipe using this wood in December.  Cheers!"