2017 Bourbon & Banter Holiday Gift Guide
It's our favorite time of the year here at Bourbon & Banter! We love nothing more than getting together with family and friends during the holidays to enjoy some fantastic bourbon and banter.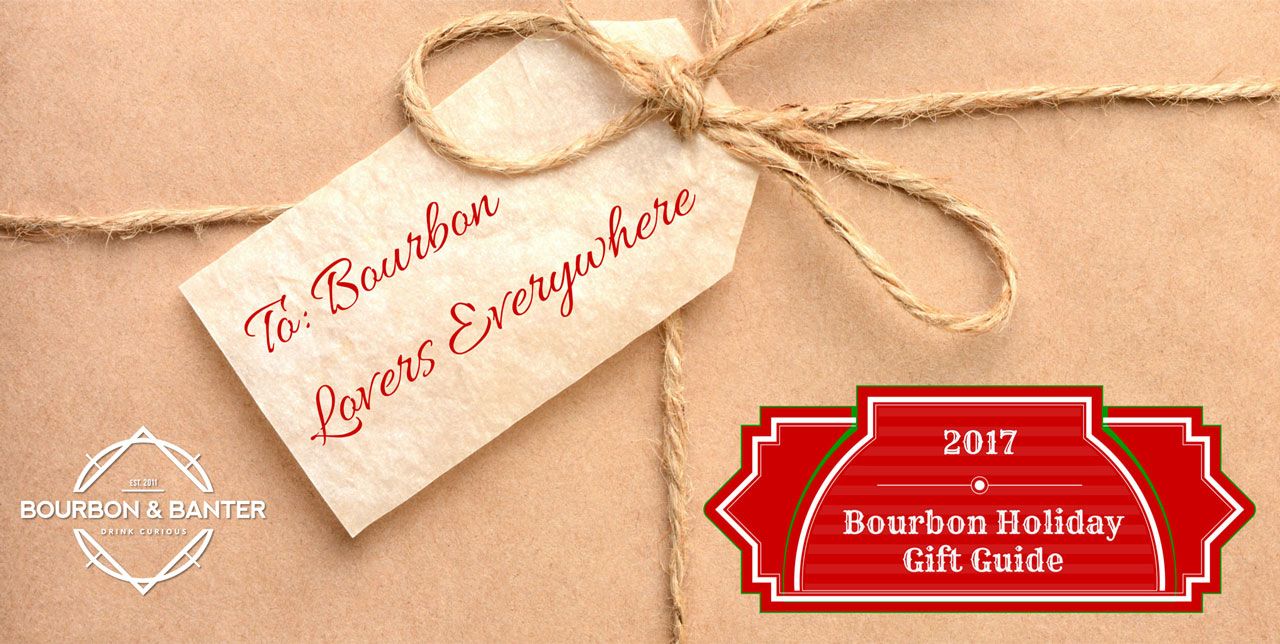 It's our favorite time of the year here at Bourbon & Banter! We love nothing more than getting together with family and friends during the holidays to enjoy some fantastic bourbon and banter. And while we love the holidays, we often hear our loved ones complain about how hard it is to shop for us since we're always on the hunt buying new bourbons as soon as they hit the shelves.  Once again to make gift giving a little bit easier for them, we've created the 2017 Bourbon Holiday Gift Guide.
As in previous year's editions, you'll find a collection of items curated by our team members to enhance anyone's bourbon lifestyle. Links are provided for each item as well as a short description from the team member who put forth the recommendation. Simply click the links within the description or the image itself for more information and to purchase.
And if you still want more ideas we invite you to check out previous year's gift guides:
Lastly, to help kick off your holiday shopping, you can use the code: drink-curious-17 to save 15% off your entire purchase through Thursday, November 30th. And remember, there's FREE SHIPPING on everything in our store.
Once again, all of us at Bourbon & Banter would like to wish you a very Happy Holiday Season and hope you enjoy some quality time with family and friends during the holidays.
PS – Make sure to share this post with those that will be giving you a gift this year and don't be shy about stocking up on some items for yourself. Take our advice and be generous to yourself this year. After all, you've had to put up with continued increased prices and reduced allocation of your favorite whiskeys.
STANLEY ADVENTURE HAPPY HOUR SYSTEM
We're spending the holidays away from home this year, which also means I'll be away from my home bar. Making cocktails on the go can be challenging, so it's nice to have a set like this that contains all the necessary parts in a relatively small package. Inside the shaker is a citrus reamer, strainer, 2-4 cups and shaker top is also a jigger. I'm a big fan of my Stanley flask and growler, but with this set I can get beyond beer and a shot.
Check it out and order your own today!
~ Thomas Fondano
BOURBON B.O.B. (BUG OUT BAG)
Sometimes you just need to get away. Unfortunately, for many that means leaving their favorite bourbons behind. After all, no one wants the hassle of broken bottles while traveling. Right?
Well my friends, the days of leaving your precious whiskey at home are over. Allow me to introduce you to the Bourbon B.O.B. (Bug Out Bag). This bag was built for bourbon lovers and allows you to safely transport up to 10 sample bottles of your favorite hooch. You can check out the full specs in our online store.
But don't delay if you want one of your own. Orders need to be received by midnight on November 30th to ensure arrival by Xmas.
~ Pops
WHISKEY: A GLOBAL HISTORY BY KEVIN KOSAR
This stocking-friendly book is the perfect primer for a budding whiskey lover. Kosar takes the reader through the history of our favorite brown liquid, from its origins through today. He touches on all varieties of whiskey, including Bourbon, Scotch, and Irish, as well as production methods, how each type differs from one to the other, and an overview on the most popular whiskey cocktails. A great book to perch on the bar along with your most prized bottles.
Get more information and purchase Whiskey: A Global History on Amazon.com.
~Erin Petrey
BOURBON PATRIOT GIFT BOX
The Bourbon Patriot Gift Box features a collection of our best selling items for the bourbon-loving patriot in your life.
The Bourbon Patriot Gift Box comes complete with:
(1) Don't Tread On Me Black Flask
(2) Don't Tread On Me Glencairn glasses
(1) Bourbon Patriot Flag (3×5 ft)
(1) Bourbon Patriot Ammo Box
Express both your patriotism and your love of American's native spirit by gifting our exclusive Bourbon Patriot Gift Box.
You can also explore our collection of other Bourbon Patriot products for additional gift ideas.
~ Pops
BITTERMILK NO. 4 NEW ORLEANS STYLE OLD FASHIONED ROUGE
Impress your friends and family over the holidays with exceptional cocktails with zero effort. Bittermilk makes an array of "just add booze" concoctions that taste like a fancy $15 cocktail. For that $15 you would spend on a drink at a bar, 8.5 ounces of Bittermilk yields about 15 cocktails, just add Bourbon or Rye, and a spritz of lemon (I find it gives a nice brightness). I love the No. 4 formula, as it has a very tradition Old Fashioned flavor with just a bit of added spice, but be sure to try their many other flavors, including the Oaxacan Old Fashioned. Perfect stocking stuffer, especially when paired with a Bourbon & Banter rocks glass.
~Erin Petrey
WAXED CANVAS BOURBON & WINE TOTE
I'm a sucker for waxed material. Filson bags, Barbour jackets, you name it. Yes, it's functionally waterproof, but the more you beat it up, the better it looks. That is why this perfectly-designed tote bag hits all the right notes for me. Gone are the days of lugging bottles around in clunky cardboard boxes, plastic grocery bags, or (worst of all) under an armpit. With a reinforced internal divider, you can now safely, comfortably and stylishly transport your bottles. Whether delivering bottles to a friend, participating in a tasting, or just heading out to your backyard, you will be surprised how often you use it- both at home and on vacation. It's the perfect gift for the whiskey drinker and is available for a very reasonable price.
Get more information and buy online.
~ Brett Atlas
BOURBON & BANTER HUMIDORS
When we debuted our Bourbon & Banter humidors a few months ago they quickly sold out. We're happy to report we've gotten more in stock for the holiday gift-giving season. Pick from two designs, a burl wood finish or elegantly engraved glass, that both feature internal locking hinges, a humidifier and inside lining of Spanish Cedar.
Even if your favorite bourbon lover doesn't some cigars these humidors make a great valet box as well. Stock up as we never know when we'll get more in stock.
~ Pops
LUXARDO GOURMET MARASCHINO CHERRIES
Sometimes a garnish can completely elevate a cocktail. For me, the best edible adornment is a Luxardo cherry. Almost any whiskey cocktail can be enhanced by the addition a few of these rich booze-soaked Italian marasca cherries. Luxardo cherries pair well with a Bittermilk Old Fashioned. Perfect gift to the budding home bartender or anyone who likes a good drink.
~Erin Petrey
VINTAGE WHISKEY LABEL T-SHIRTS
Whether you're a diehard whiskey lover or you're shopping for one, Bourbon & Banter's custom vintage whiskey label t-shirts are the perfect way to show off your love of America's Native Spirit. Buy a few for yourself and a few to surprise your friends. You can't find these t-shirts anywhere else and they're sure to make you stand out in a crowd.
~ Pops
ICED MULE MUG
A copper mug with a plastic ice mold insert to freeze a coating of ice on the inside of the mug. Sort of like an ice shot glass, only bigger and with a handle.  It is insulated mug so that the ice melts slowly and big enough for a substantial ice cold Kentucky Mule. The ice last long enough for two or more drinks out of this mug. When you take it out of the freezer the outside frosts up nicely to give you that copper mug feel.
~ Jim Knudsen
CHRISTOPHER MIZE – VIRGINIA'S BOURBON ARTIST
Christopher Mize specializes in heavily textured oil paintings. His paintings use spirit bottles or accessories as their focal point.  His paintings include  original works, oil giclée reproductions of his work which look as though they are originals, or you can order prints as well. If you order an oil giclée, Mr. Mize will produce for you a hand embellished, oil giclée, signed limited edition Christopher Mize painting. He hand signs his name on the front of the painting, and the limited-edition information is put on the back with the painting name and the number for authenticity. Find out more and purchase today.
~Lee Stang