Your Ultimate Guide to the 30 Days of Bourbon Challenge
This challenge isn't just a nod to bourbon enthusiasts; it's an open invitation to everyone, whether you're taking your first sip or you're a seasoned aficionado, to unite in a shared passion for this quintessentially American elixir.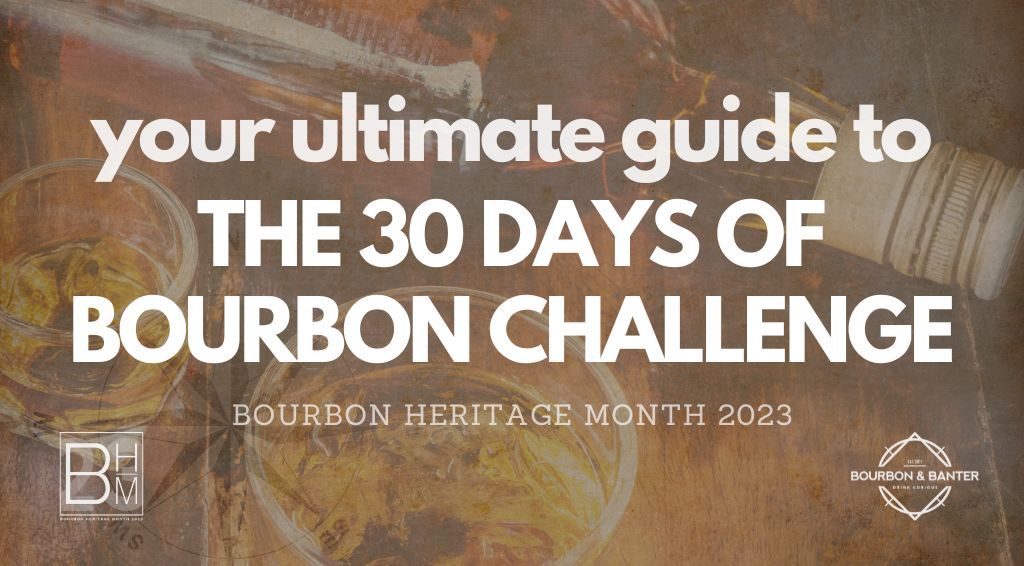 Can you believe it's already that time of the year again?
It's time to celebrate the most badass month of the year–Bourbon Heritage Month.
For a decade running, Bourbon & Banter has been the driving force behind a worldwide celebration for National Bourbon Heritage Month. This isn't just any celebration – it's a high-proof month-long party filled with awesome giveaways and exclusive content aimed at championing the spirit of bourbon within our community.
Now, brace yourself for the crown jewel of our celebration: the highly anticipated 30 Days of Bourbon Challenge. This challenge isn't just a nod to bourbon enthusiasts; it's an open invitation to everyone, whether you're taking your first sip or you're a seasoned aficionado, to unite in a shared passion for this quintessentially American elixir.
Hold up, have you ever encountered the phenomenon known as the 30 Days of Bourbon Challenge? Allow me to bring you up to speed. It's a simple yet bold endeavor, a goal that's easily stated: drink 30 distinct bourbons over the course of 30 days.
Now, you might think, "Well, I already know my way around a bourbon bottle, so this sounds like a breeze." But hold on, because there's so much more to this challenge than meets the eye. It's not just about the daily toast – it's about diving into the rich and varied tapestry of bourbon, exploring its nuances, and experiencing the depth of its character in a truly remarkable way. Get ready to unlock a world of bourbon like never before!
30 DAYS OF BOURBON CHALLENGE RULES
Let's break down the ground rules in the simplest way: BOURBON ONLY. We're keeping this exclusive, so no room for Rye, Scotch, Irish, Indian, Taiwanese, Canadian, Japanese, Australian, or Mexican whiskies. And don't even think about sneaking in those flavored concoctions that don't meet the TTB standards for bourbon (yes, Red Stag, we're looking at you).
Remember, your 30-day conquest is all about bourbon – nothing else cuts it. Anything other than pure bourbon doesn't add up towards your goal.
Now, let's address the age-old question that has puzzled many a bourbon enthusiast – are Jack Daniels and George Dickel allowed? Yes, indeed! Both these iconic spirits get the green light. You might be wondering why. Well, here's the scoop: Tennessee Whisky is essentially bourbon before it undergoes the distinctive Lincoln Country process. It's a technicality that works in favor of our challenge, aligning with bourbon's legal standards even after the Lincoln County process, which doesn't impart any additional flavors.
Hold on tight, here's a handy set of guidelines to ensure your daily pick counts towards conquering the 30 Days of Bourbon Challenge:
Proof Parley: For instance, Wild Turkey 81 and Wild Turkey 101? We're treating those as one in the Challenge. But when it comes to different expressions from the same brand, like a Bottled-in-Bond versus a non-bonded variant, those count separately.
Mash-Up Mastery: Take Four Roses, for example, with its ten unique recipes. Each stands as an individual bourbon. Their Small Batch and Small Batch Select, both blends of these recipes, are also fair game. Plus, don't forget about Four Roses' limited editions – they're in too, thanks to their distinct blend ratios.
Sourced Stories: With so many brands sourcing from bigger distilleries, it's a bit of a maze. To simplify, sourced bourbons – even if from the same distillery – are good to go as long as they play by the other challenge rules.
Single Barrel Shuffle: Ah, single barrels. This year, we're shifting gears. Different barrels of the same brand expression don't tally toward your 30-day feat anymore. While they may have differences in color, aroma, and flavor, they're all part of the same expression. So, no more counting each unique horse stopper on Blanton's, and drinking 30 distinct single barrel numbers won't seal the deal anymore.
Cocktails Count: Prefer to drink your bourbon in a cocktail? No worries. When it comes to crafting cocktails, feel free to shake things up, as long as you're using a fresh Bourbon for each.
Get ready to dive into a world of bourbon brilliance, and let the challenge begin!
EMBARK ON THE 30 DAYS OF BOURBON CHALLENGE WITH THESE SIMPLE STEPS
With the playbook in your hands, it's your moment to officially step into the arena of the 30 Days of Bourbon Challenge. Let's paint your path to bourbon glory by following these simple steps. Join forces with fellow bourbon aficionados and let the bourbon gospel resound far and wide.
Here's your game plan to dive into the action:
Synchronize Your Sip: First things first, snag the 30 Days of Bourbon Drinking Calendar below and bring it to life with ink on paper.
Chart Your Bourbon Travels: Craft a master plan outlining the bourbons you'll be sipping each day throughout the month. Start by unearthing treasures from your own stash, then weave in selections from your buddies' collections or the enticing arrays of your cherished bars and restaurants. With a bit of strategizing, hitting your target will be a breeze.
Savor & Scribble: It's showtime! Sip on your daily bourbon and etch it into history. Whenever you partake in the bourbon of the day, jot it down on the 30 Days of Bourbon Drinking Calendar – your ticket to keeping a formal record of your noble endeavors. Pro tip: Ensure your scribbles are decipherable for your later self.
Raise Your Glass to the World: The joy of sipping is amplified when shared. Capture your daily bourbon indulgence and share the love on social media. Whether it's a snapshot of the bottle itself or a snapshot of your completed calendar, both are applause-worthy. When you're ready to hit the digital stage on Instagram, Facebook, or Twitter/X, tag @BourbonBanter and toss in the power-packed hashtags #30DaysofBourbon, #BourbonHeritageMonth, and #DrinkCurious. We're on the lookout, and a lucky bunch will seize some swanky bourbon swag during Bourbon Heritage Month. Feel free to jazz up your posts with our tailor-made graphics, up for grabs below.
Invite Fellow Adventurers: Triumphs are sweeter when shared with pals. Extend the challenge to others and let the rivalry commence. Link them up with this very page and offer a sip from your personal stash to get them on their feet.
Cherish the Ride: Remember, this challenge is all about embracing the journey. No need for high-pressure stakes here. Life can throw curveballs that might disrupt your bourbon pilgrimage – that's all right. Just pick up where you left off or, if the spirit moves you, take on two bourbons the following day and backdate one to bridge the gap. Don't overanalyze, and keep in mind, if the challenge starts chiseling away at your Zen, you might need a recalibration.
Now, without further ado, raise your glass, and let the 30 Days of Bourbon Challenge begin!
30 DAYS OF BOURBON DRINKING CALENDAR
Download and print out your very own copy of our 30 Days of Bourbon Drinking Calendar to chart your progress as detailed above.
30 DAYS OF BOURBON LOGO OVERLAYS
Download and use our BHM23 logo overlays when sharing your 30 Days of Bourbon Challenge progress online. Each file is a .png file, allowing it to be used as an overlay on top of your photo. For those of you with an iPhone, we recommend using the Canva app to create your final image with overlays.
Download/Usage Instructions: Click on one of the links above to download the overlay graphics. The image will open in a new browser tab/window. Then right-click on the image in the new tab/window and save the image to your computer or phone. Please note that the images are shown in black on a white background for illustration purposes only. When downloaded, they will be in white with a transparent background, allowing you to overlay them on a photo.