30 Days of Bourbon Challenge: Are You Ready?
The rules are pretty simple: This is a Bourbon challenge. No Rye, Scotch, Irish, Indian, Taiwanese, Canadian, Japanese, Australian, yadda, yadda, yadda. If it ain't Bourbon, it doesn't count.

30 Days of Bourbon. Can you believe it's already that time of the year again?
Every September for the past eight years, Bourbon & Banter has hosted the 30 Days of Bourbon Challenge to celebrate Bourbon Heritage Month. It's the perfect challenge for both novice and experienced bourbon drinkers.
Wait… back that whiskey truck up a second. You've never heard of the 30 Days of Bourbon Challenge?
No problem, let me tell you all about it.
For as many years as I've been into Bourbon, my bucket list includes attending the Bourbon Heritage Festival. But, what has happened every single year, and will happen again in 2022, is that it will remain unfilled on that list. However, seven years ago, I set myself a goal to do something special to celebrate America's Native Spirit. I came up with the 30 Days of Bourbon challenge:  30 different Bourbons in 30 days.
I know what you're thinking… I drink Bourbon every day. What's the big deal? There's more to this challenge than simply drinking Bourbon daily.
TRACKING CALENDAR
---
Download and print the 30 Days of Bourbon calendar to track your progress.  Each day write down your bourbon and share a photo on Twitter/Instagram using #30DaysofBourbon #BourbonHeritageMonth #DrinkCurious and tag @BourbonBanter.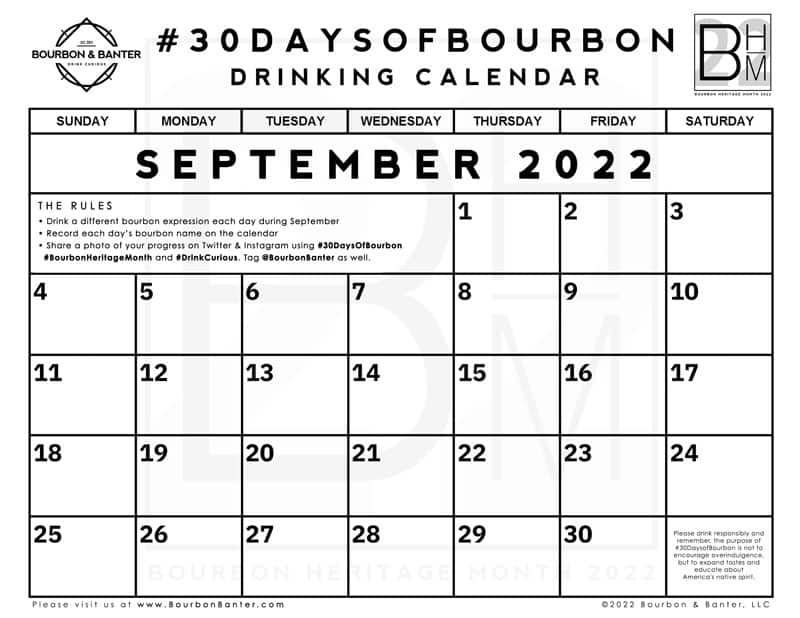 LOGO OVERLAYS
---
Download and use our BHM22 logo overlays when sharing your progress online. Each file is a .png file which allows it to be used as an overlay on top of your photo. For those of you with an iPhone, we recommend using the Canva app to create your final image with overlays.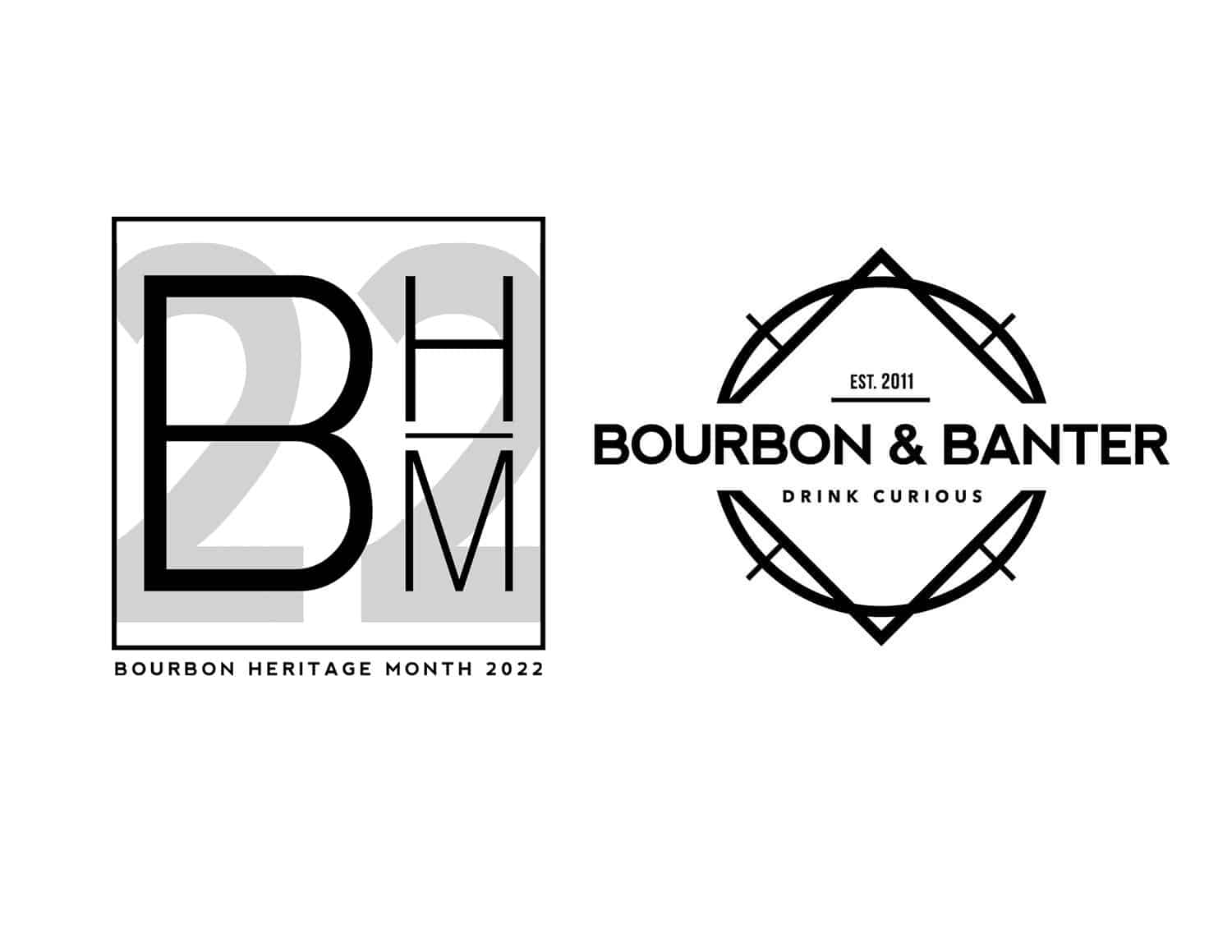 Overlay Instructions: Click on one of these links: BHM Logo  |  B&B Logo. The image will open in a new browser tab/window. Then right-click on the image in the new tab/window and save the image to your computer or phone. Please note that the images are shown in black on a white background for illustration purposes only. When downloaded, they will be in white with a transparent background allowing you to overlay them on a photo.
30 DAYS OF BOURBON RULES
---
The rules are pretty simple:  This is a Bourbon challenge. No Rye, Scotch, Irish, Indian, Taiwanese, Canadian, Japanese, Australian, or Mexican whiskeys are allowed. If it ain't Bourbon, it ain't counting. No worries – there's nothing wrong with you enjoying a sip of those whiskeys during the 30 Days of Bourbon, but you'll have to take a pour of Bourbon, too.
Argue all you want, but Tennessee Whisky is Bourbon, so feel free to pour Jack and George if you enjoy them. Cocktails count, too, as long as you can identify the Bourbon used.
Here comes the tricky part that sometimes trips folks up:  What makes or doesn't make a Bourbon different?
Proof:  If you're looking at, say, Wild Turkey 101 and wondering if Wild Turkey 81 are different, for the sake of the Challenge, they aren't. However, if you came across a Bottled-in-Bond Bourbon and a non-bonded brother, those would be different Bourbons because of the rules governing bonded whiskeys.


Mashbills within a Brand: Four Roses has ten distinctly different recipes. Each one would be considered a different Bourbon. Moreover, their Small Batch and Small Batch Select are blends of those recipes, and either (or both) would also count. So would the limited editions.


MGP/Dickel/Barton: I had to clarify this three years ago because of so many distilleries and non-distilling producers (NDPs) sourcing their whiskey from MGP. Dickel and Barton are heavy-hitters in this as well. There is so much variety in what producers do with sourced distillate that different brands count as other Bourbons.


Blanton's (and other Single Barrel Bourbons):  Different letters on the horsey stoppers are not different Bourbons, sorry.  But, if you find different barrels of Blanton's, you can make it your whole month if you'd like. If you aren't finding Blanton's on the shelf, ask your nearest liquor store if they have it in stock. They don't get asked that question nearly enough, and they'll be thankful to hear it from you.
30 DAYS OF BOURBON INSTRUCTIONS
---
For each day of September, post your Bourbon of the Day on Facebook, Instagram, and/or Twitter with the hashtags #30DaysofBourbon and #BourbonHeritageMonth, and #DrinkCurious. Also, tag @BourbonBanter and any of us you'd like to. Some folks like me post a picture of the bottle. Others post their updated calendar. Either way is acceptable. As a bonus, Pops will be selecting some folks at random who post online to win some pretty cool bourbon-themed prizes.
We at Bourbon & Banter like to be good stewards and believe in bourbon karma. For the last five years, I've asked people to donate $30.00 (or more) to any charity they choose. Be sure to give your charity a shout-out when you post!  Awareness is vital to many charities, so don't just wait until the end; tag them daily.
If you're concerned that you can't take part in the 30 Days of Bourbon because you don't personally own 30 bourbons, you can plan for that. Bourbon is meant to be shared between friends, so set something up in advance. Visit a good whiskey bar. Grab some shooters from your local liquor store: they're easy on the wallet.
There are always the naysayers who dismiss this as not a real challenge. You should know that history proves otherwise.  I have many friends who join me each year, and life happens. You need to be aware of things in the month that might be distracting, particularly events that involve a special Bourbon. People get sick, or they go on trips. Invariably people drop out. The key is to remember this is supposed to be fun and not overly stressful. If you can't do it, you can't do it. Life goes on, and there's always next year.
And fun is the name of the game. Participants tend to comment on how surprisingly difficult it was and how much they enjoyed it. It is also nice to spread some much-needed joy to a charitable cause.
Will you join the 30 Days of Bourbon Challenge and help spread the Bourbon Gospel?