5 Irish Whiskeys for the Bourbon Lover
Every March 17, we all get to be a little Irish. How, or if, you choose to embrace your new, day-long heritage has always been a personal preference, but conventional pop culture tells us that means consuming green beer, Guinness and, of course, Jameson Irish Whiskey.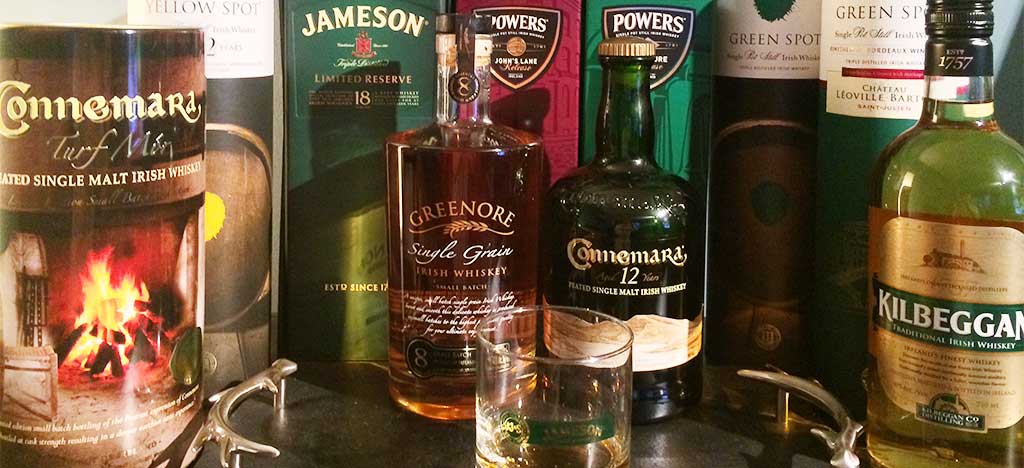 Every March 17, we all get to be a little Irish. How, or if, you choose to embrace your new, day-long heritage has always been a personal preference, but conventional pop culture tells us that mean consuming green beer, Guinness and of course, Jameson Irish Whiskey. Now, there really isn't any wrong with Guinness or Jameson (green beer is wrong though), but as discerning whiskey drinkers, there is so much more to explore and taste. There is an incredible legacy and history with Irish Whiskey, and even for one day, or weekend, a year, embrace your inner Irish.
These 5 Irish whiskey selections will never replace your bourbon, but they are worthy choices to celebrate with. You might even find you like one or two of them.
Let's be upfront though. There are some key differences between Irish and Bourbon whiskies.
No Irish whiskey will be able to compete with the richness of oak flavors, like vanilla, that a bourbon or most ryes can. That said, many great drams will have those vanilla, almond and honey notes, but they will be softer
They age in a variety of used and new barrels, which can offer a wider variety of flavors
The mash bills and grain mix can vary widely among Irish Whiskey, from 100% corn, to single malt (barley), to blends of malt and grain
The distillation methods are also different – column stills vs. pot stills
They age in Ireland. Hot there, is like a cool Kentucky spring. Whiskey ages very differently
Glasses ready? Let's drink!
GREENORE
You might see this called Irish or Celtic bourbon, which is "wrong", but it gets that nickname for a good reason. This is a 100% grain whiskey made with corn that is aged in ex-bourbon barrels. Golden in color, it has a mellow honey and oak notes on the nose and finished with smooth vanilla on the palate. It is incredibly light and sweet and one dimensional. But, it does make a good first step.
BUSHMILLS 10-YEAR-OLD
This is light and sweet, like the Greenore, but this whiskey has slightly more character. This is a classic single malt Irish Whiskey aged mostly in ex-bourbon barrels. The nose is clean, with honey and vanilla, and on the palate, there are sweet vanilla, mild chocolate and light spice notes. This is an easy-drinking whiskey, but the longer aging and barley malt grain provide a slightly more depth than the Greenore. For those bourbon drinkers who like lighter, softer bourbon like a Maker's Mark, this is a good whiskey to try.
JAMESON BLACK BARREL
There is a lot happening in this step up from the standard Jameson. This whiskey is a blend of pot still malt and grain whiskeys aged in both ex-bourbon and sherry barrels, but there are two things that make this whiskey stand out. First, this whiskey is aged longer, and the bourbon barrels used go through an additional re-charring to provide those deeper oak notes bourbon drinkers are familiar with. The nose is a mix the classic orchard fruits you expect from Jameson but with a nice woody spice and vanilla from the barrel. The palate definitely leads with the stronger vanilla and woody spice, but it finishes with a caramelized apple note.
THE IRISHMAN 12-YEAR-OLD
My pick of the litter that too often falls under the radar. This is 100% single malt whiskey aged exclusively for 12 years in first-fill ex-bourbon barrels. The nose, although lighter than any bourbon, has strong vanilla, freshly charred oak and baking spices, like cinnamon & nutmeg, notes. Because it is an Irish malt whiskey, there is also a faint hint of cut grass and green apple. On the palate, the whiskey has a distinctly sweet and vanilla profile, but it has a small hint of spice and pepper. This would be a good whiskey for bourbon drinkers who enjoy a balanced bourbon mashbill of corn, barley and a hint of rye.
POWER JOHN'S LANE RELEASE 12-YEAR-OLD
For those who prefer rye or those high rye bourbons, this is your dram. Longer aging in ex-sherry casks adds the dried fruit and holiday spices, but the whiskey is a blend of whiskey aged from ex-bourbon barrels as well. The nose will draw you in with warm notes of orange, oak and cinnamon, but you are rewarded with the vanilla, pepper and spice notes you'd expect from a rye.
Try one or try them all, and let us know what you think.