Abraham Bowman Limited Edition Wheat Bourbon Review
During our recent tour of the A. Smith Bowman Distillery, our guide, Ralph, mentioned that the distillery would be releasing their next limited edition soon. The Bowman Distillery does a limited edition release periodically.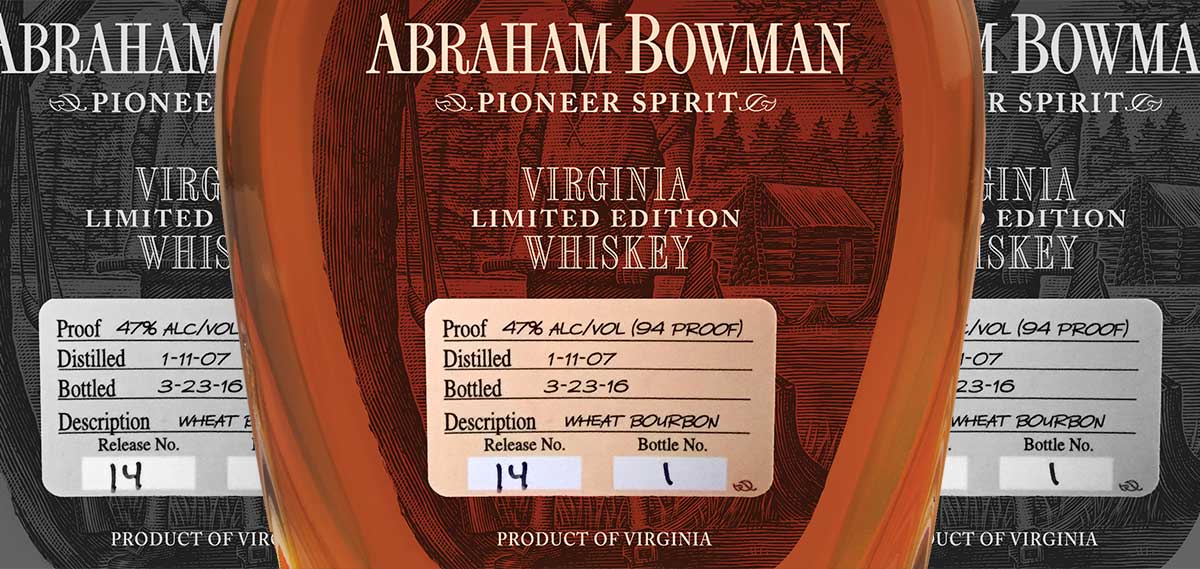 During our recent tour of the A. Smith Bowman Distillery, our guide, Ralph, mentioned that the distillery would be releasing their next limited edition soon.
The Bowman Distillery does a limited edition release periodically. Something different every time. Last year they released a Port Finished Bourbon and a Wine Finished Bourbon. The Port Finished Bourbon was awarded World's Best Bourbon Whiskey at the North America Whiskies & Spirits Conference in New York where the World Whiskies Awards were announced on February 23, 2016. The Port and Wine Finished bourbons are exceptional. Other releases have included the Last Millennium a mix of 13 and 15-year-old bourbons, Gingerbread Finished Bourbon, Vanilla Bean Finished Bourbon, and High Rye Bourbon.
The A. Smith Bowman website describes the Abraham Bowman Limited Editions as follows:
Colonel Abraham Bowman commanded the 8th Virginia Regiment, one of the most outstanding fighting units in the American Revolutionary War. He moved his family to Kentucky in 1779 and was among its earliest settlers. Bowman was active in politics and he represented Kentucky in the first Constitutional Convention. Later he represented Fayette County in the Kentucky Constitutional Convention. Colonel Abraham Bowman was the great grandfather of Abram Bowman, founder of Virginia's A. Smith Bowman Distillery. This limited edition whiskey honors Colonel Abraham Bowman.
Tasting Notes:
Unlike any other whiskey, this limited edition release is always truly unique. Each new batch offers different aromas, complex flavors and enduring memories. Collectors and connoisseurs will surely appreciate this whiskey. Our great-great-grandfathers would love this stuff. Sip slowly, straight or on the rocks.
This year's limited edition version is a wheated bourbon. I like wheated bourbons.
The distillery released their limited edition on May 16th at the distillery gift shop. It sold out in a day. The Virginia ABC stores also received a selection. I didn't know how all the distribution would work so I went over to the local ABC store and asked if they would be getting any in. They told me that distribution within the state would be done by the VABC lottery system.
The first time I tried the VABC lottery system it was less than a stellar operation. They have improved the way it works over the past few months. Now, they have two different methods. In the first one, the consumer orders online, pays, and the bottle is shipped to the store you designate. The store then notifies you when it comes in. Using this method, I have been able to purchase Knob Creek 2001 and Colonel E. H. Taylor Small Batch. It didn't work so well with E.H. Taylor Seasoned Wood or Booker's Rye. There were only 150 and 200 bottles respectively for purchase of those.
In the other method, the consumer goes online and fills out a form for the opportunity to be selected to purchase a bottle of whatever is in the lottery for the week. The sign-up time has always been for a 24-hour period. Somehow VABC picks some people randomly from those that signed up, and they are notified of their selection, and the bottle is shipped to the store that they indicated on the sign-up form. Using this method, I have been selected to purchase Four Roses Elliott's Select and the Abraham Bowman Limited Edition Wheat Bourbon.
I must say that since the Seasoned Wood debacle, this has worked pretty well and has afforded me the opportunity to purchase some limited edition bourbons that most likely I would not have had a chance to purchase. The bottles are sold at retail price. They are not marked up. The other thing is that these limited product purchase methods are open to Virginia residents only and thus prevents out of state people from crossing the border and getting them.
Three weeks after receiving the email stating that I had been selected for the opportunity to purchase, the ABC store called and the Abraham Bowman was in the house.
I reached out to the distillery for some additional information on this limited edition. Unfortunately, they could not disclose the mash bill. They did say that the recipe is unique to the distillery. In addition, they said that this edition was from a ten-barrel batch. They could not say the exact number of bottles there were in release and stated that about half of the bottles were shipped out of state.
Now time for the tasting.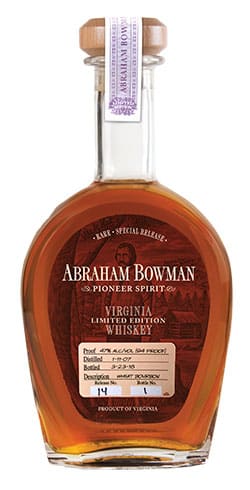 BOTTLE DETAILS
---
Name: Abraham Bowman Limited Edition Wheat Bourbon
Proof: 94 proof / 47% ABV
Age: 9 years (Release: 14 Barrel No. 1111)
Year: 2016
LEE'S NOTES
---
How I Drank It: Neat, in a Glencairn glass. I let it sit for 20 minutes before the first sip.
Nose: Oak | Vanilla | Cherry | Hints of Cornbread
Taste: Oak | Vanilla | Brown Sugar | Hints of cocoa
The Burn: The first few sips, there was some spice on the tongue. As time went on, a sweetness developed on the tongue. Not a lot of long burn on this one.
Overall Notes: The first couple sips I took of this, I was thinking "This isn't that good." As time went on (I took 70 minutes for the two ounce pour), this really opened up into a spectacular bourbon. Sweet on the tongue, an easy sipper. I have a bottle of Pappy Van Winkle 15 year old from the 2014 release that is not near as good as this bourbon. I know taste is subjective but that is my opinion.
Neat, Splash or Rocks: Neat. I am really not one to add water to a bourbon. Rocks would mute the flavor.
Share With: Someone who appreciates good bourbon.
Worth The Price: In Virginia, this sold for $69.99 for a 750 ml bottle. This is what all the Abraham Bowman Limited Editions sell for in this state. It is well worth the price.
Bottle, Bar or Bust: If you can find a bottle of this by all means buy it. The problem is, it is a very limited edition that won't be available in many stores. I did see it online in store in Maryland for $79.99. I'm sure it will be difficult to find outside of Virginia but it is out there. I know it is available at a bar near us. They received one bottle.