After 9 Months Without Bourbon the Winner Is…
Thanks to everyone that voted in our poll to determine what Bourbon & Banter reader, Christine B., should drink as her first sip of bourbon after giving birth to her son Jackson Lee. (Read the original post and call for votes here.)
Thanks to everyone that voted in our poll to determine what Bourbon & Banter reader, Christine B., should drink as her first sip of bourbon after giving birth to her son Jackson Lee. (Read the original post and call for votes here.)
After 162 votes the winner is Four Roses Limited Edition Small Batch bourbon.
For a while it looked like Jefferson's was going to be the winner but in the last few days Four Roses took the lead and never looked back.  Here are the final results.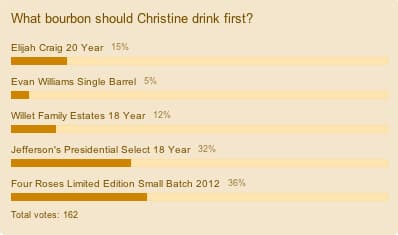 Christine and Justin were kind enough to share a few photos of Christine taking her first drink so we're sharing them with everyone who helped make this very tough decision for her. The only question that remains is just how many of those other bourbons in the photo did Christine plow through after the Four Roses?