Bacon Wrapped Pork Tenderloin With Bourbon Glaze
It's a big day over at Bourbon & Banter. I'm excited and proud to share with you all a guest blog post by my wife…the Redhead.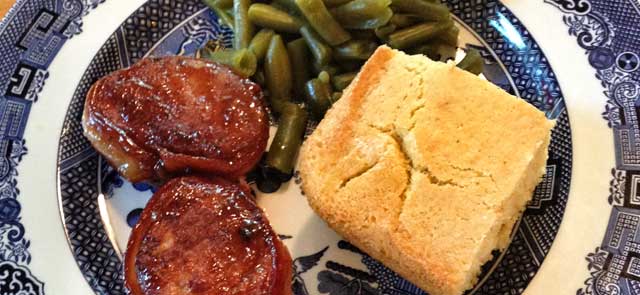 It's a big day over at Bourbon & Banter. I'm excited and proud to share a guest blog post by my wife…the Redhead. As I've said before, I'm truly blessed to be married to such an amazing woman, and while she still won't drink bourbon straight, I have convinced her to incorporate bourbon into her already stellar cooking. Hopefully, this will be the first post of many to come on cooking and baking with bourbon. If you enjoy the post, please drop a note in the comments and let her know. The more we encourage her, the better I eat and the more recipes I get to share with everyone. 😉
---
My husband doesn't understand why I hate bourbon.  He keeps telling me it is an acquired taste.  This makes a certain amount of sense to me since I spent my entire life before children hating coffee and after children walking around with a coffee cup practically attached to my hand.   Despite my, well, let's face it, mediocre attempts to drink the stuff of his dreams, I can't do it.  Not to be discouraged, he began a full-scale attempt for me to cook with the stuff.
I have been gracefully dogging efforts like a seasoned wife for months, but the other day 108 degree weather and a parcel of workmen created a perfect storm and I caved.  What was dinner became bacon-wrapped pork tenderloin medallions with bourbon glaze.   Now my husband, with an appreciation for each bourbon's unique flavor profile, immediately wanted to know why I chose Knob Creek 9 year for the glaze.   The short and the short of it is that I opened a few bottles and smelled them.  I chose the one that smelled the best. Not too scientific, but I sure wasn't going to drink the stuff.   I will confess that I liked the finished product.   The combination of the sweet glaze and the savory bacon is delicious.
After several requests via Twitter for the recipe, I'm happy to share with you the steps that went into making this fantastic bourbon-inspired dish.
BOURBON GLAZE
½ cup honey
¼ cup light brown sugar
3 TBS bourbon
1 TBS Djion mustard
¼ cup orange juice—use fresh (I used a tangerine)
Combine all the ingredients and bring to a boil and simmer for 5-7 minutes. Set aside.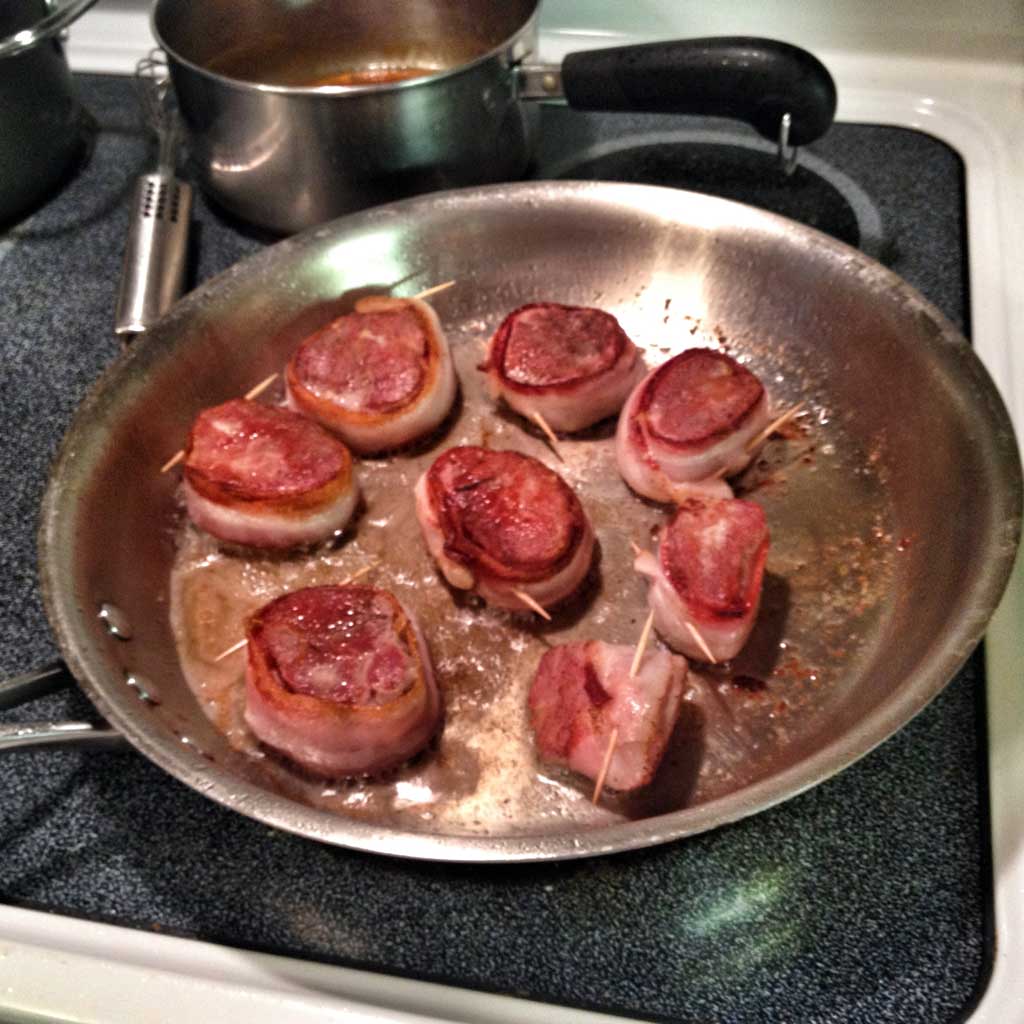 PORK TENDERLOIN
Heat oven to 350*
Salt the pork and let it sit. Yes, don't be afraid to let that meat come to room temperature. 15 minutes or so. It will actually take less time to cook the pork and allows the pork to absorb the salt.
Slice pork into 1.5 inch medallions and wrap with a piece of bacon. Secure with a toothpick.
Heat 2 TBS of olive oil in an ovenproof skillet. Brown the tenderloins on both sides.
Take pan off the heat and generously brush the pork with glaze.
Bake in the oven until done. (OK my husband says that is too vague, so I am going to guess 5-7 minutes)
Give a final glaze after you remove the pork from the oven.
Serve them with your favorite sides. We enjoyed some country green beans and cornbread with the pork tenderloins. Delicious.