Balcones Single Malt Whisky Review
The Bourbon Renaissance is in full effect and continues to become even more prominent as the demand for bourbon grows. Traditional distilleries continue to make great product, but the bourbon fervor has led smaller guys to jump into the game.

Charles Brooker is our guest blogger today with his Balcones Single Malt Whisky review. As with our other Help Wanted applicants we ask that you share your thoughts on his post in the comments as well as online where you can find Charles at @charlesabrooker.
---
The Bourbon Renaissance is in full effect and continues to become even more prominent as the demand for bourbon grows. Traditional distilleries continue to make great product, but the bourbon fervor has led smaller guys to jump into the game.  Like the microbrewery movement, there's no shortage of microdistilleries cropping up all over the country that are making (or sourcing) their versions of bourbon alternative whiskeys.  Texas has been an active participant in this movement with over 20 registered whiskey distilleries in state.
Balcones Distilling is among the most prominent of these distillers, and arguably the progenitor of the Texas Whiskey movement–it's Baby Blue product was the first whiskey made in Texas since the Prohibition days (although Garrison Brothers lays claim to having the first legal still in Texas since Prohibition).  A grain-to-glass distiller, all aspects of whiskey creation are performed in house.  They are renowned for making a great product–such a great product that they have traditionally met only 10% of market demand.
The recent happenings at Balcones are both well-documented and tragic, and serve as a caveat emptor for both craft distillers and investors alike.  Very briefly: Balcones founder / distiller / mastermind Chip Tate sought  investors to fund capacity expansion.  In his deal with them, he sold controlling share of the business to raise capital.  The two could not find common ground how to manage the business, so the investors dismissed Tate with a tremendous amount of turmoil.
As a drinker, this is an important point to note.  Balcones as a distiller and brand, is not going anywhere–it is dramatically expanding its operations…without Tate. Despite no age statement on its products, the bottle indicates it is aged at least 15 months and often rumored to be to 24 months.  Since Tate left in August 2014, today's available hooch is likely approaching the end of the Tate stock and will soon give way to the stock created by his successor, Jared Himstedt. While I sincerely wish Himstedt the best–the Balcones stuff is simply too good and unique to wish anything different–we won't know the impact of the transition until we taste his stuff.
Balcones creates several distilled alternative whisky products, including a corn whiskey made from Texas blue corn, a whiskey-like product made from honey, figs, turbinado sugar, and another corn whiskey smoked with Texas scrub oak.  While these products have contributed to its reputation as a superior label, Balcones flag-bearer is unquestionably the moderately difficult-to-get #1 Texas Single Malt.
It is not a scotch, not a bourbon.  When I first sampled it, it was certainly different from what I've had before.  The nose was dominated by sweet malt, like the kind that is added to milkshakes.  Falling behind the malt were cinnamon and faint hints of coffee.   The palate mirrored the nose, with addition of buttered sweets, like toffee or even butter cookies, and closes with a very mild bitterness akin to black coffee. Overall sweetness was there, but doesn't feature as prominently as with a typical bourbon.
The body of the spirit is viscous, coating your tongue and throat, allowing you to savor its flavors well after swallow.  The finish itself was satisfying, with a slow, creeping burn of medium duration that left you with an additional hint of chocolate.
Balcones #1 Single malt is a spirit with a beautiful nose, flavor profile and finish.  After nosing and tasting it, I concluded that it is good…very good.  Since this bottle is likely from the final Tate batches, one could argue that it may even be collection good.  Since it is not consistently available, I suggest you grab a couple of bottles when you can.  You will find it interesting and likely enjoyable, and you might even have something that people will pay some extra money for in the future.
Balcones Single Malt Review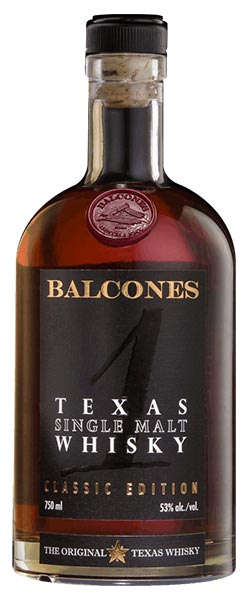 BOTTLE DETAILS
---
Whiskey Name: Balcones Single Malt
Proof: 106
Age: NAS – no age statement
Year: 2015
CHARLES' NOTES
---
How I Drank It: Neat, in Glencairn whisky glass.
My Nose Noticed: Sweet malt | Toffee | Cinnamon | Faint coffee
First Sip: Sweet malt | Toffee | Faint coffee
The Burn: Despite the proof, the burn is of light intensity with medium duration.  The finish is chocolate-flavored Ovaltine; it is very pleasant and is a distinguishing characteristic of this spirit.
Neat, Splash or Rocks: Neat.  Served neat, the malt is very dominant and the toffees and other flavors are secondary.  When splashed with a few drops of water, the malt mutes and the toffees and sweetness punch through more prominently.  I like it both ways, but the flavor profile of the spirit is more unique when enjoyed neat.
Share With: Everyone who enjoys both whiskeys and whiskys. This is excellent stuff that traverses the spectrum of whiskey drinking.  Thrilled to share with people who will appreciate it. An extremely approachable spirit, a novice would nod his head while saying "That's good", but I would be more inclined sharing with people who would appreciate its uniqueness and observe its special characteristics.
Worth The Price: At $60-80 per bottle, this stuff does not come cheaply, but given current supply, uniqueness, and growing demand I can easily envision market prices increasing — particularly as a premium will be ascribed to the "Tate batches".  Buying at current prices is a good deal.
Bottle, Bar, or Bust: Bottle.  Buy it and collect it.  These last few months may be the last from a special distiller (again, hoping that Balcones keeps up and expands on Tate's tradition, but we won't know until we experience).
PS: Chip Tate's is under a non-compete agreement with Balcones which ends in March 2016–It will very exciting to see what his new company Tate & Company Distillery will bring us.  He is a superior talent with vision and creativity, so there is little doubt his hooch will be something to write home about.  Along with the business lessons learned from Balcones, perhaps we'll see him achieve even greater heights.