Barbies to Bourbon
As a child, I grew up on a 90-acre farm in Anderson County, Kentucky (you all likely know it as the home of Four Roses and Wild Turkey).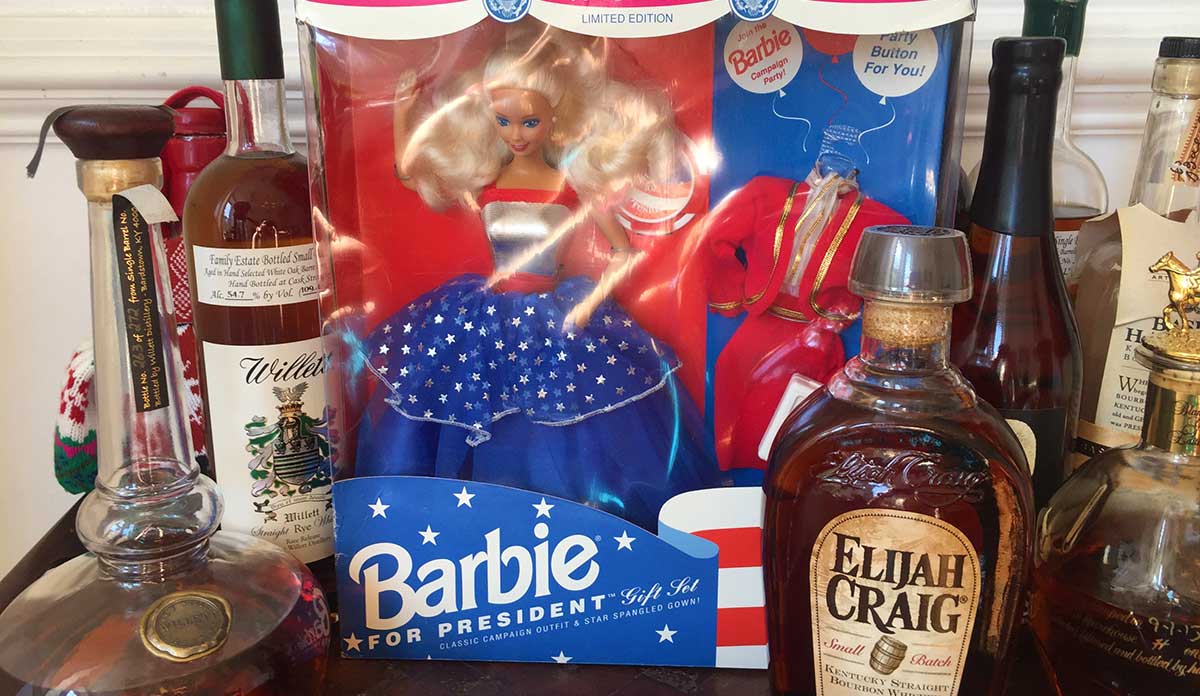 As a child, I grew up on a 90-acre farm in Anderson County, Kentucky (you all likely know it as the home of Four Roses and Wild Turkey). Our house was in the middle of a large wood, we had a handful of horses (6am barn mucking was an unfortunate daily ritual), and there were plenty of outdoorsy opportunities. Alas, even though I did enjoy the occasional splash in the creek or jaunt into the woods, I was always more interested in less messy forays. I loved books and learning but more than anything, I loved my Barbies.
My Barbie collection was vast. I, of course, had dozens of dolls to play with and put into sundry scenarios in the Barbie pool, the Barbie Corvette, and the other hundreds of accessories my parents were gracious enough to indulge me with. (I did, at one point, have a Ken doll, which I promptly "lost" at a friend's house. We do not speak of him.) The pride and joy of my collection, however, were not the dolls I played with but the ones that were not meant as toys. The collector's editions were my real obsession. These dolls came with stands that labelled their edition as they were meant for display, and their outfits were breathtaking – varying from one inspired by Van Gogh's "Sunflowers" to one clad in a dress embellished with real peacock feathers to one paying homage to Scarlett O'Hara. I curated this collection as if they were priceless paintings, dusting them monthly and rearranging their long, luxurious dresses for optimal display.
After realizing that my collection was outgrowing its home on my bookshelves, my parents bestowed upon me a white, ceiling-height curio case to protect my precious dolls from the elements and allow me to properly exhibit my precious possessions. The piece was backlit, shedding golden light over the stunning couture; it was perfect and I loved it.
Over the years the case filled, and I basked in the beauty of these gorgeously-clad figurines. Alas, the end of high school neared and a move caused me to relocate the Barbies to a built-in display case in my new room. The once-beloved curio case sat empty, waiting patiently to be filled with new treasures.
After college, my mother reclaimed my room as an office and carefully (I pray!) packed away my cherished dolls into storage boxes. I still love those dolls and think of them fondly, but as a resident in a city, I barely have room for them, let alone the dedicated display area they truly deserve. But though my Barbies had been packed away, an old childhood friend reclaimed prominence in my mother's house.
After finishing the basement (and turning it into a "man cave"), my mother noticed the empty curio case, it pleading to be populated. So she took the next most precious (and less pink) collections I had and placed it on display. The curio case was full once more, this time boasting the most cherished bottles of bourbon we had amassed together. Signed bottles I dare not open, antique vessels that carry our family's name, and other prized picks (some, admittedly, filled with iced tea) now grace the once-empty shelves of the curio cabinet that served my beautiful Barbies so well.
I now spend my collecting efforts seeking out bottles worthy of display in the former home of my Barbies. The threshold for being display-worthy isn't set in stone. Perhaps it is a just a beautiful piece of glass, perhaps it is the exquisite juice inside, or maybe the bottle just has a good story to tell. Whatever the case, I know my curio is happy to have matured and grown with me, dedicated to preserving the things which I take pride in and love so dearly.