Buying Barrels with the NHLC Part 3: The Decline and Fall of My Liver
In case you missed Part I & Part II of my Barrel Buying Trip with the New Hampshire Liquor Commission, we've thus far selected 30 barrels from three distilleries. Would we achieve the promised "up to 40 barrels of the world's finest liquid"? One day of the trip remains.

In case you missed Part I & Part II of my Barrel Buying Trip with the New Hampshire Liquor Commission, we've thus far selected 30 barrels from three distilleries. Would we achieve the promised "up to 40 barrels of the world's finest liquid"? One day of the trip remains.
JIM BEAM: KNOB CREEK

Arriving at the Jim Beam American Stillhouse in Clermont, KY, we were greeted by barrel program assistant Hunter Cain Davis who drove us up to Warehouse K or WHSE K which sure looks a lot like Whiskey. Inside we began the Knob Creek Single Barrel Experience. 15 barrels were lined up for us to sample.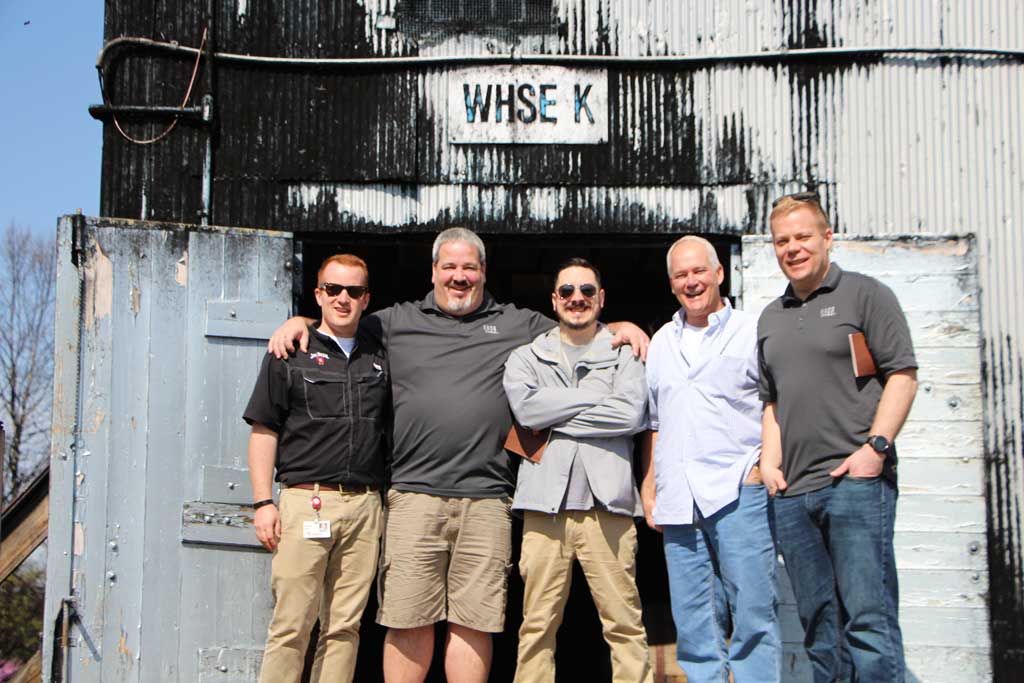 We got the opportunity to knock the bung out with the barrel with the bung hammer. Have you ever done this? You hit the barrel around the bung which causes the bung to loosen and pop out. Unless you hit the bung, in which case you need to start over. I can only imagine practice makes perfect and I lack practice.
This was also the first time I drew whiskey from a barrel with a whiskey thief. If you haven't had the opportunity, here's a simulation: Fill a glass with whiskey. Stick a straw into the whiskey and cover the top end of the straw with your finger. Remove the finger-covered straw from the glass, place it over an empty glass and remove your finger from the straw. That's basically it, except the thief is a large copper straw that holds a lot more whiskey.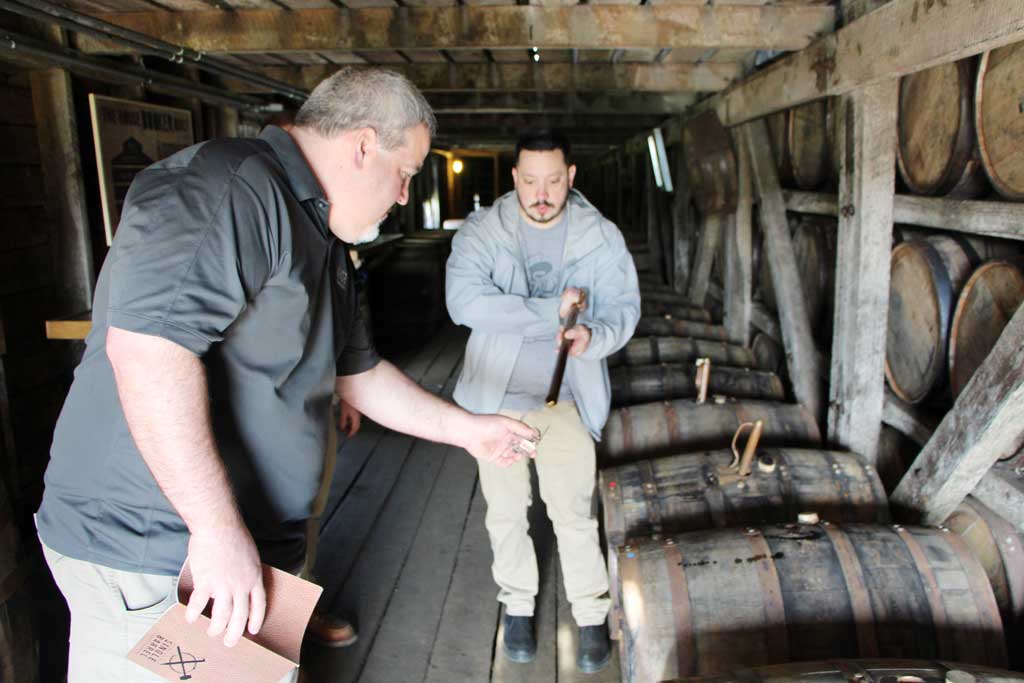 The barrels came from the 5th floor of Warehouses E & N with proofs varying from 126.7 to 138.7. The barrels from E tended to be more grassy and floral, while the barrels from N tended toward darker flavors like chocolate and cherry.
Before we left for our next stop, we briefly met with Fred Noe. He's one of those whiskey men with big personalities that are fun to be around, and I wished we had more time. Oh and this was another record buy.
Barrels purchased: 12 Knob Creek Single Barrel Reserve
Total: 42
SAZERAC: BLANTON'S, W.L. WELLER, BUFFALO TRACE

Before the trip, I was quite excited for Buffalo Trace as I'm a big fan of their whiskeys. As the last stop on a trip where we had already purchased 42 barrels and sampled more than 60 barrels (15 already that morning), I was a little worn out, to be honest. Palate fatigue is real.
After a barbecue lunch on the distillery grounds, we met with Barrel Select Manager Beau Beckman in Warehouse H, the same warehouse where they age all of the Blanton's. Upon entering, we were greeted by a row of 15 barrels, a dozen containing uncut Weller, and three barrels of Blanton's. The group took turns filling glasses with the whiskey thief.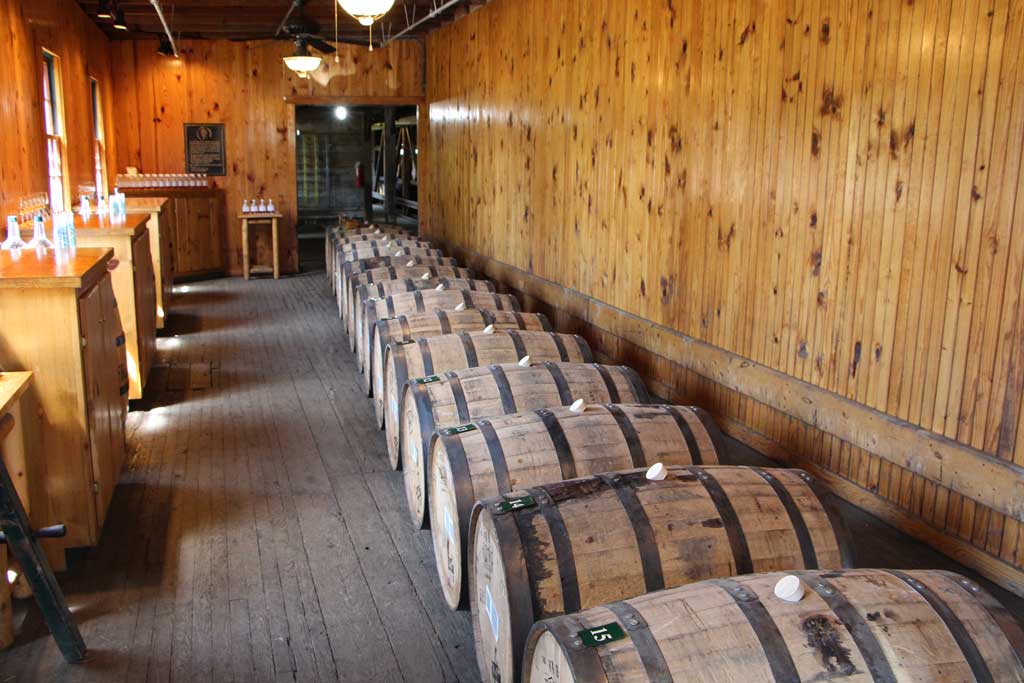 There were two small things that made the Single Barrel Select experience at Buffalo Trace different from other distilleries. First, Beckman asked that we didn't talk during the tasting so as not to influence each other. While I can understand this, it removed the social aspect of the tastings that I had come to enjoy over the past few days. We had bourbon, but no banter.
Secondly, there was only one glass per barrel that we all had to share. This made it so that we were never sampling the same barrel as anyone else at the same time. This helped with the "no talking" rule but also felt a little stingy. And sure whiskey kills germs, but I also don't want someone else's backwash. Perhaps it was the volume we were sampling, maybe my expectations were just too high, or maybe they know they have great products and don't have to try very hard, but the barrel pick experience at Buffalo Trace was a little disappointing.
We all silently came to the same conclusion regarding our Blanton's pick. With the Weller, there was some back and forth between two barrels that were similar. We were picking four barrels, and it seemed silly to buy two barrels with such minor differences. Someone wisely suggested bottling one of them as W.L. Weller Special Reserve and the other as Old Weller Antique 107. We readily agreed to that.
Because Sazerac also owns Corazón tequila, it was suggested that a couple of the used barrels could be sent to Mexico for tequila aging. The Blanton's barrel would age a reposado (at least two months and up to a year), and the OWA barrel would age an añejo (1 to 3 years). When those come due, the NHLC can buy them, and they will be bottled and shipped to New Hampshire.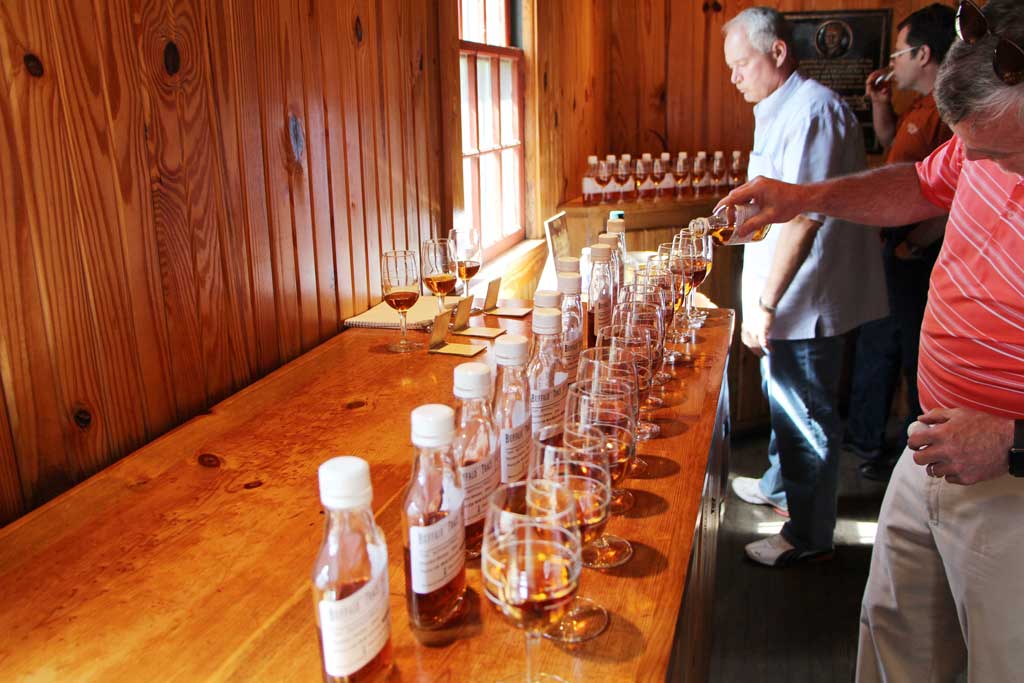 And that concluded our – oh wait there were 30 samples of Buffalo Trace to taste! Having already sampled over 30 bourbons at barrel strength that day, we decided to divide the (thankfully 90-proof) samples among the group, and everyone would eliminate their least favorites. With even less interaction in the tasting, these Buffalo Trace selections have the greatest potential for bottle-to-bottle variance. Okay, now we were done.
Barrels purchased: 4 W.L. Weller Special Reserve, 1 Old Weller Antique 107, 1 Blanton's, 15 Buffalo Trace
Total: 63
We exceeded the expectation of up to 40 barrels by 23. When you take into account that a barrel of whiskey can cost between $8,000 and $12,000, that's over half a million dollars spent on outstanding whiskey. The residents of New Hampshire (and their New England neighbors) are quite lucky indeed.
The Jack Daniel's and Knob Creek selections are on shelves now. Russell's Reserve, Wild Turkey Kentucky Spirit, and Woodford Reserve selections should arrive within the week, with the Sazerac products following in September. You can search New Hampshire Liquor & Wine Outlets to find particular barrels. Drink curious and let us know if you try them!