Basil Hayden's 10 Year Bourbon Review – 2020 Release
The initial mellow flavors hit on the traditional notes of caramel, vanilla, rye spice and oak but I found the taste thin and fleeting. After my initial tasting notes, I added a few drops of water (as per usual review practice) – this was a mistake; most flavors became non-existent and I felt like I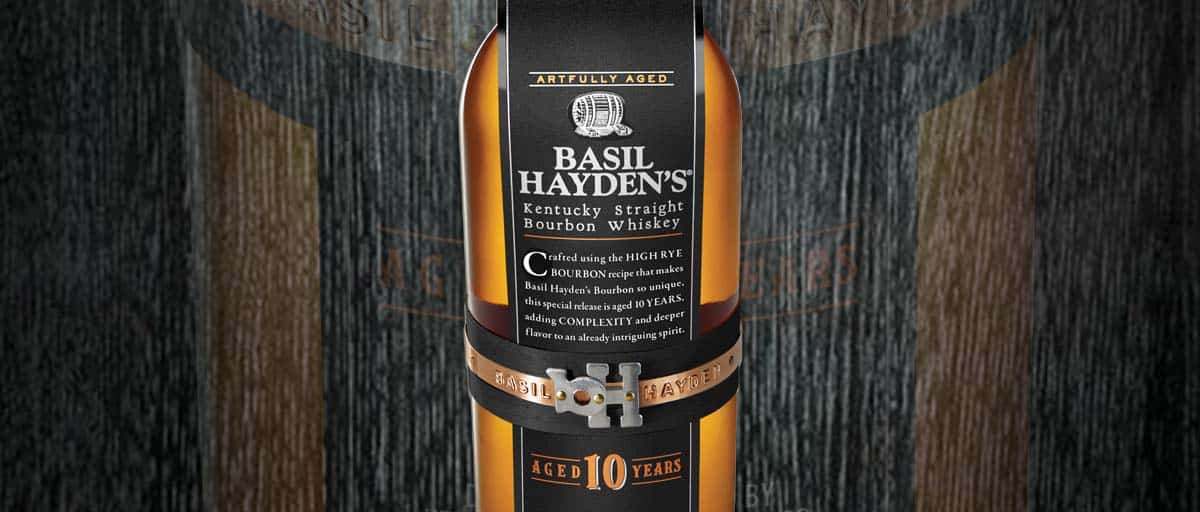 BOTTLE DETAILS
---
DISTILLER: Jim Beam
MASH BILL: 63% Corn | 27% Rye | 10% Malted Barley
AGE: 10 Years
YEAR: 2020
PROOF: 80 Proof (40% ABV)
MSRP: $69.99
BUY ONLINE: SharedPour.com
MATT'S REVIEW OF BASIL HAYDEN'S 10-YEAR BOURBON
---
NOSE: Fruit - hint of apricot | Honey | Light hint of mint
TASTE: Caramel | Vanilla | Sweet cherry | Oak | Rye spice
FINISH: Thin finish that fades rather quickly. After the flavors disappear, the rye spice hangs around the roof of the mouth.
SHARE WITH: Friends who are looking to get into the bourbon world but don't want to start with high proof whiskey or with fans of Basil Hayden who would like to compare it with the standard expression.
WORTH THE PRICE: It's tough to justify the MSRP of $69.99 on a bottle of 80 proof bourbon. The price tag reflects the 10 year juice and the fact that it is a limited annual release.
BOTTLE, BAR OR BUST: This is a BAR for me. At half the price I would have given this a BOTTLE rating.
OVERALL: I would like to thank Jim Beam for the sample of 2020 release of the Basil Hayden's 10 year Straight Kentucky Bourbon. The initial mellow flavors hit on the traditional notes of caramel, vanilla, rye spice and oak but I found the taste thin and fleeting. After my initial tasting notes, I added a few drops of water (as per usual review practice) - this was a mistake; most flavors became non-existent and I felt like I was left with flavored water. I would love to see this as a 10 year, cask strength expression… although I would hate to see the MSRP if that were to ever happen.
POPS' REVIEW OF BASIL HAYDEN'S 10-YEAR BOURBON
---
NOSE: Strong Oak | Vanilla | Rye Spice | Golden Raisins
TASTE: Caramel | Big Dry Oak | Rye Spice
FINISH: Holy crap, the finish is so thin it's almost non-existent. All I got was a bitter oak tannin flavor mingled with rye spice. It was there, and then it was gone in a flash.
SHARE WITH: Folks who don't drink bourbon but are impressed by a 10-year age statement.
WORTH THE PRICE: Are you kidding me? No way.
BOTTLE, BAR OR BUST: This is a big bust for me. The 10-year age statement is wasted on this expression and brings nothing to the party besides extra cost.
OVERALL: I've never understood the need for a 10-year age statement in Basil Hayden's brand portfolio. It makes sense from a business/revenue perspective, but it doesn't bring anything valuable to the drinker.
I've always been a fan of the original Basil Hayden's as a starter bourbon for those that need to keep the proof low as they build up their palate. But once you've been drinking for a while - at least long enough to appreciate what a 10-year age statement can bring to a bottle - there's no need to stay at 80 proof, especially when that extra time in the barrel doesn't add any complexity or unique flavors to the whiskey.
There are plenty of lovely aged low-proof Scotches on the market with tons of nuanced flavors and complexity that I would be willing to pay $69.
Unfortunately, Basil Hayden's 10 -ear isn't in the same league. One is best left to drink the original expression until they are ready for higher-proof whiskey. Once there, there are plenty of other brands in the Beam portfolio with a similar mash bill to pursue.
BRAND NOTES
---
Basil Hayden's® 10 Year Old Bourbon features the same high-rye bourbon recipe that Basil Hayden's fans know and love, but the whiskey is aged in barrels longer to create another layer of complexity and deeper flavor.
The result of the extra aging is a distinct whiskey with big oak aromas along with hints of char and vanilla. Basil Hayden's® trademark spice shines through as the perfect complement to the caramel sweetness and wood flavors, making the whiskey a memorable one for fans and newcomers alike.
Serving neat, with a drop of water, or on-the-rocks allows the sweet caramel and vanilla notes that develop from 10 years in a newly charred American Oak barrel to shine, complementing the spicy rye flavors typical to Basil Hayden's® Bourbon high-rye mash bill. At 80-proof, this whiskey is light enough to examine on the palette without the burn associated with higher-proof whiskeys.
COLOR: Golden amber
AROMA: Big oak, hints of char, vanilla and rye
TASTE: Oak balanced by caramel sweetness and rye spice
FINISH: Lightly smoky with a subtle hint of char
PROOF: Eighty
RELEASE DATE: Released annually every fall
---
BASIL HAYDEN'S® ANNUAL 10 YEAR BOURBON RETURNS
The Extra-Aged Expression Arrives Just in Time for Fall
CLERMONT, Ky., Sept. 9, 2020 -- Basil Hayden's®, one of the fastest growing super-premium bourbons on the market, is once again sharing with its fans Basil Hayden's® 10 Year Bourbon. Originally launched in December 2018, Basil Hayden's 10 Year Bourbon is returning to shelves in limited quantities.
Basil Hayden's 10 Year Bourbon continues to tout unique and approachable characteristics that can be enjoyed by both longtime fans and those new to the whiskey space. Bottled at 80 proof, Basil Hayden's 10 Year Bourbon features the high-rye recipe Basil Hayden's has been known for with a notable age statement. After aging in American Oak barrels for 10 years, the resulting whiskey has a distinctive, yet sippable flavor profile.
"Basil Hayden's 10 Year Bourbon is a truly unique expression that offers the perfect blend of our whiskey's trademark spice, balanced with a caramel sweetness and oak as a result of the extra aging in American Oak Barrels," said Jon Marks, Brand Director for Small Batch Whiskey at Beam Suntory. "This annual release offers something special for our fans to share with family and friends as they gather in a socially safe way."
Best enjoyed neat, with a drop of water, or on the rocks, Basil Hayden's 10 Year Bourbon features the following characteristics:
Proof: 80
Color: Golden Amber
Aroma: Big oak, hints of char, vanilla and rye
Taste: Oak balanced by caramel sweetness and rye spice
Finish: Lightly smoky with a hint of char
This bourbon is now available nationwide in limited quantities with a suggested retail price of $69.99 for a 750mL bottle.
---
Disclaimer: Basil Hayden's provided Bourbon & Banter with a sample of their product for this review. We appreciate their willingness to allow us to review their products with no strings attached. Thank you.