Belmont Farm Distillery – "America's First Craft Whiskey Distillery"
"This place looks like a church," remarks my wife, Patti as we walk to the front door. Later we would learn that it actually was a church. A part of the building housing the tasting room, gift shop and distillery was once a Catholic Church.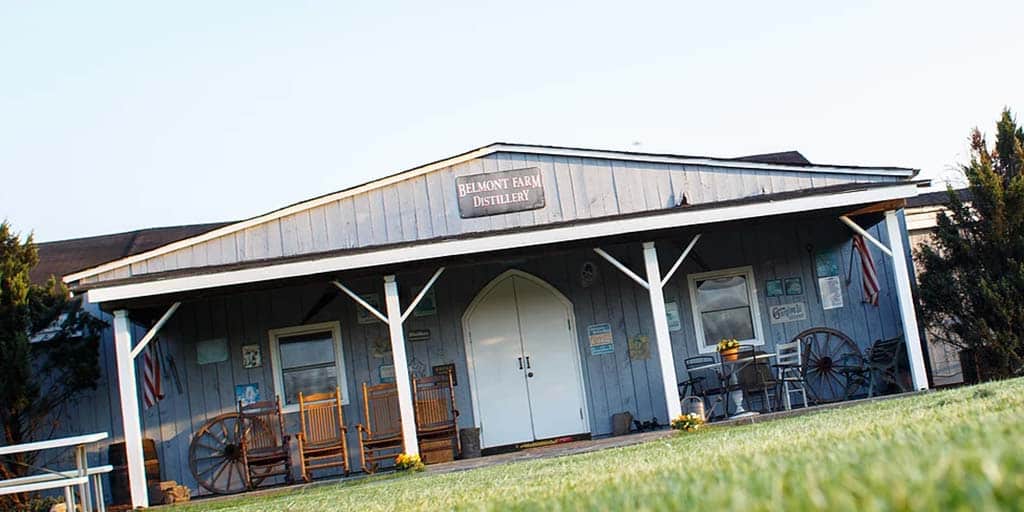 The sweet smell of charred wood toasting hits us as we leave the car. A few steps around the corner and towards the front door and there is the unmistakable smell of mash fermenting.
We are about 5 miles south of Culpeper, VA, about halfway between Washington, DC and Charlottesville, VA. Farm country. Home of moonshine. Belmont Farm Distillery.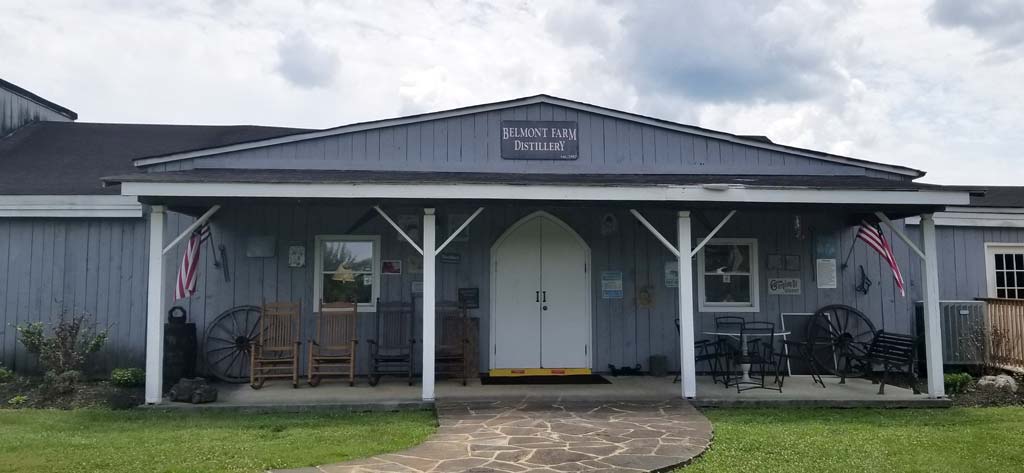 "This place looks like a church," remarks my wife, Patti as we walk to the front door. Later we would learn that it actually was a church. A part of the building housing the tasting room, gift shop and distillery was once a Catholic Church. The church caught fire and the remains of the building were retrieved and became part of the distillery.
We receive a friendly greeting from Cheryl, Belmont Farm Brand Ambassador and Manager.  In response to her question about what brought us to the distillery, Patti replied that it was the first stop on her birthday weekend celebration.
Our conversation is interrupted as the man himself, Chuck Miller, enters the tasting room looking for another employee. Learning that we are there as part of Patti's birthday, he utters some of our favorite words, "Drinks are on me!"
Chuck Miller is the owner and master distiller of Belmont Farm. A Buddy Ebsen look alike, he is tall and very outgoing. He started his distillery in 1988 when corn prices hit a low and he had too much on hand. Using his grandfather's recipe, he started distilling his own moonshine. Chuck's grandfather was a moonshiner back during prohibition, running moonshine into Washington, DC. While the grandfather's moonshine was illegal, Chuck went through the long process of obtaining a license for his distillery and moonshine.
Chuck is not an ordinary farmer. He has a degree in Aviation Engineering from the University of Maryland. He flew aircraft in Vietnam and later flew for Eastern Airlines. Once the airline hit hard times he started on the path to creating a distillery.
Cheryl led our tour and since it was just Patti and I we were able to ask a number of questions as well. The distillery is not big but it is full of history.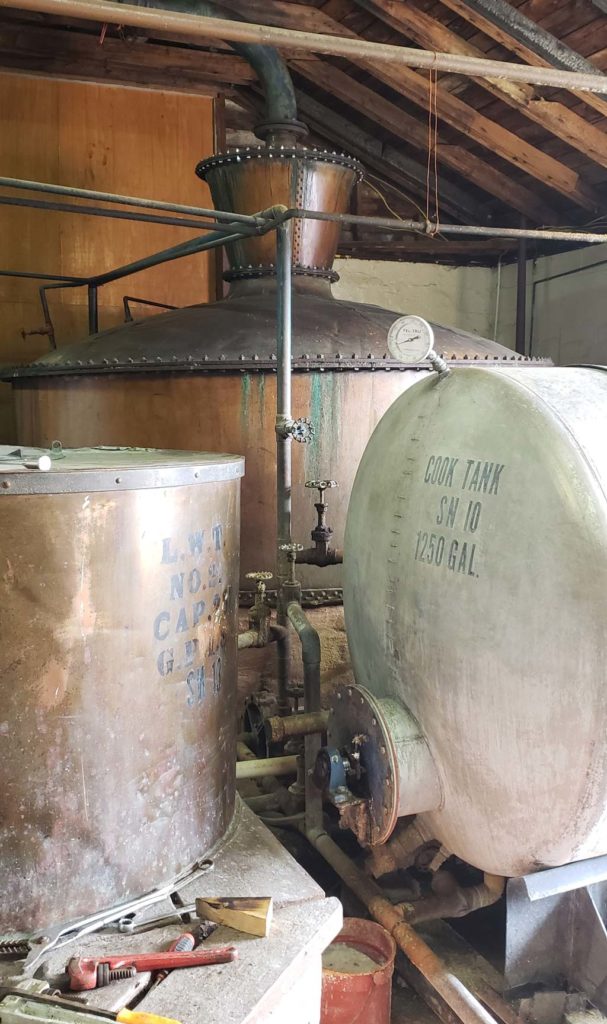 Our first stop was a large room just off the tasting room. This room holds the cook tank, the fermenter tanks, the Copper Pot Still, the Doubler and several copper holding tanks. The still itself was built in 1933, right at the end of prohibition. We were told that the still was used illegally for 20 years in Yonkers, New York to make Apple Jack Brandy. It became property of the federal government and when Chuck was putting his distillery together back in the late '80s, the still was discovered on federal land outside of Charlottesville, VA, covered in weeds and vines. The government donated the still to Belmont and it has been in operation ever since.
Belmont Farm grows or sources, from nearby farms, all their own grain. According to Belmont Farm, at one time it was the only distillery that did that. The grinding and malting are done on site. The mash is fermented on site, cooked, distilled and then either bottled, barreled or put into storage tanks. In addition, distillate is sold to several others. Cheryl wouldn't reveal who they were but during our weekend stops we did find another local distillery that sold a 6-year-old corn whiskey that was distilled at Belmont Farm.
Our tour leads to another room where there is a large milk holding tank. This tank now holds whiskey. Two large "tea" bags holding toasted oak and applewood staves hang in the whiskey providing flavoring for another Belmont Farm product called Kopper Kettle Whiskey. More on that a little later.
The bottling room is next. An impressive collection of what I guess you would call antique equipment. The bottle filler is from an old Pepsi Cola plant and dates to 1946. The labeler is from 1962 and the Capper machine is from the 1930s. Cheryl told us that bottling is done on Wednesdays. This antique bottling line however can turn out up to 1,000 bottles a day. On this day cases of Climax Moonshine sat ready for shipment.
At the far end of the bottling room is a table holding all of Belmont Farm's products. Above this table is a mural that beautifully depicts the distillery and its history.  The front door from the church, a bottle of moonshine, lightning, corn and an old truck. It is the old truck that Chuck Miller's grandfather delivered moonshine with during prohibition. That old truck still sits on the farm.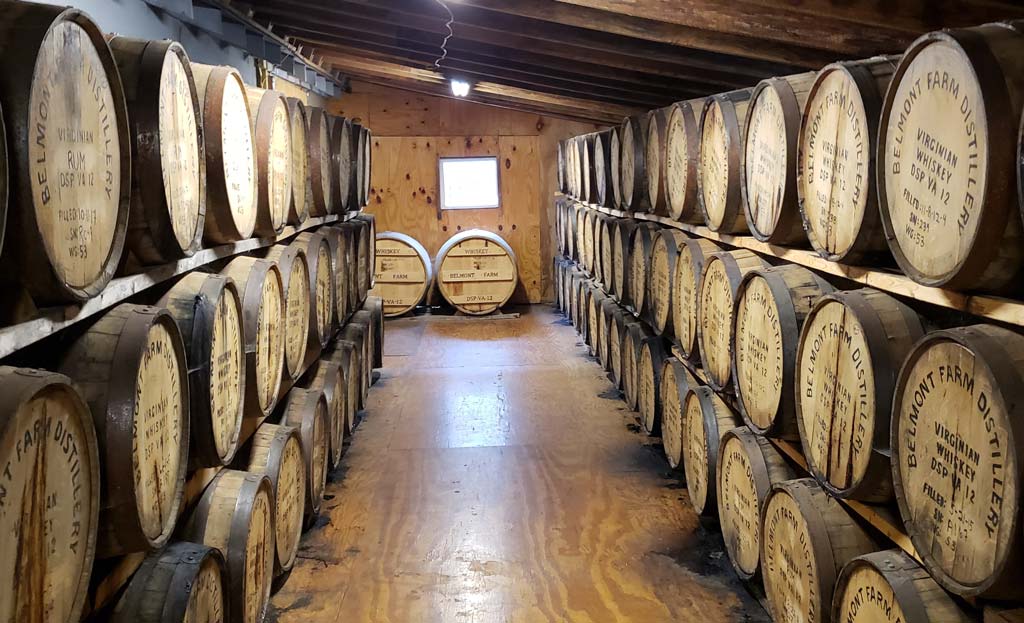 The tour's next stop is the barrel room. It is always a pleasure to have that sweet whiskey smell surround you. This was just a small room and one of three barrel warehouses on the property. Cheryl pointed out a couple interesting items while we walked through. At one end were two 164 gallon Minnesota Oak barrels. These barrels contain bourbon. Not quite aged to Chuck's perfection at about 6 years old. It is destined to become single barrel bourbon. Further down the warehouse was a funny looking item that Chuck had invented as an experiment to see how running electricity through the whiskey would help it age. Finally at the other end of the warehouse is the first barrel of whiskey that Belmont Farm put up at the end of 1991. This barrel was bottled in early 2017 as Belmont Farm 25 year Special Reserve Whiskey. The yield was 150 375ml bottles.
The tour ends in the gift shop of course. We felt we had experienced a piece of history doing this tour so of course souvenirs were necessary. The 25 Year Special Reserve is still for sale in the gift shop. Packaged in a nice wood box with a Belmont Farm shot glass. However at $300 a bottle it is a little steep.  Not that I didn't think about it for a few minutes.
Cheryl led our tasting as well as our tour and we actually did the tasting prior to the tour. Belmont Farm produces three types of products, Virginia Lightning Moonshine, Chuck Millers moonshine products, a line called Kopper Kettle, after the still, and Climax Moonshine. Climax Moonshine uses the recipe of Tim Smith, known from the TV show Moonshiners. Belmont Farm is the distillery that makes that Moonshine and Chuck Miller and Tim Smith are partners in that endeavor.
The Virginia Lightning Moonshine line includes the Virginia Lightning Corn Whiskey at 100 proof, the Virginia Lightning Original Moonshine, a more refined moonshine at 90 proof, several flavored moonshines including peach, apple pie, butterscotch and a jar of cherry's soaking in moonshine. The Kopper Kettle line includes an 86 proof, 4 year Virginia Whiskey, a bonded 4 year old 100 proof Virginia whiskey, an Apple Whiskey, a two year old, 92 proof,  bourbon, a vodka, a gin, and a chai spiced rum. The Climax Moonshine line included the original Climax recipe and a Climax Moonshine Fire No. 32.

The Kopper Kettle Virginia Whiskies and the Virginia Bourbon all use a mash bill of 51% corn and equal percentages of wheat and barley. While the bourbon goes straight into the barrels to age, the Virginia Whiskies soak with toasted Virginia white oak and Virginia apple wood for 2 months before aging for 4 years.
Cheryl described each of the products and then It was time to choose our tasting. Virginia Law allows no more than 3 ounces in a tasting. We could have 6 half ounce pours of the products or a couple of cocktails. We both went with the tastings. Patti went with the Virginia Lighting Moonshine, Virginia Lightning Peach and Butterscotch Moonshines, Climax Moonshine Original Recipe, the Kopper Kettle Bonded Whiskey and the Kopper Kettle Bourbon. I went with the Virginia Lightning Moonshine, the Climax Moonshine Original Moonshine, the Kopper Kettle Whiskey, Kopper Kettle Bonded Whiskey, the Kopper Kettle Bourbon and the Kopper Kettle Rum.
The Virginia Lightning Corn Whiskey is one of the better white dog corn whiskies I have tasted. Obviously not right off the still at 100 proof but not bad. The Climax Moonshine while at 90 proof was very harsh to my taste. The Kopper Kettle Bonded Whiskey presented a sweet wood taste along with oak. I found the bourbon to be quite good even though it is quite young. I did not nose or taste that wet cardboard that seems to come out in many young bourbons.  Of the moonshines, Patti thoroughly enjoyed the butterscotch moonshine and we came home with a bottle.
Belmont Farm bills itself as the first craft distillery in the United States. I'm sure there are other distilleries that might make this claim as well although they may be few and far between. It is quite the operation however and has been going for 30 years.  And it is expanding. A new still and bottling line is under construction. Our tour was fun, informative and filled with history. Another piece of the nation's whiskey heritage.
Looking forward to that single barrel bourbon.