Black Feather American Bourbon Whiskey Review
I'm always excited to #DrinkCurious. When I was first approached to review Black Feather, it was something I'd not ever heard of, so I jumped at the chance. Black Feather is a younger, MGP-sourced Bourbon.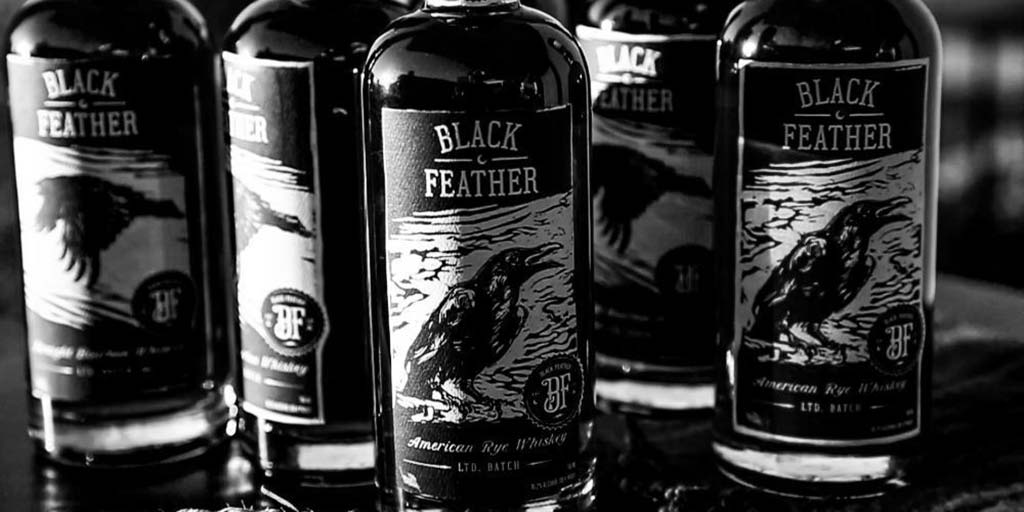 BOTTLE DETAILS
---
DISTILLER: Black Feather Whiskey (sourced whiskey from MGP)
MASH BILL: 70% Corn  |  21% Rye  |  9% Malted Barley
AGE: Two years (a blend of two and three-year selections)
YEAR: 2018
PROOF: 86 (43% ABV)
MSRP: $29.00
BUY ONLINE: Drizly.com
JEFF'S NOTES
---
NOSE: Ethanol | Nutmeg | Vanilla | Oak | Citrus
TASTE: Corn | Pepper | Clove
FINISH: Short, except a light spiciness came back and left almost as quickly as it came.
SHARE WITH: Folks who utter the words "and Coke" after whiskey or Bourbon.
WORTH THE PRICE: $30 is at the lower price point for "craft" whiskey. I still wouldn't pay that.
BOTTLE, BAR OR BUST: Perhaps if you're looking for a mixer, this could be a buy, but quite frankly, I don't use anything in a cocktail that I don't enjoy drinking neat. At best, this is something to try at a bar in a cocktail.
OVERALL: I'm always excited to #DrinkCurious. When I was first approached to review Black Feather, it was something I'd not ever heard of, so I jumped at the chance.
Black Feather is a younger, MGP-sourced Bourbon. It comes in a very nice presentation, using a heavy bottle with "Black Feather" embossed in the glass, a thick, paper label, and a wax top. My bottle is from Batch 1.
When I attempted to open the bottle, the first thing I noticed was the expected tab to break the wax was missing. I wound up using a knife. If I would have read the hang tag, I would have learned the proper method would be to simply twist the cap until it broke the seal.  As such, if you casually toss the hang tag, you'll miss this important instruction. That's not a knock on the whiskey itself, rather, it is what I view as a faux pas by the design team.
In the glass, the appearance was a lighter amber that bordered on gold. It left a thin rim that created fat legs to fall back into the pool.
I had to leave my glass alone for almost 15 minutes just to get past the ethanol to perform a proper nosing. Even then, it was still dominating. When I held the glass at chin level, aromas of corn and nutmeg presented. At lip level, vanilla and oak became evident. Just under the nostrils, behind the still-existent ethanol, was a very light citrus. When inhaled through my lips, pickled ginger was the only thing picked up.
The mouthfeel was thin and slightly coating. Up front, the palate was all corn. It took a few sips to get the palate acclimated to the corn to discover what hid underneath. Those subsequent sips led to an almost stale spice that eventually became a mix of pepper and clove.
The finish was short and left little to describe. However, when you think it is over and done with, it repeats with a light spice before vanishing again.

Overall, there is nothing noteworthy about Black Feather. Despite giving it plenty of opportunities, it was nothing more than mediocre. I've got several bottom shelf Bourbons that soar above it.
BRAND NOTES
---
IT'S YOUR RELIABLE, EVERYDAY, GO-TO DRINKER.
We built a craft product that you don't have to work to drink. It starts big with a 86-proof kick, and rewards you with an easy-going finish. Black Feather is a smooth, all-occasions, everyday whiskey that welcomes all levels of whiskey-drinking aficionados, explorers, and new bloods.
STARTS BIG. FINISHES SMOOTH.
We built a go-to, easy drinker that's premium, not precious. It starts big with an 86-proof kick and rewards you with an easy-going finish. Many are taking a liking to our whiskey as it just received the Double Gold Medal Award at the San Francisco World Spirits Competition.
A TRUE AMERICAN BOURBON
Two hand-picked allotments from Indiana. Bottled and packed in Houston, Texas. Managed by a team in California and Utah. About to be enjoyed around the country.
A SMOOTH RIDE
Subtly sweet and smooth from corn. Toasted finish from rye and malted barley. A decent char from Kentucky white oak barrels. Proofed to be strong but not overpowering.
Black Feather is a whiskey with the same principles by which we live. Easy going but hard working. Honest with no bullshit. And just like good whiskey, our website is meant to be shared.
– BLACK FEATHER WHISKEY
BLACK FEATHER AMERICAN BOURBON WHISKEY BACKGROUND INFO
BLACK FEATHER WHISKEY WINS DOUBLE GOLD AT THE SAN FRANCISCO WORLD SPIRITS COMPETITION AND DOUBLES DOWN ON DIGITAL EXPERIENCE
SALT LAKE CITY, Utah – June 18, 2018 – Black Feather Whiskey has been awarded the rare Double Gold distinction at the 2018 San Francisco World Spirits Competition (SFWSC). Known amongst industry insiders as the 'Grammys of the spirits world,' SFWSC is one of the world's most respected spirits competitions due to its sterling ethics, procedural transparency and esteemed panel of judges.
Black Feather joins an elite group of brands that have won Double Gold in the history of the competition in the small-batch bourbon aged under five years category. With nearly 2,500 spirits submitted, Black Feather Whiskey stood out to the competition's all-star panel of judges, who – after a rigorous four days of entry rounds, without receiving any information on the products they taste through, followed by the medal round – all furnished the American bourbon with a gold rating in a double-blind taste test.
Black Feather Whiskey was created to be accessible – a premium, but not precious, go-to American bourbon to be enjoyed by all levels of whiskey drinkers, whether poured neat, on the rocks or in a cocktail. A true whiskey workhorse, Black Feather starts big with an 86-proof kick, followed by an easy going finish. Its founders and investors include three media and entertainment platform builders, Jeremy Rawle and Travis Pastrana from the Nitro Circus franchise; and advisor/investor Rob Dyrdek, known for shows in which he has both starred and produced. In addition to its smooth-drinking whiskey, Black Feather has become known for its many creative endeavors, the most recent of which is a new app that brings the brand's illustrated crow, Odin, to life, sharing with fans the latest news about the brand, such as its strong showing at SFWSC. Through the app, now available for download from Google Play and the Apple App Store, users can interact with an animated Odin by pointing their smartphone at a bottle of Black Feather.
"The new app provides us with a mechanism for which to share with our fans the personality of our unofficial mascot, Odin, and to get the word out about our Double Gold distinction, all while having a little fun with our brand" said Jeremy Rawle, CEO, Black Feather Whiskey. "Inspired by the hard-working artists, craftsmen, creators, doers and tradesmen, who like their lives driven by the creative fires that stoke within, its important for us to tell their stories. We'll continue to develop content that will live on channels such as our app that share and honor those whose path in life is driven by living what they love."
ABOUT BLACK FEATHER WHISKEY
Founded in 2016, Black Feather Whiskey is a true American product with handpicked allotments from Indiana, bottling in Houston, Texas, and headquarters in Salt Lake City, Utah. Black Feather Whiskey is currently available in Texas, Utah, Colorado and California—and plans to open Tennessee, Arkansas, Louisiana and Florida in the coming months, with Illinois and Canada to follow. The average retail price is $30.00 for a 750ml bottle.
---
Disclaimer: Black Feather Whiskey provided Bourbon & Banter with a sample of their product for this review. We appreciate their willingness to allow us to review their products with no strings attached. Thank you.