Blade and Bow Bourbon Review
One of the qualities I like to observe with my whiskeys is the appearance. The bright amber is pleasant to look at, but an even more attractive quality is what kind of legs get left on the glass after a good swirl.

BOTTLE DETAILS
---
DISTILLER: A lot of help from Stitzel-Weller, produced by Diageo.
MASH BILL: Undisclosed
AGE: NAS (no age statement) but since it is labeled "straight" that makes it at least 4yrs old. Online research suggests the youngest whiskey is 6 years mingled with Bourbons over 20 years old. Blade and Bow is blended using the Solera method, which involves rotating barrels and blending them from youngest, then refilling the oldest barrels as a portion of each barrel is dumped and used for bottling.
YEAR: 2017
PROOF: 91 (45.5% ABV)
MSRP: $49.99
BUY ONLINE: BevMo  |  Liquor Barn
JEFF'S NOTES
---
NOSE: Pear and Apple  |  Very Light Oak  |  Vanilla
TASTE: Pear  |  Smooth Cocoa  |  Smoky Oak
FINISH: The finish on this whiskey is very long, starting with a peppery, spicy quality that just continues to build. The oak remains. If you're looking for burn, this will disappoint. It is exceptionally smooth.
SHARE WITH: I'd recommend sharing this with folks who romanticize over the notion of drinking something distilled by the old Stitzel-Weller Distillery. This is also an excellent choice for people who enjoy very smooth, sipping whiskey.
WORTH THE PRICE: At $49.99 this sits at an interesting price point. There's a lot of excellent and a lot of overpriced whiskeys out there for about $50. My gut instinct tells me this is a smidge steep for what it is. You're paying for Stitzel-Weller history. If this were priced in the higher-$30s to lower $40s, I'd cheerfully hand them my money.
BOTTLE, BAR OR BUST: Grab a pour at a bar if you see it. You'll want to taste this for yourself. Saying that I would be happyto have a bottle of this in my collection.
OVERALL: One of the qualities I like to observe with my whiskeys is the appearance. The bright amber is pleasant to look at, but an even more attractive quality is what kind of legs get left on the glass after a good swirl. At first, Blade and Bow left nothing… and I mean nothing. I had to hold it up to the light to discover that the whiskey did indeed cling to my glass, it was just taking forever to build legs. Then, they came down long and luscious. That's something I just love to see.
This is the second time I've tried Blade and Bow, with the first experience being at Distill America in Madison in February 2017. I was impressed with it both times and am happy Diageo has taken steps to keep the Stitzel-Weller history alive and available for an average whiskey fan. Cheers!
BRAND NOTES
---
WHERE IT ALL BEGAN
The Blade and Bow story began with the founding of the legendary Stitzel-Weller Distillery in 1935, a Louisville icon and home to the fathers of bourbon.
With a commitment to craftsmanship and artistry, Stitzel-Weller reimagined what Kentucky Bourbon could be until distilling stopped in 1992.
THE KEYS
Named after the two parts of a skeleton key, the blade shaft and the ornate bow, the Blade and Bow brand is a tribute to the five keys that once hung on the door of the Stitzel-Weller Distillery.
These keys represented the five steps of crafting bourbon—grains, yeast, fermentation, distillation and aging.
But more importantly, they grew to symbolize the southern traditions of hospitality, warmth and enjoying the finer things in life.
THE PAST, REIMAGINED
Today Blade and Bow is opening the door to the next chapter of Stitzel-Weller's renowned history.
The Blade and Bow family includes two distinct variants: Blade and Bow Kentucky Straight Bourbon Whiskey and Blade and Bow 22-Year-Old Kentucky Straight Bourbon Whiskey
Each variant offers a completely unique experience that pays homage to this storied distillery and welcomes a new generation to the art of bourbon making that was perfected within these walls.
Blade and Bow Kentucky Straight Bourbon Whiskey uses a unique Solera System aging process to preserve some of the distillery's oldest whiskey stocks, including some of the last bourbon produced there before it closed in 1992.
The solera liquid is mingled with other fine whiskies aged and bottled at Stitzel-Weller. Aged in new charred American white oak barrels, this bourbon has a subtle aroma of fresh fruit and a taste that includes hints of dried apricot, ripe pear and a sweet roasted grain. The finish has notes of charred oak and warm winter spices.
BLADE AND BOW BOURBON BACKGROUND INFO
---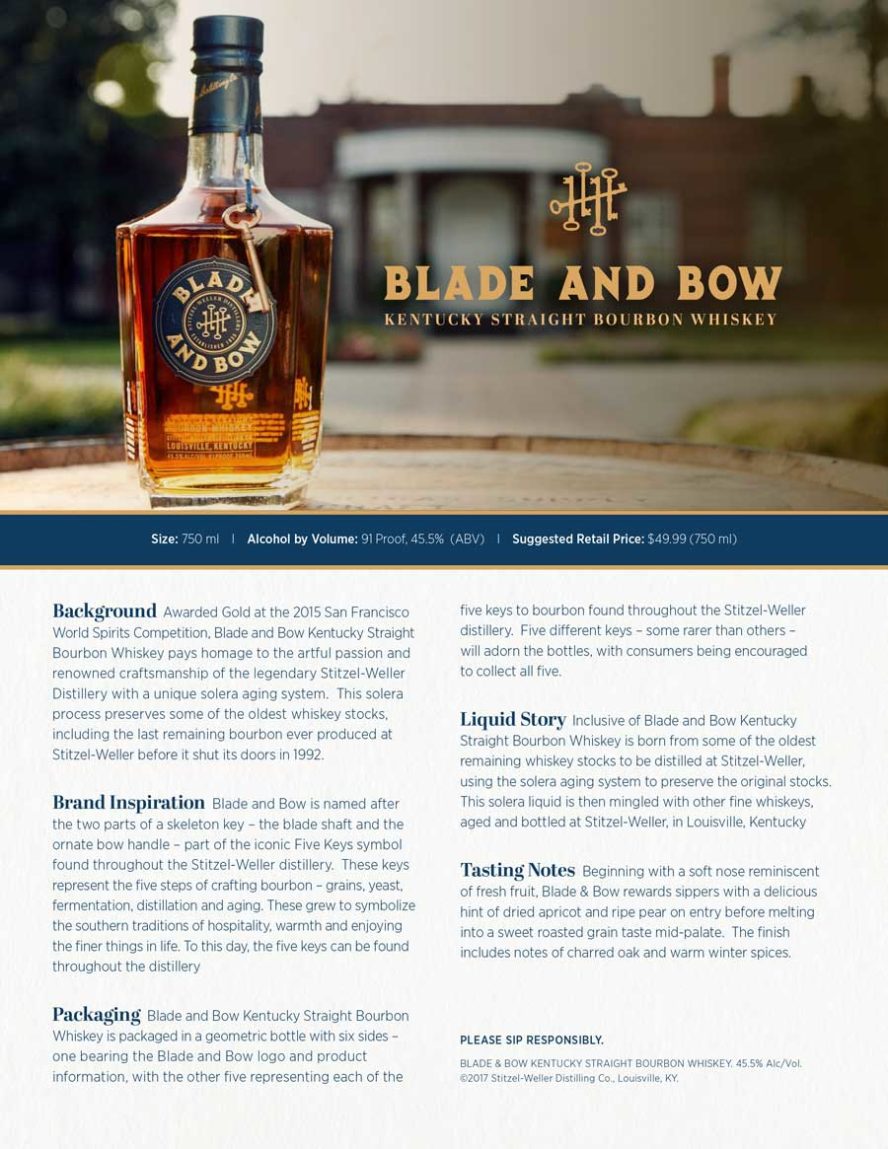 ---
Disclaimer: Diageo provided Bourbon & Banter with a sample of their product for this review. We appreciate their willingness to allow us to review their products with no strings attached. Thank you.