Blood Oath Bourbon Announced by Luxco
In early December 2014, St. Louis-based Luxco announced that they were acquiring a 50 percent equity position in Limestone Branch Distillery. The initial focus of the joint venture would involve Limestone Branch distilling the original recipe for Yellowstone bourbon and aging the product in 2015.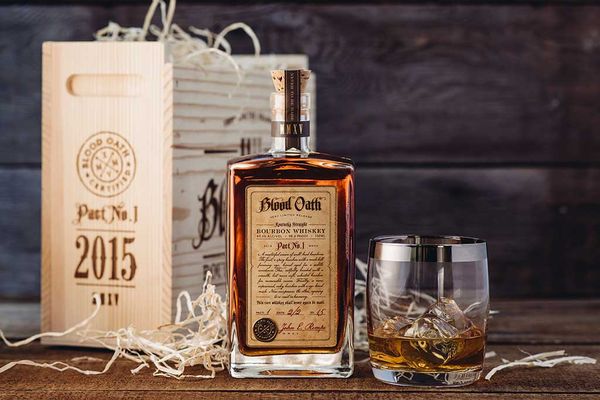 In early December 2014, St. Louis-based Luxco announced that they were acquiring a 50 percent equity position in Limestone Branch Distillery. The initial focus of the joint venture would involve Limestone Branch distilling the original recipe for Yellowstone bourbon and aging the product in 2015. In addition, "Limestone Branch Distillery plans to develop other hand-crafted spirits using various mash bills for bourbon, rye and continuing to work on their white spirit products."
We have been striving for some time to enter the craft bourbon market with a truly authentic story and product.
DONN LUX, LUXCO CHAIRMAN
We were pretty excited about hearing the news when it first came out, and we immediately started to speculate on just how big Luxco's plans were about getting more involved in the bourbon industry. Historically the brand has tended to put their focus on other categories with larger profit margins like tequila, but undoubtedly the bourbon boom has provided an opportunity for them to rethink their growth strategy. As a non-distilling producer with a portfolio that contains many well-known–yet lower-end–bourbon brands like Rebel Yell, Ezra Brooks and David Nicholson 1843, the investment sent a clear signal that Luxco had set its sights on playing a bigger role in the bourbon industry. And just a few months after announcing their investment in Limestone Brand, Luxco is making news again by releasing a new bourbon to the market.
LUXCO LAUNCHES NEW, HAND-BOTTLED BOURBON
ULTRA-PREMIUM BLOOD OATH KENTUCKY STRAIGHT BOURBON WHISKEY TO BE RELEASED IN VERY LIMITED QUANTITIES
St. Louis-based Luxco announced the launch of its limited release, ultra-premium bourbon series, Blood Oath. This brand-new craft bourbon whiskey series is unique to the market as it will highlight a different variant, or Pact, each year. The inaugural Pact, named Blood Oath Pact No. 1, consists of a special blend of three carefully selected, top-notch Kentucky Straight Bourbon Whiskeys, blended and bottled by hand, resulting in one distinctly exclusive and unimagined bourbon. The debut combination, bottled at 98.6 proof, is available in limited quantities nationally in 750ml bottles, with a suggested price of $89.99.
"I have the luxury of not being tied down to one specific distillery, so I sampled many bourbons to find the perfect mix to make Blood Oath Pact No. 1," explained John Rempe, Director of Corporate Research and Development at Luxco and creator of Blood Oath. "This product is an exquisite union of three well-bred bourbons with various age statements and mash bills. The first, a spicy bourbon with a mash bill favoring rye, barrel aged for a subtle woodiness. The second is a smooth, wheated bourbon and the third is a full-bodied, more experienced, oaky bourbon with a rye-based mash. Each of these complements the other and none overpower the palate, creating an amazing bourbon."
The bourbons in Pact No. 1 range from 6 to 12 years old.
Blood Oath's unique package is topped with a custom, eco-friendly natural cork and labeled with a heavy certificate-style paper stock. Rempe's signature, along with the specific bottle's creation date and the story behind the pact, mark each bottle label.
"We are extremely excited to launch Blood Oath," said Steve Einig, Chief Marketing Officer at Luxco. "We wanted to create something that not only appealed to bourbon enthusiasts around the country but also a product that we could truly enjoy. Blood Oath accomplishes this and we are proud to launch this bourbon."
After Pact No. 1's limited edition run, Pact No. 2, consisting of an entirely new combination, will subsequently be released in 2016.
To be clear this is not bourbon distilled by Luxco. It is a bourbon blend sourced from Kentucky and consists of three different whiskeys. While Luxco refuses to share the grain percentages in their selected mash bills, I do appreciate the fact that they've been fully transparent with that fact that they have sourced this bourbon with the goal of creating a unique blend that would be appealing to bourbon aficionados. Whether or not the juice will live up to their goal or be worthy of the price is something we'll explore when we post our actual product review.
The bottle and packaging design are very handsome and reminded us immediately of Diageo's Orphan Barrel releases. It's clear that Luxco has done their marketing homework and realize the need for high-end design when targeting the ultra-premium end of the market. We especially like the wooden boxes they've designed to hold products delivered to retail and fully expect people to offer a little extra cash to their favorite store owner so they can take one home. Our only critique so far on the design work is the size of the font used on the bottle used to tell the story behind Blood Oath. It's just too small. We understand that small font size is part of a design trend, but if you want us to read the story behind your whiskey we should be able to do so without a magnifying glass. (And no, this is not just a complaint coming from someone just north of 43 years of age.)
But let's turn our attention to a more serious issue that should be addressed.
Bourbon enthusiasts are sure to question the reasons behind and legitimacy of a non-distiller producer releasing an ultra-premium bourbon at a $89.99 price point. We admit it was one of the first topics that we questioned Luxco about when they first contacted us with news of the product's upcoming release. And to Luxco's credit, they didn't try to dodge the question or take offense when we challenged them on the price, the decision not to share mash bill details or the source of the whiskey. They honestly feel that they're bringing something unique to the market that bourbon lovers will enjoy and appreciate. They also feel that as a non-distiller producer they have more freedom to help drive innovation in the category. (Make sure to watch the Q&A video below to hear more about their view on the future of innovation in the bourbon industry.)
It shouldn't come as a surprise that Luxco is in the business of selling alcohol products to make money. As a non-distiller producer, they look for opportunities in the market and invest accordingly. Both their investment in Limestone Branch and the release of Blood Oath bourbon are a result of the growth in the bourbon industry and of Luxco's desire to capitalize on that growth. There's nothing more to read into it. At the end of the day, all that should matter to consumers is whether or not the product they release is worth the price they're asking.  Some folks will love it and readily pay the price while others will not. As long as Luxco remains committed to their core values, maintains transparency behind their products and uses only authentic stories when marketing their bourbons, we'll remain supportive of their efforts in the category.
However, let's be very clear. Supportive of their efforts will not automatically make us a fan of their products. When we do our review of Blood Oath we won't pull any punches and as always, will give you our honest opinion on how it tastes and whether or not it's worth the price. From there we expect you to make your own decision and invite you to come back and share your experience with the product. In other words, it's business as usual when it comes to reviewing bourbon releases.
Blood Oath will be making its public debut this week at a soft launch party being held in St. Louis at the Gamlin Whiskey House. Bourbon & Banter will be on hand, along with a few of our readers, to gauge reactions to the new release. We'll report back on the launch party along with a full review of Blood Oath for you later this week. Until then we'd like to leave you with a short video that features Blood Oath's creator, John Rempe, who was kind enough to sit down with us a few days ago and answer some questions about Luxco's latest release and what he feels is the future of bourbon and the role that non-distiller producers will play.