Blood Oath Bourbon Review
his is definitely a sipping bourbon. Neat works great but adding a little water is an option if you to avoid the rye spice from dancing on the tip of your tongue. The proof comes in at 98.6 but drinks more like a 90 proof so avoid adding water if you can.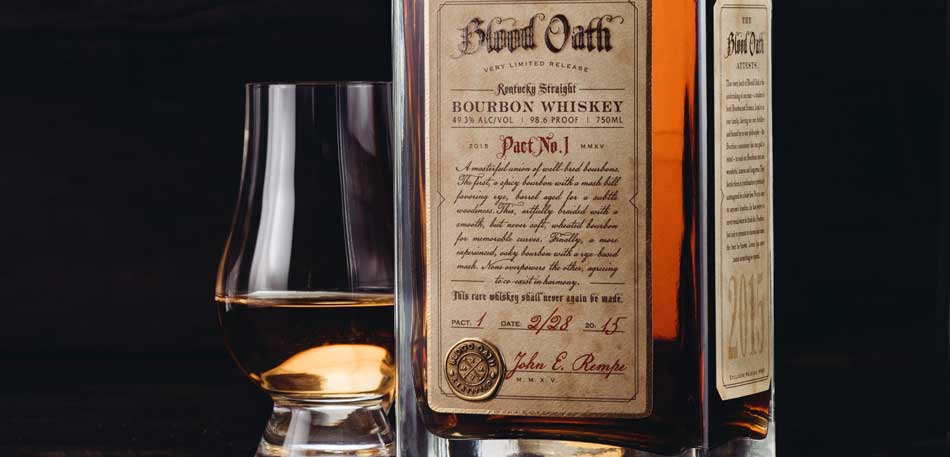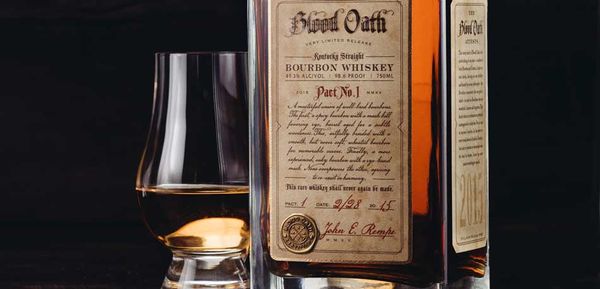 Disclaimer: A sample of Blood Oath bourbon was provided to us by Luxco for this review. We appreciate their willingness to allow Bourbon & Banter to review the booze with no strings attached. Thank you.
Earlier this week we broke the story about Luxco's upcoming release of Blood Oath bourbon. Today we're going to dive into Blood Oath (yes, we're going to enjoy the blood temperature proof at 98.6)  and share our tasting notes and thoughts on this new bourbon. But first, let's go ahead a revisit the official press release put out by Luxco announcing the release:
Ultra-premium Blood Oath Kentucky Straight Bourbon Whiskey to be released in very limited quantities
St. Louis-based Luxco announced the launch of its limited release, ultra-premium bourbon series, Blood Oath. This brand-new craft bourbon whiskey series is unique to the market as it will highlight a different variant, or Pact, each year. The inaugural Pact, named Blood Oath Pact No. 1, consists of a special blend of three carefully selected, top-notch Kentucky Straight Bourbon Whiskeys, blended and bottled by hand, resulting in one distinctly exclusive and unimagined bourbon. The debut combination, bottled at 98.6 proof, is available in limited quantities nationally in 750ml bottles, with a suggested price of $89.99.
"I have the luxury of not being tied down to one specific distillery, so I sampled many bourbons to find the perfect mix to make Blood Oath Pact No. 1," explained John Rempe, Director of Corporate Research and Development at Luxco and creator of Blood Oath. "This product is an exquisite union of three well-bred bourbons with various age statements and mash bills. The first, a spicy bourbon with a mash bill favoring rye, barrel aged for a subtle woodiness. The second is a smooth, wheated bourbon and the third is a full-bodied, more experienced, oaky bourbon with a rye-based mash. Each of these complement the other and none overpower the palate, creating an amazing bourbon."
The bourbons in Pact No. 1 range from 6 to 12 years old.
Blood Oath's unique package is topped with a custom, eco-friendly natural cork and labeled with a heavy certificate-style paper stock. Rempe's signature, along with the specific bottle's creation date and the story behind the pact, mark each bottle label.
"We are extremely excited to launch Blood Oath," said Steve Einig, Chief Marketing Officer at Luxco. "We wanted to create something that not only appealed to bourbon enthusiasts around the country, but also a product that we could truly enjoy. Blood Oath accomplishes this and we are proud to launch this bourbon."
After Pact No. 1's limited edition run, Pact No. 2, consisting of an entirely new combination, will subsequently be released in 2016.
For those wanting to know what limited quantities really means I can share that there will be 15,000 bottles released of Pact No. 1. (5,000 3-bottle cases) If by the end of this review you want to grab a bottle you should probably act fast. As with any new bourbon release these days Blood Oath will probably disappear pretty quickly.
Let's go ahead and get to the tasting.
Explore our complete library of bourbon reviews to help you choose your next perfect bottle.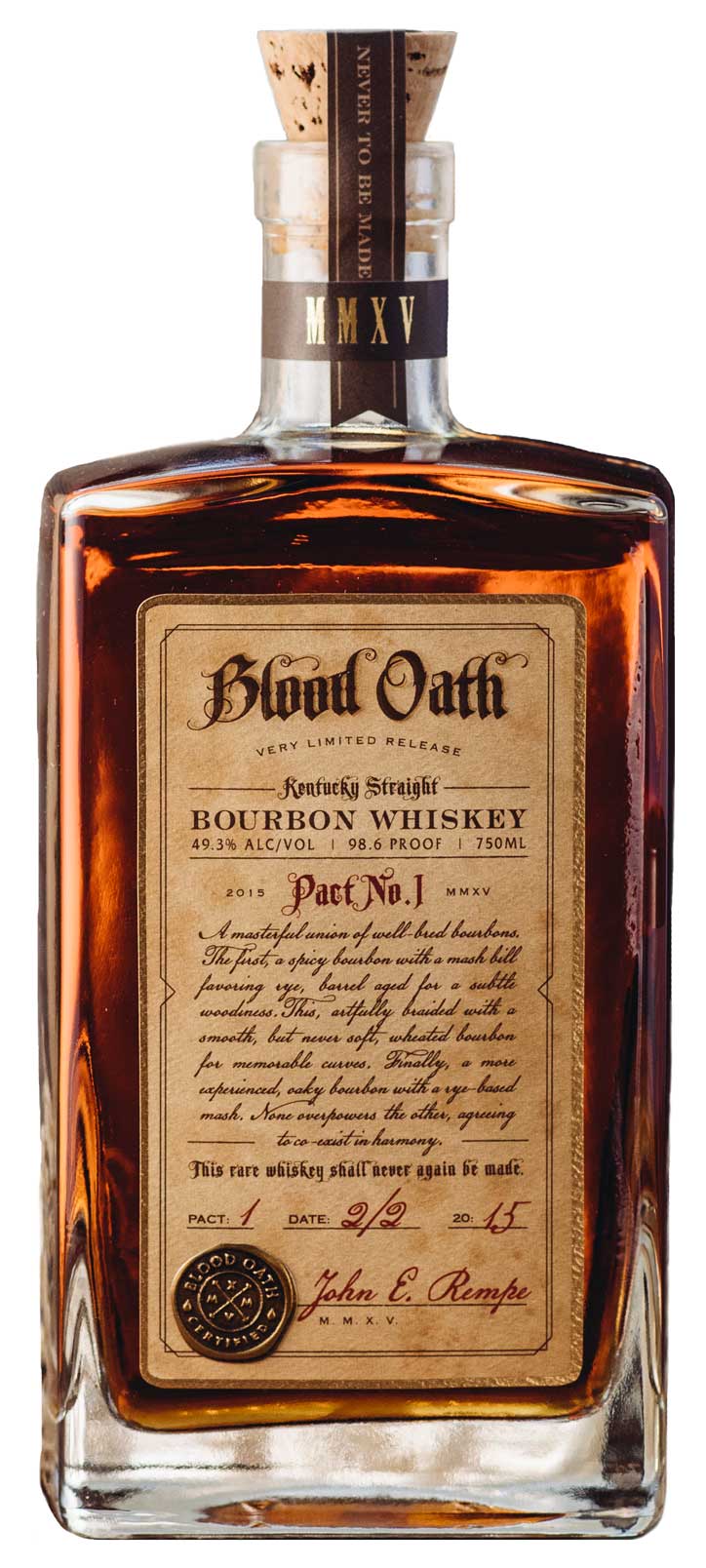 Bourbon Name:  Blood Oath • Pact No. 1
Proof: 98.6
Age: Blend of a three different bourbons–a 6 year old wheat, 7 year rye and 12 year rye based bourbon blend.
Year: 2015
How I Drank It: Neat, in Glencairn whiskey glass.
My Nose Noticed:*  Cream Soda | Vanilla | Varnish | Black Tea | Green Apple
First Sip:  Creamy Vanilla | Oak | Rye Spice | Hint of Mint
The Burn:**  Sweet on the tip of your tongue followed by a nice spicy rye bite. Creamy vanilla coats the tongue but makes room for a slightly tannic finish with a hint of mint emerging from the rye notes. You're left with a nicely balanced finish that speaks to the high rye mash bills with pepper and cinnamon notes. The burn is slow to build but lingers in just the right spot with a mild return.
Neat, Splash or Rocks: This is definitely a sipping bourbon. Neat works great but adding a little water is an option if you to avoid the rye spice from dancing on the tip of your tongue. The proof comes in at 98.6 but drinks more like a 90 proof so avoid adding water if you can.
Share With: Anyone that enjoys a good bourbon. This is a very solid and tasty release with all the right qualities from both the high-rye and wheated mash bills. It's a great bourbon to try with those who are starting to move into the $35-$45 price range of bourbon. Let them compare this release to other bourbons in that range like Elijah Craig 12 year or Basil Hayden's so they see what's available. Then ask them what they think about the price differential. It's also an interesting thing to taste with folks who enjoy bourbon blends or unique finishes.
Worth The Price:  Luxco is releasing this as an ultra-premium bourbon with a retail price of $89.99. In my opinion the price is way too high for a number of reasons. First of all, it's blend of sourced bourbons–none of them especially old, unique or rare. You can't take readily available bourbon stock and expect people to pay a significant premium because you blended them into different finished product and put it into a nicely designed package. Second, it's not worth that much based on how the juice tastes. It's a tasty bourbon and one that I would readily drink again–but only if it was more in the $40-$50 price range. At the $90 price point I expect more complexity and nuances from my bourbon.  Blood Oath's flavor was enjoyable but not very multi-dimensional. I appreciate Luxco's transparency with this new release but I think they're going to take a lot of flack from hardcore bourbon drinkers over the price issue. That being said, I think they'll easily sell their full stock to those eager to try something new.
Bottle, Bar or Bust: The price point makes this a bar purchase in my book. Give it a try and if you really like it you can explore grabbing a bottle. Just keep in mind that you're paying a premium and that you're going to need to move quick as I expect the limited release nature of Blood Oath will make scarce at your local liquor store.
**Some of you refer to this as the "finish" but let's be honest. Don't we all just want to know if it burns good?
---
Before we close the book on this review I want to share a few parting thoughts.
Prior to last night's launch party I shared my tasting sample with several bourbon drinkers with palates that I greatly respect. All of them enjoyed the juice and found its profile to be unique and intriguing based on the blend of three different mash bills. When I asked for their opinion on where it should be priced, they all said the $40-$50 range. Exactly where I thought it should be priced.
Armed with this feedback, I made the same inquiry of people who attended the bourbon launch party last night. Everyone really enjoyed the bourbon and had nothing but positive things to say about its nose, flavor and finish. However, every person I spoke to expressed concerns over the retail price point. Feedback was that it was too high and out of line with other products readily available on the market.
Ultimately it's Luxco's call on how they price their products and how to deal with the market's feedback. As for me, I will enjoy the bottle I have but won't be rushing out to buy another. Perhaps a comparison will help those of you on the fence make a final decision regarding Blood Oath.
In my opinion–and mine alone–you would be far better off buying a bottle of Blood Oath at $89.99 then purchasing any of the Orphan Barrel releases that I've reviewed. Whether you feel that you're paying too much for this juice or not, at least you're getting a solid bourbon with an enjoyable flavor profile and good balanced finish. Outside of this comparison folks you're on your own.