Bourbon & Pizza Tasting at The Blind Tiger
When we started promoting our most recent bourbon tasting event – Bourbon In The Blind – a lot of people questioned our decision to build an event around pairing bourbon with pizza.
When we started promoting our most recent bourbon tasting event – Bourbon In The Blind – a lot of people questioned our decision to build an event around pairing bourbon with pizza. Some folks even took to Twitter to question our decision & invited some well-known chefs to weigh in with their opinion:
We know that @BourbonTruth was actually helping to bring attention to our event (thank you!), but the question gave us pause anyway. We couldn't help but wonder if perhaps we were making a big mistake. Sure, everyone knows bourbon goes well with heavy foods like barbecue & steak, but you don't ever hear about people drinking bourbon with their pizza. Even more so, you never hear about formal tastings that combine the two.
Pizza & craft beer tastings? Yes.
Bourbon & pizza tastings? No.
Lucky for us we don't let doubt get in the way of trying something new and unexpected. And so, on Saturday afternoon we headed to our event full of excitement and anticipation, wondering if our idea would be as awesome in real life, as it was on paper.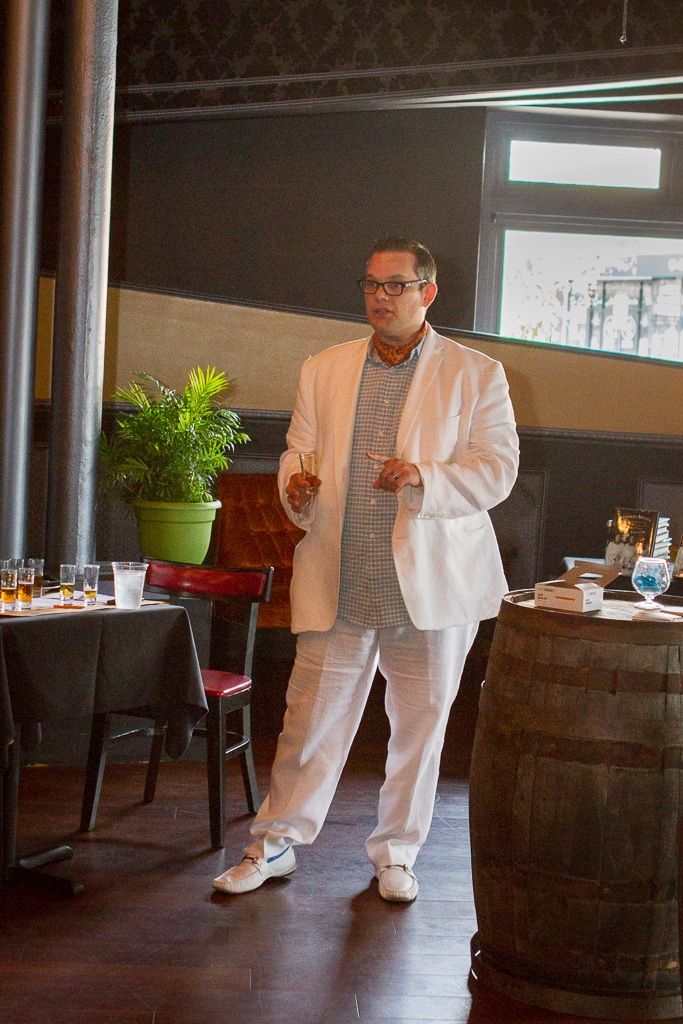 Every Bourbon & Banter tasting event includes an educational component to allow our guests to better appreciate bourbon and understand what it is they're tasting. For this event we provided our standard bourbon flavor wheel along with a tasting notes sheet for folks to use when recording notes about each bourbon. This was a blind tasting event so guests didn't know what bourbons were being sampled. In addition to our standard bourbon overview, we were thrilled to have Fred Minnick join us as co-host. Fred did a wonderful job entertaining the crowd and took our tasting to a new level with his knowledge of bourbon and bourbon history. We can't thank Fred enough for taking time out of his visit to St. Louis to join us. Thanks Fred!
So what about those pizzas that I mentioned earlier?
The Blind Tiger's chef, Jaxon Noon, created six unbelievable artisan pizzas that were paired perfectly with each of the bourbons on the tasting menu. I sat with him about a week before the event while he sampled each of the bourbons to aid his pizza brainstorming and I still don't know how he came up with such amazing combinations. All I know is that he would nose the bourbon, take a very small sip, scribble some notes and then move onto the next bourbon. I wasn't sure if he was going to be able to pull it off with such a limited exposure to each bourbon, but I was dead wrong. He rocked it!
In fact, as Fred Minnick was tasting the 3rd pairing that consisted of Old Forester & a cured salmon, plantain and scallion pizza, he exclaimed,
"This my friend, is a pairing for the ages."
That's pretty high praise in any bourbon lover's book & he couldn't have been more accurate in his assessment. Each and every pairing was well balanced & a delicious culinary work of art.
Here's the complete list of bourbon & pizza pairings from the event:
Basil Hayden's
Bacon, apple, fresh basil, mozzarella & a tomato molasses base.
Wild Turkey Rye
Roasted pork butt, caramelized onion, fresh rosemary & mozzarella on a lemon cream base.
Old Forester
Cured salmon, plantain, scallion & mozzarella with a horseradish honey mustard base.
Larceny
Sweet potato, squash, mushrooms & gruyer cheese, with a sage brown butter base.
Four Roses Single Barrel
Berbere spiced chicken, leeks & mozzarella with a spicy carrot puree base.
Wild Turkey Rare Breed
Herbed ground beef, mushrooms, pearl onions, fresh ground black pepper & mozzarella on a red wine reduction base.
Opinions varied as to what pairing was the best, but many folks seemed most delighted by the Old Forester bourbon and accompanying cured salmon pizza. Seems like Fred was spot on with his earlier assessment.
As it turns out, pairing bourbon with pizza is not only a great idea, it's also an inspired idea. I hope The Blind Tiger puts all of these pizzas and bourbon pairings on their menu so their regular patrons can enjoy them as well.
Thanks again to everyone that came out & joined us for a fun afternoon of bourbon, pizza & banter. And special thanks to our event sponsors – Randall's Wine & Spirits and The Blind Tiger.
We hope to see everyone again at our next event on October 11th – Mike Veach's Bourbon Academy.