Bourbon Classic 2016 Recap
Disclaimer: I was invited to attend the Bourbon Classic at no cost to write about it for Bourbon and Banter but I paid for my hotel, food, and travel expenses while there and this review reflects my honest opinion on the event.
Disclaimer: I was invited to attend the Bourbon Classic at no cost to write about it for Bourbon and Banter but I paid for my hotel, food, and travel expenses while there and this review reflects my honest opinion on the event. Thank you.
The Bourbon Classic returned for its fourth year February 26th and 27th. I have been lucky enough to attend the classic for the past three years now. There have been subtle changes each year but the event remains a great time for bourbon lovers. 2016 brought back everything that made the past three years a success but with more food, so it doesn't get much better than that.
As always the weekend began with a cocktail and small plate competition. I was not able to attend Friday night, but other people I spoke with said that it was great. The only criticism is that it is a bit of a sprint to get to try all of the cocktails and food by the end of the night. That was only because they switch drink pairings halfway through the evening, so I see this is a positive. I was able to join the after party sponsored by 8UP: Elevated Drinkery & Kitchen. The cocktails and appetizers there were amazing. I just wish that it had been nice enough for the rooftop bar to be open. I will have to go back this summer and check it out.
Since I could only attend one day of the classic this year, I, of course, made it Saturday. The format remained the same as last year, with the Bourbon University information sessions and the Bourbon Master's Session on Saturday afternoon followed by the grand bourbon tasting that night.
The Bourbon Classic University brought back some of their most popular sessions, including the bourbon and cheese as well as bourbon and country ham pairings. I attended the class on hosting a whiskey tasting which was presented by Blanton's. I attended the same session at my first Bourbon Classic in 2014 but was impressed how the brand rep managed to make the information fresh and keep the energy in the room high at all times. I was even more impressed that he gave full credit and praise to Bourbon & Banter for the bourbon flavor wheel he used during the tasting. My second session was a presentation by Aroma Academy US. The Aroma Academy teaches drinks professionals to "discern and articulate the special qualities of spirits, wines and beer" by identifying their specific aromatic components. It was a small taste of their full day training, but it was fascinating. Michael Veach recently attended the full day session, so if you want to learn more about the process, I encourage you to read his article.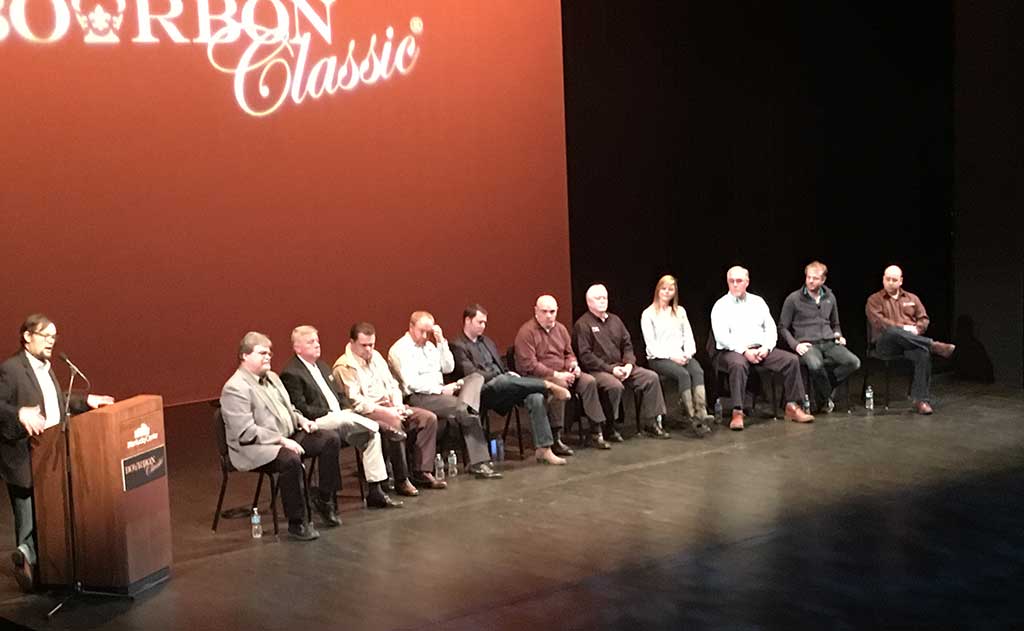 The Bourbon Master's Session was once again elegantly hosted by Fred Minnick, who managed to ask everyone interesting and unexpected questions. The lineup this year looked a little different from last year. With Eddie Russell taking over for Jimmy Russell, Brent Elliott replacing Jim Rutledge, who retired earlier this year, and no Fred Noe, it felt very much like a changing of the guard. The full list of panelist included: Alltech/Town Branch – Mark Coffman, Kings County – Colin Spoelman, A Smith Bowman – Brian Prewitt, MB Roland Distillery – Paul Tomaszewski, Barton 1792 – Ken Pierce, Mitchter's – Joe Magliocco, Buffalo Trace – Harlen Wheatley, Old Taylor (Castle & Key) – Marianne Barnes, Four Roses – Brent Elliott, Wild Turkey – Eddie Russell, and Heaven Hill – Charlie Downs. Topics ranged from marijuana infused bourbon, to what makes a Master Distiller, and the ever frustrating demise of age statements.
The Bourbon Classic Taste closed Saturday night. A glencairn glass in hand, we wandered from table to table sampling the wares. The food was incredible this year, as well as much more abundant. For the first time, they had a restaurant offering small plates and cocktails in addition to the bourbon tastings. I was sorry to see that there appeared to be a bit fewer distilleries there, most notably no Angel's Envy and a very scaled back presentation by Jim Beam. Still it was great to be able to try so many new brands, many of which are not even available in Ohio.
Overall it was a great event, very well run, and a delight to be a part of. For me, one of the best parts was recording a round table podcast Saturday morning at the classic with a large group of other bourbon podcasters and bloggers, including Bourbon & Banter's own Melissa Mary Alexander. You can listen to our discussion the bourbon classic on Episodes #219 and #220 of The Charlie Tonic Hour. That is where you will need to go to hear the full story of how I became known as the Bourbon Lazarus after our trip to Four Roses.