Boozy Bourbon Cupcakes
Though I enjoy drinking Bourbon on all occasions – even when there isn't quite an occasion to drink for – to me, Bourbon holds a special celebratory quality.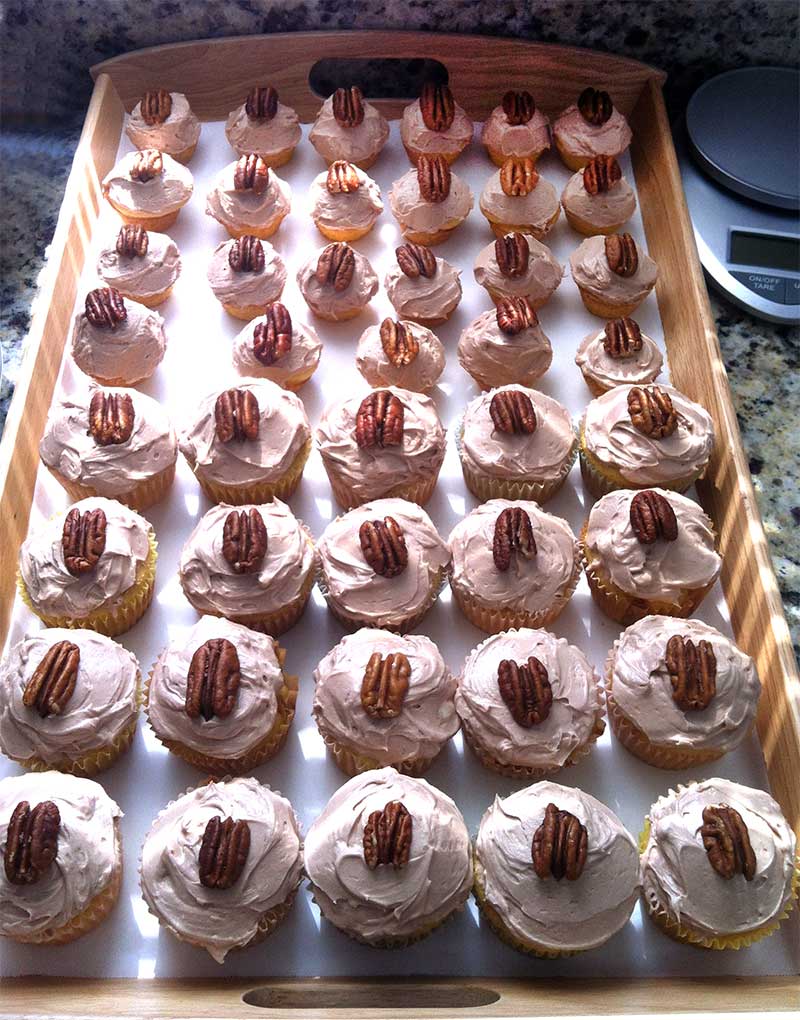 The great thing about this recipe (besides the fact that it prominently features our favorite brown liquor) is that it is exceedingly simples but the presentation makes it seem otherwise. For the cake, you can go 2 routes: homemade cake or cake mix. I will not judge you either way, so I will give you instructions for both the shortcut and the long way around.
NOTE: When "Bourbon" is mentioned, I used Maker's Mark, as it is a wheated Bourbon – great flavor to cook with.
Cake Mix
I suggest using Duncan Hines yellow cake mix. Prepare batter as directed on the box, except instead of using 1 cup of water, use 3/4 cup of water and 1/4 cup of Bourbon. Bake as directed.
The Long Way
1 cup butter (softened)
1 1/2 cups sugar
1/2 cup milk
1/4 cup Bourbon
8 egg yolks
1 1/2 tsp vanilla extract (I prefer Bourbon vanilla, obviously)
2 cups cake flour
2 tsp baking powder
1/2 tsp salt (optional)
Preheat oven to 350o. Prepare cupcake tins with cupcake liners.
Sift flour, baking soda, and salt together in a bowl. Set aside.
Cream butter and sugar. Beat in egg yolks. Stir in vanilla extract.
Combine Bourbon and milk.
Beat the flour mix and Bourbon-milk together, alternating between the two. Mix until all is blended together.
Fill each cupcake paper 2/3 full with batter. NOTE: I used both regular and mini cupcake tins.
Bake for 25-30 minutes (or until a toothpick comes out clean).
Set aside to cool and await the glorious Bourbon Buttercream!
Once you have your cupcakes ready, it is time for the most delicious part: Bourbon Buttercream.
Buttercream is the best icing, as it is flavorful and amazingly easy to make:
Bourbon Buttercream Icing
1 cup butter (softened)
3 cups confectioners' (powdered) sugar
2 tsp Bourbon vanilla extract
1/2 shot Bourbon
Cocoa powder (optional  and as needed to add color)
Using a stand mixer with the whisk attachment, cream together sugar and butter.
Add vanilla extract and cocoa powder (to color) until mixed thoroughly. Use only a light amount of cocoa powder to yield a rich Bourbon color.
Pour in Bourbon to taste. NOTE: I prefer my buttercream with a stronger Bourbon flavor. I encourage you to play with this until the right amount of Bourbon flavor is reacher. If you overpour, just correct by adding a bit more sugar and butter.
Putting It All Together
Once the cupcakes are cooled, generously spread the Bourbon buttercream over the top of the cakes. Garnish with a whole pecan. Voila! Boozy Bourbon cupcakes that will be sure to complement any celebration. Cheers!