Bourbon Flavor Wheel
When I first started drinking bourbon I would hear people refer to things like vanilla, toasted oak, and tobacco leaf when they would describe a bourbon they were drinking. I knew that they were trying to explain the taste of the bourbon but try as hard I might I just couldn't drink a glass of bourb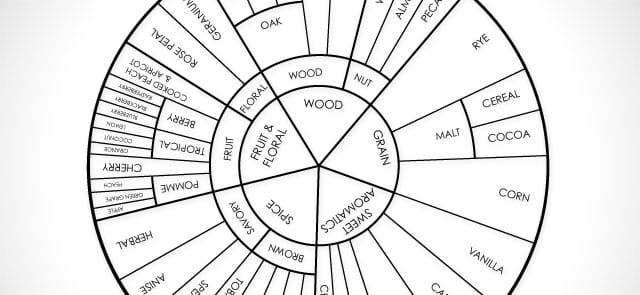 When I first started drinking bourbon, I would hear people refer to things like vanilla, toasted oak, and tobacco leaf when describing a bourbon they were drinking. I knew they were trying to explain the taste of the bourbon but try as hard I might, I just couldn't drink a glass of bourbon and come up with words to describe what I was drinking.
Little by little, though, I started discerning different flavors and aromas from bourbon. The trouble was I wasn't able to tell you what I was tasting necessarily. Sure, I could name things like vanilla or caramel, but more complicated things like toasted oak versus smoked oak never crossed my mind. Instead, I would refer to the bourbon as having a lot of wood in it. At about that time, I remembered that wine drinkers have used a Wine Flavor Wheel for years to help identify the flavors and aromas in wine. So I set out to try and find one for bourbon.
I looked for a long time and found several that focused on whiskey overall. Still, I felt they were a little too cumbersome for everyday use and had a lot of information that I didn't feel was necessary when tasting bourbon (versus Scotch whisky, etc.).  Then one night, I attended a bourbon tasting where we were presented with some really bad photocopies of a bourbon-specific flavor wheel. It was everything I had been searching for – simple, easy to use and focused on tasting bourbon.
The only problem was that it was in terrible shape (being a photocopy), and I couldn't initially track down where it came from. So like any industrious bourbon lover, I decided to recreate it, age it a bit and put my own unique twist on it for others to enjoy.  As such, I'm pleased to be able to share it with all of you today. I hope you find it useful as you continue on your bourbon journey.