Bourbon Heritage Month 2022
Bourbon Heritage Month has arrived! It's that time of year again, and whether this is your first year celebrating Bourbon Heritage Month or you're a seasoned pro, we're thrilled to have you join us for the next 30 days.
WELCOME TO THE BEST DAMN 30 DAYS OF THE YEAR!

Welcome to Bourbon Heritage Month 2022!
Whether this is your first-year celebrating Bourbon Heritage Month or you're a seasoned pro, we're glad to have you with us for the next 30 days. Pour yourself a drink and scroll down to explore what we've got in store for this year's celebration and how you can be a part of it all.
Once you've entered our giveaway, downloaded your #30DaysOfBourbon calendar, and stocked up on some bourbon gear, we ask that you share this page with all of your friends and invite them to join in the fun.
Thanks again for joining us & we look forward to spreading the bourbon gospel with you all month long during Bourbon Heritage Month 2022.
WIN FREE BOURBON SWAG & OTHER PRIZES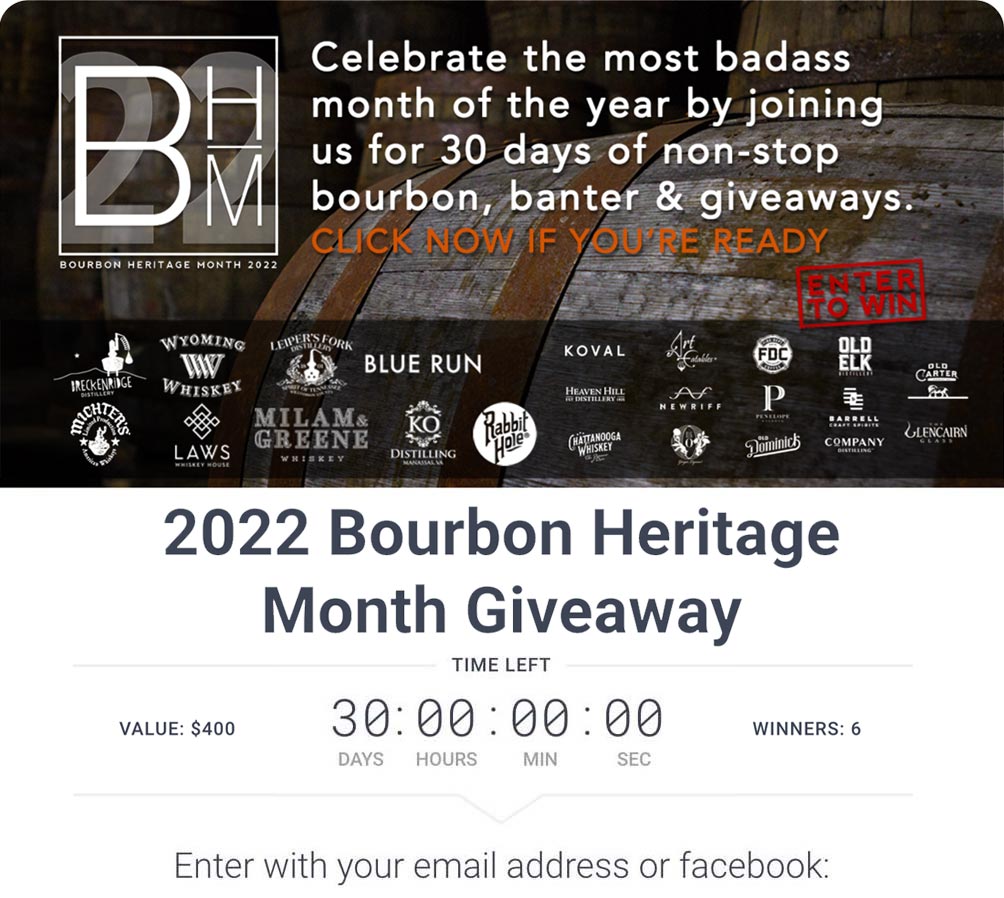 Bourbon Heritage Month 2022 is your chance to spruce up your bourbon wardrobe and home bar without spending a dime. Like we've done for the past few years, we're once again hosting a Bourbon Swag Giveaway, thanks to the generous support of our friends at some of your favorite brands and distilleries. Each week we'll pick a bourbon swag pack winner (5 in total), and at the end of the month, we'll pick a Mega-Pack winner who will receive the ultimate collection of bourbon gear.
This year we've added even more options that will allow you to earn up to 1,000+ additional giveaway entries for following us online and sharing the giveaway with your friends. After racking up your entries, you can sit back, pour yourself a drink, and dream about winning. Enter the Bourbon Swag Giveaway.
In addition to the weekly bourbon swag prizes, we have many other items we'll give away throughout the month. Make sure you follow up on all social channels because you never know when we'll launch a quick giveaway or call out your name to claim your prize. Here's to a fantastic Bourbon Heritage Month 2022!
WHAT IS NATIONAL BOURBON HERITAGE MONTH?
National Bourbon Heritage Month is an observance in the United States that calls for celebration of bourbon as America's "Native Spirit". On August 2, 2007, the US Senate declared September as "National Bourbon Heritage Month." The bill, sponsored by Republican Senator Jim Bunning of Kentucky, passed by unanimous consent. The resolution calls for consumers who enjoy bourbon to do so responsibly and in moderation. The bill reinforces the 1964 Act of Congress that declared bourbon "America's Native Spirit" by celebrating the family heritage, tradition and deep-rooted legacy that the bourbon industry contributes to the United States. (source: Wikipedia)
JOIN THE 30 DAYS OF BOURBON CHALLENGE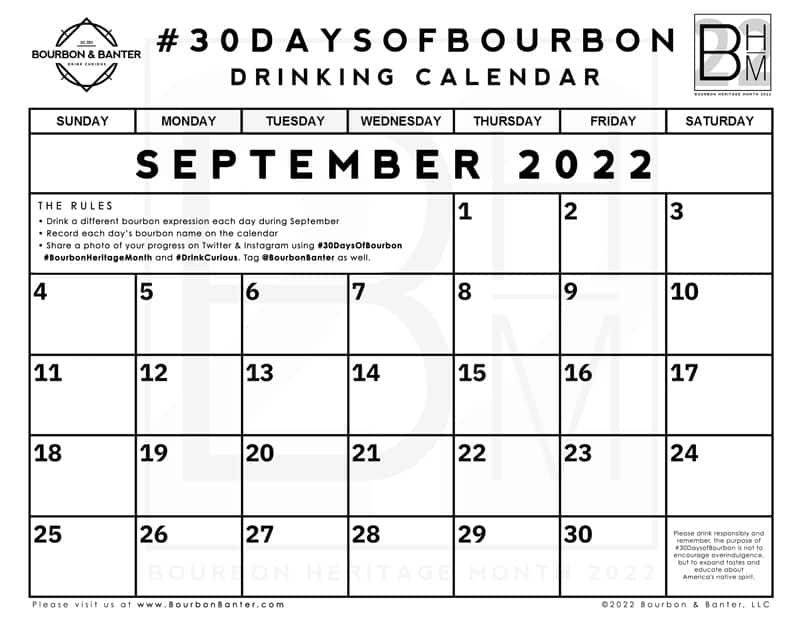 Starting September 1st, join us in enjoying 30 different Bourbons, one for each day of the month. There is no repeat during the month. And as usual, something like Four Roses, which has ten different mash bills, those ten mash bills are distinctly different.
No Rye, no Scotch, no American Malt, just good, old-fashioned Bourbon. Speaking of Old-Fashioned, cocktails do count, so long as you can nail down the Bourbon used.
Click below to learn more about the #30DaysOfBourbon challenge and download your tracking calendar and Bourbon Heritage Month graphic overlays for your Instagram/Twitter photos.