Bourbon in the Blind Dinner Recap
Thanks to everyone who came out and joined us this past Saturday for our "Bourbon in the Blind" tasting dinner. We hope you had as much fun as we did. For those of you unable to join us, here's a quick run down of the event.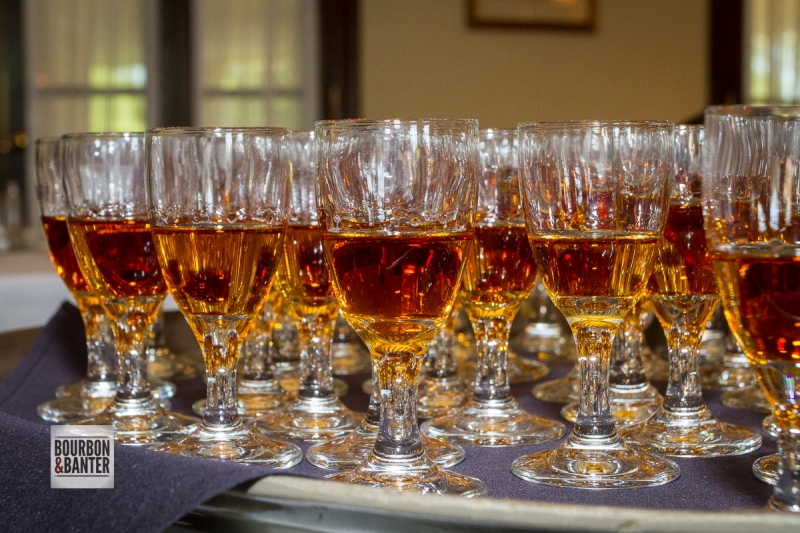 Thanks to everyone who came out and joined us this past Saturday for our "Bourbon in the Blind" tasting dinner. We hope you had as much fun as we did.
For those of you unable to join us, here's a quick run down of the event.
The evening began with guests in the "bourbon lounge" where they had an opportunity to meet and mingle while sipping on classic Manhattan cocktails crafted from one of the evening's featured "blind" bourbons. After everyone had time to meet each other and engage in some banter everyone was ushered into the dining room for the evening's main event.
Patrick Garrett from Bourbon & Banter kicked things off with an overview of how the evening would flow and provided some bourbon background and tasting tips. Joe Head, the evenings special guest presenter, kicked things into high gear with additional information about bourbon's colorful history and role in American culture. From there, Joe led everyone into tasting the first of three bourbons before dinner. Although we didn't reveal the names of the bourbons until dessert, here's a list of what we sampled before dinner.
Rebel Yell Reserve
Elmer T. Lee
1792 Ridgemont Reserve
After the first round of tasting was completed, everyone was treated to an amazing bourbon-themed buffet that was out of this world. Following a significant rest so we could digest our dinner, Joe Head got things going again with another round of bourbons. The second round included:
Mulligans*
Elijah Craig
Old Grand-Dad Bonded
And then, just when everyone thought we were done with the bourbon tasting, we pulled a Spinal Tap and turned the tasting up to 7! And the lucky number 7 bourbon of the evening was…Knob Creek Single Barrel.
Following the last, last bourbon, everyone enjoyed dessert consisting of sweet potato pie and homemade caramel pecan ice cream. It was the perfect ending to an intense evening of bourbon tasting.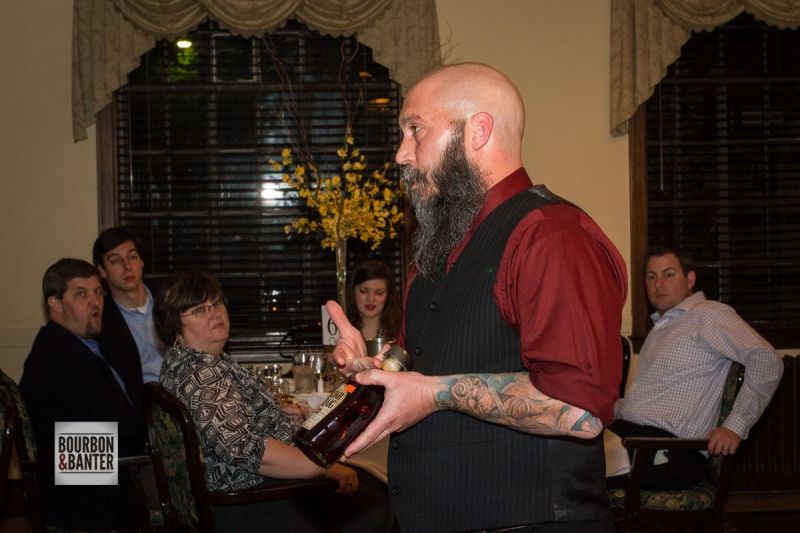 Joe proceeded to unveil the bourbons while everyone enjoyed dessert. As you can imagine there were quite a few people surprised by the bourbons we revealed. During the event everyone took notes on tasting cards so they could remember which ones they liked or didn't like. I saw several folks that tried to guess the bourbons but didn't see anyone who got one right. It's a really tough thing to identify bourbon by taste alone. The goal behind a blind tasting is to allow you to focus on what you like without having to deal with label prejudice. I'm thrilled to say that a lot of guests walked away from the evening with a new appreciation of what they like in a bourbon.
---
*A quick note about the Mulligan's Bourbon that kicked off our second round of tasting. Mulligan's is a bourbon being sold in St. Louis and is owned by a family that owns Mulligan's Bar & Grill in St. Louis. They spent a few years working with a distillery in KY to come up with a blend that they liked and thought their customers would enjoy. Their current release is a traditional bourbon recipe that's aged for 4 years and bottled at 80 proof. While it doesn't have the complexity and richness of older bourbons, it's actually very smooth and approachable. In my opinion, it's the perfect bourbon for someone just getting into bourbon or prefers a sweeter and lighter whiskey. Mulligan's was also the bourbon we used in the Manhattans during cocktail hour. Based on the crowd's feedback Mulligan's was extremely well received. Several guests bought multiple bottles on the spot, while others made it clear that they were going to pick up a bottle next time they were out shopping.
I want to thank the Mulligan's family for not only attending our event to see their bourbon in action but also for their generosity in donating product for tasting, as well as a few giveaways. Thanks for helping us to spread the bourbon gospel. Here's where you can purchase Mulligan's Bourbon.
---
The formal event ended with a round of giveaway items that included bottles of the bourbons being sampled at the event, bourbon books and accessories like ice molds. It was as if a bourbon Santa Claus had come to town.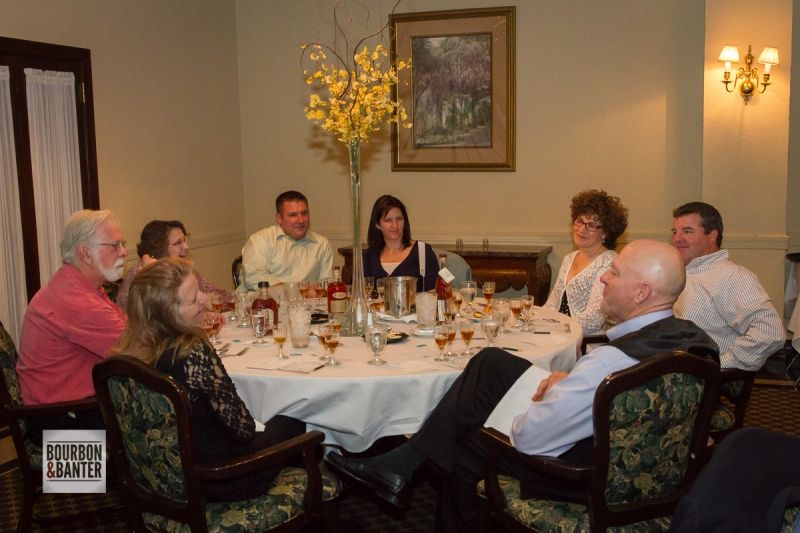 Immediately following the conclusion of the tasting event, guests were invited to join Bourbon & Banter on the patio for some continued bourbon and banter. Over the next few hours everyone enjoyed continued banter and bourbon brought from everyone's personal home collections. Sitting outside enjoying the cool spring weather, drinking bourbon and smoking cigars was a fantastic way to end the evening.
Thanks again to everyone who joined us for the evening. And special thanks to Joe Head for traveling down from Dayton to help host the event. There's very few people outside of Kentucky that have the bourbon knowledge that Joe does and it's always a treat to hear him speak about his passion for bourbon. If you find yourself near Dayton you owe it to yourself to stop by the Century Bar for a few drinks. Tell them that Bourbon & Banter sent you.
Cheers!