A Bourbon Spouse's Point of View
I'm going to be honest here. I am not a bourbon drinker. I stick to those girly drinks with umbrellas. I went along on the Bourbon & Banter 5th Anniversary event because I thought it would be fun and interesting.
NOTE FROM JIM: This post was written by my wife Karen, with just little editorial input from me. Which is fair, she also edits my posts.
---
I'm going to be honest here. I am not a bourbon drinker. I stick to those girly drinks with umbrellas.
I went along on the Bourbon & Banter 5th Anniversary event because I thought it would be fun and interesting. I would get a chance to meet some of the people that my husband blogs about bourbon with. OK! I did bring my crocheting and my e-reader just in case I got bored. Didn't get a stitch done and the only reading I did was while waiting for everyone to be ready to go in the morning.
There were three great things that I came back with from this trip. The first is that I met some crazy and fantastic guys that blog for this site. They never laughed (at least to my face) no matter how weird or uninformed of a question I asked, and they introduced me to a whole new world of bourbon life. Thanks, guys!
The second was our stop at Kelvin Cooperage. They gave a behind the scenes tour that was tremendous. We saw barrels being made start to finish and even the charring process. There were barrels coming back from one site and going to another as well as new ones going to distilleries that even I have heard of.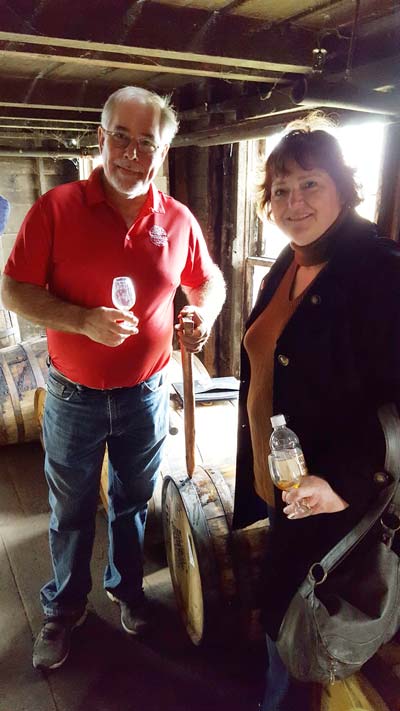 But the true highlight was the barrel pick. We went to Wild Turkey and met with Eddie Russell. He made the experience fun and educational. I wasn't sure until the last second if I would even taste the bourbon. I was sure they would all taste the same so why bother? Well, since this might be a once in a lifetime experience, count me in.
We sampled 8 barrels in all. As I stated earlier, I am not a bourbon drinker so these are only my opinions.
Barrel 1- OK. This isn't so bad. I won't say I want more, but I wasn't poisoned. I could do this. Bring on the next barrel.
Barrel 2- Maybe I was a bit premature on the idea of poisoning. It had a taste I truly didn't care for. Yikes! Some of the others liked it?
Barrel 3- YES!!! This is more like it. Not bad at all. I actually drank the whole sample.
Barrel 4- Again an OK barrel. To me it tasted close to number 1 but not as good.
Barrel 5- Not bad but not as good as barrel 3. I didn't have the urge to finish this one.
Barrel 6- Heaven help me. Another barrel that was not going to make my list of favorites. It took half a bottle of water just to get the taste out of my mouth. I seemed to be the only one affected by the taste.
Barrel 7- Another OK barrel. Below the other OK barrels but it wasn't awful.
Barrel 8- Maybe I was partial because I picked this barrel but not bad at all. There is no method to picking a barrel, just whichever one strikes your fancy.
Then we did a blind taste test. Everyone agreed that it should be barrels 3, 5 and 8. Yea. Those were my top picks. Barrel 3 came in first, barrel 8 second and 5 third. I was excited because that was the order I had placed them in. I probably couldn't do that again if I tried. But if it means another barrel tasting, I am more than willing to give it a try.
I should mention that we did do another tasting right after. It was at a great distillery, the setup was beautiful, and there were very expensive bottles of bourbon that we tasted. Let's just say they were not my favorite. Was it the fact that they were from a bottle and the previous tastings were straight from the cask that made me not like this tasting as much? Or could it have been the brand itself? I may have to do a bit more research (drinking bourbon) to find out!
Post Script from Bourbon and Banter Contributor Jim Knudsen:  I thought it would be a good idea to give my wife Karen a view into our little community here.  Little did I know, I might have to hide my prized bottles afterward.
---
Karen was born in Detroit Michigan and has lived all over the U.S.  She loves to travel and has been to over 50 countries.  When not traveling, she devotes her time to her grandchildren and volunteering with her service/therapy dog, Dezil.  While new to tasting bourbon, she enjoys enabling her husband, Jim, in his favorite hobby!