Breckenridge Bourbon Whiskey Review
As we're all aware, bourbon, by law, does not have to be made in Kentucky. I know that many of you feel differently but for the sake of my review, I'd appreciate it if you could all simmer down and play by the rules for the next 5 minutes.  T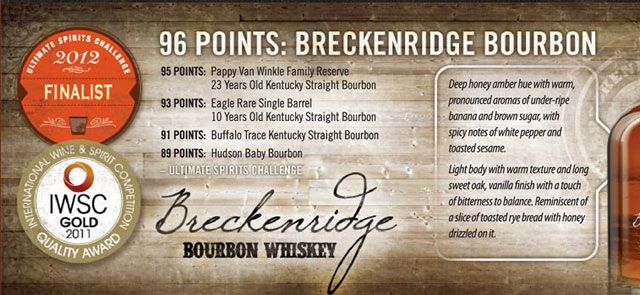 As we're all aware, bourbon, by law, does not have to be made in Kentucky. I know that many of you feel differently but for the sake of my review, I'd appreciate it if you could all simmer down and play by the rules for the next 5 minutes.  This geography lesson is important because Breckenridge Bourbon is made in Breckenridge, CO – 9,600 ft above sea level. How's that for a change of pace?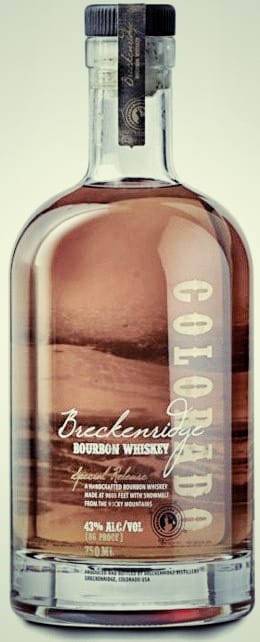 Breckenridge Bourbon Whiskey is made from a high-rye mash bill mixed with Rocky Mountain snowmelt into a traditional open-top Scottish fermenter and then distilled using a Vendome copper pot still. (Can you guess that someone has a love of Scotch at the distillery?) It's then aged in new American Oak barrels for – get this – 2-3 years.  Yep, that's all. That's far less than the average number of years bourbon is typically aged. So what does this all add up to?
Here's what their website has to say:
"Besides our unique high-rye mash bill we owe our success to careful mingling of casks at each bottling and the perfect Breckenridge snowmelt water used for proofing. The natural minerality of our water source ensures the luscious mouth-feel, depth of flavor, and long finish making Breck Bourbon one of the very best Whiskeys in the World."
One of the best whiskeys in the world? Whoa! That's a pretty big statement for a bourbon younger than my children. But you know what?
They're absolutely right! At least according to the 2011 International Wine and Spirits Competition in the UK. Breckenridge Bourbon received one of only three gold medals awarded at the competition—pretty impressive bragging rights.
So what if the fancy judges gave it a gold medal? How does it taste? That's what's really important.
I've now drunk Breckenridge Bourbon on three occasions, and each time I drink it I find myself loving it more and more. It is a fantastic bourbon. One that is wise beyond its years and would never find itself being carded at the local bar. I know that the folks at the distillery have done some pretty interesting things to produce this bourbon, but I'll leave those details out there for those curious enough to track them down on your own.
I'll leave you simply with a request that you make it a priority to give this one a try at your local drinking establishment or at home if you're willing to purchase a bottle. If you absolutely don't like this bourbon, let me know. If we're ever in a bar together, I'll buy you a glass of something else to make up for my recommendation. (No. I will not buy you a glass of any Pappy older than ten years.)
As always, let me know in the comments what you think about my Breckenridge Bourbon review.
Bourbon Name: Breckenridge Bourbon Whiskey
Year: 2011
How I Drank It: Neat, in my special bourbon glass (please don't be jealous)
My Nose Noticed: Butterscotch | Raisins | Brown Sugar
First Sip: Oak | Caramel | Vanilla
The Burn: Each sip is greeted by a slow building back of the throat burn that lasts for a long time. It's a very satisfying burn to say the least. While this bourbon isn't very old, I don't think anyone informed the finish of that fact. Well done!
Neat, Splash or Rocks: As always I started out my review drinking it neat. But after my initial notes I added in some water which really opened it up. Flavors become more pronounced with an increased level of sweetness that was more than acceptable. In the past I've also enjoyed this on the rocks. It somehow feels like a lighter bourbon when on the rocks but doesn't really lose much of its flavor.
Share With: This is an example of a multi-tool bourbon. You can enjoy it with your friends who are passionate about their bourbon and they'll love it. You can also feel comfortable sharing it with those who prefer their bourbon in a cocktail. (Please respect the bourbon though and make it a high-end cocktail.) You could even add in some water for those still getting used to bourbon without adulteration.
Worth The Price: Average price is about $40 a bottle. When looking purely at the age of the bourbon I know that many will think that it's overpriced. But if you take your time and give the bourbon a taste you'll soon agree with me that this is a solid price for a bourbon of this quality.
Bottle, Bar or Bust: There are so many reasons to add this to your home bar. First of all it simply tastes great. Nothing else really matters. But if you need another reason consider the fact that this bourbon was made in the mountains, outside of Kentucky and is only a few years old. Game changer? You let me know what you think once you've tried it. I'll be waiting.
*I like to let my bourbon sit in the glass for at least 5 minutes before I start to smell it or have a drink. I personally find that it's better to let some of the alcohol waft off before diving in. If I'm drinking bourbon on the rocks, I skip the waiting and dive in both feet first.
**Some of you refer to this as the "finish," but let's be honest. Don't we all just want to know if it burns good?
---
Here's a behind-the-scenes video from the Breckenridge Distillery for your viewing enjoyment.