Bringing The Distillery To You: Virginia Direct To Consumer Shipping
If a Virginian can't come to our distillery, we can bring our distillery to them.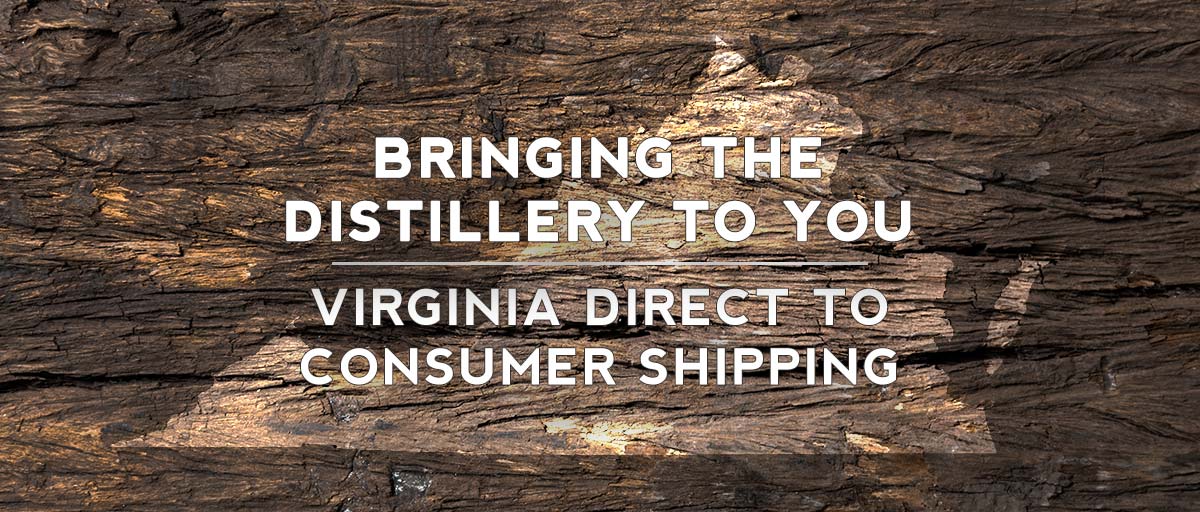 If a Virginian can't come to our distillery, we can bring our distillery to them.
This is a paraphrase of a quote made by Kara King, Co-Owner of Ironclad Distillery in Newport News, Virginia and Vice President of the Virginia Distillers Association during a conversation I had with her about Direct to Customer Shipping in Virginia. Also, on the call were Kara's father, Steve King, and Matt McGinnis of Big Thirst Marketing
As you might imagine, when Virginia closed all its non-essential services on March 24th because of the COVID-19 virus, it had a major impact on the craft distilleries within the state. While curbside pickup was still allowed, tasting rooms were closed and for distilleries who depend on tasting room sales for over 50 percent of their income this was a major blow.
Recognizing the economic impact to both the distilleries, who employee over 1500 people throughout Virginia, and the $160 million impact to the economy, The Virginia Alcoholic Beverage Control Authority on April 6th extended temporary privileges to the distillery industry for Direct to Consumer (DTC) Shipping. A very unusual move for a control state.
The fact is, DTC was already on the radar in the Virginia General Assembly prior to the state shutdown.  The Virginia Distillers Association has been lobbying for this ability for a while. The Virginia Distillers Association was founded by members of the Virginia spirits industry in 2016. It is a nonprofit organization focused on improving the regulatory, legislative, and promotional environments for Virginia distillers. Promotions include the Virginia Spirits Roadshow which are whiskey fest type events throughout the state; The Virginia Spirits Trail; Virginia Spirits Month in September and this year a celebration of 400 years of spirits in Virginia.  Twenty-nine Virginia Distilleries are members and according to Ms. King these distilleries account for 95% of Virginia spirits sold.
Naturally, there were certain rules that the distilleries must follow. Orders can be no more than 6 bottles per month. Only distilleries with distillery store licenses may ship. There are 45 of these in Virginia. Only approved common carriers may be used which currently consist of UPS and FedEx. Finally, the recipient must be 21 and sign for the shipment.
The impact was immediate, Catoctin Creek Co-Owner Scott Harris reported that his email immediately blew up and he garnered 80 orders on the first day. About 10 days after DTC was instituted, I placed my first order for six bottles from the A. Smith Bowman distillery. I recently placed another order with Bowman as well. Shipping is very reasonable. Bowman charged $15 for the six bottle shipment.
There have been other advantages. as well. Due to current circumstances, a number of restaurants did not pick up their bottles of Catoctin Creek Rabble Rouser Rye Whisky. This is a special release by the distillery hard to obtain. The distillery put those 34 bottles for sale online in early May. They were gone in less than 30 seconds. I was lucky enough to get one and have it shipped directly to my home. In addition, Catoctin Creek had several private barrel picks that were not picked up by various sources as well. The distillery blended those bottles together and the 800 bottle "Infinity Barrel" release were sold on line in about 5 hours. About half directly shipped to Virginia residents.
While the VABC operates 389 state stores in Virginia, 80% of Virginia craft spirits are sold in distillery tasting rooms. These distilleries produce a wide range of spirits including absinthe, gin, rum, vodka, single malts, and moonshine, among others. However, the craft distilleries must fight for the limited amount of shelf space available in the state stores. Each distillery looking for shelf space goes through an interview and tasting process with the control board and not all distilleries gain space for their products or a portion of their products. The DTC however, allows a distillery to ship any of their products to residents making certain spirits available to those who may never see them in the store. And while some distilleries report that the DTC does not quite make up for tasting room sales other owners state that the ability to ship has increased sales over those in the tasting room.
Going a step further, Ironclad Distillery offers a sampling pack for order on their website. I was able to order one and have it delivered in a few days. The pack contains four 60ml samples of their bourbon and finished whiskey. Since they are located about 4 hours away from my house this allows me to try their product without an overnight road trip.  Given how spread out the distilleries are in Virginia, I find this to be great idea and hope that more distilleries would make this available as well.
Not all Virginia distilleries are using the DTC, but most of them are. Now tasting rooms are opening up again and the negative impact hopefully easing.  And hopefully the improvements will continue but who knows. In this difficult time, the DTC shipping privilege has been a win for Virginia consumers, distillers and the VABC. While this is only a temporary measure hopefully it will continue.
As Kara King said, If you can't come to our distillery we can bring our distillery to you.
Links to my Virginia Distillery Reviews can be found below:
Disclaimer: Thanks to the Virginia Distillers Association for our conversation and Revel Photo Co. for use of their Virginia Spirits picture