BroBasket Ultimate Whiskey Sampler Review
Roses are Red, Violets are Blue, but guys just want Whiskey. BroBasket, is just another box subscription service. That's what I thought the first time I heard about them.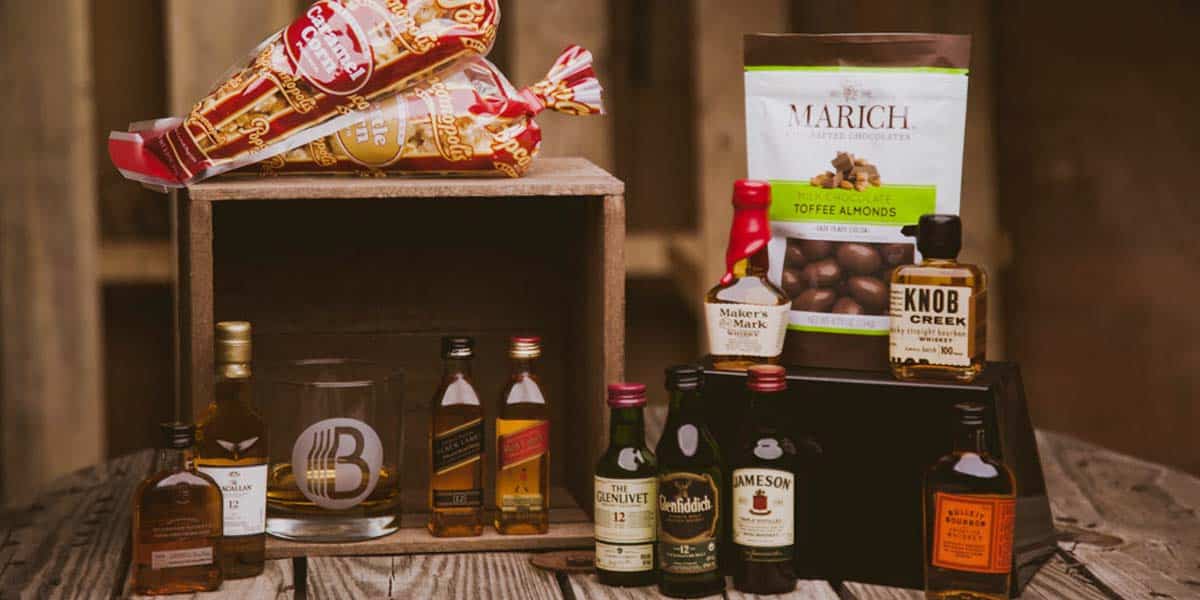 Roses are Red, Violets are Blue, but guys just want Whiskey.
BroBasket, is just another box subscription service. That's what I thought the first time I heard about them. However, they are not one of the box subscription services we have all been inundated with on social media, they are actually a company that sends out gift baskets of booze.  When I first visited their website, the bourbon selection was filled with standard pours, but nothing really stood out or jumped at me to say "This you have to get." All I I could think was, "Who would use this?"
After visiting the About Me section on their website, the usefulness of their product became obvious.  Basically, it started with a man buying flowers for his girlfriend. Flowers are the obvious choice for all kinds of occasions. But when the role is reversed, what does a woman get her man to say "I'm thinking of you?" This is why the BroBasket was developed. If you want to know more of the story, check out the About Me section.
BroBasket gives us a place to pick out a birthday, graduation, get well, congratulations, or really just about anything basket for the men in our lives. The options are endless; they have prebuilt baskets or offer fully customizable options. They really have put together something great here.
If we compare BroBasket for a man to flowers for a woman, the price is comparable.  Anyone who has purchased flowers knows they don't come cheap, but from the right place, they turn out amazing. It's not crazy to spend anywhere from $100 to $150 on flowers. I know I have done it. My wife still says that the most expensive arrangement I've ever purchased, were the most amazing flowers she ever received. And for me, if I would have received one of these packages while we were dating, it would have been great. She knew flowers would have been a waste for me. A BroBasket would have been spot on.
The package I received was "The Ultimate Whiskey Sampler."  Upon receiving the box I was impressed. Great packaging! The shipping box tells you that you're getting a gift, but other than that it's pretty discrete. Once opened, the contents were well secured. Not only does the package comes shrink-wrapped and in a nice red bag, a foam pack was used as well. This basket was definitely "a bomb proof package." And when bottles are involved, that's a good thing.
The basket included Popcornopolis gourmet flavored popcorn, a Marich Chocolate covered goody, an 11oz BroBasket tumbler, a reusable tin, and, of course, 10 bottles of whiskey! They also include a card in the basket for a special message. The whiskeys were all minis: Knob Creek, Bulleit, Woodford, Makers Mark, Jameson, Glenfiddich 12 Glenlivet 12, Jonnie Walker Black and Red, and Macallan Double Cask 12.
In no way is this basket designed for the die-hard whiskey enthusiast. These are flowers for men. It's the perfect way to send someone who likes to drink an "I'm thinking of you" basket.  If you think of it this way, it's actually pretty cool.
The company also offers other liquors, including tequila, vodka, beer, wine, craft beer, and others. If you check out their "Customize Your Own Gift Basket" page, you will be blown away with all the options there are for you to choose from— it's like hand picking your own bouquet of flowers!
In conclusion, I give the BroBasket a 9/10. Love the concept and the uniqueness, packaging and presentation is spot on, and I don't think there is a single person who would not enjoy getting this as a gift. I would love to see some special offerings or exclusive whiskeys or bourbons.   Aside from that, I think BroBasket has this one locked down. Make sure to check them out the next time you need to send someone something other than flowers.
---
Disclaimer: A sample gift basket was provided by BroBasket for review. We appreciate their willingness to allow Bourbon & Banter to review their product with no strings attached.