Broken Barrel Whiskey Single Oak Series Review
I intentionally didn't read about these whiskies before trying them and logging my tasting notes. I'm generally skeptical of "new techniques" and certainly skeptical of producers in Southern California.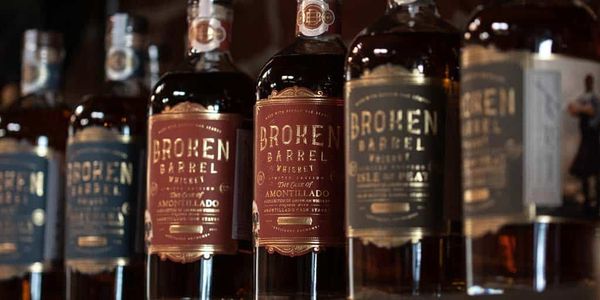 BOTTLE DETAILS
---
DISTILLER: Undisclosed; Likely O.Z. Tyler Distillery in Owensboro, KY
PRODUCER: Broken Barrel Whiskey Company
MASH BILL: 70% Corn | 21% Rye | 9% Malted Barley
Fermentation: Standard
Oak Bill: 80% California Central Coast Cabernet Cask Staves | 20% New French Oak
AGE: More than one year
YEAR: 2020
PROOF: 88 Proof (44% ABV)
MSRP: $32.99
BUY ONLINE: Caskers.com
MATT'S NOTES
---
NOSE: Bright Red Fruit  | Sweet Corn  |  Bubble Gum
TASTE: CHERRY  |  Toasted Almond  |  Faint Cinnamon
FINISH: Medium alcohol burn with an oak chaser.
SHARE WITH: Non-bourbon drinkers who are looking for a non-traditional whiskey profile.
WORTH THE PRICE: At $33 MSRP, it is less expensive than many craft whiskey products.  Perhaps a little pricey for what it is, but not overly so.
BOTTLE, BAR OR BUST: I don't love it enough to buy a bottle for my home bar, but I don't hate it enough to call it a bust.  A wine drinker at a bourbon bar might find this to be a nice wine alternative.
OVERALL: On the initial nose, I would have assumed this was a pour of Brenne Whisky.  Those French staves must be the culprit on the bubblegum nose on both products.  On the initial palate, I would have assumed this was Traverse City American Cherry Whiskey. I was surprised that the cabernet stave influence managed to tame the youth of the underlying product to an enjoyable experience.
So, the blenders in California have managed to take a very young Kentucky product and mimic other established products in nose and taste.  The palate is much greener and hotter than the Traverse City product but in the same ballpark, so if you're a fan of that offering, you may like this slightly less expensive product from Broken Barrel.  For my palate, the youth of the underlying Kentucky whiskey is enough for me to pass on this in a liquor store.  A 4 to 6-year product would be much more interesting to me as a bourbon drinker but would likely bring double the price in the whiskey aisle.
On principal, I did not want to like this product.  The website calls the sourced whiskey a "Straight, Bourbon whiskey" but we all know a one-year product is anything but straight.  Not that there is anything wrong with that.  I just can't stress the importance of transparency and accuracy in label and marketing descriptions in the whiskey world.  This isn't a Presidential press conference, so they can't both be incorrect.  I would assume the label is correct that this is a one year whiskey and the website is wrong.  The TTB usually insists on accuracy.
In any case, this whiskey won a gold medal at the San Francisco World Spirits Competition, so the youth obviously wasn't as much of a concern for the vodka experts tasting this year's entries.  Check it out if you're inclined.
BRAND NOTES
---
TWO WORLDS COLLIDE

Born in Northern California, raised in Southern California, our founder Seth has California running through his blood.  Enamored with Kentucky, and loyal to home, he combined his two favorite states into one award-winning bottle of whiskey. Distilled in Owensboro Kentucky - this Straight Bourbon whiskey is finished with 80% Central Coast Cabernet barrel staves, and 20% French Oak staves. The charred virgin French oak gives a common character found in the wine, while also rounding the sweet dark fruit flavors bleeding from the freshly dumped wine barrels. The marshmallow forward, cherry center, and oak-heavy finish lingers, while remaining balanced and approachable.
Mash Bill:
70% Corn
21% Rye
9% Malted Barley
Oak Bill™
20% French Oak Staves
80% Central Coast Cabernet Wine Barrel Staves
Broken Barrel California Oak Bourbon was awarded the Gold Medal in 2020 at the San Francisco World Spirits Competition for finished bourbon.
Batch 001 | Launched March 2020
California Oak was created as a bourbon that could seamlessly bring the wine drinker into the world of whiskey. This is a step into our world and a every day sipping whiskey made to be drank neat, and often.
-Seth Benhaim, Founder and Barrel Breaker
---
Disclaimer: Broken Barrel Whiskey Co. provided Bourbon & Banter with a sample of their product for this review. We appreciate their willingness to allow us to review their products with no strings attached. Thank you.