Bulleit Bourbon 10 Year Review
Bulleit Bourbon has always been one of my favorites. It's easy to drink, priced right and has a nice story surrounding the brand and its founder, Tom Bulleit.

Bulleit Bourbon has always been one of my favorites. It's easy to drink, priced right and has a nice story surrounding the brand and its founder, Tom Bulleit. In fact, I like it so much that it's one of the Bourbons I usually recommend to folks who are looking to try something beyond the "entry level" Maker's Mark. The fact that you can't walk into a bar these days without spying Bulleit's distinctive frontier bottle is further proof that Bulleit Bourbon is a clear favorite among Bourbon drinkers.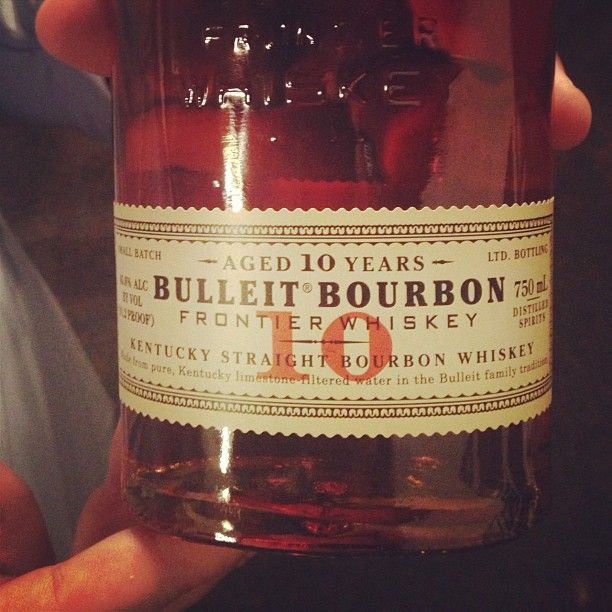 As a long-time fan, I was honored to attend a Bulleit tasting event this past As a long-time fan, I was honored to attend a Bulleit tasting event this past November where I was able to meet Tom Bulleit in person. At that event, I was one of the first to see the label for Bulleit 10 and was able to spend some time with Tom after the event learning about the upcoming release of Bulleit 10. Since then, I've been eagerly awaiting my chance to taste Bulleit 10 and share my review with all of you.
Two weeks ago I received a Bulleit 10 tasting sample and was finally able to sit down this weekend to do a proper tasting. To make it even more interesting, I decided to do my testing side-by-side with the original Bulleit Bourbon so I could properly compare them. Before we dive into my tasting notes, let's learn a little bit more about Bulleit 10.
Here's a bit of information direct from the brand.
Bulleit 10 is the brand's selected reserve, a delicious bourbon that, at 91.2 proof, is consistently smooth, russet in color, rich with oaky aromas and hints of vanilla and dried fruit with a long smoky finish.
Aged in charred American white oak, a select number of Bulleit Bourbon barrels were set aside to age for ten years to see how the already award-winning bourbon would develop. Bulleit distillers were thrilled to find that the additional years resulted in a special expression of Bulleit bourbon that provides a rich, deep, incredibly smooth sipping experience that maintains the inherent character and high rye content for which the Bulleit brand is best known.
Sounds good, right? Let's jump right in and see what an extra 4 years in the barrel does for Bulleit Bourbon.
Bulleit Bourbon Frontier Whiskey, 10 year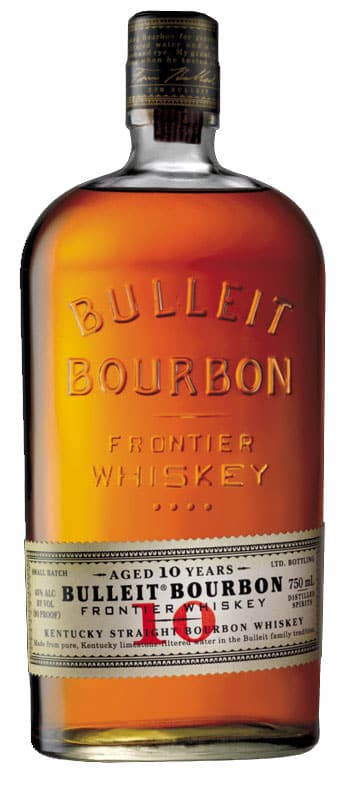 BOTTLE DETAILS
---
Bourbon Name: Bulleit 10
Proof: 91.2
Age: 10 years
Year: 2013
POP'S NOTES
---
How I Drank It:  Neat, in a Glencairn Whiskey Glass
My Nose Noticed:*  Lots of  Toasted Oak | Dried Fruit | Spice | Hint of Vanilla
First Sip:  Oak | Rye/Spice | Trace of Vanilla
The Burn:**  As with regular Bulleit, Bulleit 10 has very little, if any, bite on the tongue. In fact, it's rather light on the tongue with a pronounced dry oak finish.  The burn appeared in the back, lower part of my throat and was very pleasant albeit non-committal. It was gone way too soon and left little behind to remember it by.
Neat, Splash or Rocks:  I started drinking this one neat and was nervous about adding water to it. I feared the water would amplify the oak flavor and drown out the hint of vanilla I tasted earlier. I decided to add water anyway and was rewarded with more of the subtle vanilla notes I noticed earlier backed up with some nice spicy notes from the higher than normal rye content of Bulleit's mash bill.
Share With:  Bulleit 10, just like original Bulleit, is a great bourbon for sharing with folks who are relatively new to bourbon. It's highly approachable, easy to sip neat and provides a good introduction to traditional bourbon flavors like oak, vanilla and spice.
Worth The Price:  The MSRP for Bulleit 10 is $44.99 as compared to $24.99 for original Bulleit. I know there's been a lot of online discussion with the prevailing thought being that Bulleit 10 is asking too much of a price premium based on how similar it is to regular Bulleit. In the St. Louis market, I've seen Bulleit 10 listed for $31.99 which eliminates much of the premium price argument.  For me, it comes to what tastes better. Try them both and then decide which one you prefer.
Bottle, Bar or Bust:  At the end of the day, I prefer regular Bulleit over Bulleit 10. I think Bulleit 10's extra years in the barrel were not well spent. Deep traditional flavors were sacrificed for increased oak notes and a stronger spice profile. While I enjoy both of those, it has to be in balance with things like caramel, vanilla and honey. Try a glass at your local bar, but make sure to do it along with a glass of regular Bulleit. Then you can decide which one should take up a slot in your home collection.
---
*I like to let my bourbon sit in the glass for at least 5 minutes before I start to smell it or have a drink. I personally find that it's better to let some of the alcohol waft off before diving in. If I'm drinking bourbon on the rocks I skip the waiting and dive in both feet first.
**Some of you refer to this as the "finish" but let's be honest. Don't we all just want to know if it burns good?