Buying Barrels with the NHLC Part 1: Trial by Firewater
There are many steps on the bourbon lover's journey. After you decide you like it, you start trying different brands to see what you like. You seek out books, websites and other enthusiasts to further your education. You visit the big Kentucky distilleries and your local craft distillery.


There are many steps on the bourbon lover's journey. After you decide you like it, you start trying different brands to see what you like. You seek out books, websites, and other enthusiasts to further your education. You visit the big Kentucky distilleries and your local craft distillery. You start hunting the rare and allocated bottles, maybe even trading. You become known in multiple liquor stores and know what days they receive new stock. If you can't make it to the distillery gift shop for a special release, you find someone who can. Heck, you know the special release calendar for PVW, BTAC, OFBB, etc., and you know what those initials stand for. Friends ask you for recommendations. Eventually, you get to the point where you're looking for your next bourbon thrill. You want a unique experience. Time to get back to Kentucky and pick out a private barrel.
Most major bourbon distilleries have some program where for around $8000-10000 you can choose and purchase your own barrel. However, you can't just drive up to the distillery with a truck and take it away. You'll need to be licensed to sell that liquor, and if you're not, you'll need a store or someone else with a license to help you out.
I didn't have that kind of money or a store. I just really wanted to get into a warehouse with a master distiller and drink whiskey from the barrel.
In November of 2016, I flew to New Hampshire for a Pappy Van Winkle tasting dinner and Distiller's Showcase. The New Hampshire Liquor Commission (NHLC) liked my work enough to invite me on their 2017 barrel-buying trip. Imagine my excitement that we weren't going to buy just one barrel, but "up to 40 barrels of the world's finest liquid" from five different distilleries. Throughout the trip, I'd be accompanying NHLC Beverage Marketing Specialist Mark Roy and E.J. Powers who handles public relations for the NHLC. Also joining us would be the NH representative from the umbrella company owning each distillery and a rep from the distributor that would act as the middleman between the distillery and the NHLC.
I did not hesitate. First stop: Tennessee.
JACK DANIEL'S
In 2016, the NHLC purchased a record-breaking 16 barrels of Jack Daniel's Single Barrel Personal Collection whiskey. When I asked if they had any left, I was told there were a few cases scattered throughout the state but were mostly sold out. For 2017, they planned to break the record again with 17 barrels.
After a fabulous lunch at Miss Mary Bobo's (do not miss it when visiting Lynchburg) and a VIP tour, we sat down with Jack Daniel's Master Distiller Jeff Arnett to begin our selection process. We each sat down at a table with 22 samples, a glass of water, a notepad, and a pen. The samples were from barrels that had already been processed, filtered, and reduced to 94 proof.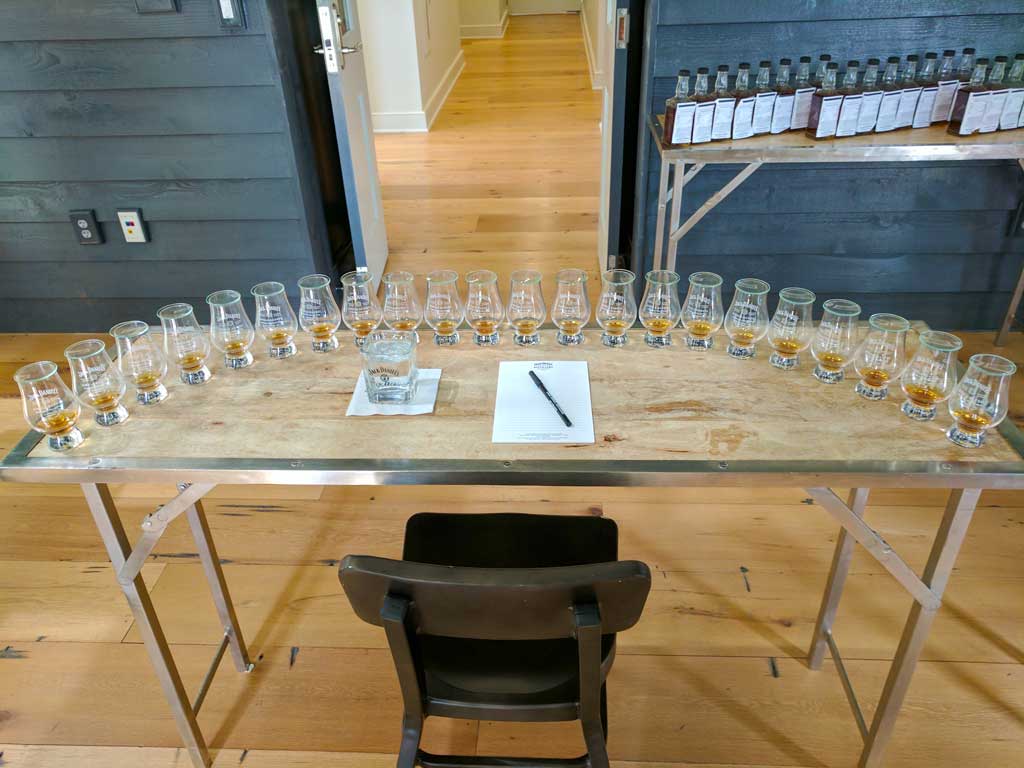 I should mention that when you're buying one barrel of whiskey, you are often offered three barrels to choose from. It's fairly easy to detect the differences between three samples and find the one you like best. When you sit down to 22 samples, it can get overwhelming. (I was so focused on the whiskey samples, the only thing I remember Jeff Arnett talking about was his time working for Pringles.) Mark Roy explained to me that we were looking for a range of styles within the picks, both so customers can compare different barrels and to suit different drinking styles: more approachable for the entry-level drinker; bigger, bolder whiskeys for the more experienced drinker; some that would work better with ice for those who prefer it.
So we tasted and made notes and discussed our findings. Occasionally you hit one that for one reason or another strikes you and you look over at the other tasters, and their eyes are wide too. Those are either definite keepers or bizarre outliers that don't necessarily represent what you expect from the brand. My note for barrel 1593 was simply "Different!" It was considered an outlier and eliminated. (One distiller told us they had a regular buyer who only chose the outliers as a way to show his customers something different.) After working our way through all of the samples, we eliminated the five we liked the least.

Myself and two winners of New Hampshire's Live Free & Host Responsibly Cocktail/Mocktail contest chose our favorite barrels. Mine was #1597. If you give it a try, let me know what you think!
Barrels purchased: 17
---
Nashville is a fantastic city with incredible music and food and I had a very responsible time there. Yes, sir. The next morning we drove up to Kentucky and no one forgot anything in Nashville.
Thomas "Where are my shirts?" Fondano
---
WOODFORD RESERVE
Our second distillery was Woodford Reserve. After lunch and a tour, which concluded with a reinvigorating sample straight from the barrel, we met with Brown-Forman's Master Distiller Chris Morris who took us through the Personal Selection process. We learned you actually couldn't get a single barrel of Woodford Reserve. Woodford uses heat cycling in their warehouse to make sure the aging process isn't stopped when the weather gets too cold. The heat causes barrels to lose a little more to the angel's share, thus lowering the yield on a single barrel. What the Woodford Reserve Distiller's Select Personal Selection offers instead is the smallest batch bourbon: 2 barrel blends.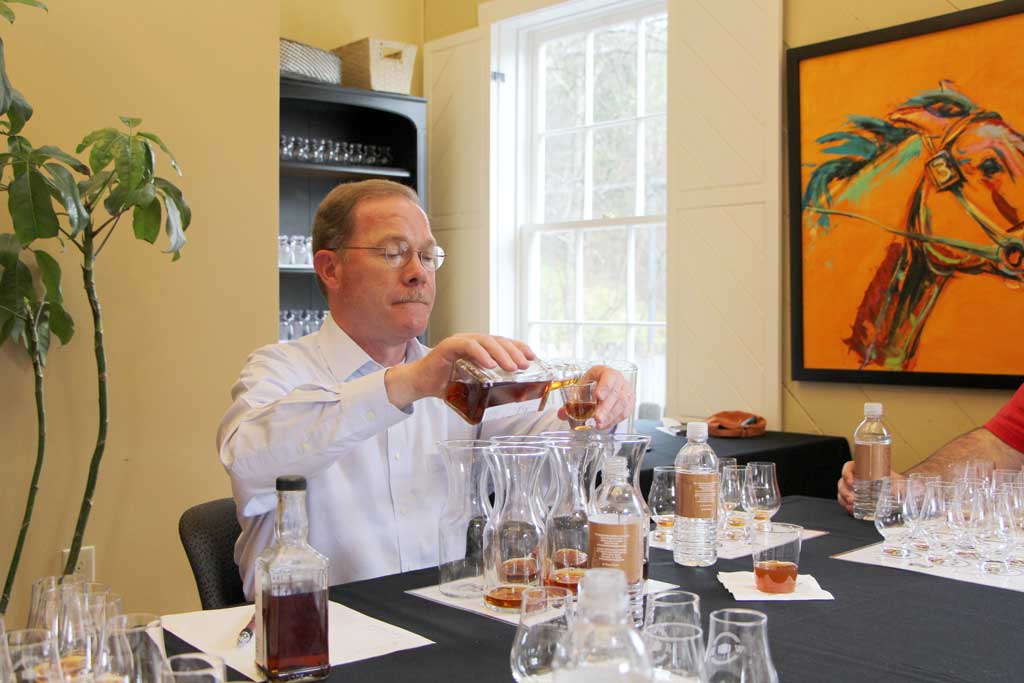 We were each poured six barrel-proof samples, varying from 129.8 to 138 proof in the 5-7 year range. We chose three favorites from those and then under Morris' guidance blended the six possible permutations of those three. This process highlighted the art of blending for me. Case in point, there was one sample that the whole table loved. When it came time to blend with another barrel, we found it was too bold to blend well. We made two selections from our blends. And then we did it all again. Another set of six barrels and another six blends. From here we were able to choose three more selections. At this point, the master distiller suggested we blend one of the outcasts from the first batch and one from the second and suddenly we had the 6th selection. We set another single purchase record at a distillery.
"Barrels" purchased: 6 Woodford Reserve Distiller's Select Personal Selection
Total: 23
The next day we concluded our Brown-Forman activities with a trip to their cooperage in Louisville. If you have a chance, I highly recommend the tour.
Stay tuned to Bourbon & Banter for Parts 2 & 3 of this epic barrel-buying trip!