Catoctin Creek Distilling Company
The distillery is located on Main Street in Old Town Purcellville (every place has an Old Town, right?), in an old Buick Showroom dating back to 1921. Owned by husband and wife, Scott and Becky Harris, they celebrated their 10th year in business in Mid-February.
As a member of the #drinkcurious family, my visit to the Catoctin Creek Distillery absolved me of two very embarrassing facts.
One: I have lived 10 miles from the distillery's location in Purcellville, VA for 10 years and have never visited, and
Two: I bought a bottle of their Roundstone Rye Whiskey about 8 years ago and didn't like the taste and I have never revisited it, as someone who #drinkcurious should.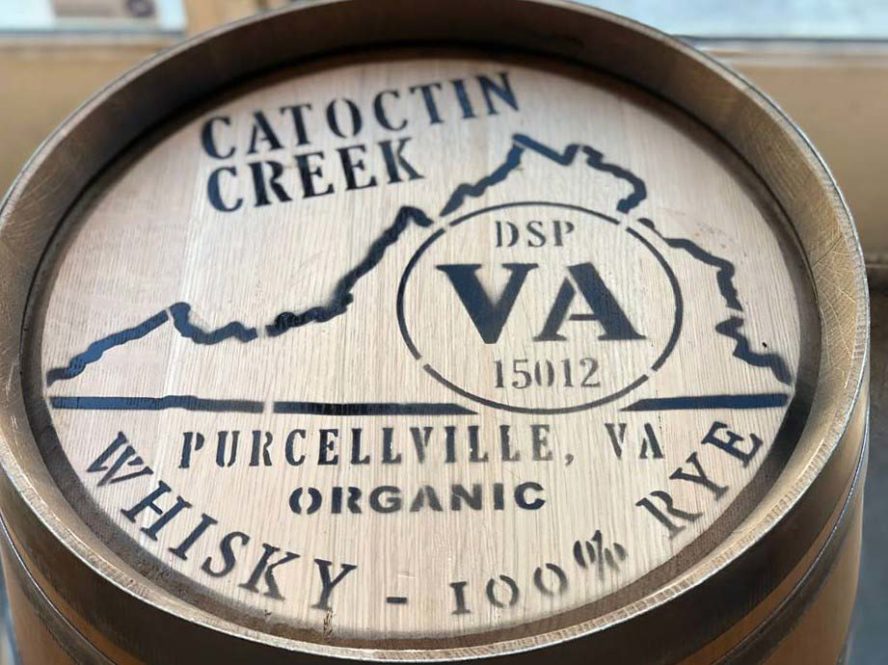 So, thanks to my new friend Justin Moore, who is a Catoctin Creek Brand Ambassador (perhaps you have seen his social media posts on Catoctin Creek), my wife, Patti, and I were standing in the tasting room of the distillery, a snowy afternoon on the first day of February.
The distillery is located on Main Street in Old Town Purcellville (every place has an Old Town, right?), in an old Buick Showroom dating back to 1921.   Owned by husband and wife, Scott and Becky Harris, they celebrated their 10th year in business in Mid-February. Starting a distillery was Scott's brainstorm having become disillusioned by having to make numerous PowerPoint briefings as a government software contractor. In order to convince Becky, a chemical engineer, Scott had to write a 200-page business plan. It was good enough to convince Becky and good enough to convince a bank to give the couple some venture capital. Scott is the General Manager of the distillery, while Becky, is the Chief Distiller. I could go into more detail on the history of Catoctin Creek but a You tube video tells the story better. You can find the link at the end of the article.
We are met in the tasting room by Scott Harris and quickly led into the distillery part of the building to talk about Catoctin Creek. As with most distilleries you walk into, we are met with the sounds and smells of fermenting mash. Scott explains that the main product at Catoctin Creek is Rye Whisky (no "e" because of Scott and Becky's Scottish heritage). This was their plan from the start to celebrate the state of Virginia and the state's history in producing some of the first whiskey in the United States.  It is easy to be get excited from Scott's enthusiasm.
Two pot stills sit at one end of the production room. One named Barney was the original still and has a capacity of 100 gallons while the newer still, Ron, has a capacity of 300 gallons. Scott noted that Ron was capable of producing about a barrel and a half from one run.
Further back in the room sit the cooking tank and the fermenting tanks. Scott explained the process from start to finish. The mash is 100% rye, no other grains are used. And while it is all rye grain, one of the most interesting facts is that the mash bill includes four different types of rye grain. Three are from different areas in Virginia and one is from Amish Country in Pennsylvania. Scott told us that the rye from each region contributed different taste notes to the product. The northern most rye adds sweetness but not a lot of depth, others add grassy notes or spice notes. These are put together by Becky to create a more complex tasting whisky.
Catoctin does not use a sour mash process, starting with new mash each run. The distilled whisky goes into 30 gallon barrels made in either Minnesota or Virginia. The aging is done in a warehouse in a neighboring county.
Nothing from the process is wasted. The heads from each run are used for cleaning products in the distillery, the tails are distilled in Barney to create Catoctin's other products, Gin and Brandy. The spent mash is sent to nearby farms for feed. While Scott was explaining this, we were standing by a big tank of spent mash, still very warm and giving off the smell of rye bread.
Patti is always interested in the bottling and labeling, and Scott was happy to show us the one they use at Catoctin. It's not huge but can produce up to 100 cases per day. The labels, which were recently redesigned also go to the history and geography of the distillery. In the background of the label is a contour map of the area which the distillery is located including Catoctin Creek.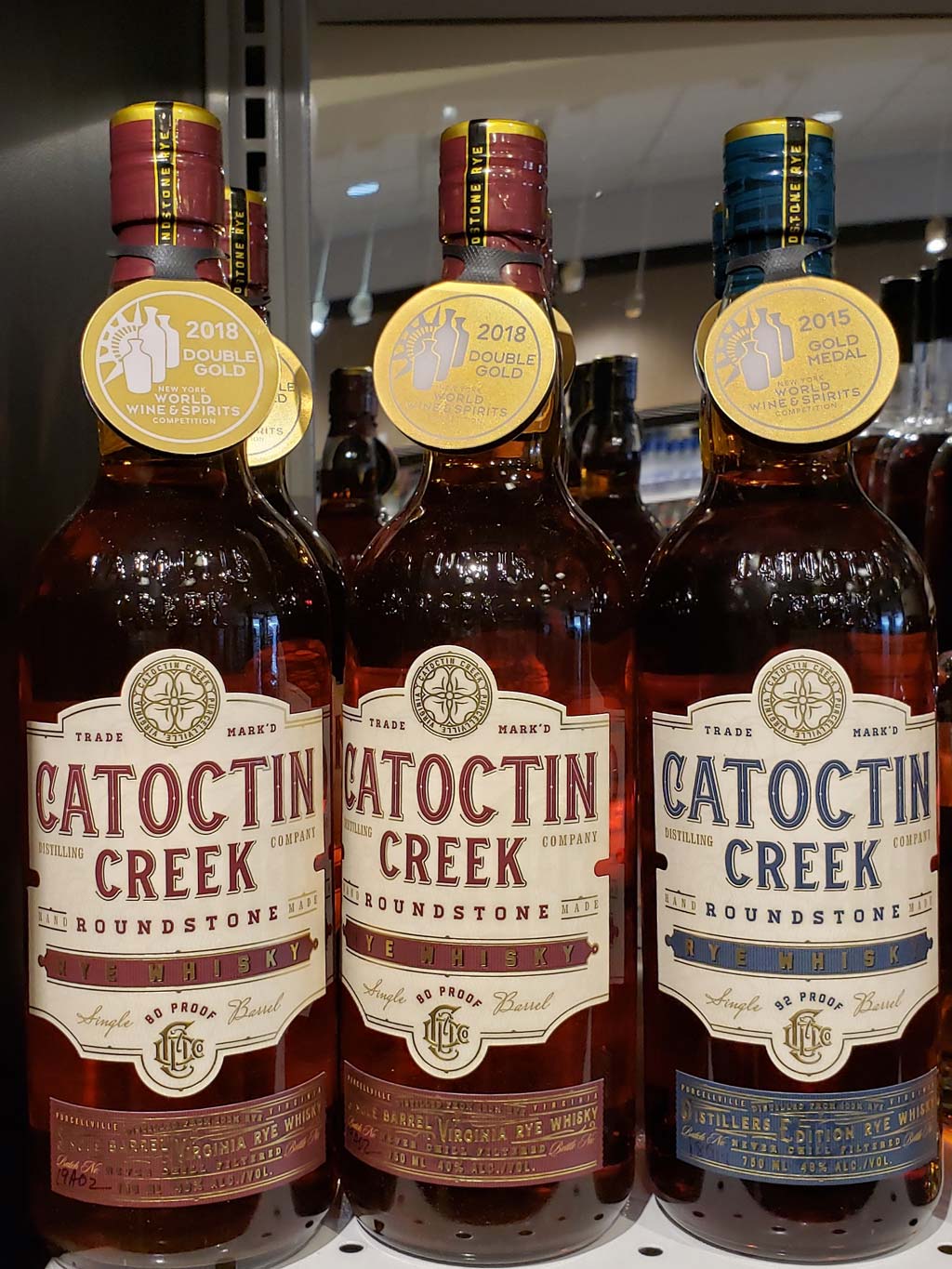 Our final stop is in the tasting room to sample the Catoctin Creek products. The basic product line includes, Roundstone Rye 80 Proof Whisky, The Distiller's Edition 92 Proof Rye Whisky and the Cask Proof 116 proof Rye Whisky. Scott explained that one in ten barrels end up becoming the Distiller's Edition and one in a hundred barrels would end up as the Cask Proof. Additional products include the Watershed Gin and a number of fruit brandies.
All of the Rye Whiskies are single barrel. Catoctin does not do any blending. The age of basic product line is between two and four years old and in addition, the final product is not chill filtered. Or as it says on the label, "Never Chill Filtered."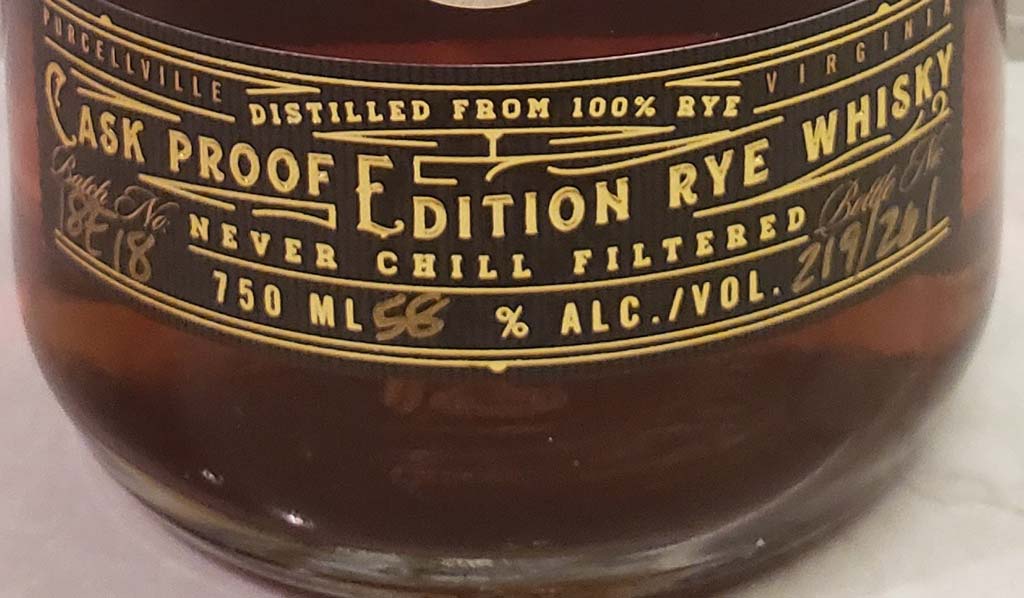 As I said at the beginning, I had tasted the Roundstone Rye about 8 years ago and was not a fan. This time around however was totally different. More rich and complex for an 80 proof rye. Remembering our talk about the 4 rye strain mash bill I asked if that is what they were using 7 or 8 years ago and Scott replied no, they had used a rye grain from Kansas and that was all they used. Over the years it appears that the taste profile has changed.
The Distiller's Edition was next up. I fully expected to like this better than the Roundstone Rye. The taste had a more earthy quality and I have to say I liked the Roundstone Rye better.  This was quite a surprise to me.
The Cask Proof was the best of the three. A rich and spicy taste. It is grain forward to some extent but full of flavor. It is a little hot on the finish, however. Patti and I agreed that this was better than the two other rye whiskies. I've since tried the Cask Proof Rye in a Sazerac. It started out hot but mellowed out over time.
We also tried to the Watershed Gin. I had never tried a gin distilled from rye. While I am not a big fan of gin, this had a very good taste. I'm not sure it would sway me more towards gin, but I think it would make a great cocktail.
The Catoctin Creek rye whiskies have a unique taste that are unlike most rye's I have tasted. The rye bread nose and taste are there but I find these to be quite different than other rye whiskies I have tasted, for example, Willett or MGP products.
Catoctin Creek celebrated their 10-year anniversary by releasing their Rabble Rouser Rye Whiskey and their 1757 Brandy XO. The Rabble Rouser is released once a year and is a 4-year-old rye. This year's release was the first to be bottled in bond. The 1757 Brandy XO is made from locally grown grapes. This anniversary version is 8 years old, Catoctin's oldest release yet and also bottled in bond. Unfortunately, both of these special releases sold out within 40 minutes on the day they were released.
Catoctin Creek Rye Whisky is currently available in 26 states and a few countries overseas. In early 2017 Constellation Brands purchased a minority stake in Catoctin Creek allowing for growth in production and marketing. After 10 years the future looks bright for Catoctin Creek.
One hundred percent Rye Whisky, Never Chill Filtered.
More information on Catoctin Creek Distillery and its history can be found in the video below.