Celebrating National Scotch Day with Syndicate 58/6
For those of you active on social media, I'm sure you've come to notice that just about every other day is someone's "Special Day." Whatever your interest may be, there has likely been a day set aside to not only acknowledge your interest but to celebrate and share your joy with others.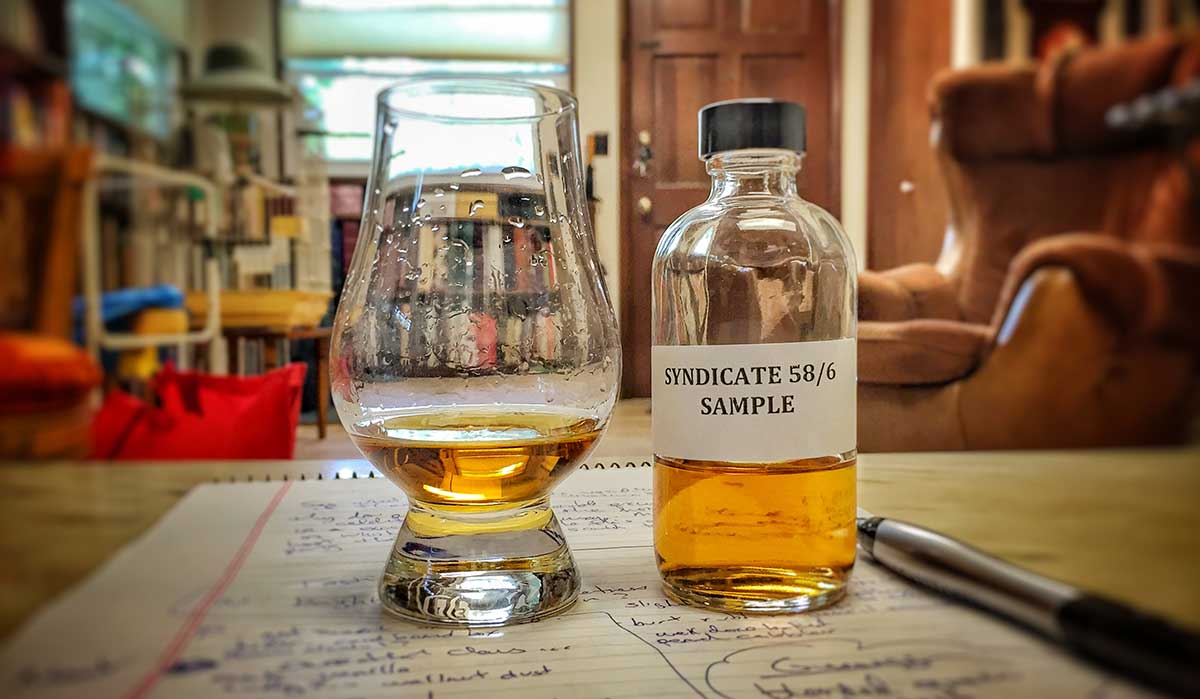 For those of you active on social media, I'm sure you've come to notice that just about every other day is someone's "Special Day." Whatever your interest may be, there has likely been a day set aside to not only acknowledge your interest but to celebrate and share your joy with others who have the same passion. I mean, who doesn't get excited about National Grilled Cheese Day? Or National Doughnut Day?
I know I can barely contain my excitement when these #hashtags pop up on my Twitter feed, but when I got the call to put out a post commemorating the greatest day of them all, National Scotch Day, I felt as though I had reached the pinnacle of my fledgling career as a whisky blogger. Ok, so maybe it's debatable that today is THE most important National-Whatever-Day, but it is certainly one of my personal favorites. I would think it must rank higher than the lesser known National Artichoke Hearts Day, (which is celebrated on March 16th for you die hard artichoke heart fans out there) but that's another post altogether.
While there isn't a lot of concrete information available as to the roots of National Scotch Day, it is highly suspected that it was originated by whisky producers and retailers looking to promote their products and pay tribute to this legendary spirit. Hey, that's good enough for me – I'm in!!
To mark the occasion here at Bourbon & Banter, I'll be taking a closer look at a unique blended scotch whisky known as Syndicate 58/6. I have to admit that previous to this post, I'd never heard of it, but was nonetheless eager to get my hands on a sample and see what this oddly named Scotch was about. Knowing absolutely nothing about Syndicate before this review, I took the rare opportunity to assess it blind, and only after pouring a dram, and taking my tasting notes, did I then go back and research exactly what it was I was drinking. Much like my review process itself, and to maintain the integrity of my blind tasting, I'm going to go ahead and post my notes first, and then come back and tell you a little more about what goes into making Syndicate 58/6 happen.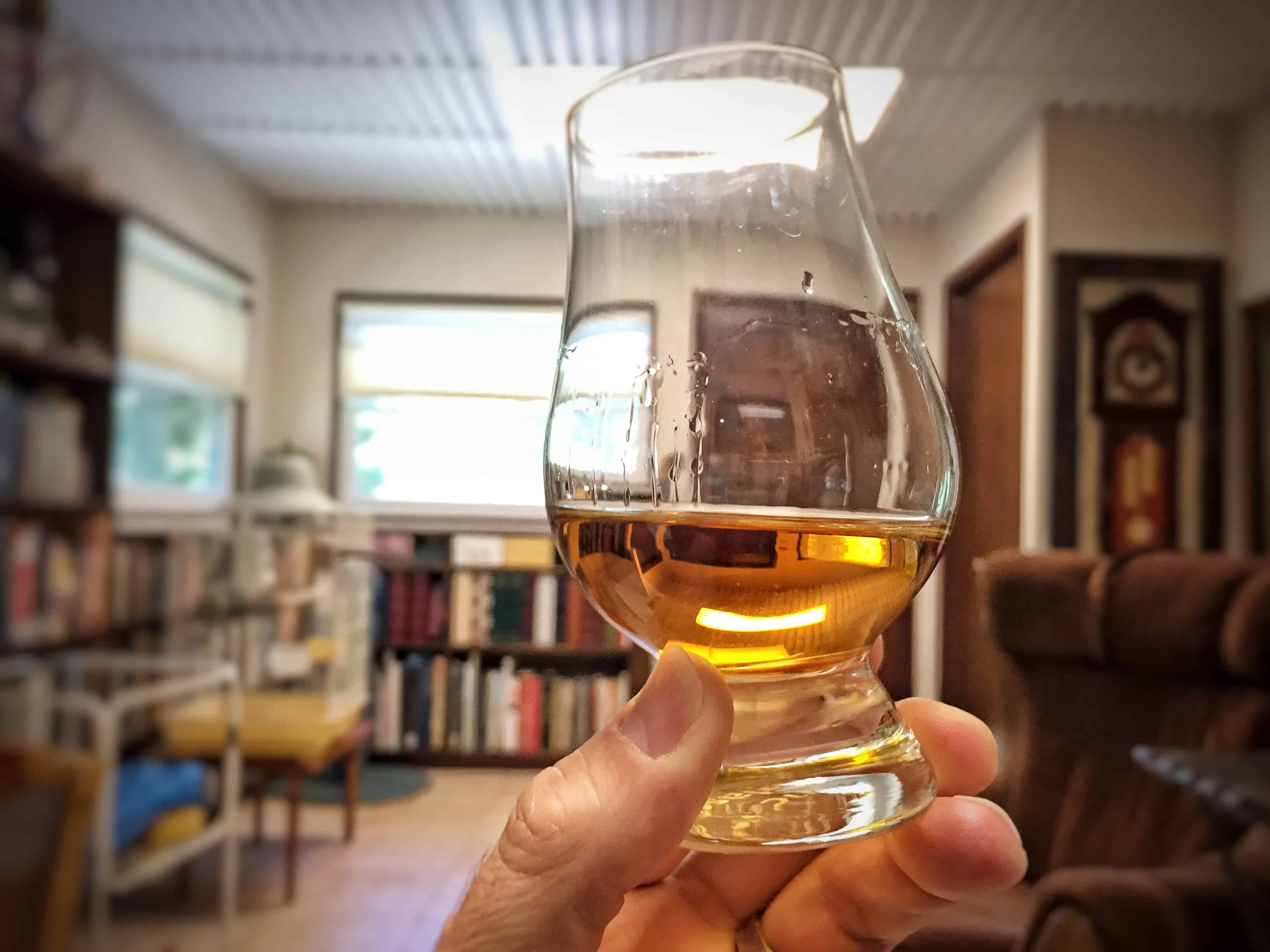 SYNDICATE 58/6 PREMIUM BLENDED SCOTCH WHISKY REVIEW
Name: Syndicated 58/6 Premium Blended Scotch Whisky
Proof: 80 proof / 40% ABV
Age: 12 years
How I Drank It: Neat from a Glencairn glass. I did ultimately add a few drops of water for comparison sake.
Color: Even though it came in a clear sample bottle, it wasn't until I poured it into the Glencairn and held it up to the light that I noticed just how vibrant the coloring was. It was a dark golden color, pushing on copper. This was my first indication that it had likely been finished in some type of sherry or port cask.
Nose: From the moment I unscrewed the cap, I felt I would be in for a treat. Notes of honey and butter were eager to escape the bottle and only intensified with the aeration created by the pour. After settling for a few minutes in the glass, I first found a bright, but sharp, almost biting, green apple. There was a sweetness as well, but I couldn't put a finger on any particular source, and noted that I felt more like I was standing alongside a fruit stand with a variety of tree fruits as opposed to one particular type. The smell of grain alcohol was abundant, and at this point, along with the non-specific fruit notes, I was fairly sure I was dealing with a blended whisky. I was also picking up a burnt rubber that I wasn't particularly fond of… maybe more of an overused pencil eraser.
Taste: The initial taste did not deliver on what I was expecting from the nose. My immediate thought was that maybe this was not finished in port casks as I had suspected from the color, and the fruity sweetness from the nose was a mis-sniff. The first note I jotted down was a cardboard box. The second note was grain alcohol. Someone bring in the defibrillators, stat!! I don't know if we'll be able to save this one! I got up from the table and went outside to clear my mind for a few moments before working up the strength to go back in and see if there was any hope for this patient. That turned out to be a wise move. After regrouping, the default oakiness and vanilla became more apparent, and a nutty walnut-dust danced with white chocolate rose petals in a slow meandering waltz. The wood notes came slightly more forward with the addition of water, but the overall effect of the water was minimal.
The Burn: I got a little fooled here… I thought this was going to be a slightly higher proof whisky than it turned out to be. Not that I got a strong, unpleasant burn from it, but I guessed this to be in the 42 -45% ABV range and as it turns out, it is a mere 40%. I suspect the amount of grain whisky in the blend is what led me astray.
Finish: The finish was strong but not particularly long. That cardboard note held on for a while, and the alcohol lingered, accompanied by a dry woodiness and a touch of clove spice.
Neat, Splash or Rocks: I don't feel the water did anything to hurt this dram, but it also didn't do anything to help it, so, therefore, my preference would be to keep it neat.
Share With: I feel that this one would be appreciated more by those who prefer Irish or Canadian whiskies over more flavorful, robust Scotches. Granted, I haven't had all that many Irish or Canadian whiskies, but the rather muted and mild profile here reminds me of the few I have tried.
Bottle, Bar or Bust: When I finally sought out the background on this whisky and saw what a bottle goes for, I was quite surprised. I honestly thought it would have been much less expensive… the $140 – $150 USD price tag was nearly twice what I would have guessed… but then again, I didn't know the history behind this scotch when I made that guess. It IS an interesting story, which you can read about below, so I guess you just have to determine how much the story is worth to you.
---
SYNDICATE 58/6 PREMIUM BLENDED SCOTCH WHISKY

Syndicate 58/6 Premium Scotch Whisky was founded in 1966 by William Muir (Bond 9) Limited (Founded in Leith, Scotland in 1823) and the original blend was distilled in 1954 by Marshall Taplow (Established in London 1760) for their most important customers.
In the United Kingdom, Syndicate 58/6 is a private, highly exclusive club made up of discerning individuals who really appreciate a top quality Scotch Whisky. The Syndicate members include Members of the House of Lords, High Court Judges and a wide range of leading professionals from throughout the United Kingdom.
The quality and consistency of the blend is assured by using a 'Solera' system whereby additional whiskies are blended with the older stock. They include 18 single malt whiskies and 4 single grain whiskies. The syndicate 58/6 still contains small quantities of the original 1958 blend. It is finally married and matured in 4 year old Oloroso Sherry casks which give the whisky its exceptionally smooth and distinctive taste.
Syndicate 58/6 Whisky is imported into the USA exclusively by Bespoke Spirits Inc.