Chasing Bourbon Unicorns
What are your top five unicorn bottles? First, let's define a "unicorn." A unicorn is a bottle that you have heard of but never seen. It's not in a bar. It's not on your Instagram feed. Your Google search is strangely unproductive.


What are your top five unicorn bottles?
First, let's define a "unicorn." A unicorn is a bottle that you have heard of but never seen. It's not in a bar. It's not on your Instagram feed. Your Google search is strangely unproductive. My wife thought unicorns were real animals until a zoo search in her college years proved unsuccessful for the white horse with the spiral horn mid-forehead. Yes, that is a real story; she's very pretty. Unlike the mythical horse figures, I can confirm that the bottles in this list are still in existence but may be limited to single-digit, unopened bottles. Thanks to my friends at The Bourbon Source and Jack Rose Dining Saloon in Washington, D.C. I have pictures of each to share with you.
These bottles are in no particular order or ranking. A group of unicorns is called a "blessing." To afford these bottles on the secondary market, you would need to be blessed. According to my research, IF you could find these bottles for sale in classifieds/boards/auctions, the group would likely fetch at least $250,000 in today's market and could move as high as $500,000 in the next few years. But like a one-of-a-kind piece of artwork, the value is entirely subjective. What would you spend on this lineup?
Let's take a closer look at the bottles.
SAM'S OLD RIP VAN WINKLE 20-YEAR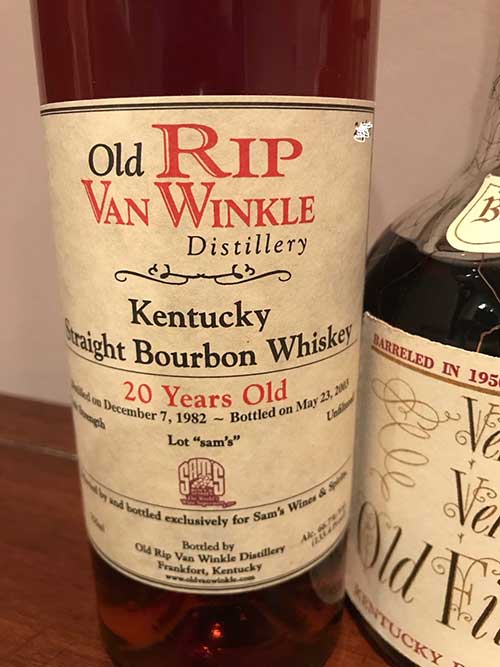 The Van Winkle single barrels are highly sought after, and many of them made the short-list of "unicorns" with many whiskey aficionados polled in preparation for this post. But the Sam's is the oldest and highest proof Stitzel Weller release that I could find. At twenty years old and a stiff 133.4 proof this bottle packs a punch. There were sixty (60) bottles that initially retailed for $99.99 in 2003. I enjoyed reading through the discussion on the straightbourbon.com boards. You can find it here.
I wonder if Virtuoso from North Carolina feels that the $100 price tag is too high and worth staying on the sidelines almost 15 years later? At sixty bottles, you could've had your single barrel of 20-year old Stitzel Weller goodness for $6,000 plus tax. To put it another way, the entire lot of sixty bottles could've been purchased at retail for the equivalent of the secondary value of five standard release Pappy Van Winkle 20-year bottles today. They say hindsight is 20/20. I guess in this case it is 20/133.4.
VERY VERY OLD FITZGERALD "BLACKHAWK"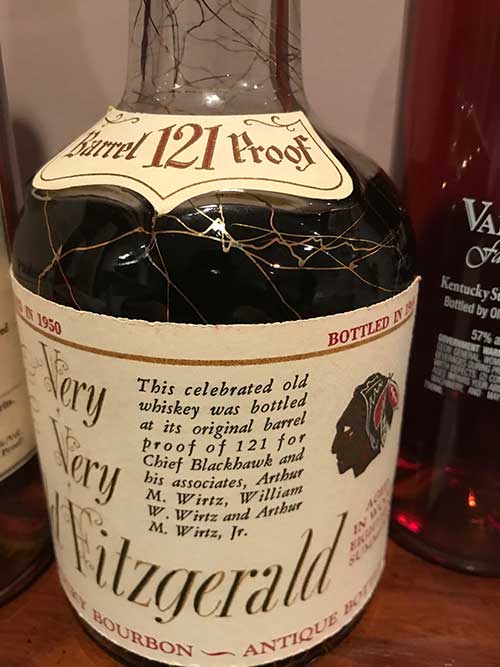 I'm not a hockey guy despite living in what has become a hockey town. Nashvillians collectively lost our minds with the Predators deep run into the playoffs last season. Much of the euphoria was because the run was unexpected. So, I can imagine a storied franchise like the Blackhawks going from worst to first in successive seasons was cause for a celebratory bottling of 121 proof Stitzel Weller bourbon. It doesn't hurt that the owner of the Blackhawk franchise also owned one of Chicago's largest liquor distributors.
The Wirtz Corporation still owns as subsidiaries the Chicago Blackhawks franchise and the Wirtz Beverage Group (among others). Back in the late 1960s, this was an excellent gift for the family and friends of a group of people I can only assume had everything.
This bottle is still the answer to the question: What do you buy for the bourbon lover who has everything?
FRIENDS & FAMILY OLD RIP VAN WINKLE 23-YEAR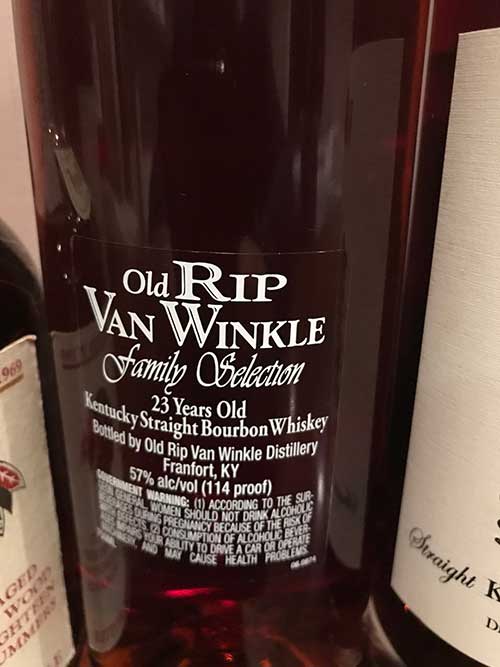 There haven't been too many Pappy Van Winkle special releases that made wide distribution. In 2009 the 23-year, 114 proof Decanter Set was released with 1,200 units making it to stores and restaurants. I had the opportunity to try the recent 25-year Old Rip Van Winkle release. You can read my review of that release here.
The 25-year version was proofed down and very good, but the 23-year release was at the higher proof point and rumored to be Stitzel Weller distillate. The cognac bottles were never distributed, though. These went to friends and family of Julian Van Winkle.
I guess the third cousin, twice removed or the son-in-law needed to raise some cash, as some number of these bottles made it onto the secondary market.
BINNY'S 27-YEAR WILLETT FAMILY ESTATE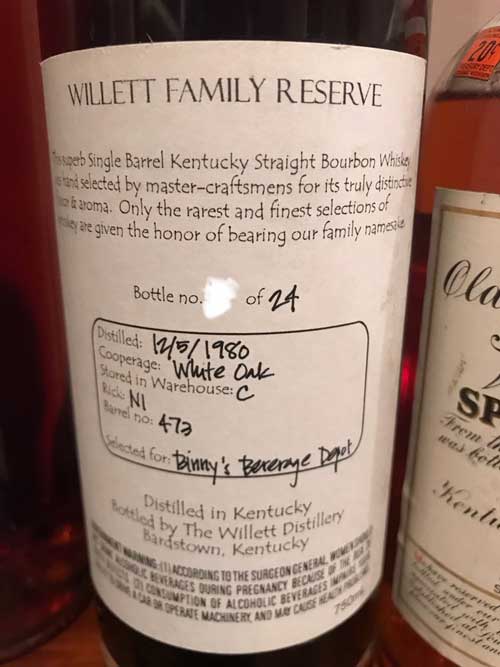 The sourced barrels that have filled Willett Family Estate bottles over the past decade or so have proven to be truly legendary. Bernstein, Medley, Heaven Hill, and Stitzel Weller are all rumored sources. With only twenty-four (24) bottles of yield from this 1980s distillate, barrel 473 is genuinely a short-barrel of epic proportions.
At twenty-seven years of age and coming in at a whopping 138.6 proof, the Binny's Beverage Depot bottle started out scarce, and I can only imagine dwindled into the single digits of unopened bottles remaining. The bottle looks more like motor oil or maple syrup than bourbon. Such a rich, dark color for the wheated mash bill.
1935 W.L. WELLER SPECIAL RESERVE GREEN TAX STRIP

I know. The picture is of the 1936 bottle. Contrary to what you may believe, I don't have these bottles perched on my shelf at home.
I have the good people at Jack Rose Dining Saloon and The Bourbon Source in Washington, D.C. to thank for the pictures. But this 1936 bottle was as close as I could get. The 1935 bottle is the first distillate to come from the newly formed Stitzel-Weller distillery built by Julian "Pappy" Van Winkle, Sr.
The Stitzel-Weller distillery and its distillate have a religious following. This 1935 green tax strip W.L. Weller Special Reserve is like a piece of the true cross – the start of an almost forty-year run of distilling success.
The famous "no chemists allowed" sign was indicative of the artfulness of Van Winkle, Sr. to substitute wheat for rye in the mash bill and age products long enough to fully realize the potential of the process. The common theme in this list is over-proofed/barrel strength Stitzel-Weller bourbon. Maybe Pappy knew all along what he had in these barrels. It just took the rest of us a few decades longer to catch on.
Perhaps this holiday season you'll be fortunate enough to find one of these bottles tucked away in grandma's liquor cabinet. If that pretty green tax strip is intact and the bottle is full, you may have one of the most sought-after bottles of bourbon in the world – a real unicorn.