The Christo Julep Recipe
For the whiskey part, there are about 120,000 mint juleps sold in the two days of the Oaks and Derby, and countless others consumed at Derby parties around the country.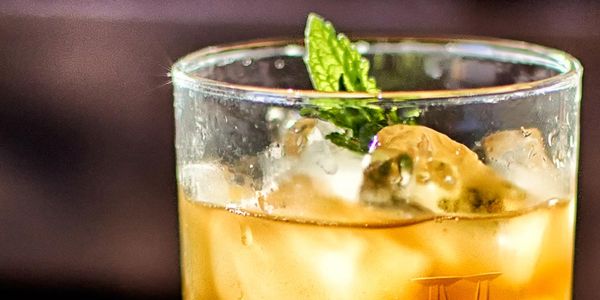 I have a few hobbies, and they all kind of come together every spring: horse racing, photography (of horse racing) and whiskey. Where they come together: Louisville, Kentucky. Why they come together: The Kentucky Derby.
It's a big race, but an even bigger event, with the Kentucky Oaks the day before, and a whole week of activity around Louisville leading up to the greatest two minutes in sports. And for those of us that are fans, the season kind of starts after the first of the year, when three-year-old thoroughbreds start their races to qualify for the Derby. And I start planning what to fix for the Derby at home. –
For the whiskey part, there are about 120,000 mint juleps sold in the two days of the Oaks and Derby, and countless others consumed at Derby parties around the country. There are hundreds of julep recipes (a julep is a drink with liquor and simple syrup over crushed ice, so lots of recipes could fit that), but the mint julep is the official drink of the Derby. It's a lot of crushed ice, some bourbon, some simple syrup and some mint. In a good julep cup, it's so cold that frost forms on the cup.
A few years ago, a friend named Christo, a personal chef in New York City asked me if I could help him with a 500-person event he was trying to get as a gig. He wanted a mint julep that wasn't the typical with bourbon, simple syrup, and mint, but didn't move too far from its mint julep ties.
I like a challenge like that, so I told him I'd try some things out. I still wanted the basic components of a mint julep, just kicked up to make something memorable. The first thing I thought of was adding pecan to the bourbon. It's common to see cinnamon, apple or other flavors added to bourbon, but pecan doesn't seem as common outside of bourbon pecan pie.
THE GEEKY STUFF
The problem with infusing bourbon with pecans is that the tannins in pecans can be unpleasant. With this in mind, I set up a bit of an experiment. I put two ounces of bourbon in 3 jars (And I used Elijah Craig 12 year old for my juleps… it's a good julep bourbon, with a bit of spice to stand up to the sweetness of the simple syrup). I added to that half an ounce of chopped pecans, then put lids on each of the jars.
Twelve hours later, I tried the first jar, and there was definitely some pecan influence to the bourbon, but not a lot. The second jar, opened at 24 hours, showed more pecan flavor, and it was very good. The third jar stayed put for another 24 hours… which turned out to be 24 hours too long. The tannins took over, and the whole sample was bitter and not very pleasant at all. So, without feeling the need to keep going, since sample 2 worked well, I decided on 24 hours, so I made a larger sample of twelve ounces of bourbon and six ounces of pecans, filtering the pecans after another 24 hours.
PLAYING WITH FIRE
Now that the pecan infusion was done, the other idea I had was to add some smoke to the mix, and what better smoke to use but pecan wood smoke? If I'd done this today, I would use pecan wood chips with a smoke gun, but I didn't have that available to me when I came up with the julep, so I just took a small chunk of pecan wood and took a propane torch to it, until it was smoking a bit. If you try this, make sure to pick a chunk of pecan wood that is smaller than the highball glass or julep cup, so it fits under the glass with no problem. Once the wood is smoldering, put your julep glass (or glasses) upside down over the chunk for about 20-30 seconds, then let the smoke out of the glasses.
It's easy to overdo the smoke… since it's just really coating the glass, which will perfume the drink.
With the smoked glass, I add a few mint leaves that I kind of smash to get the oils releasing, then muddle in the glass, followed by a full glass of crushed ice. Instead of simple syrup made with white sugar, I use a molasses/water mix (equal parts) and add 1 1/2 ounces to the glass, followed by 3 ounces of the pecan-infused bourbon and stir it together. Top the Christo Julep off with a sprig of mint, and it's ready to be enjoyed!
So, after coming up with this then-unnamed julep, Christo called it a Dirty Julep, probably because the pecan left a bit of cloudiness to the bourbon. However, the next year, Christo, a really great father and one of the nicest guys I've known, passed away unexpectedly. After that, I was making one of these Dirty Juleps, and realized that, to me, it's really the Christo Julep. And I have great thoughts of Christo every time I have one.
That's another thing I appreciate about whiskey: it's a great medium to celebrate good friends and good memories. If you try a Christo Julep, raise your glass to the man after whom the Christo Julep is named. Then enjoy the hell out of the drink!
THE CHRISTO JULEP RECIPE
INGREDIENTS (PER DRINK)
Julep:
5 mint leaves plus 1 intact sprig of mint
3/4 ounce water
3/4 ounce molasses
3 ounces pecan-infused bourbon
Lots of crushed ice
1 chunk of pecan wood OR pecan chips and a smoke gun
Pecan-infused bourbon:
3 ounces bourbon (preferably not a wheated bourbon)
1 1/2 ounces chopped pecans
DIRECTIONS
To infuse the bourbon:
At least a day before (but the bourbon can keep for a couple weeks or more), place the bourbon and pecans in a closed container for 24 hours. Strain the pecan pieces from the bourbon after that time, and either use the bourbon immediately or store in a bottle until needed.
For the julep:
If using a pecan wood chunk, light the wood with a kitchen or propane torch until it's smoldering, then place the highball or julep cup upside down over the wood for 20 seconds.
If using a smoke gun, light the chips in the smoke gun, then hold the highball or julep cup upside down over the nozzle for 20 seconds.
Muddle the mint leaves in the highball or julep cup. Fill the cup with crushed ice and add the molasses, water, and bourbon, then stir well. Garnish with the sprig of mint.
---
---
Photos copyright © Livefire Photography, used with permission