From Coke to Cask Strength – Part One
My only experience is bourbon & Coke." That was the answer when I asked Kevin, who purchased a VIP trip to the Bourbon Trail, what he typically drank. My organization (Jazz St. Louis) auctioned off a trip to the trail, guided by yours truly, as a fundraising item.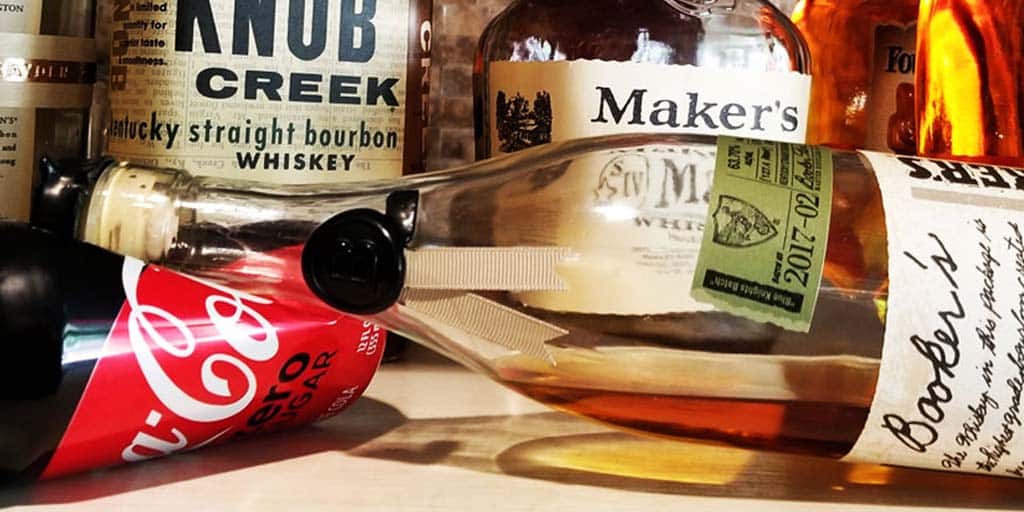 My only experience is bourbon & Coke."  That was the answer when I asked Kevin, who purchased a VIP trip to the Bourbon Trail, what he typically drank.  My organization (Jazz St. Louis) auctioned off a trip to the trail, guided by yours truly, as a fundraising item.  Finally, my job would be to tour distilleries, host tastings, and talk about bourbon!
Kevin knew nothing about bourbon and bought the trip because he wanted to learn all about it.  He was also a self-described "lightweight" when it came to alcohol.   Kevin's friends who were coming with him on the trip bailed at the last minute, so this was going to be me, him, and his girlfriend, who would arrive later and wasn't into bourbon.   I'll admit, I was a little nervous.
The trip started with a welcome dinner at Doc Crow's with Dan Gardner from Four Roses (more on Dan later).  Unfortunately, Kevin had a last-minute work emergency that delayed his arrival, and he missed the dinner.  He arrived in Louisville around 9pm, and after a quick bite, he was ready to go and immediately put his trust in me to guide him through our first night's flight.
A bourbon tasting with a novice can be a daunting task, especially if they're not digging it.  To gauge Kevin's palate, I wanted him to try three different pours at varying strengths from three different distilleries.  To eliminate any preconceived notions or expectations, all tastings for the trip were done blind.
Up first was Four Roses Yellow Label.  It doesn't matter what color the label is, that's always going to be Yellow Label to me.  Much to my delight, he dug it…a lot.  He immediately tasted caramel and light fruit on the palate.  An added drop of water didn't change it much, but we were off to a great start with Kevin really enjoying the pour.  For the remainder of the tasting, I went up in proof and chose things from distilleries I knew we wouldn't be hitting.  Eagle Rare was next, which wasn't met with the same enjoyment as the Four Roses, as he felt more burn & tasted a lot of oak without much else.  The third pour was Wild Turkey Kentucky Spirit.  I didn't want to go all the way to a 115 proof Russell's Reserve Single Barrel but wanted something distinctively Wild Turkey that was smoother than 101.  Again, he found it hotter but adding a couple ice cubes helped.  Still, he preferred the Four Roses because of the more flavorful palate, really enjoying the caramel and fruit notes that he picked up.  Kevin was excited about what was in store and was looking forward to expanding his palate over the course of the trip, which was a great relief to me.  We had a couple long days ahead of us, so we retired for the evening.
Having visited the trail numerous times myself, the one thing I didn't want to do was cram too much into the day.  We had two featured distilleries each day, and if time permitted, we could add more to the day.  I hired Mint Julep Tours to provide transportation (our driver, Peter Vencil, was fantastic), which not only relieved me from driving but gave me the opportunity to provide Kevin with some history on bourbon & the locations we were going to each day.  Coming from St. Louis, he was expecting the tours to be similar to large-scale brewery tours, where you're much further away from the main action.  He was in for a surprise.
Our first stop was a very special one.  We pulled up to Maker's Mark for the Heritage Tour, led that morning by chairman emeritus Bill Samuels, Jr. (special thanks to Major Brands & Joe Cavataio with Beam Suntory for all his help securing our spot).  Although Kevin didn't know the history of Maker's outside of what I had shared on the way down, he was stoked to get the opportunity to spend the morning in the company of the man responsible for advancing the Maker's Mark brand to where it is today.  We grabbed coffee in the lobby and sat down at a 3-top table with Bill, who reminds us that "this is the best coffee on the bourbon trail."  It was good coffee, and Kevin was already a little star struck sitting next to Bill.  I'll admit, I was too.
Stories began to abound from Bill as we walked through the distillery.  The level of family involvement from the Samuels, with everyone involved in some way, spoke to Kevin.  Hearing about growing up with neighbors like Jim Beam, Henry McKenna, and JW Dant brought us deeper into the Samuels family history and brought Kevin a deeper appreciation for Maker's Mark before we even tasted anything.  Further cementing that personal touch for him was seeing the bottling line and realizing that every bottle is still hand-dipped by employees, not by a machine.
With Bill Samuels, Jr. leading the tour, no place is off limits.  We head through the Maker's 46 cave and into the Private Select tasting room, where we interrupt a selection process and marvel at the beauty of that room.  As we are led into the tasting room and sample the portfolio with Bill, Kevin was enjoying each pour more than its predecessor, and we discover that he's a wheated bourbon fan.  He enjoyed the Private Select more than anything else, which was Bill's stave selection of ten Maker's 46 staves bottled at cask strength.  I think that while the prior pours adjusted Kevin's palate to where he could drink the Private Select easier, Bill's stories that morning made that bottle taste even better.  I'll admit, I was surprised a cask strength pour was his favorite of the tasting.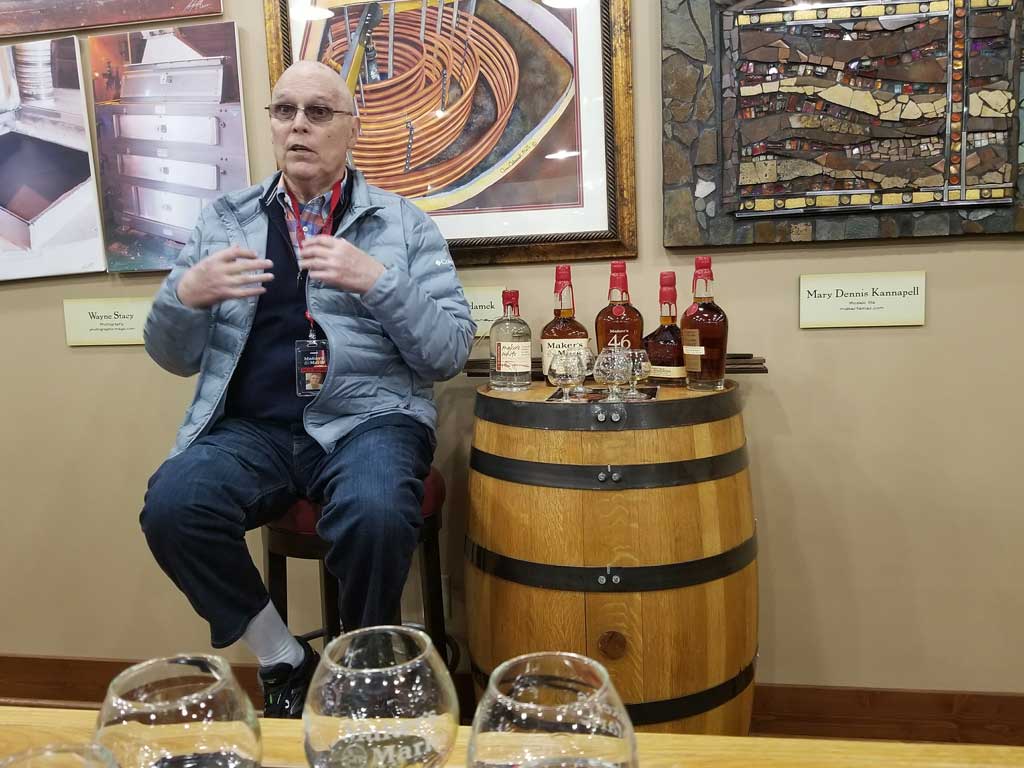 Maker's Mark turned out to be a fantastic morning with a true legend.  It's safe to say that Kevin will be a Maker's fan for life after that experience and that Maker's Mark will taste better every time he enjoys it from here on out.  The intensely personal nature of the morning appealed to him and made him feel that enjoying bourbon isn't just about enjoying the pour itself but appreciating all that goes into that pour.  It's these types of experiences that take people from casual bourbon drinkers to lifelong bourbon fans and advocates.
Our afternoon distillery was Jim Beam, where Kevin received much more general bourbon & distillery info than he did at Maker's.  At Maker's, it was more about stories & the history of the brand than the actual inner workings of the distillery like it was at Beam.  It wasn't as personal as Maker's, but it was a good tour for a novice to become acquainted with how bourbon is made & the laws that govern it.  Kevin intently studied the bottling line and got the opportunity to dip his own bottle of Knob Creek Single Barrel, complete with his thumbprint on the wax top, another personal touch which bonds him more to that bottle.  As we walked through the Beam property towards the tasting room, a gentleman was talking with a few folks outside.  I guess you never NOE who will show up….  Fred Noe was getting ready for his evening event where he and Freddie Noe joined Fred Minnick as part of the Legends Series at the Kentucky Derby Museum.  He said hello to the group, and we were off to taste.
The Beam tasting room was another surprise in our journey.  I started Kevin off with Jim Beam Black, which he was okay with, then he wanted to taste the Beam Maple, which he really liked.  Since he liked the cask strength Maker's, I figured I'd take a shot and see how he'd react to Booker's.  "That was like a kick in the pants!"  He added some ice to get through it, and I applaud that he didn't run for the hills.  At that point, he had tasted everything from an 80 proof introductory level pour to full-on, high-octane barrel proof.  Finishing that Booker's sample was a testament to Kevin's newfound appreciation of bourbon and his continued openness to my guidance.
We headed back to the hotel, where Kevin's girlfriend Kara had arrived, and after resting a bit, we met up for the nightly flight.  Again, I wanted to give Kevin an opportunity to taste things from different distilleries we didn't visit, so I opted for 1792 Small Batch, Henry McKenna Bottle-in-Bond, and because he really enjoyed Maker's wheated mash bill, Bernheim Wheat Whiskey, all tasted blind.  This time, we added a cheese plate, and he tasted the bourbon with some dried cranberries, fresh raspberries, almonds, pecans, and some parmesan & brie.  The berries brought out some fruitiness in 1792, and the pecans paired well with the McKenna, bringing out some richness.  The Bernheim was okay, but nothing hugely impressive to him, although he liked it better when tasting it with the almond & the parmesan.  Of the three, McKenna was his favorite (this is before the SF competition), but he then tried the prior night's favorite, Four Roses Yellow Label, with some fresh berries.   Kevin came away with a big smile, and upon reflecting on the entire day of tasting, he said, "I think I like the Four Roses the best."  That would bode well for our next day.