Constitutions of Classic Cocktails
I hear that many people cannot live on bourbon alone. As foreign as that concept is to me, I figured it would be in the collective best interest to post something transcending bourbon borders.  To that end, I present the "Constitutions of Classic Cocktails."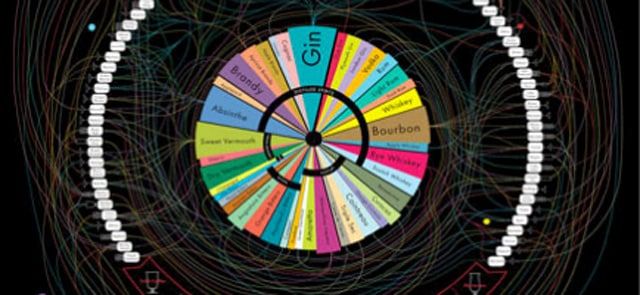 I hear that many people cannot live on bourbon alone. As foreign as that concept is to me, I figured it would be in the collective best interest to post something transcending bourbon borders.  To that end, I present the "Constitutions of Classic Cocktails" from the fine folks over at Pop Chart Lab.  Here's a quick blurb from their website with the important details.
This definitive guide to classic cocktails breaks down 68 drinks into their constituent parts. Follow the lines to see where spirits, mixers, and garnishes intersect to form delightful concoctions. This massive movie poster-sized print contains over 40 types of alcohol (from distilled spirits to bitters), mixers from raspberry syrup to egg white, and garnishes from the classic olive to a salted rim. This obsessively detailed chart also includes the ratios for each drink, as well as the proper serving glass, making it as functional as it is beautiful. Over a year in the making, this is Pop Chart Lab's most elaborate chart ever.
This is more than just an infographic, my friends. This is a large format poster you can purchase and hang in your home. Measuring 27″ X 39″ this print is sure to impress your friends and make you smile every time you see it. Make sure to click the link above to visit their site to zoom in on the poster to see all the glorious details. I'm pleased to say that bourbon has one of the largest shares of the liquor pie in the center of the poster.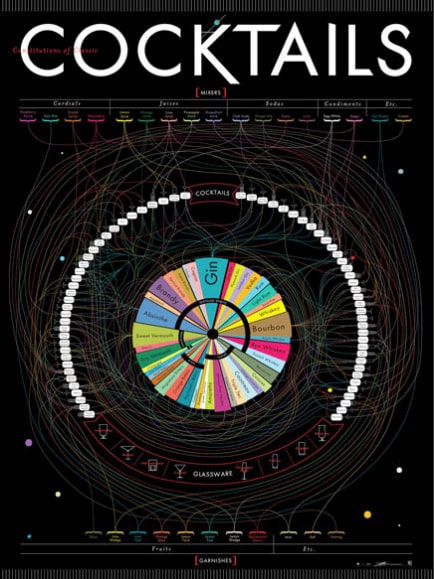 If you decide to purchase a print, I'd love to see a photo of it once it's hung in your home.
Check out some of their other prints for sale as well. They do some good stuff over there on their site.