Coole Swan Irish Cream Liqueur Review + Cocktail
As a kid, I would always sneak a little sip from my parent's glass of Bailey's whenever it made an appearance.

As a kid, I would always sneak a little sip from my parent's glass of Bailey's whenever it made an appearance. The creaminess coupled with that slight tang from the whiskey resonated with my early palate, and even in college I would find myself crafting a little treat by pouring some over vanilla ice cream before bed. But a few years ago, I ordered my once-trusty Bailey's at an airport lounge after years of hiatus and I couldn't take more than the first sip. The flavor had become so artificial to my now seasoned and developed palate. Irish cream to me was dead, I thought, until Coole Swan.
Mary Sadlier saw an opportunity in the Irish cream category for a truly premium product. "Premium" for Mary does not mean high price for a showy bottle or fancy packaging, but an exceptional product crafted from exceptional ingredients. Coole Swan artfully blends real Irish cream from their dairy farm in County Meath with White Belgian Chocolate and Single Malt Irish Whiskey (sadly, they can't disclose which). The care and eye to quality is abundantly apparent in this product, which yields a gorgeous, rich, though not heavy tasting, liqueur. It's luxurious while not being too indulgent, and the flavors are light enough to land softly on the palate without leaving an unpleasant aftertaste. It's an absolutely delightful product.
When it comes to sweet liqueurs, I am also partial to the various bourbon creams on the market, in particular the one from Buffalo Trace, as the flavors are not as cloying as those in Bailey's. However, Coole Swan leaves those other creams in the dust. The delicate burn of the Irish whiskey and the sumptuousness of the white chocolate marry perfectly with the fresh cream, primed to enjoyed solo or in a cocktail. You can taste the care and quality of each ingredient, as the final product is truly perfect. And it should be, as they tried 230 times to get the formulation just right.
Coole Swan derives its name from something equally as Irish as whiskey: poetry. The poem "The Wild Swans at Coole" by William Butler Yeats is the namesake for the product, referring to enduring beauty in a changing world (especially needed after 2020), which Coole Swan says it has bottled up this exact essence.
I sampled the product solo, chilled and on the rocks. It holds a velvety mouthfeel and gentle sweetness that invites you to come back for sip after sip. But my real interest was how it pairs with other flavors. I was particularly intrigued by a cocktail on their website called "The Minty Don", which mixes fresh cucumber and mint with the liqueur. I have to agree, it is an unexpected delight with enough brightness to offset the creaminess of the base. In true form, though, I set myself to create a unique cocktail with Coole Swan, and I present to you my very own "The Black Swan". Much more refreshing than your standard whiskey and ginger ale and with a far greater depth of flavor. Cheers!
THE BLACK SWAN COCKTAIL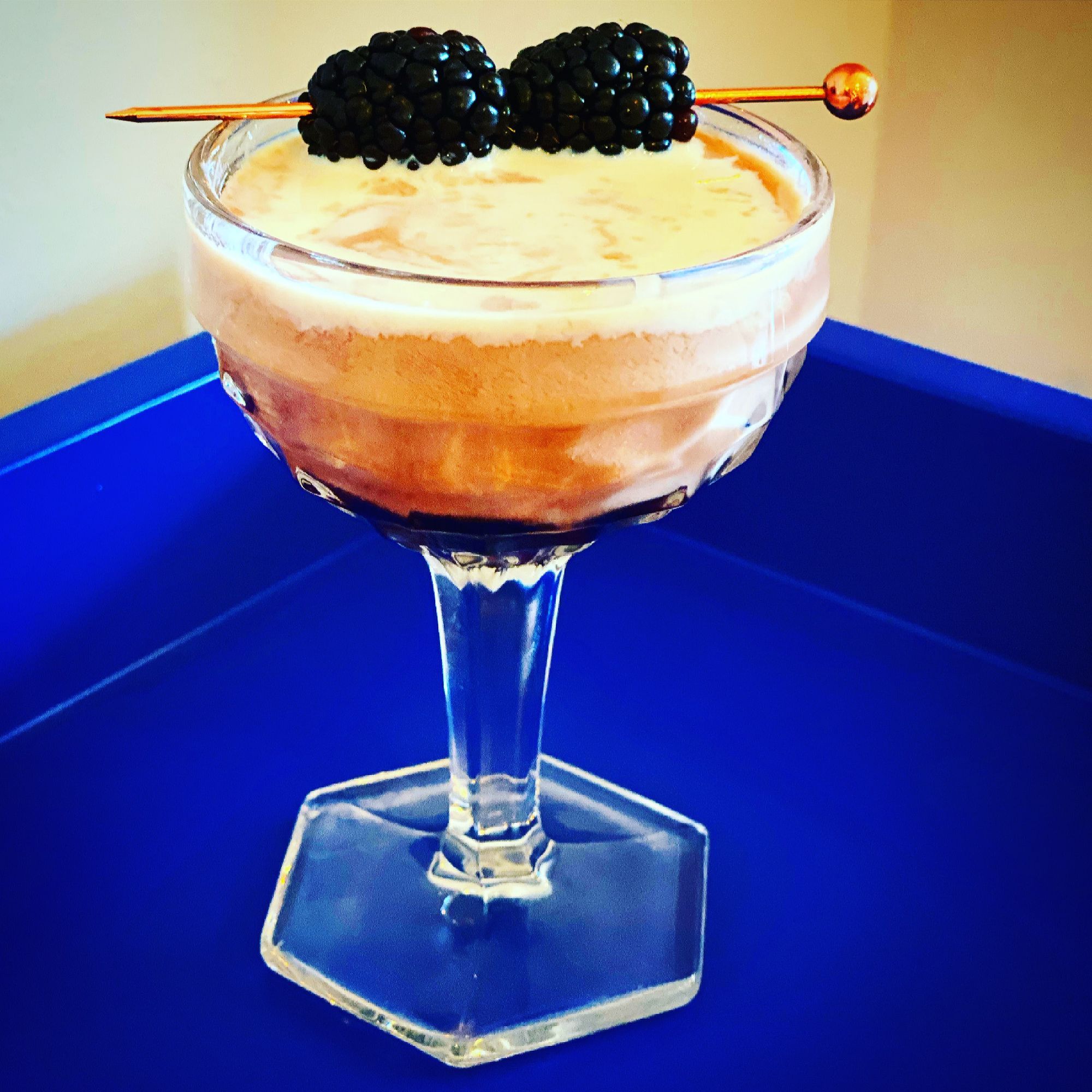 INGREDIENTS
1.5 oz Coole Swan Irish Cream
½ oz Yellow Chartreuse
½ oz Blackberry Liqueur (I used Giffard's Creme de Mure)
DIRECTIONS
Combine ingredients in shaker. Add ice, shake vigorously. Double strain into coupe glass. Garnish with fresh blackberries.
---
Disclaimer: Samples were provided by Coole Swan for this review. I appreciate their willingness to allow Bourbon & Banter to review their product with no strings attached. I really appreciate that they sent a whole bottle! Thank you.