Coppercraft Straight Bourbon Whiskey Review
To get a direct, head to head comparison, I sampled the two bourbons side by side. It may be a product of my own expectations, but this Straight Bourbon left me a bit underwhelmed.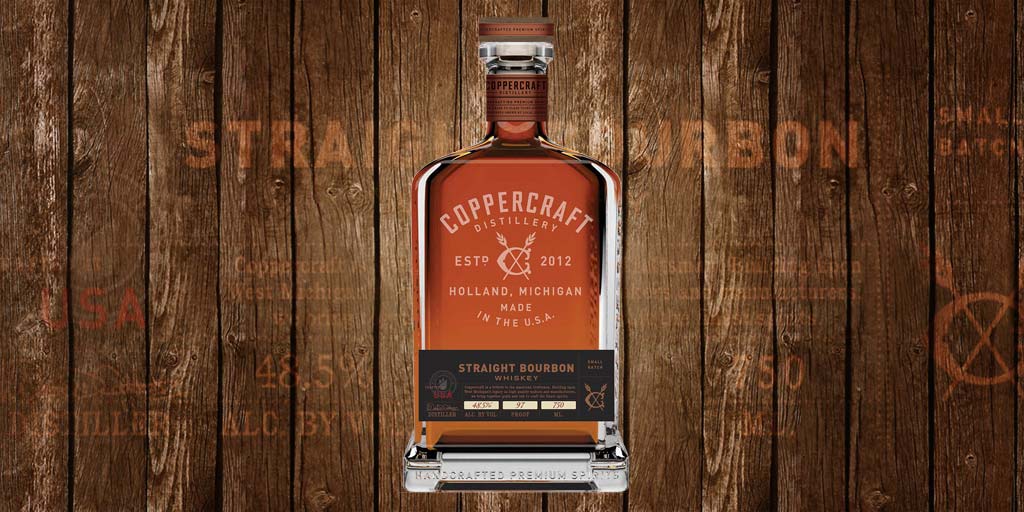 Coppercraft Distillery Multi Review Series - Part One
Today we share the first post in a three part series featuring products from Coppercraft Distillery. Each post features tasting notes from three different reviewers - none of whom were in communication with each other while performing the reviews. The result is a series of tasting notes and observations that are unique to each reviewer and helps to illustrate the difference in how even experienced whiskey drinkers interpret and rate a whiskey. We hope you find this multi-review series interesting and informative. And of course, if you've tried any of the whiskeys reviewed please chime in the comments with your own tasting notes and opinions.
BOTTLE DETAILS
---
DISTILLER: Undisclosed, produced by Coppercraft Distillery
MASH BILL: Undisclosed
AGE: A blend of 10+ year old Bourbon barrels.
YEAR: 2018
PROOF: 97 (48.5% ABV)
MSRP: $49.96
BUY ONLINE: WineSearcher.com
JEFF'S NOTES
---
NOSE: Heavy Vanilla  |  Caramel  |  Brown Sugar  |  Rye
TASTE: Vanilla  |  Nuts  |  Caramel  |  Coffee
FINISH: The coffee turned sweet in a lasting finish.
SHARE WITH: People in a blind tasting where several $50 craft whiskeys are involved.
WORTH THE PRICE: The about $50 price range is crowded with craft whiskeys. There are better choices at this level.
BOTTLE, BAR OR BUST: Coppercraft Straight Bourbon is proof that age is just a number. It isn't a bad whiskey, but this is one I'd definitely try at a bar first so there's no buyer's remorse.
OVERALL: In the glass, the Bourbon presents as a very dark amber, leaving a medium-thick rim. Fat, slow legs of whiskey drop back to the pool.
When I brought my glass to chin level, an explosion of heavy vanilla permeated my nostrils. No matter how many times I tried, I couldn't pick up anything else. However, lifting it to lip level changed things up to caramel and brown sugar. Inhaling through my mouth brought back the vanilla. Raising the glass to just under my nose yielded an interesting rye spice.
The mouthfeel was very thin. At the front of the palate, flavors of vanilla rushed at me. Once I was able to get past the vanilla, I picked up peanuts and caramel, almost like a Payday candy bar. On the back of the palate was oak and coffee.  The coffee lingered into the finish and then became sweet.
Coppercraft has been distilling since 2012. Simple math says that any 10-year Bourbon barrel is sourced. That's not a bad thing, but it also doesn't give much insight as to what Coppercraft distills. If you put it up on a blind tasting against many other "craft" Bourbons at the $50 price range, it would get lost. There just isn't anything special there, age-statement or not. In fact, this Bourbon is proof positive that age is just a number. Try this one at a bar before you commit to a bottle.
JARROD'S NOTES
---
NOSE: Brown Sugar | Oak | Sweet Corn | Alcohol
TASTE: Alcohol | Vanilla | Oak | Candy Corn
FINISH: The alcohol took several seconds to mellow before the caramels finally come out and was joined by some good old fashion white bread and a not-too-sweet sugar cane.
SHARE WITH: Craft whiskey enthusiasts seeking out the latest regional handcrafted premium spirit. Availability appears to be limited to Michigan markets for the time being, so anyone outside of that area might appreciate the opportunity to see what Western Michigan has to offer.
WORTH THE PRICE: At $49.96, it is in line with, or even slightly below the going rate for similar handcrafted, artisanal spirits.
BOTTLE, BAR OR BUST: Here's where it gets complicated… I would like to tell you to check this one out in a bar before committing to a bottle, but unless you happen to be in Western Michigan, your chances of finding it at your local watering hole, or on a store shelf for that matter, are pretty slim. For my preferences, this was just ok. I will concede that the redesigned bottle itself is a marked improvement over the previous one, but if you're like me, you're more concerned with the liquid inside the bottle. It's not bad, but it didn't wow me and there are just too many other bourbons at this price point that I like better.
OVERALL: To get a direct, head to head comparison, I sampled two  Coppercraft bourbons side by side (the Straight Bourbon that I'm reviewing here and their Blend of Straight Bourbons - which we'll be reviewing next). It may be a product of my own expectations, but this Straight Bourbon left me a bit underwhelmed. While it is touted as their 'sipping whiskey', and the Blended Bourbon as their 'cocktail whiskey', I found the Straight Bourbon to be much hotter despite the lower ABV. It had more alcohol in both the nose and the palate, which made it rather difficult to appreciate the more subtle flavors lurking beneath the mighty vapors. It was quite crisp, but at the same time surprisingly shallow.
To give an analogy, if the Blended Straight Bourbon was a 60 watt floodlight, evenly and adequately illuminating a room, the Straight Bourbon is a 100 watt flashlight brilliantly lighting only where it is pointed. Had I tasted the two completely blind, I suspect I would have guessed this one was the younger, higher proofed of the two… but I would have been completely wrong.
While I do occasionally try a whiskey with water, I'm typically not a fan of adding those few drops of H2O to my pour. But in this case, it actually improved the profile somewhat. Beyond cutting the heat and reducing the excessive alcohol cloud, the oak and vanilla notes became richer and were able to stand out on their own. The candy corns turned to caramel chews and overall, the depth of the whiskey was improved.
MATT'S NOTES
---
NOSE: Initial Aroma of Baking Spice | Soft Ripe Apple | Hint of Cinnamon appears after allowing some air to mingle.
TASTE: Subtle Vanilla | Baked Apple | Caramel
FINISH: An initial smoothness gave way to a lingering rye spice that hangs around the top of my mouth.
SHARE WITH: Friends who are looking for something new to the market. The $49.95 price tag may be a bit too high for a gamble but I think it is one that may be worth this small batch of 10+ year bourbons.
WORTH THE PRICE: Granted I sampled this bourbon as part of a media packet; however, I would most likely pull the trigger and add this to my collection at the retail price.
BOTTLE, BAR OR BUST: I think this is one that could find a spot on my personal bourbon shelves. If the near $50 price tag slows your decision, I wouldn't hesitate to ask your local barkeep for a pour if/when they have it in stock.
OVERALL: While this wasn't the most flavorful bourbon I have had lately I am glad that I received a sample bottle for review purposes. What I didn't pour into my Glencairn will most definitely be consumed in the near future.
---
Disclaimer: Coppercraft Distillery provided Bourbon & Banter with a sample of their product for this review. We appreciate their willingness to allow us to review their products with no strings attached. Thank you.