Coppercraft Straight Rye Whiskey Review
This was my favorite of the three Coppercraft whiskies we reviewed. The nose was quite inviting and there should be no doubt you have a rye whiskey in your glass.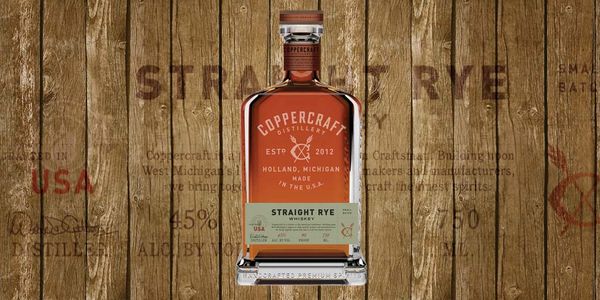 Coppercraft Distillery Multi Review Series - Part Three
Today we share the third, and final, post in our three part series featuring products from Coppercraft Distillery. Each post features tasting notes from three different reviewers - none of whom were in communication with each other while performing the reviews. The result is a series of tasting notes and observations that are unique to each reviewer and helps to illustrate the difference in how even experienced whiskey drinkers interpret and rate a whiskey. We hope you find this multi-review series interesting and informative. And of course, if you've tried any of the whiskeys reviewed please chime in the comments with your own tasting notes and opinions.
BOTTLE DETAILS
---
JARROD'S NOTES
---
NOSE: Cherry Wood | Rye Spice | Pine Needles | Wintergreen Gum
TASTE: Pine Bark | Rye Bread | Wood Tannins | Leather
FINISH: Started with a strong, unsweetened mint; progressing to a dry woodiness with a tasty mild rye flavor. Some of that earthy leather became present with a dab of sweetness.
SHARE WITH: Those who love a high rye mash bill should enjoy sipping this one neat. Spicy rye cocktail fans, too.  If you prefer a fair mix of corn and a sweeter profile to your ryes, this might not be ideal for you.
WORTH THE PRICE: $42.95 seems more than reasonable for an artisanal, 90 proof, handcrafted straight rye.
BOTTLE, BAR OR BUST: I'd feel comfortable springing for a bottle of this one. Personally, I prefer ryes to bourbons, and therefore more likely to jump right into a bottle purchase than I would be for the Coppercraft bourbons. If you're unsure, definitely try a pour at a bar first… next time you're in Michigan.
OVERALL: This was my favorite of the three Coppercraft whiskies we reviewed. The nose was quite inviting and there should be no doubt you have a rye whiskey in your glass. I got the impression from that initial nosing that the first sip would be sweeter than it actually was, but when you consider a 95% rye mash bill, with the remaining ingredient being barley, as opposed to corn, the fact that it wasn't should come as no surprise. That's not a knock on the palate, but more of a nod to the nose.
I ended up drinking my entire poured sample before I realized I never stopped to add a few drops of water… it just didn't need it. But, knowing that it could potentially add a little sweetness, I wanted to give it a try. However, living in Florida, with the high heat and humidity, if I ever add water to a bourbon or rye on my own accord, it would be the hard, cubed, cold variety. Off to the freezer I go…
What a great idea that was! (*pats myself on the back) I don't know that it made it all that much sweeter initially, but it cranked up the spice and really let the vanillas come through, which I guess actually did add to the sweetness overall, creating something of a chilled, peppery custard.  Hey, it's still summertime here and that hit the spot! (at least it was when I wrote this review)
MATT'S NOTES
---
NOSE: Peppercorn | Rye Spice | Bubble gum (quite possible the first time I have ever written this in a review)
TASTE: Rye Spice | Ripe Fruit | Honey Butter
FINISH: A viscous coating on the tongue that opens to soft floral notes with just the right amount of spice. A few minutes after the last sip a tobacco note appeared.
SHARE WITH: People who are looking for an approachable rye drink that doesn't come with an overpowering spice kick. This is a solid pour neat; but, due to its lower alcohol content should probably stay away from too much water, or mixers, as to not lose its flavorful notes.
JEFF'S NOTES
---
NOSE: Rye Spice  |  Citrus  |  Floral  |  Stewed Fruit
TASTE: Spice  |  Fruitcake  |  Chocolate  |  Stewed Fruit
FINISH: Long and peppery.
SHARE WITH: Fans of younger Rye with big, bold flavors.
WORTH THE PRICE: Yes
BOTTLE, BAR OR BUST: This whiskey is priced fairly and better than several younger, more expensive Ryes. It won't blow your socks off but it is worth grabbing a bottle.
OVERALL: Coppercraft has been distilling since 2012. The distillery points out that this is an "award-winning rye."  Honestly, whiskey awards mean very little to me. There are far too many "participation trophies" handed out that distillers and producers use for marketing purposes - and with that, I've probably just nixxed any chances of my being invited to sit on an awards committee.
Honestly, I went into this Rye with lower expectations, mostly because it was the third whiskey I tried in the series and I found the first two to be average at best. But, the entire #DrinkCurious philosophy calls for sipping whiskeys as they're presented and put any others out of my mind.
In the glass, the rye was a bronze amber. It left a thin rim on my Glencairn and created fast legs to drop back into the pool.
Bringing the rim of the glass to my chin, there was a definite pairing of spice and floral aromas. This was interesting because usually with a Rye, one dominates over the other, but in this case, they worked in tandem. When I raised the rim to my lips, it was just heavy rye spice. When I inhaled through my mouth, I picked up fruitcake and stewed fruit.  Lifting the rim to just under my nostrils, I also picked up citrus with that lingering rye spice.
The mouthfeel was very thin and oily. At the front of my palate, it seemed like I just shoved a spicy fruitcake in my mouth. Then, it turned chocolatey, which was shortly followed by stewed fruit on the back. The finish was peppery, and it just continued on and on.
Overall, I enjoyed the Coppercraft Straight Rye. At $42.95 for a 750ml, this is at the lower end of craft whiskey pricing. While the nose was a bit overwhelming, the palate was pleasurable and the bet of the three. Coppercraft suggests this is a limited release whiskey, and as such if I saw it on the shelf, I'd pick up a bottle to add to my library.
BRAND NOTES
---
Our award-winning rye moves across your palate, first with hints of cocoa and malt, then kicks in with a peppercorn spice that is distinctly rye and finishes smooth with a hint of sweetness. A limited release in 2018, look for it to hit shelves later this year.
95% Rye and 5% Barley
COPPERCRAFT DISTILLERY RELAUNCHES RYE WHISKEY
HOLLAND, Mich. — Coppercraft Distillery, the award-winning artisan spirits distiller based in Holland, Mich., announced today it is re-launching its rye whiskey into the market after a two-year hiatus. Coppercraft Rye will be available year-round at retailers, bars and restaurants throughout Michigan.
Comprised of 95 percent rye and five percent barley, Coppercraft's Rye Whiskey is bottled at 90 proof. Beginning with hints of cocoa and malt followed by peppercorn spice, Coppercraft Rye finishes smooth, with a hint of sweetness, perfect for mixing a Manhattan, Sazarac or other cocktail.
"Our distilling team worked hard to build on the success of our previous award-winning Rye Whiskey, and created this new product by masterfully blending our rye whiskey, distilled in Holland, Mich., with hand-selected found rye," said Brandon Joldersma, general manager of Coppercraft. "Our artisan blending techniques create the best tasting rye whiskey possible, and enable us to produce the volume that we need to serve the growing number of fans who have been asking for this product to return."
Like bourbon and whiskey, rye continues to gain popularity and market share in the spirits industry. From 2009 to 2016, rye whiskey volumes increased by 778 percent, according to the Distilled Spirits Council. Since 2009, rye whiskey volumes jumped from 88,000 cases to nearly 775,00 cases in 2016, translating to a 900 percent jump in revenue from slightly more than $15 million in supplier revenues in 2009 to nearly $160 million in 2016.
---
Disclaimer: Coppercraft Distillery provided Bourbon & Banter with a sample of their product for this review. We appreciate their willingness to allow us to review their products with no strings attached. Thank you.