Corridor Bar Review
It all started innocently enough. You and a few friends took a trip to Kentucky to visit the Bourbon Trail and on the way back you decided to stock up on a few bottles of bourbon that you couldn't buy locally. It was only six bottles.
It all started innocently enough. You and a few friends took a trip to Kentucky to visit the Bourbon Trail and on the way back you decided to stock up on a few bottles of bourbon you couldn't buy locally. It was only six bottles. Six bottles that you easily slipped into the kitchen cabinet where you stored your rarely touched bottles of vodka, tequila, and Captain Morgan. It all fit easily. Nothing to worry about.
Six months later you find yourself lining up bottles of bourbon on top of your counter, pushed to the back, trying to keep them out of the way of daily kitchen traffic. What was once six easily hidden bottles of bourbon has morphed into a budding collection of roughly 15 bottles with various fill levels. Countertop storage provides quick and easy access to your booze but others are a bit concerned at the ever increasing line-up of whiskey competing for precious counter space. No problem. You'll just go buy yourself an Ikea bookshelf to hold your bourbon so it's "out of the way". Nothing to worry about.
24 months into your bourbon obsession and you've filled two bookcases with just over 100 bottles. You've added raised edges to your shelves just in case there's an earthquake and you keep the blinds closed all of the time to keep sunlight off the shelves. But most importantly, you've set up an automated notifications on Craigslist so you know when someone is selling oak shelving.  Nothing to worry about.
Sound familiar? Do you have more than one shelving unit for your bourbon bottles? Do you store bourbon in more than one room?
Don't worry my friend. You are not alone. I too suffer from bottle storage issues. My personal collection is hovering around 185 bottles – open and closed. My collection now spans multiple shelving units and rooms. The photos below give you a good idea of how my collection has grown and migrated to multiple shelving and storage units.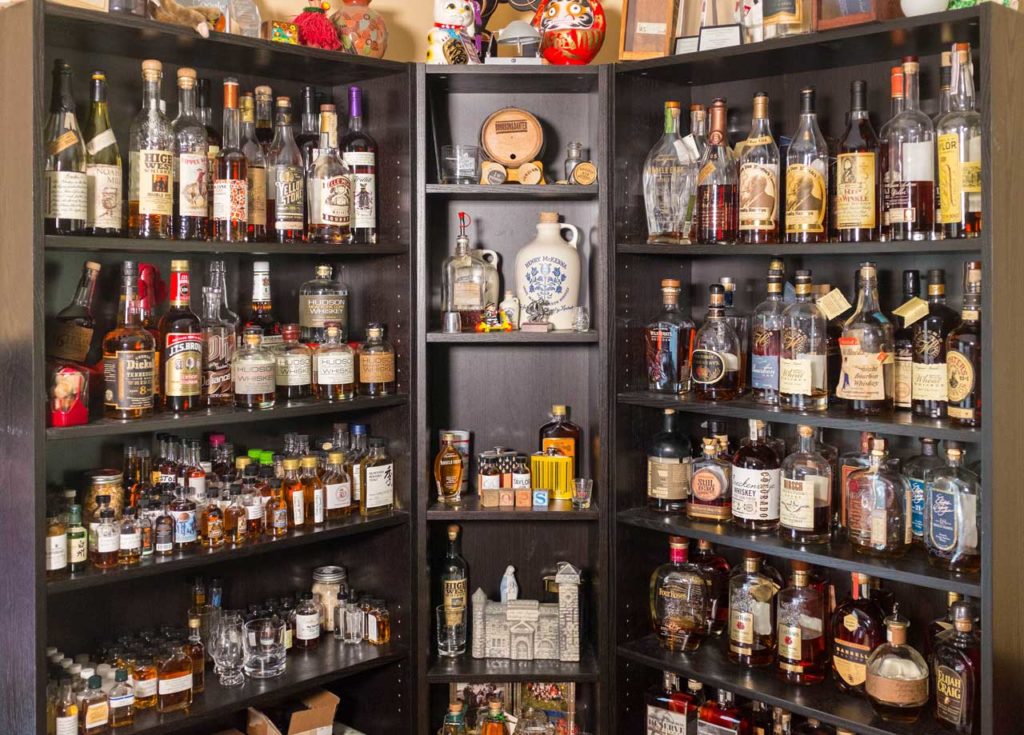 At first, I stored by bottles on an existing IKEA Billy bookcase in my home office. Being a dual bookcase joined via a corner unit, it provided plenty of space for my collection. For several years it was more than enough to hold my bourbon, glassware and misc personal items – like actual books. And then one day, almost without notice, it was full.
When I realized it could no longer hold additional bottles, I decided to convert a built-in bar/bookcase in our family room into overflow storage for my bourbon library. By conversion I mean I removed my kids' toys and games and relocated them to the basement which we had refinished a year prior. This overflow storage was perfect as it provided not only extra shelving for my collection but was closer to the action when we held parties and came with a built-in retractable bar shelf for serving drinks. It was the perfect addition to my growing bourbon empire.
Life was good. I had two sets of shelving holding my collection and a bonus drink service shelf for when I had company. All my needs were covered…or at least that's what I thought until I received the email that would change my home bar game forever.
The email's subject line read, "Awesome Home Bar for Bourbon Banter 'Drinking Accessory' Review." It was from a company called BDI that is "dedicated to creating uniquely functional, beautifully streamlined, and rigorously executed furniture." They wanted to know if Bourbon & Banter would be willing to take a closer look at their Corridor Bar and consider posting a review on our website. I took one look at the sample images attached to their email and immediately replied with an enthusiastic "yes."
"Everything we do is driven by our desire to make great design — design that combines function, innovation, and style — accessible to everyone."

– BDI
A few weeks later the bar arrived via special shipping that included delivery inside my home – which was a godsend since the shipping weight of the bar was 191 lbs. The whole body of the bar comes in one piece requiring minimal assembly. The only things I had to put together were the legs, the glass top, and the door handles. While those pieces went together easily, the bar did require two people to complete the setup. The bar weighs about 172 lbs. fully assembled requiring strong backs to lift and maneuver. After we had it upright and assembled, the final step was to move it into place and use the levelers on the bottom of the legs to ensure the bar was standing level so the doors would stay propped open when in use.
Here are some photos of the bar to give you a better idea of what it looks like close-up and when opened.
---
CORRIDOR BAR DETAILS
The Corridor Bar is available in three finishes: Charcoal Stained Ash, White Oak, and Chocolate Stained Walnut (the finish I chose). It has a simple design but appears very elegant and can easily fit into a variety of home design styles despite its modern look. In fact, our house is fairly traditional, but the bar blends in quite well and feels like it's always been a part of our family room.
It's simple design also belies an impressive amount of storage and features like:
Wine and Liquor Bottle Storage
Stemware Rack
Glassware Storage
Storage Drawer
As you would expect based on its weight, it's built solidly and uses the following materials:
Stained Solid Wood
Satin-Etched Tempered Glass
MDF
Hardwood Veneer
Powder Coated Steel
When I asked BDI for some additional information regarding the bars materials and construction they provided the following:
The BDI Corridor Bar unit's cabinet is constructed with Natural Hardwood Veneer applied on CARB 2 certified MDF (Medium Density Fiber) Board. Definitely not particle board, which is a much more inferior product. Depending on the finish, the louvered doors are constructed of solid walnut or ash, with White Oak, Chocolate Stained Walnut or Charcoal Stained Ash finish options. The drawer body is constructed with Black Melamine on the CARB 2 MDF. The inside shelves are finished with a Satin Black PU paint. The legs are a black textured powder-coat on steel, and the top surface is BDI's trademark Black Satin-Etched glass. This glass goes through a special finishing process to make it extremely durable, resistant to scratches, fingerprint proof, and very easy to clean. BDI also has an easy process for buffing out any scratches, should they appear on the Satin-etched glass.
I was thrilled to get the link about buffing out scratches since I immediately scratched the glass top when I slid a lamp across it without confirming the lamp had felt feet pads. (Obviously, it did not.)
CORRIDOR BAR IN REVIEW
When we set up the Corridor Bar, we decided to use it as a dedicated cocktail bar. The height of the bar was better suited to mixing drinks than our existing bar shelf, and since it wasn't built into a wall, we were able to put a lamp on it for better lighting. All of our cocktail ingredients, non-whiskey bottles and bar accessories easily fit in the bar for easy access. There's was even room to add in a nice supply of non-whiskey glassware and cans/bottles of tonic and ginger beer. Even with all of this put in the bar, there's room left for additional items if needed. And even though I had some concerns about the glass top after I carelessly scratched it, it's held up well and is extremely easy to clean after an evening of mixing drinks and inevitable spills.
The clean lines of the bar allow it to blend into our room and several people have complimented how nice it looks. The bar's compact design makes it the perfect bar for a small apartment or any space where you need the utility of a home bar without advertising its presence. Or in my case, it made the perfect addition to my existing whiskey storage system as a cocktail workstation.
I can honestly say I'm a big fan of the Corridor Bar's design and features. While I wasn't actively seeking out an addition to my home liquor storage setup, it has turned out to be exactly what I needed to help my guests learn to drink curious.
If you're interested in learning more about the Corridor Bar or want to purchase one for your home, you can visit this link for more info and to place an order.
---
Disclaimer: BDI provided Bourbon & Banter with a sample Corridor Bar for this review. We appreciate their willingness to allow us to review their product with no strings attached. Thank you.