A Barrel Aged Cocktail for the Creative
Imagine with me the vision of a full barrel of your favorite cocktail, mixed to your personal taste and quietly aging, absorbing rich flavors and smoothing out the combination of ingredients to create the ultimate flavor combination. It's sitting there waiting for you, does it make you thirsty? Can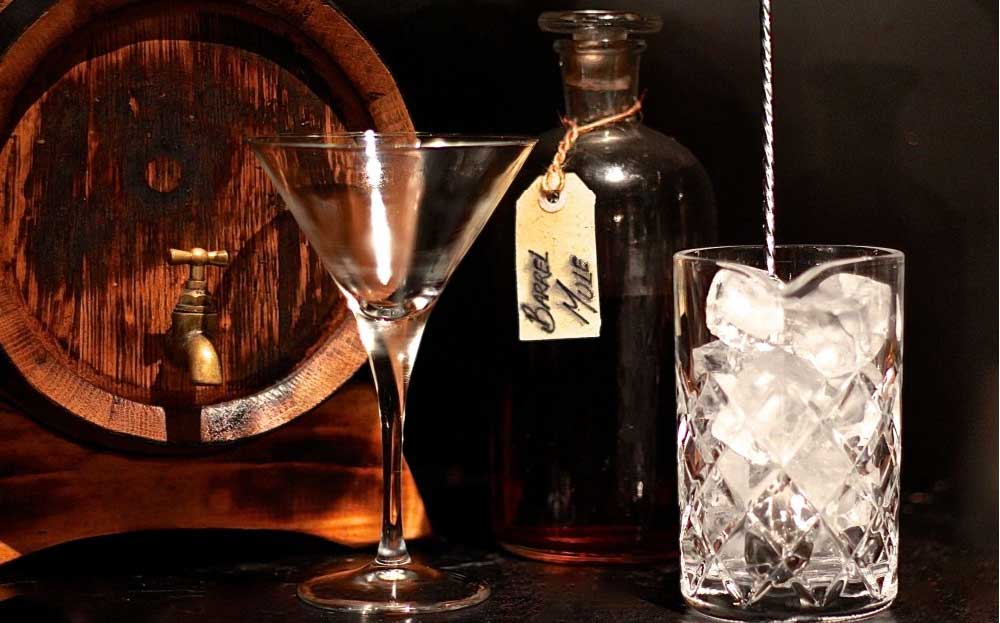 Imagine with me the vision of a full barrel of your favorite cocktail, mixed to your personal taste and quietly aging, absorbing rich flavors and smoothing out the combination of ingredients to create the ultimate flavor combination.   It's sitting there waiting for you, does it make you thirsty? Can you force yourself to wait until it reaches maturity?   Welcome to the experience of barrel aging cocktails.
With this vision firmly in mind, I began to research cocktails. I checked some references including a previous post on Bourbon and Banter (A Barrel Aged Cocktail Adventure, by Erin Petrey). I finally got my barrels, 2 two liter barrels, as a Christmas gift from my oldest son. He is also very interested in bourbon, what can I say, the acorn does not fall far from the tree.
There are many recipes on the internet, interestingly often different for the same cocktail. From the beginning, you need to decide for yourself how to mix your brew.   Of course, the process involves a lot of experimentation, not the worst part of the journey. Initially, I focused on Manhattans (my favorite cocktail), but I also used my second barrel for more adventuresome trials with various spirits.   If there is interest, I can share some of these in future blogs (please comment and share below).
Some observations about barrels. Several sites offer barrels in various sizes; I like two-liter barrels. Larger barrels have the advantage of more volume, but these cost more to fill (particularly if you are particular) and as such put more at risk (some recipes don't work).   The smaller barrels are just that – smaller.   A two-liter barrel is perfect for a 1.75-liter bottle of bourbon and some mix-ins.   They take from 4 to 6 weeks to mature, about the limit of my patience (larger barrels take longer). Finally, I have found that 5 or 6 batches are about the limit for these barrels. Once done, you can re-purpose them, or as I plan to do, use them in a smoker.
Having experimented with various recipes a few times, it was time for me to get creative. It is not unusual for me to get bored with the status quo, no matter how good it is.
At dinner with my daughter and her family in Chicago, they introduced me to the Moscow Mule (remember the acorn and tree thing), which I enjoyed but vodka is not typically my drink of choice (we all have those stories, mine involves vodka).   So I began to think about and enjoy the closely related Kentucky Mule. Pretty simple drink: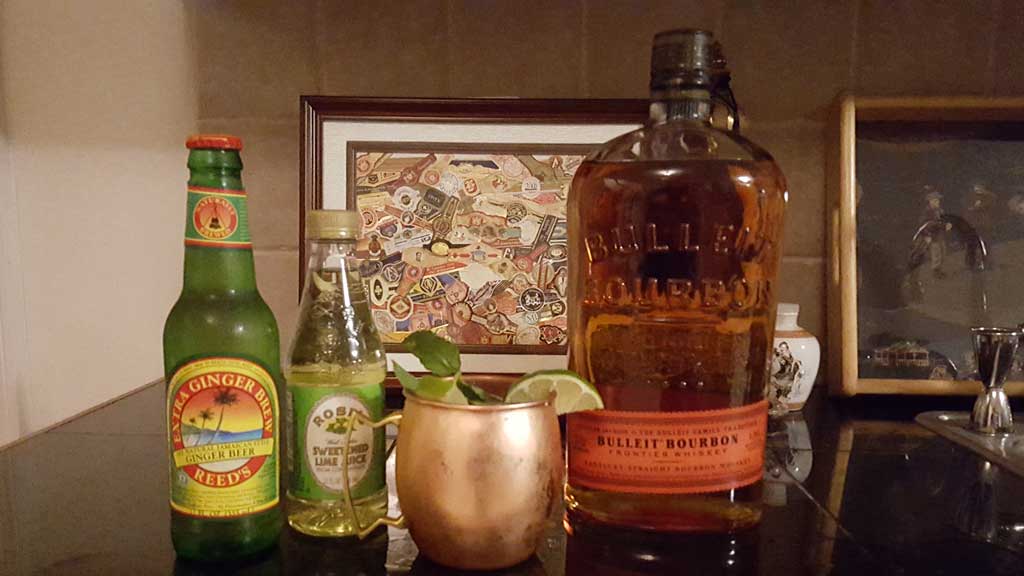 Kentucky Mule:
In a copper mug muddle a few mint leaves (both the mint and mug are optional but highly recommended)
Fill mug with ice
1 ½ oz. of bourbon (I like Bulleit Bourbon for cocktails)
Splash of Rose's Lime juice
Fill the remaining volume with ginger beer and stir
Great drink, quick and easy to make (both important to my taste).
All of this got me thinking, could I do a barrel aged Kentucky Mule?
This drink presents many challenges. First, I didn't think that carbonated ginger beer would work in a cocktail barrel.   The pressure of the carbonation may pop the cork and perhaps make the barrel leak.   I could allow the ginger beer to go flat, but that seemed like a bad idea, and I was concerned about the excess sugar in the barrel.   Also, we have the problem of the lime juice. As my research pointed out, you should avoid putting fruit juice in a barrel due to a risk of mold. Once again, the excess sugar is not a good idea.
So first I need to solve for the ginger, and as luck would have it, my local liquor store stocked a ginger wine (Stone's Original Ginger Wine). I know, wine seems weird, but It has a great ginger flavor, similar to ginger beer, without the carbonation or sugar.  After all, vermouth is wine.
The lime was a little more challenging. Taking a clue from my ginger wine discovery, I grabbed a bottle of Patrón Citrónge Lime liqueur. While this is a good product, I am glad I tasted it before putting it in my barrel. It is very sweet, and the tequila flavor comes through way too strong along with the lime flavor.
At this point, I wasn't sure what to do with regards to the lime. I could infuse the lime into the bourbon, but that requires a significant about of trial and error to get the proportions and time right. And to be frank, I wasn't up to risking my bourbon supply on a lot of trial and error. So back to the liquor store with my wife (a non-drinker, but very supportive and creative). Looking around, and of course picking up another bottle of bourbon to try, she came across lime-infused vodka.   This seemed like a good compromise, and somehow the vodka seemed appropriate as a neutral spirit. In fact based on my Patrón experience I bought an airline bottle (and tried a sip, outside of the store, to make sure before I bought a full bottle).   The Smirnoff™ Lime Vodka has a great lime flavor and I felt would work out great.
With a few experiments before barreling, as mentioned earlier this is also a fun part of the journey, I came up with the following recipe (for a two-liter barrel). Since we can't call it a Kentucky Mule, we decided on the: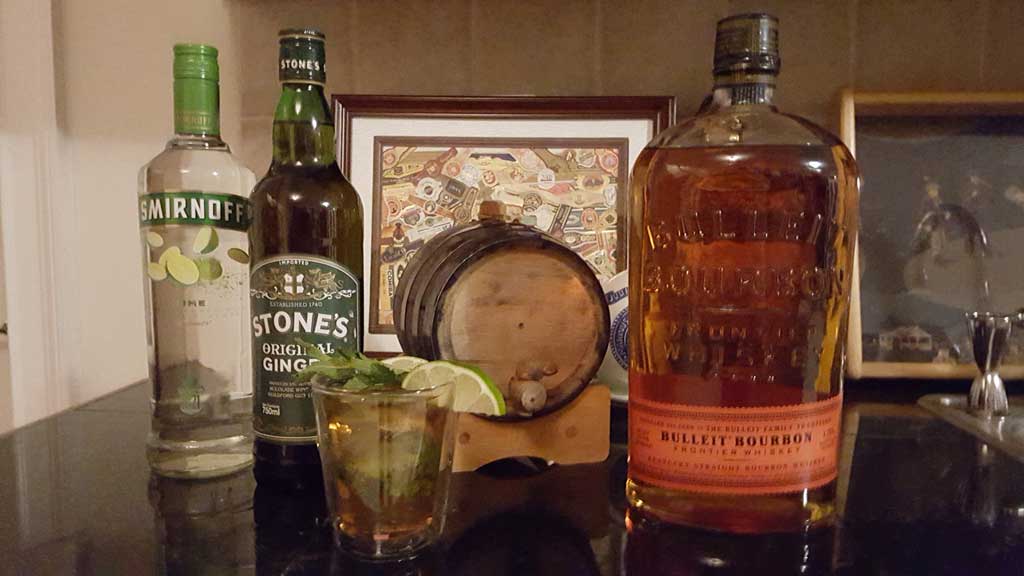 Barrel Aged Kentucky Donkey:
1 Liter Bulleit Bourbon
700 ml of Stone's Original Ginger Wine
300 ml of Smirnoff™ Lime Vodka
It took two attempts to get it right, and I aged it about four weeks in the barrel. It has an excellent ginger and lime flavor; I drink it over ice in a highball glass. A copper mug works with this as well, but because of the volume and the alcohol content (much stronger than a traditional Kentucky Mule), you may want to top it off with club soda (this also gives you the carbonation).   Another option is to mix over muddled mint leaves, which provides even more depth of flavor.
All in all, it is fun to experiment with barrel aging cocktails.   I still do a lot of Manhattan's, with various bourbons, vermouths, and bitters as well as experimenting with other ingredients.   Again, if there is interest, I can provide additional recipes and updates in future blogs, please comment and share below.