Davis Valley Distillery
Back in late 2000, Rusty Cox, a life-long Virginia resident, began planting vineyards with his wife, Ruth Rhea. When the first grapes were harvested, they started making wines. Many of their wines became award winners, including a revered Davis Valley Cab Franc.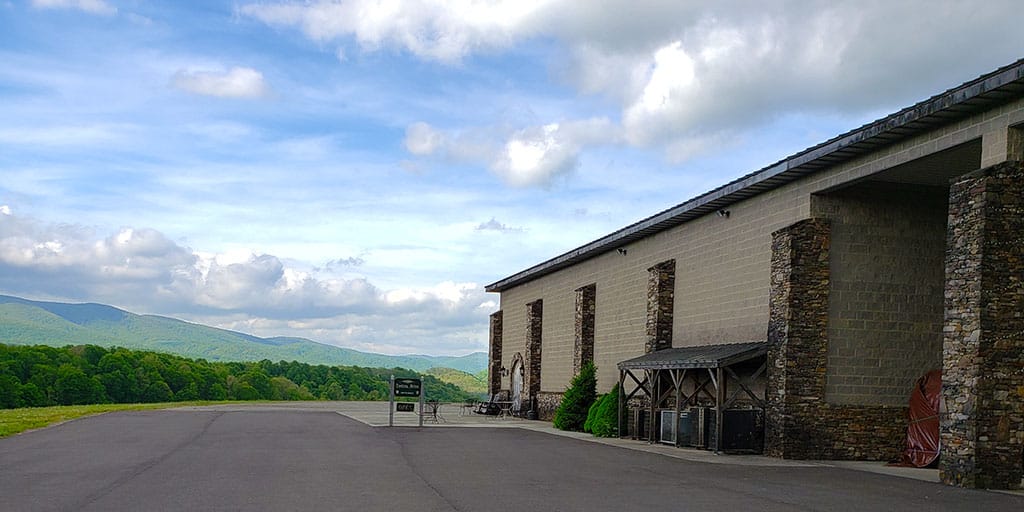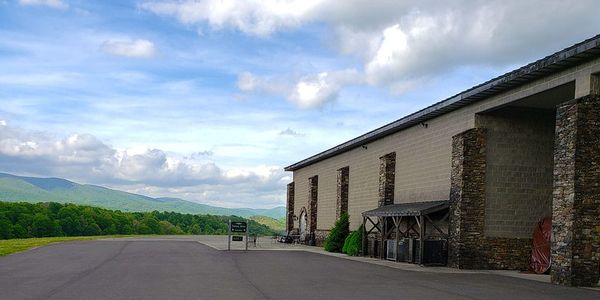 One of the things I love most about running Bourbon & Banter is the opportunities it provides me to meet new people across the globe. Whether it's meeting folks at a whiskey festival, at a sampling event, or even in the bourbon aisle at the liquor store, I love connecting with people over whiskey.  And on occasion, I get an opportunity to hit the road for the sole purpose of exploring a new distillery and meeting the team behind the scenes one-on-one.
Two weekends ago, I found myself doing the latter as my flight touched down at the Tri-Cities Airport in Northeastern, Tennessee for what would be a whirlwind 24-hour trip to meet the folks at Davis Valley Distillery. After departing St. Louis that morning, with a brief layover in Charlotte, I was eager to get off the plane, stretch my legs and get into full-on #DrinkCurious mode.
Tom Copenhaver, General Manager for Davis Valley Distillery, met me at the airport and was my personal driver and guide for the weekend.  Tom joined the distillery a few years ago after the owner, Rusty Cox, refused to take "no" as an answer after inviting Tom to join his team. After hearing Tom's version of the "negotiation" that transpired, I don't know if Rusty's just that tenacious or if Tom's a master negotiator. Regardless, it became pretty clear that Rusty's insistence on getting Tom aboard was a masterstroke of genius because you'd be hard pressed to find a better brand ambassador than Tom.
During our one hour drive from the airport to the distillery, Tom gave an excellent overview of the region and shared with me how Davis Valley Distillery got its start.
HISTORY OF DAVIS VALLEY DISTILLERY
Back in late 2000, Rusty Cox, a life-long Virginia resident,  began planting vineyards with his wife, Ruth Rhea. When the first grapes were harvested, they started making wines. Many of their wines became award winners, including a revered Davis Valley Cab Franc. Then in 2013, Rusty decided he'd like to get into the distilling business and began to convert one side of his winery into a distillery to make moonshine, vodka, bourbon, and other whiskeys.
Initially, Rusty planned to take all of his products to retail and build a strong portfolio of brands like most other upstart distilleries. However, he quickly learned that the liquor laws of Virginia were not friendly to new distillers. Despite positive product reviews and consumer demand at the distillery, it was impossible to get the state liquor stores to take on their products at scale.
At this point, many would have simply scaled back their plans and been content with running a small distillery alongside a winery relying solely on whiskey and wine tourism sales. But after a successful pre-wine/whiskey career of helping others build and grow their businesses, Rusty wasn't content with anything less than seeing his vision through to the end. So instead of seeing Virginia's liquor laws as a barrier to success, he saw them as an opportunity to change direction and fill a gap in the market that would lead the business to grow larger than initially envisioned.
EMBRACING BULK WHISKEY PRODUCTION
Today, Davis Valley Distillery continues to produce its own brands available only in their distillery tasting room for visitors. The distillery's primary focus has shifted to producing bulk whiskey and spirits for start-up and emerging distillers. With more than 480 customers in the US, Europe, and Asia, it appears that the distillery's new focus is paying off.
In fact, demand is so high that a second larger distilling facility is going online this month in nearby Saltville increasing Davis Valley Distillery's daily production from 25-40 barrels a day up to 100 barrels per day. The new facility will also increase the company's barrel inventory from 500 barrels to 30,000 before a new barrel warehouse is required. That said, the distillery is already exploring local buildings to purchase and renovate to start receiving barrels within 12-18 months.
Davis Valley Distilling is just one of many relatively new distilleries providing bulk whiskey for 3rd-party brands and distilleries. But they are the only one that I know of that didn't plan on becoming a whiskey wholesaler from the start. It's hard not to be impressed with the tenacity and creative thinking they showed when faced with adversity that would have caused other distillers to close their doors. It's this same innovative thinking that has led them to create a unique bulk whiskey program designed to help upstart distillers and brands bring an aged product to market while locking in pricing generally reserved for new make whiskey.
BLACK DOG WHITE DOG ALL-INCLUSIVE BARREL-AGED PROGRAM
The Black Dog White Dog all-inclusive barrel-aged program was designed to sell barrels of high-quality whiskey to upstart distilleries and brands with three years of aging included but at the 0-1 year price. In other words, a craft distillery can purchase bulk barrels at a price point reserved for new make whiskey and store them at Davis Valley Distillery for three years of aging before taking physical ownership of the barrels.
Beyond the program's attractive pricing, it also provides an opportunity for investors to finance contracts, giving time to bring the aged product to market and then share in the upside as the value of aged whiskey increased over a 3-4 year period.  Ultimately, it's a program that combines a structured, secured investment program, with some extra benefits private barrel selection, tasting, and celebration privileges at the distillery.  And while the details around the celebration privileges are still under development, it's entirely possible that those alone might make the program and distillery a top destination for those looking for a truly unique whiskey experience.
"We want to produce only good stuff, and make it the old fashioned way. No heads or tails, only the heart. And we're going to make it consistently, and at volume so that the whiskey you buy today is the same whiskey you can buy tomorrow. Whether that is bourbon, rye, wheat, corn or Tennessee whiskey. Or we'll make whatever you want."RUSTY COX, OWNER
Having spent his life growing other people's businesses and selling them for a profit, I find it fantastic to see Rusty doing the same thing for his own business. From his ability to adapt and deal with challenges to his down-to-earth nature and generous hospitality, you'd be hard pressed to find a better example of a true whiskey entrepreneur and ambassador. With Rusty's commitment to quality distilling, investing profits back into the business and guaranteeing the mash bills he distills today will be available in the future (for distillers that build their brand using his whiskey), it's hard to imagine anything but ongoing success for Davis Valley Distilling.
WHAT ABOUT THE BOURBON?
As for the whiskey itself, with the majority of their current bourbon stock being 2-3 years old, it's still a bit young for my personal everyday drinking preference, but it shows great promise with a mash bill of 65% non-GMO corn, 15% rye, and 20% barley. On the nose, it's big and bold with herbal notes mixed with baking spices, cedar, and cocoa. The cedar notes tell its young age, but on the tongue vanilla, citrus and white pepper come together to give you a glimpse of the whiskey's future. The finish fights to the end with hot spices and wood tannins. It's a bit of a brute a 122 proof, but a little water tames it down enough to keep one's interest. All the right elements are in place for the barrel to work its magic over several more years until it meets the flavor profile of its yet to be determined owner.
Whether you find yourself in Southwestern Virginia looking for something to do or you're looking to launch your own distillery or spirits brand, I recommend you take a closer look at Davis Valley Distilling. And who knows, they might just be the folks behind the next brand you try at your local retailer.
---
Disclaimer: Special thanks to Davis Valley Distillery for providing Bourbon & Banter with travel and lodging for this experience. We appreciate their generosity and for allowing us to share our experience and thoughts with no strings attached.