Double Gold / Double Blind: Results From Our Annual Blind Tasting
For the past 3 years, my friend Andy and I have helped curate and host a Spring blind whiskey tasting at Spirit World in Omaha. Laurie Hellbush loves her whiskey customers and she is kind enough to allow us to curate some fun experiments for them.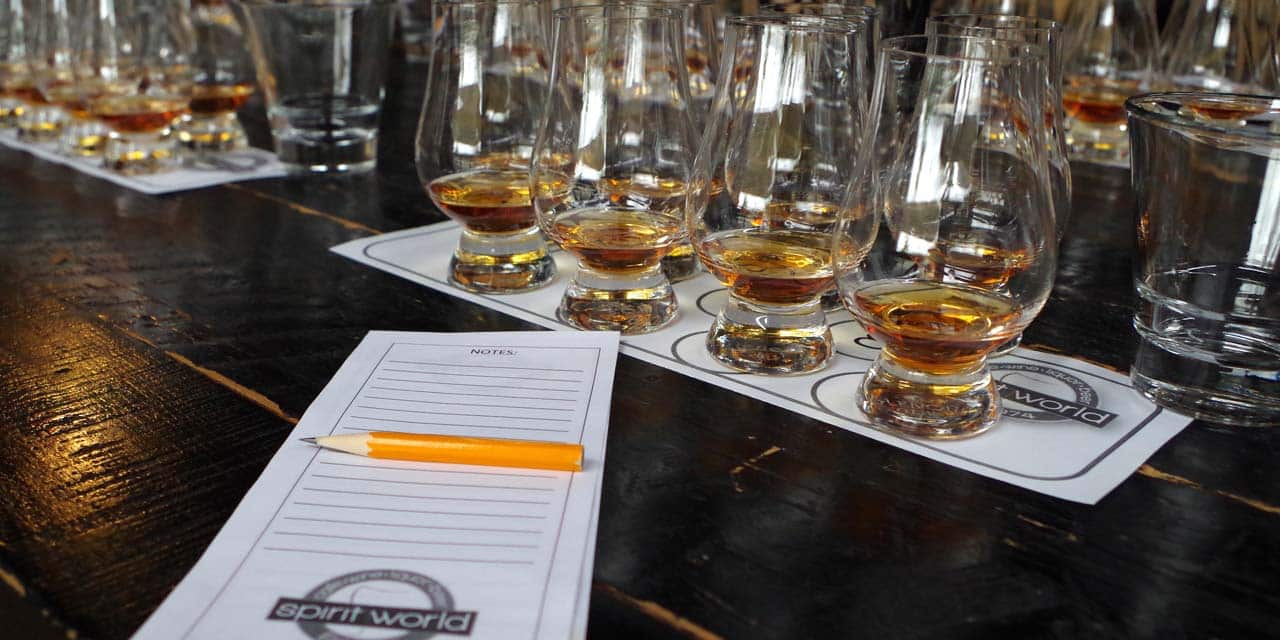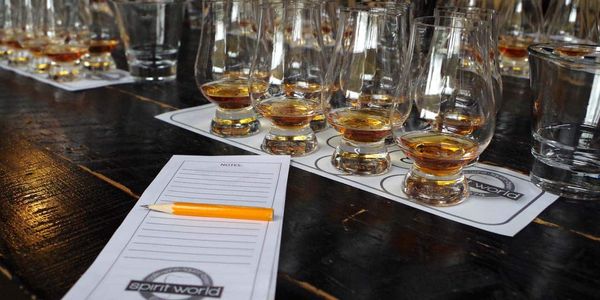 For the past 3 years, my friend Andy and I have helped curate and host a Spring blind whiskey tasting at Spirit World in Omaha. Laurie Hellbush loves her whiskey customers and she is kind enough to allow us to curate some fun experiments for them. She already has the incomparable Alzuri, who hosts several fantastic tastings throughout the year. But what makes this particular event special is the creative dynamic from the four of us that continues to produce new and interesting themes each year.
This time, we decided to put together a group of Double Gold winners from the 2018 San Francisco Spirits Competition. If you want to learn more about that event, Fred Minnick wrote a terrific piece on it. In short, if every panelist for a particular category awards a Gold medal to a spirit, it has earned "Double Gold" and moves on to compete for Best In Class. We selected 2 Double Gold winners from each of four categories. In essence, we set up four head-to-head competitions within the larger group of 8 whiskeys, which were waiting for each guest as they arrived. They were told only that the whiskeys were grouped together in pairs, we wanted them to rank them 1-8, and to please freely share their tasting notes with the group.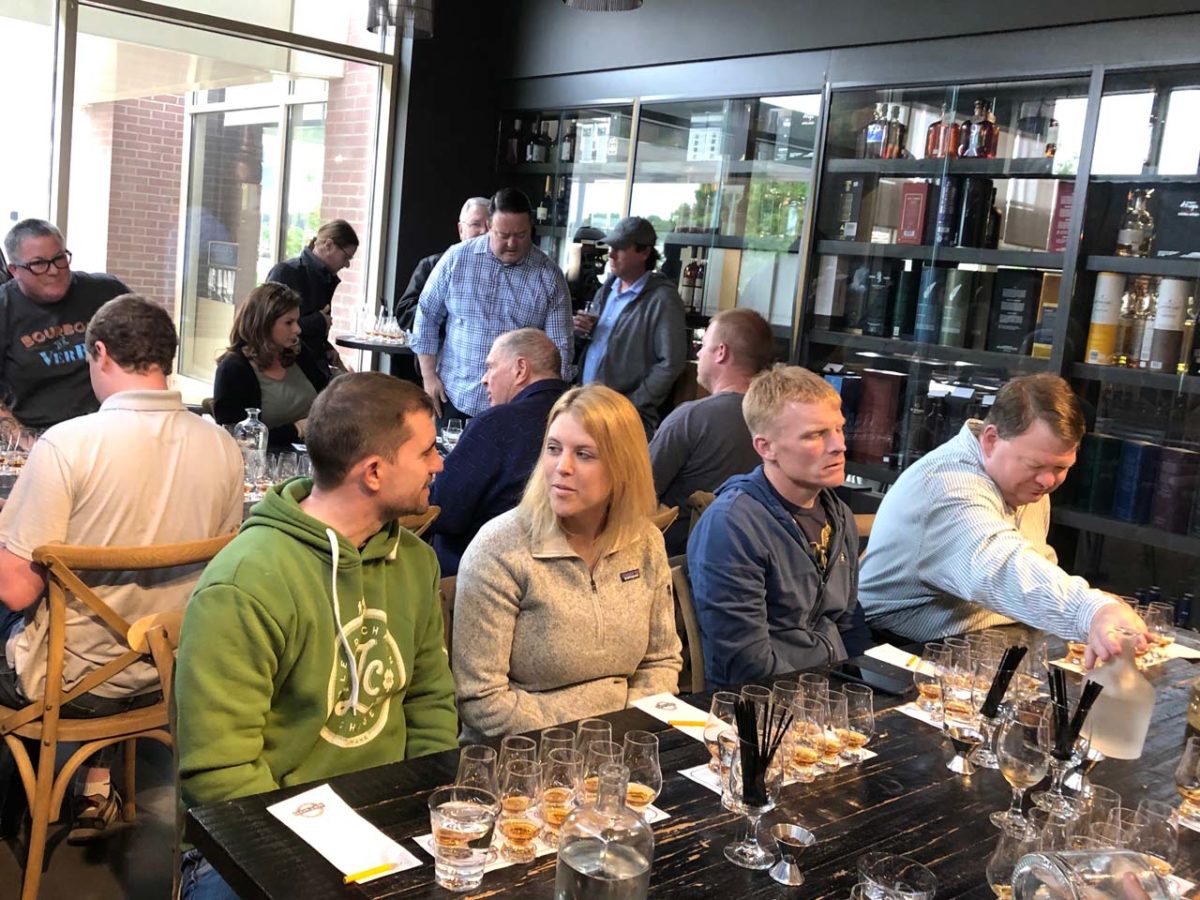 This was a diverse group of 24 individuals. Some have been frequent guests of previous tastings, while a some were attending their very first. There were a number of Scotch fans in the room, with a particular lean toward the peaty stuff. There were a couple serious whiskey nerds and a couple people who rarely (or ever) tried whiskey before. This was not the type of panel that handed out awards in San Francisco. It was, however, the kind of group most normal people (read: not whiskey bloggers) are familiar with, and therefore, perfect for a fun evening of enjoying whiskey.
The categories and whiskeys were:
Single Barrel Bourbon:
Henry McKenna Bottled-In-Bond 10 Year
Blanton's
Straight Bourbon:
Jim Beam Bonded
Bulleit Barrel Strength Bourbon
Rye:
Lock, Stock & Barrel 18 Year
Knob Creek Cask Strength
Small Batch Bourbon:
Elijah Craig Small Batch
Stagg Jr.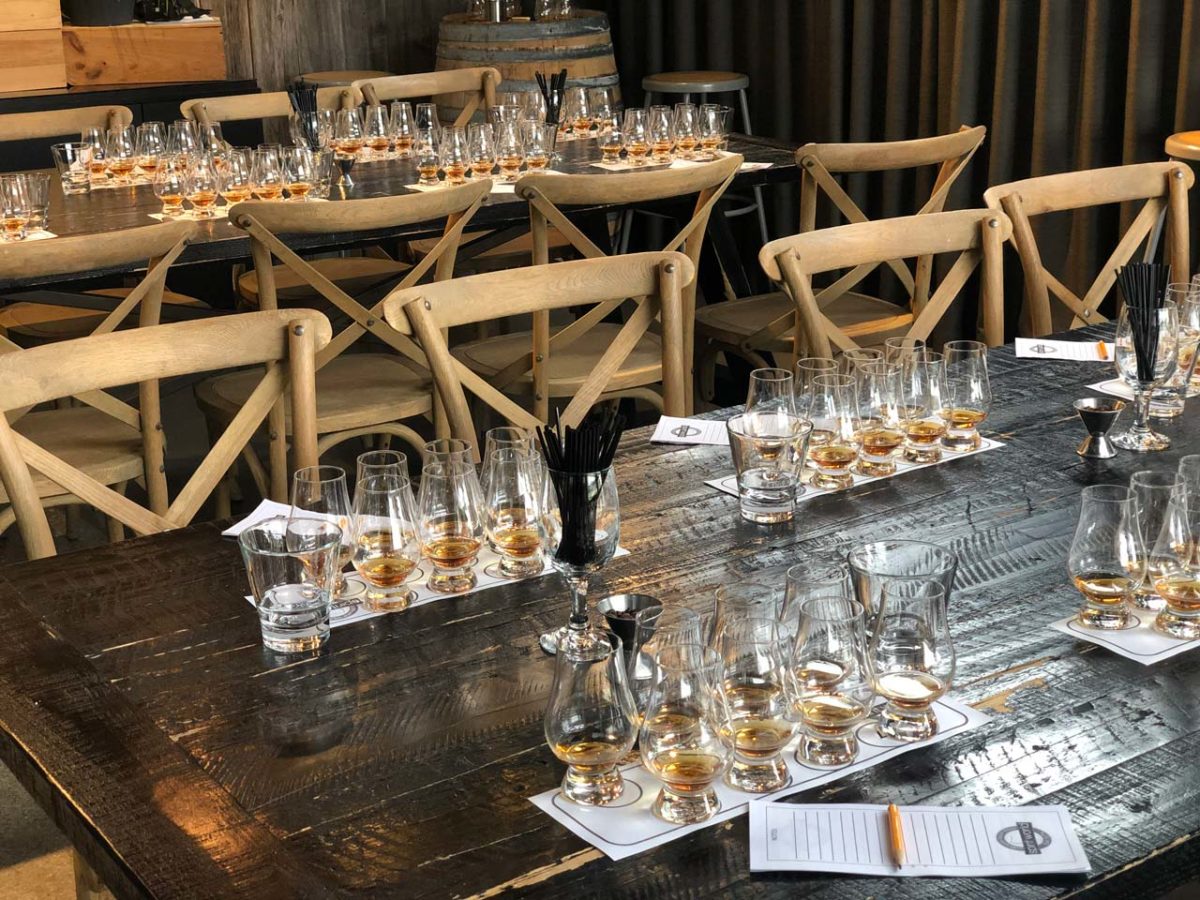 A couple notes before we begin. For our part, Andy and I obviously knew all the whiskeys and the categories ahead of time, but we did not know the order of the pairings. It allowed us to still have fun and participate, but I acknowledge it was not nearly the same as a true double-blind for us.
Second, I recognize that there are strong influences at play when people are sharing opinions openly. Obviously that can affect someone's rankings. That being said, it was far more important for our guests to have fun and enjoy the company and experience versus a purely scientific undertaking.
As palates are subjective, I believe there are no expert opinions that will guarantee you will enjoy something. That also goes for cumulative opinions, but at least those do a better job of smoothing out the outliers and providing a better idea of whether you should explore further. Given the diversity of this group, you would expect tasting notes to vary and they most certainly did. However, as far as consensus opinions go, we had three clear winners.
THE RESULTS
---
FIRST PLACE: Stagg Jr. Batch 4 (2015) [Proof:132.2 Age: NAS (7-8 years), Buffalo Trace Mashbill #1]
Stagg Jr. was the last whiskey in the tasting and it was a runaway favorite. 20 of the 24 guests had it in their Top 3, including 15 first-place and 4 second-place votes! Tasting notes included spice, molasses and even pineapple. You might expect an overpowering finish with a proof of this altitude, but the word "balanced" was mentioned by more than one guest. I can't speak for all batches of Stagg Jr., but this was my top choice of the evening and I'd certainly pay $50 for a bottle of it. Unfortunately, it wasn't until the next day when we realized the bottle we poured was from four years ago. Regardless, the 2018 batch still shone brightly in San Francisco's competition and I believe would have done quite well here as well.
SECOND PLACE: Bulleit Barrel Strength Bourbon [Proof: 119, Age: NAS (5-8 years), Sourced]
Bulleit's high-proofer had a fine showing, as 18 guests placed it in their Top 3 overall. 7 ranked it first-place and 8 ranked it second-place. One of the surprising tasting notes shared by several guests was the astringent, tannic quality you generally find with older whiskeys. One noted a vanilla pastry cream flavor. Water was suggested by another to increase spiciness and add a depth of flavor to it. I'm not sure whether this is still Four Roses bourbon or Jim Beam now, but I had it ranked third and I would say it's probably worthy of its price around $60. I never gave this bottle a second look on the shelf before, but now if I were out of town at a liquor store with an extremely limited selection, I might pick one up.
THIRD PLACE: Henry McKenna Bottled-In-Bond Barrel #6225 [Proof: 100, Age: 10 years, Mashbill: Heaven Hill 75% Corn/13% rye/12% malted barley]
The San Francisco darling, Henry McKenna just keep winning year after year. It has a strong and loyal fan base who insist that if you don't love it you just didn't get the best barrel. For Barrel #6225, only 11 guests had it ranked in their Top 3, with just a single first-place vote and 3 second-place votes. Tasting notes included pepper, cinnamon, licorice plants, caramel and floral notes. I actually had this as my second-best of the evening, and even at its new price hike over $40 I'd probably still recommend this particular one. However, I still wouldn't take a flyer on a random Henry McKenna barrel myself, because I've just had too many letdowns. Single barrels are terrific because of the opportunity for something special, but it often cuts both ways.
THE REST OF THE FIELD
---
Knob Creek Cask Strength Rye [Proof 119.6, Age: 9 years, Mashbill: Jim Beam rye (thought to be slightly over 51% rye)]
8 guests had the Knob Creek Cask Strength Rye in their Top 3 overall. It got a single first-place vote, 3 second-place votes and 4 third-place votes. Some people called the whiskey "wonderful" while others described it as "awful." One excited person exclaimed that "water turns this into a whole new experience!" For a nearly 120-proof whiskey, I couldn't believe how weak the nose on this was. Overall I ranked it sixth. I can't recommend a purchase of it for $65, but clearly some people feel differently about it.
Jim Beam Bonded Bourbon [Proof 100, Age: At least 4 years, Mashbill: Jim Beam 77% corn/13% rye/10% malted barley]
If a whiskey is going to take people by surprise in a blind tasting, it's probably going to be a workmanlike bottled-in-bond. With all the hype and hoopla around every new shiny object to hit your liquor store, it's easy to forget that every bottled-in-bond is 100 proof straight bourbon that is at least 4 years old.  Several people got a distinct banana flavor on the Beam's nose. A few even called it "smooth." I found it too light for my taste, and it was my second-lowest ranked whiskey. I'm sure nobody at the tasting would have purchased this bottle for anything other than cocktail mixing before, but SIX of them ranked this in their Top 3, with two ranking it their second-favorite! So would you rather buy 10 bottles of Beam Bonded or spend the same money for a single bottle of the next whiskey on this list?
Lock, Stock & Barrel 18 Year Rye [Proof 109, Age: 18 years, 100% Canadian Rye]
It's always fun when the most expensive bottle in a blind tasting falls flat. In fact, "flat Coca-Cola" was a creative and quite accurate description mentioned for the nose on this one. Another pointed out its "rum characteristics." Not a single person picked this as their favorite, only one ranked it second-place, and just three ranked it third-place. 20 out of 24 people felt this $200+ bottle wasn't even good enough to be third-best in this group. I found nothing to like about it and there was no finish at all.
Elijah Craig Small Batch Bourbon [Proof 94, Age: NAS, Mashbill: Heaven Hill 75% Corn/13% Rye/12% Barley]
There are some fantastic single barrel private picks of Elijah Craig, particularly those from the Deatsville rickhouses. In fact, Laurie surprised the guests at the end of the tasting with a bonus pour of Spirit World's own private Deatsville barrel. Most of the Elijah Craig private picks are over 10 years old, but it's likely there is younger whiskey blended into the Small Batch, which was the one we tasted for our event. That terrific syrupy sweetness was on display both in the nose and on the palate. The lack of a finish was a common gripe and what I believe cost this one in the end. It garnered 0 first-place votes, 2 second-place votes, and 1 third-place vote. I was a little more generous in my evaluation as I had it 4th overall, and I still feel you can't go wrong with an Elijah Craig Small Batch bottle for $30. A solid Deatsville pick, on the other hand, punches way above that price point. There are more and more of them being released, and even though plenty of stores still pick disappointing barrels, it's worth taking a flyer on the double-letter warehouses at that price.
Blanton's Single Barrel Bourbon [Proof 93, Age: NAS (around 6 years), Mashbill: Buffalo Trace #2, Dumped 1-4-19]
Blanton's is generally one of my favorite bourbons to throw into a blind tasting because it always serves its purpose. People incessantly chase the horses and pester liquor stores about it, but it's never competed well in any blind tasting I've been a part of. In fact, at our 2017 Spirit World blind bourbon tasting, Blanton's ranked below both Elijah Craig Small Batch and Four Roses Small Batch, two bourbons you can find on most store shelves. This year was no exception. It garnered 0 first-place votes, 1 second-place vote and 1 third-place vote. Tasting notes included "agave syrup," "butter," and "root beer." I ranked it fifth, which I believe is fairly reasonable in this field, but it had the absolute lowest consensus ranking of the 8 whiskeys.
TAKEAWAYS FROM THE EVENT
---
There's a good chance that a decent higher-proof whiskey will stand out in a blind tasting. The nose is amplified and the finish lingers. If the flavors mesh with the taster's preferred profile, it's going to be near the top.
Stop chasing Blanton's. Buy the horses from the Buffalo Trace gift shop and save your money.
Building a whiskey collection is a worthwhile endeavor, but sharing it with others is where the true value is realized. Never pass up the opportunity to meet new people, share a few stories and learn from each other.