DRY 85 Bourbon Bar: Like the Bourbon? Take it Home!
Suppose you are in one of the highest rated bourbon bars in the country tasting one of their bourbon selections. If you really like, it wouldn't you want to buy a bottle and take it home. That would be Dry 85, Annapolis, MD.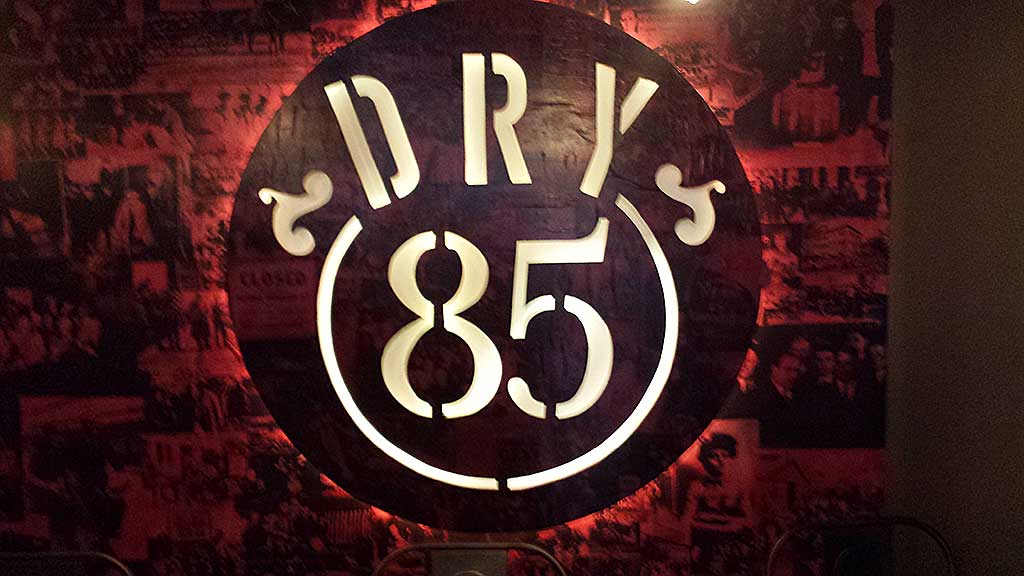 Suppose you are in one of the highest rated bourbon bars in the country tasting one of their bourbon selections. If you like it, wouldn't you want to buy a bottle and take it home?
That would be Dry 85, Annapolis, MD.
Dry 85, touted as a modern speakeasy, is the idea of owner Brian Bolter, a former Washington, DC newscaster and his wife, Lisa. Open since Jan 1, 2014, Dry 85 was named by The Bourbon Review Magazine as one of the top bourbon bars in the United States in July 2015. I have to second that award.
Prohibition ended on December 5, 1933. At least for everywhere in the U.S. but Washington, D.C. The District had to wait until the repeal of the Sheppard Act and remained dry for 85 more days, thus the name Dry 85.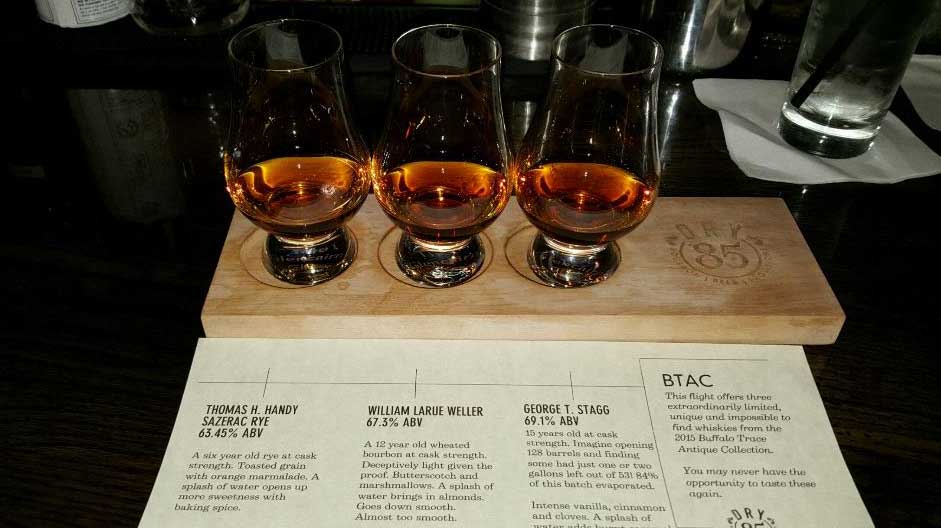 With a selection of over 150 whiskeys, most of them bourbon, you certainly can find something you like or have wanted to try. I have seen and tasted some great bourbons here such as Black Maple Hill (the Kentucky version), William LaRue Weller, Thomas Handy Rye, George T. Stagg, and Colonel E. H. Taylor Single Barrel among others. It is a great place to taste a bourbon you might not find in the area or something you want to try before you buy a bottle.
Also, the bartenders know their stuff. Especially bartender Grace. She is a walking encyclopedia of bourbon and cocktails. She is completely aware of what selection Dry 85 has on hand and how It tastes. Also, she makes excellent cocktails. Both my wife and I agree that she makes the best Sazerac we have tasted. That includes Sazeracs we had at the Sazerac Bar in New Orleans.
What sets Dry 85 apart, to me, however, is their private barrel selections. In the two-plus years they have been open, they have had six different private selections. These include two different Four Roses Single Barrel selections, Knob Creek, Eagle Rare, two separate Angels Envy blends and one of the best bourbons I have ever tasted, Smooth Ambler Ten Year Single Barrel. These private selections are selected by Mr. Bolter. Typically, he goes to the distillery of choice, tastes and picks out exceptional barrels. These are then bottled and sent to the bar. Usually along with the barrel as well.
Private selections are sold by the pour at Dry 85.  The unusual part is that if you like what you taste you can buy a bottle or a six pack case and take it home, as long as there are some still in stock. I don't know of anywhere else where you can do this. Right now I have both their latest Four Roses Single Barrel private selection and their Eagle Rare private selection in my collection. Both are excellent.  An unusual side on the Eagle Rare Private Selection is that it is the Buffalo Trace Mash Bill #2. To me, it makes this bottle even more appealing.
In addition to an excellent selection of bourbon, Dry 85 has a good selection of craft beers, most from local craft breweries. As part of Dry 85's support for local craft breweries, they will provide their empty private selection barrels to a local craft brewery where it is used to finish a particular beer. This unique beer is then brought back to Dry 85 for a special release party.
I had the opportunity recently at WhiskeyFest DC to talk with Mr. Bolter.  Mostly to rave to him how much I like Dry 85. In turn, he told my wife and I some great stories about his private barrel searches in Kentucky and West Virginia. Brian uses his journalism skills when he puts together his whiskey and cocktail menu for the bar. His tasting notes are not to missed. As an example, here is the one the latest Dry 85 Four Roses Private Selection:
"Some of the last, great juice still available by the barrel. We hand selected this 8-year-old high rye bourbon with the K yeast (rich, spicy, full-bodied) at Four Roses in Cox's Creek, Kentucky. A deep, dark nose opens up to sweet tobacco and peppermint. Mouth coating melted milk chocolate and pie crust. The rye comes in Jim Harbaugh kinda hot with a big boy bite on the finish."
Every whiskey on the menu gets the same treatment.
Dry 85 is one of the top bourbon bars in the country. If you are ever in the Washington, DC area and would like some fabulous bourbon, plan a side trip to Annapolis, MD. Lots of history, good seafood, the U.S. Naval Academy and Dry 85. A great bourbon bar.  Don't miss it!! Worth the trip.