DRY 85 OC – BOURBON AT THE BEACH
Ocean City (OC to us here in the land of pleasant living), located on the eastern shore of Maryland, has always held a special meaning for me. My first trip to the beach was when I was three years old and I have been going there ever since.
Ocean City (OC to us here in the land of pleasant living), located on the eastern shore of Maryland, has always held a special meaning for me. My first trip to the beach was when I was three years old and I have been going there ever since. Yes this grainy picture of a little handsome guy, taken in 1956, is me in OC with my cousin, aunt and great grandmother. One of the first dates I had with my wife, Patti, was to OC. In addition, Ocean City was the first place I tried Buffalo Trace and it was that tasting that really boosted my bourbon journey. We don't go much in the summer anymore, preferring to go in the off season when it is quiet and less crowded. There is something about it that is very calming.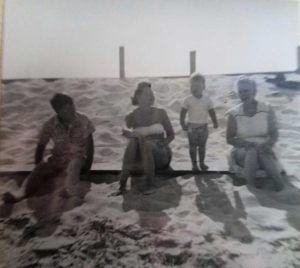 So when Brian Bolter, owner of Dry 85, announced back in June that he would be opening a Dry 85 in Ocean City it was exciting news. Dry 85 in Annapolis, MD, is listed by the Bourbon Review as one of the best bourbon bars in the United States and by Whiskey Advocate as one of the top 40 Whiskey Bars in the US. I did a review on Dry 85 last year. It is a great place.
Around the first of November, we decided we would spend the Thanksgiving holiday at Ocean City. It wouldn't be the first time we had spent Thanksgiving at the beach. I knew that Dry 85 had set their opening for some time in November and was hopeful that there would be no delays. About a week before our trip, I learned that Dry 85 OC would indeed have its grand opening the day after Thanksgiving.
I offered my congrats over Instagram and got a message back suggesting I show up late in the afternoon the day before Thanksgiving as there was a possibly of an early opening.  Wednesday evening we showed up for their pop up opening and took a seat at the bar.
I can say I was impressed from the beginning. Although very much like the Annapolis location in lay out, menu and bourbon selection there are some unique differences in the architecture which to me are more befitting to the beach. The restaurant has floor to ceiling windows which gives it a more open and bright feel. The tables are all hand crafted as is the ceiling and the cabinets holding the bourbon behind the bar. Many light fixtures are antique. The door from the vestibule into the bar is from an old freight elevator at the National Bohemian Brewery in Baltimore (yes Natty Boh) and an old 1942 eastern shore toolbox has been repurposed into a bartender's toolbox. They even have the Bourbon and Banter bourbon patriot flag hanging on the wall.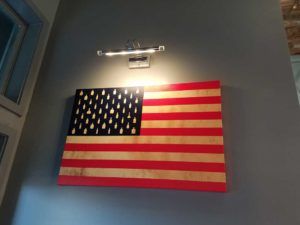 As I said the bourbon selection is similar to that of Dry 85 Annapolis. Not the largest selection I have come across in a bar but it is quality. According to Brian, "We don't try to have the most whiskey of anybody on the planet, but we do try to have a highly-curated, well-crafted beverage selection," And they do. Their selection presents a dilemma as to what  bourbons to try. One thing you should take some time with if you visit Dry 85 is the menu. Every bourbon is listed in the menu with tasting notes written by Brian Bolter.  Not only are they entertaining they are right on.
My first selection for this trip was the Old Weller Antique Dry 85 Private Barrel Selection. Dry 85 has numerous private barrel picks. All of them are excellent and demonstrate the outstanding palate of Mr. Bolter. At the Annapolis location, if you taste the private selection and like it, you can purchase a bottle and leave with it. That is, assuming there are still bottles left for sale. We were told that this would also be true in the OC location as well in the near future. This was the only bourbon I tried in this new bar that was already open.
Next I went with a Willett 15 year Family Estate Single Barrel, 120 proof. A rare find in this area and superb. Patti went with the 2017 Old Forester Birthday Bourbon. I had not tasted either of these and just the opportunity to do made our first night worthwhile.
Of course we came back on Friday afternoon for the grand opening. A pretty nice crowd for 2:30 in the afternoon and the flow in and out was fairly constant. We got another big hello from Brian Bolter, who always seems to be in constant motion. I guess when you open two restaurants within a week that is operating mode. We also got to talk to our favorite Dry 85 Annapolis bartender Grace who was working the floor keeping things going smoothly.
First up on the grand opening day tasting was the BTAC flight. George T Stagg, William LaRue Weller and Thomas H Handy. The 2017 editions. Three one ounce pours for $75. Perhaps slightly pricy but these were probably the only bottles this bar will get of these. And probably the only opportunity for me to taste all three. While in my opinion, William Larue Weller is the best bourbon on the market, I thought the 2017 GTS was the better pour this year.
I followed the BTAC up with a pour of the Kentucky Owl 11 year Rye. Another new bottle and another one I wanted to taste. Another pour that did not disappoint. My final pour was back to the Old Weller Antique again. A nice way to end our visit.
While I opted for special pours, Patti went with two of Dry 85's exceptional cocktails, the Sazerac and their Manhattan. We have always said that the Sazeracs at Dry 85 are better than the Sazeracs at The Sazerac Bar in New Orleans. Some of the best we have tasted if not the best. Dry 85 takes their craft cocktails seriously and provides a very diverse cocktail menu to go with their bourbon selection.
It is no secret that I am big fan of Dry 85. If the Dry 85 in Annapolis is one of the best bourbon bars in the US, this one must be also.
This Dry 85 in OC, to me, means a special place in a special place. Can't wait to visit again.