Duke Kentucky Straight Bourbon Review
It's been a while since Duke Kentucky Straight Bourbon was released into the rapidly growing bourbon market. We didn't go out of our way to avoid trying it but it was not on our list of things to acquire and review for the blog.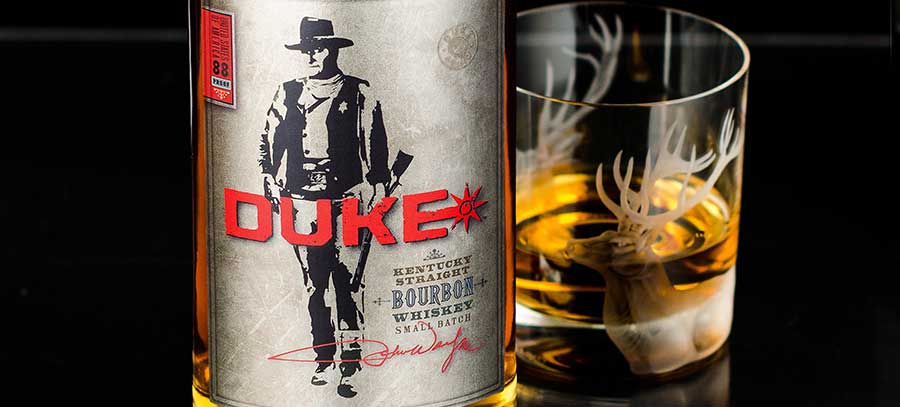 It's been a while since Duke Kentucky Straight Bourbon was released into the rapidly growing bourbon market. We didn't go out of our way to avoid trying it but it was not on our list of things to acquire and review for the blog. After all, there were plenty of other people digging into the bourbon and the brand's backstory. (Here's a least one must read post on the brand.)
The folks behind the bourbon reached out to us about a month ago with some cocktail recipe suggestions using Duke. We're always happy to receive such items but since we never got around to trying the bourbon ourselves they were kind enough to send us a bottle for research purposes. We sent the bottle to Matt Propst who was kind enough to volunteer for tasting duty. Below you'll find his review of Duke along with a few additional comments from yours truly.
Here's some information from the brand's product literature to give you a little bit of the brand story:
Crafted by Masters,  and inspired by rare bottles unearthed and preserved for over 50 years from the collection of John Wayne. Meticulously blended to replicate and honor the tasting notes and profile preferred by John Wayne using his original collection to guide flavor and aromatics. A proprietal mash bill of predominately American bent corn with additions of rye with sixth row barley. Distilled the old fashioned way, in small batches and aged in heavily charred new and hand built American Oak barrels. A special blend at 88 proof of 5 to 10 year old barrels hand selected for perfection.
While the brand doesn't state where they sourced the bourbon, the popular belief is that it came from Wild Turkey. Original labels indicated it was crafted in collaboration with Jimmy Russell and even mentioned Eddie Russell. Those details were removed from the retail label but by that time the word had gotten out to the whiskey geek community. Let's go ahead and dive into Matt's review.
~ Pops
PS – This is Matt's first bourbon review for the blog. Just wanted to say that to embarrass him a bit.
DUKE KENTUCKY STRAIGHT BOURBON REVIEW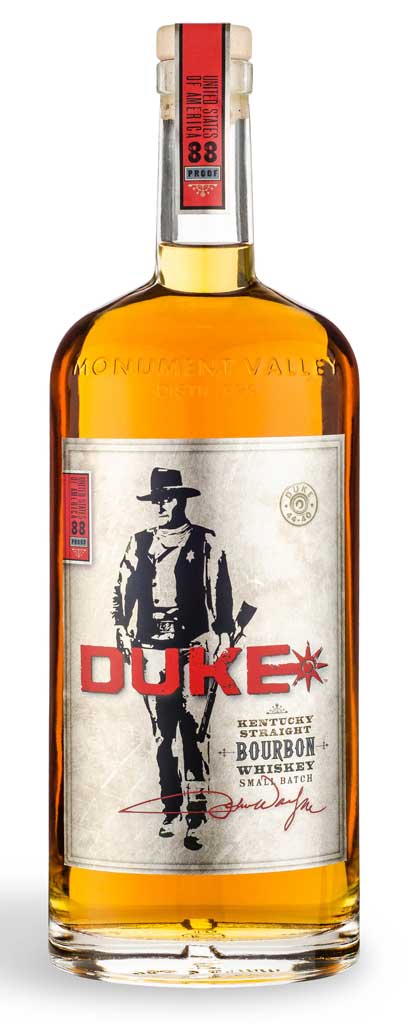 BOTTLE DETAILS
---
Bourbon Name:  Duke Kentucky Straight Bourbon
Proof: 88
Age: No Age Statement. 5-8 year old blend per product's website.
Year: 2015
POP'S NOTES
---
How I Drank It:  Neat, in Glencairn whiskey glass.
My Nose Noticed:* Mild Oak | Honey | Vanilla
First Sip: Dry Oak | Vanilla | Honey
The Burn:**  After traversing the alcohol, there is lots of wood and some honey/vanilla sweeter flavors flitting around the edge.  The bourbon has a sweet, mellowness to it that is appealing.  At 88 proof it is not knocking my socks off with alcohol, but the wood flavors seem persistent.
Neat, Splash or Rocks: Neat. What appeals to me the most is the richness that exists throughout. It is consistent. The age is unknown but there are certainly some older bourbons that help give a bump to the younger less developed aspects.  I think that tradeoff plays well in the tannin aspect of this bourbon.  It is forward but not overwhelming or off-putting.
Share With: Folks who want to start to get into bourbon and whiskey. This bourbon has depth and richness which is not easy to come by these days.  It may not be the bee's knees for a seasoned bourbon drinker, it will more than likely, be head and shoulders above what a person just getting into bourbon is drinking.  Find out what your buddy's are drinking, share accordingly.
Worth The Price: At $35 it's worth the price to share. That said, there may be better bourbons at a similar price point at your local retailer.
Bottle, Bar or Bust: The Duke's worth a glass at a bar. More seasoned drinkers may belly up to the bar for a second glass.  If you've tried and enjoyed it, I'll say this bottle is an exploration. I was hoping I'd find more, but in many similarly priced bottles I've found less. It may not be the next bottle I buy, but I WILL be buying another bottle of the DUKE in the future.
---
Pop's Tasting Note Summary: I can't explain it but the nose of Duke reminded me of green apple Jolly Ranchers mixed mixed with a Wild Turkey spice mix and a hint of black tea. The aroma was on the thin side but I can't help but think how amazing this could have been if the nose had been thicker and more intense. The flavor was full of the traditional spices you'd expect from something made at Wild Turkey infused with dry oak, a bit of sweet corn and more of the black tea I picked up on its nose. The spice component on Duke was more intense than expected. It really danced on the tip of my tongue reaching a point that bordered on uncomfortable. The finish was overly tannic and lacked the type of balance the pronounced spice notes required to remain in harmony with the other flavors. But at least the burn was solid with a strong surge that reminds me why I enjoy drinking bourbon. I decided to try it next to a glass of WT 101 for comparison purposes. The WT was a much better pour with more intense flavors (including more vanilla and caramel notes) and proper balance between the spice and other flavors despite being higher proofed. For my money I'd skip the story behind Duke and stock up on Wild Turkey 101.
*I like to let my whiskey sit in the glass for at least 5 minutes before I start to smell it or have a drink. I personally find that it's better to let some of the alcohol waft off before diving in. If I'm drinking bourbon on the rocks I skip the waiting and dive in both feet first. In this case thought, the whiskey really required more like 20 minutes to balance out.
**Some of you refer to this as the "finish" but let's be honest. Don't we all just want to know if it burns good?
---
Disclaimer: A sample of Duke Kentucky Straight Bourbon was provided by Duke Spirits for this review. I appreciate their willingness to allow Bourbon & Banter to review the whiskey with no strings attached. Thank you.