Exploring Ruth's Chris Sizzle, Swizzle & Swirl Happy Hour
As hard as I've tried ,I just can't seem to live on bourbon alone. I always wind up craving something a little more solid to fuel my days, while bourbon fuels my nights. And through rigorous testing, as well as trial and error, I've found that steak is by the far the best addition to a bourbon diet.
As hard as I've tried ,I just can't seem to live on bourbon alone. I always wind up craving something a little more solid to fuel my days, while bourbon fuels my nights. And through rigorous testing, as well as trial and error, I've found that steak is by the far the best addition to a bourbon diet. It's as if they were made to go together – like peanut butter and jelly, a Moon pie and RC cola, bacon and…well, everything! You get what I mean.
When ALIVE Magazine and Ruth's Chris invited me to try out Ruth's Chris new Sizzle, Swizzle & Swirl Happy Hour menu with other St. Louis food and drink bloggers, I jumped at the opportunity. After all, it would be rude to turn down an invitation to drinks and dinner. And so this past Thursday night I found myself at Ruth's Chris downtown location with several other local bloggers excited to see what their new menu had to offer.
Before I jump into the details of the event, I need to confess that before the event, I had never stepped foot into a Ruth's Chris steak house. It's not that I was trying to avoid visiting one. I just never had the opportunity or reason to visit one of their locations. My wife cooks a killer steak at home, and earlier in my career, I traveled to NYC several times a month where I enjoyed some of the more famous steakhouses in America. I suspect these two things had a lot to do with me not seeking out a Ruth's Chris, or any other steak house in St. Louis, for that matter. For me, this was going to be a new experience.
Cocktails
The evening was kicked off with cocktails where I ordered the Ruth's Manhattan – a cocktail consisting of Jim Beam, Sweet Vermouth, Southern Comfort and gourmet Luxardo cherries. When the drink arrived, I couldn't help but comment to my friend about how large of a drink it was. The glass seemed much larger than a standard double old-fashioned glass by at least 50%. It was filled with ice (just as I had ordered), and Manhattan's color was as expected. The first sip was very sweet, but the bourbon was still recognizable, despite the addition of Southern Comfort. As I continued to drink the Manhattan, its' sweetness became too much to handle, but luckily the ice started to melt and pushed the drink away from being undrinkable sweet. All said and done, I'd recommend skipping Ruth's Manhattan instead of just having a glass of bourbon neat or on the rocks.
Appetizers
Once everyone had cocktails in hand, appetizers started to appear, and Ruth's Chris' head chef came out to explain what was being served. Here are some photos of the items we enjoyed. You can also get more information about each one of them on Ruth's Chris' website.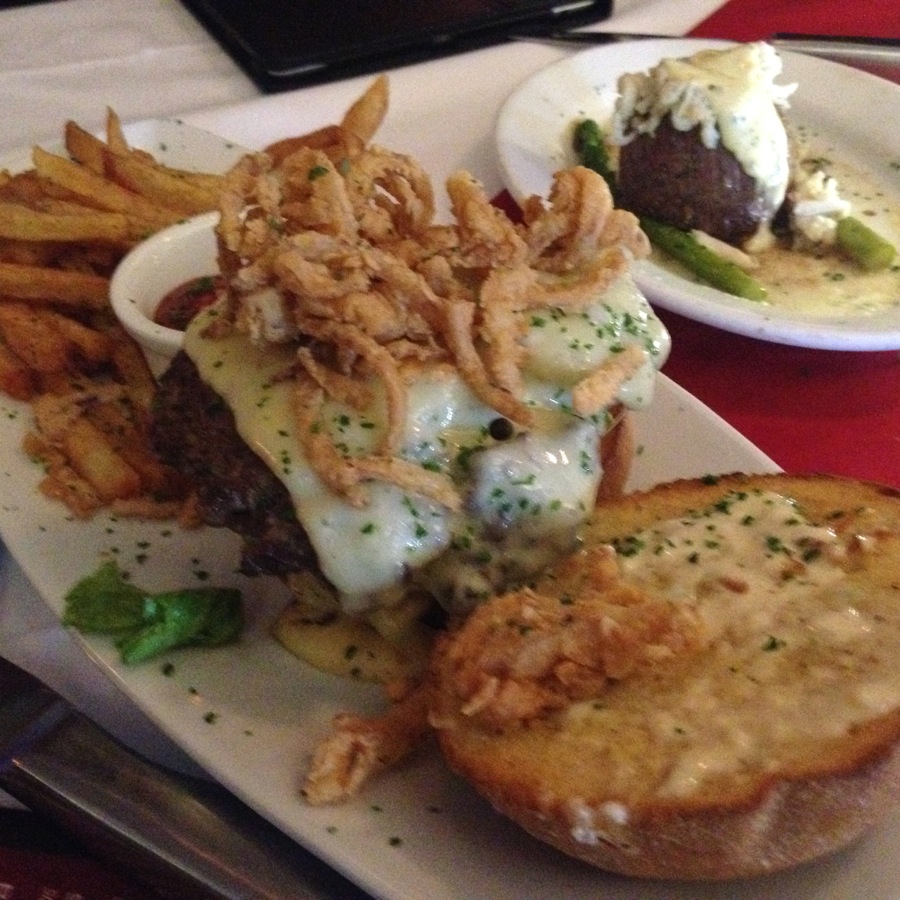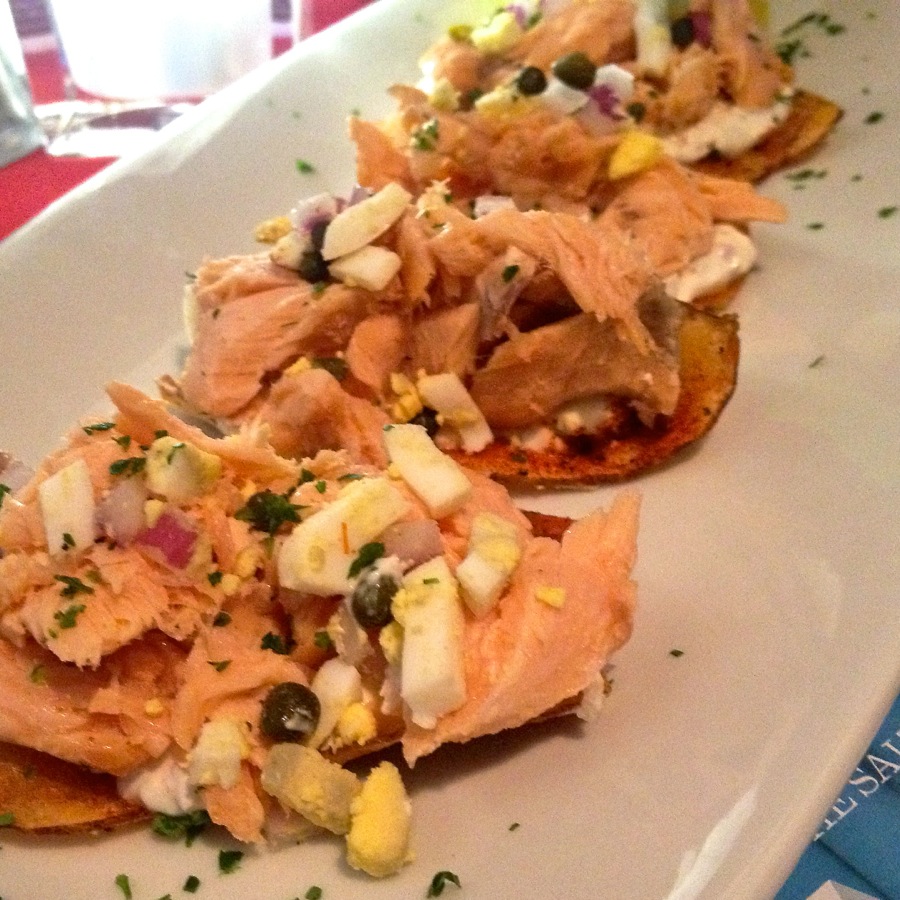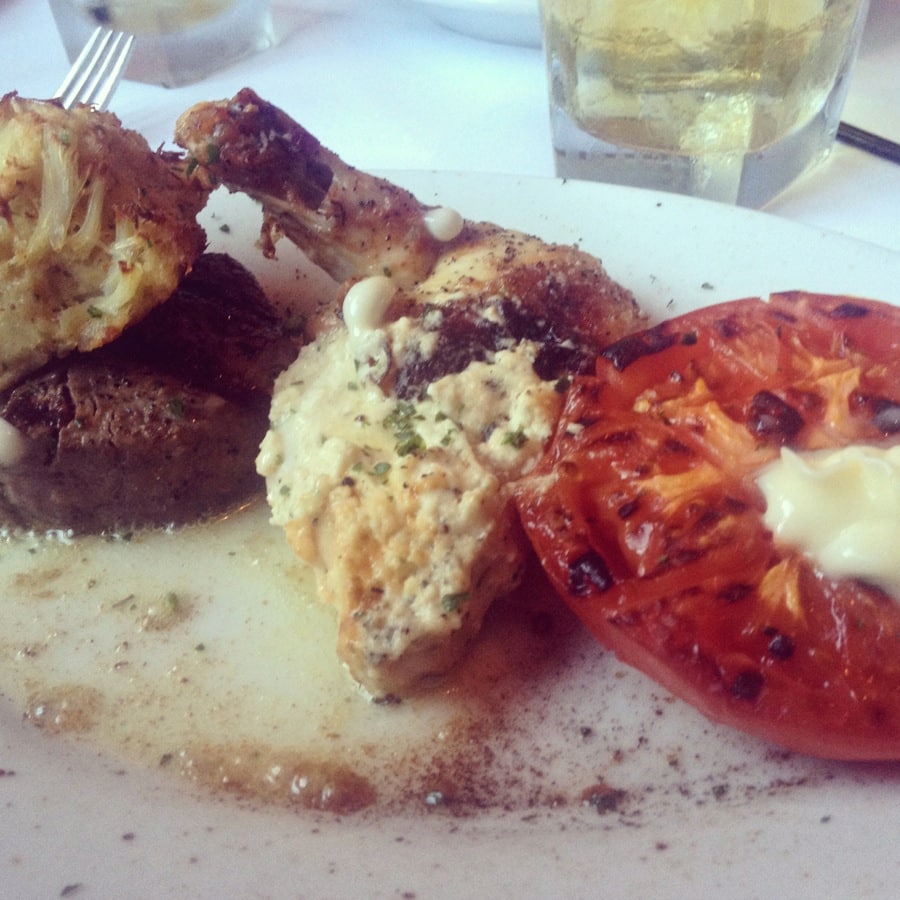 Everything I tried was delicious and well-prepared. I think the Spicy Lobster and Smoked Salmon Chips were my favorite. I never thought about serving salmon on homemade potato chips before, but now I can't stop thinking about it. Pretty sure a homemade version will appear at the next party I throw at my house. They were that good!
Unfortunately, I skipped the Prime Burger as I wasn't quite sure how to cut that up and share it with the larger group. Logistical challenges were a little less daunting on the Crab BLT since I could cut it in half and not appear to be stealing the entire thing. I'm a big fan of crab, but what made this one shine was the addition of perfectly cooked jowl bacon. It was thick, salty and smoky. In other words…perfect!
I could have spent the entire evening eating nothing but the appetizers. When they began ushering us into the dining room for dinner, I complied, but it was with great reluctance and a bit of regret for not having eaten more of the appetizers. A mistake that will never – ever – happen again.
Dinner
Dinner started with a Bibb BLT Salad with cucumber ranch dressing. It was crisp, surprisingly tasty and just the right size to transition my palate to dinner. My main entree was Ruth's Chris' Mixed Grill consisting of a 4 oz. filet, stuffed chicken breast, crabcake and a broiled tomato. And, of course, it was served on a Ruth's Chris' signature 500-degree plate. (A fact confirmed by one of the folks dining at my table who failed to hear the waitress' warning about the plate's temperature.) Sides consisted of creamed spinach and mashed potatoes.
I ordered my steak medium but found it closer to being well-done by the time it arrived on my plate. Its' flavor was still good – just not as good as it could have been if served as originally requested. It was frustrating to get something other than ordered, considering they bill themselves as a steakhouse. Not getting the basics right leaves one worried about what else could go wrong with the rest of the food.
The stuffed chicken was a little salty but was the best-tasting part of the Mixed Grill. The crabcake was respectable but far from memorable. Mashed potatoes were as expected, maybe even better than expected, and I heard others say the creamed spinach was tasty. Several went as far as to say it tasted like a spinach dip appetizer and not a creamed spinach side dish.
Dessert
The final part of the meal consisted of the Dessert Duo  – a mini cheesecake served with mixed berries covered in a vanilla custard sauce. It was a simple yet flavorful way to end the meal. I especially enjoyed the vanilla custard sauce. My only complaint was that they didn't provide me with a spoon so I could get the remaining custard sauce out of its serving dish.
While I enjoyed all the food served that evening, I think the appetizers were far more interesting and better tasting than the main course. You could tell that a lot more thought and effort went into making the appetizers unique and flavorful. The steak and chicken, while solid, lacked anything to make them memorable. In fact, the Mixed Grill portion and preparation reminded me of how steak and chicken are often served at catered events like weddings and conventions. Not bad. Just boring.
Based on what my wife cooks at home, I don't think I'll go out of my way anytime soon for a steak dinner at Ruth's Chris. However, I wouldn't object to swinging by for happy hour appetizers and bourbon with friends. I suggest you try them for happy hour if you ever find yourself in the neighborhood.

Disclosure: Special thanks to Ruth's Chris for sponsoring this post. While they provided me with dinner and a chance to sample their new menu, the opinions expressed in this post are all my own.