Few Spirits Bourbon Review
At this point in the craft distilling boom, I think it is understandable that those of us who are bourbon aficionados may have become a little cynical.
Disclaimer: Few Spirits provided Bourbon & Banter with samples of their products for this review. we appreciate their willingness to allow us to review their products with no strings attached. Thank you.
At this point in the craft distilling boom, I think it is understandable that those of us who are bourbon aficionados may have become a little cynical. I can speak from experience of how heartbreaking it can be when the cute little distillery with the beautiful bottle that you just paid $50 for turns out to be putting out a less than impressive product or is found to be hiding the source of their whiskey behind a veil of slick marketing and creative back story.
So it was with excitement, but also a bit of hesitation, that I opened my box of samples from Few Spirits in Evanston, IL. The samples included three different gins, a bourbon and a rye whiskey.
My first thought on seeing the whiskeys was to wonder where Few Spirits was sourcing them from. When I read the informational materials and learned that Few Spirits ferments, distills, and bottles all of its products from scratch in their distillery, I had to reevaluate my expectations.
Charlie and I tried the three gins included in the sampler, Few American Gin, Barrel Gin and Few Standard-Issue Gin which results in me writing a very positive review of them for Queen City Drinks. But frankly a good gin, while refreshing and absolutely necessary for martinis and tonics, does not mean that a good whiskey will follow.
Few Spirits began in 2011 in Evanston, Illinois. It is a city that, thanks to its strong ties to the temperance movement, remained completely dry until 1972. Founder, Paul Hletko, is a former record label executive who was inspired by his grandfather who owned a brewery in the Czech Republic before World War II. The whiskeys and gins at Few Spirits all originate in a Vendome still, but the whiskeys are then finished in a 1,500 liter hybrid still while a smaller 150-liter pot still is used exclusively to distill the gins with their botanicals. There is no age statement or information about how the whiskey is aged but if they really are producing it grain to bottle it can't be any older than three years.
I love their story and their production method seems to be solid but here is my formal Few Spirits bourbon review. (Stay tuned for my review of Few Spirits Rye Whiskey)
Editors Note: Few Spirits was kind enough to supply both Ginny and Pops with samples of their whiskey. As such, Ginny's tasting notes are below with Pops' notes following Ginny's but listed in (italics).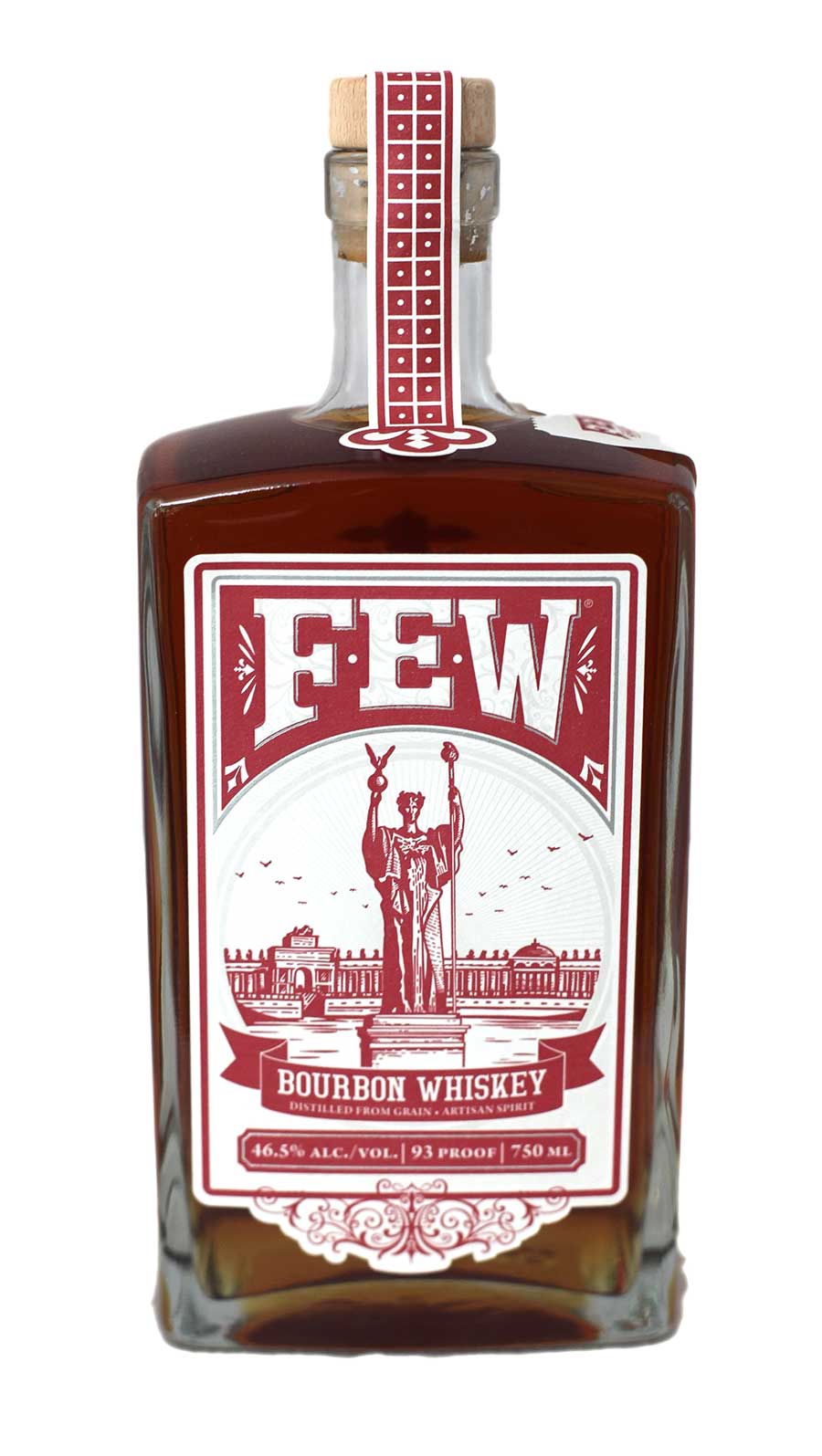 Few Spirits Bourbon Whiskey

Bourbon Name:  Few Bourbon Whiskey
Proof: 93
Age: Less than 4 years
Year: 2014
Mashbill: 70% corn | 20% rye | 10% two-row malt
How I Drank It:  Neat, in Glencairn whiskey glass.
My Nose Noticed:* Clover | Kettle Corn | Oak (Corn | Banana Bread | Anise)
First Sip: Fresh Hay | Cinnamon | Pepper (Sweet Corn | Vanilla | Peppery Oak)
The Burn:**  The spice of this bourbon does not show itself in the nose at all. It is a slightly aggressive spice but not unpleasant. I wonder if I am not missing the old family farm a bit tonight because I am getting a lot of clover hay and leather mixed in with the cinnamon and clove. Those flavors hit the tongue gently but then a bit of a wildfire flares up your nose as well as down your throat. It does not taste like a small barrel whiskey but I do think it could probably use a bit more age. The flavor profile is really unique but not so far off as to be unrecognizable as a bourbon. This feels more like a loving homage than a re-imagining and I think that is a great direction for a micro distiller to head towards.
(Anyone who's been drinking whiskey for a while will know this bourbon is young by taste. However, I didn't find the spice to be aggressive. In fact, I think the spice did a good job of not showing its' young age. The other unique flavors of this bourbon were able to balance out most of the rough edges typically associated with young age. That's not to say I wouldn't like to try an expression that was 6-8 years old, by the way. Ultimately though, the burn didn't hit my sweet spot. It just never warmed up my throat and failed to come back for repeated visits like I prefer.)
Neat, Splash or Rocks:  I wouldn't do ice with this one, there are too many interesting flavors to be had, but a splash of water wouldn't go amiss.
(Totally agree with Ginny on this front. I'm a sucker for bourbons that have banana notes and feel that the flavor is just to enjoyable to dilute with too much water or ice.)
Share With: A bourbon lover looking to experiment. I feel like I end up saying this a lot but I honestly think it can only be a good thing for bourbon lovers to have a greater variety of flavors to be included in the bourbon family. This one gets off the beaten path without straying to far afield.
Worth The Price:  Suggested Retail Price is $49.99. I've had a lot worse that charged the same amount.
(Craft whiskey is always going to have a premium price so comparing to other bourbons on the shelf from the big distilleries isn't fair. One should be drinking craft distillery whiskey because they want something different from what they can get from the big boys. Few Spirits definitely delivers on that front and they do it all by themselves. They earn points for all of it and as such, it's a good investment in a distiller that's only bound to get better as time goes on.)
Bottle, Bar or Bust: Bar for sure. The spice is so aggressive that I would have a hard time drinking a whole bottle quickly. Of course, Few is still not widely available outside of Illinois so tracking down a bottle might be your best hope for trying it.